With the Southern Alps as a backdrop reflecting onto the deep turquoise waters, the picturesque views at Lake Tekapo New Zealand are exceptional. Add to that the aurora australis (southern lights) dancing in skies so clear they are recognized as an International Dark Sky Reserve.
Lake Tekapo is one of the most spectacular places in New Zealand.
Whether it is a quick photo stop between Queenstown and Christchurch, or a destination of its own, you will not regret your stop here. There is plenty to keep nature lovers and stargazers busy.
Below are our suggested things to do in Lake Tekapo.
This site contains affiliate links to products and/or services. We may receive a commission for purchases made through these links at no additional cost to you.
Daytime things to do in Lake Tekapo
Capture Lake Tekapo photos
For photographers, just standing on the Lake Tekapo shore is the start of a great day. We last visited in springtime, when the snowcapped Southern Alps created an impressive backdrop to the reflective water.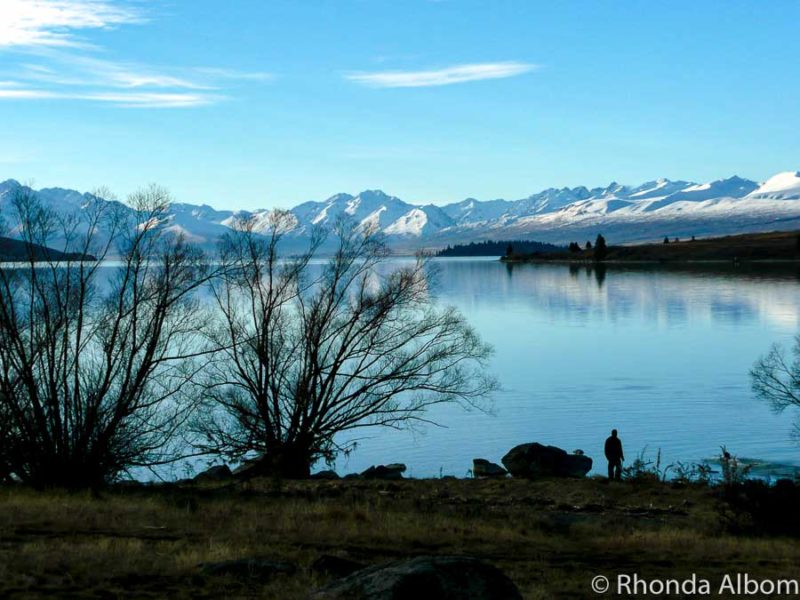 Visit the Church of the Good Shepard and the sheepdog monument
Standing at the lake's edge since 1935, the Church of the Good Shepard is a stone structure against a backdrop of azure water and snowcapped mountains. One of the most photographed buildings in New Zealand, it is an active church with frequent weddings and services.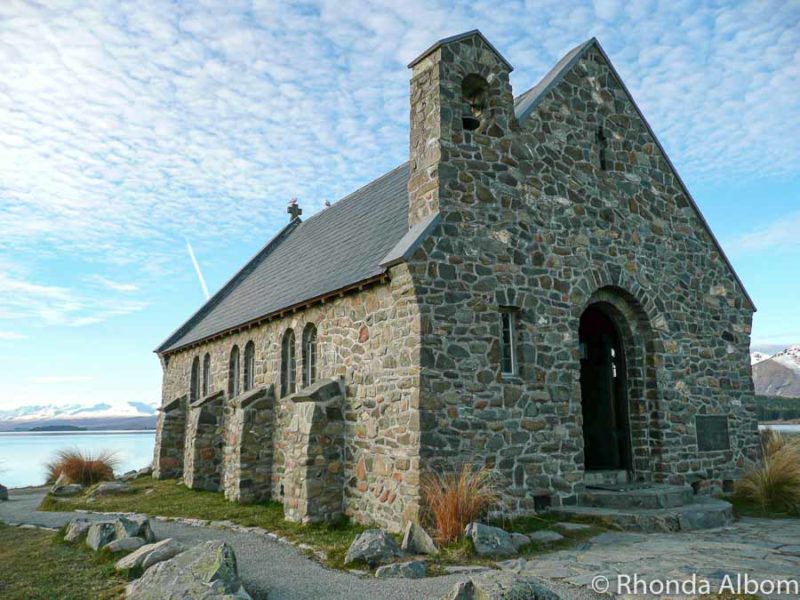 Nearby, the bronze sheepdog memorial statue stands in tribute to the dogs that helped shaped the surrounding farming communities. Scottish immigrants originally brought sheepdogs to New Zealand.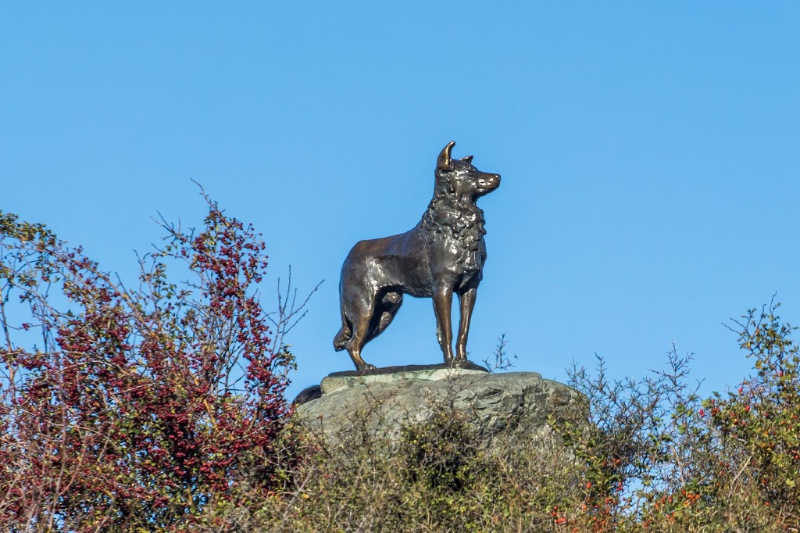 Lake Tekapo walks and hikes
However you explore the area, if you are visiting in summer (November to February) you will enjoy the colourful lupins growing around the lake. At sunset, they complete the colour palette.
Some of the popular walks include:
Lake Tekapo Walkway: A one-hour easy (mostly flat) walk along the waterfront passing the church and hydro-electric outlet.
Cowans Hill Walkway: A 1-2 hour easy hike to the top of Cowans Hill for panoramic views of Lake Tekapo.
Mt John Summit Circuit Track: A 90-minute steep and challenging hike through exotic forest and tussock hills. Stunning views await those who make the trek. (If you don't want the hike, you can drive to the top.)
Check out this list of short walks in Lake Tekapo for more options.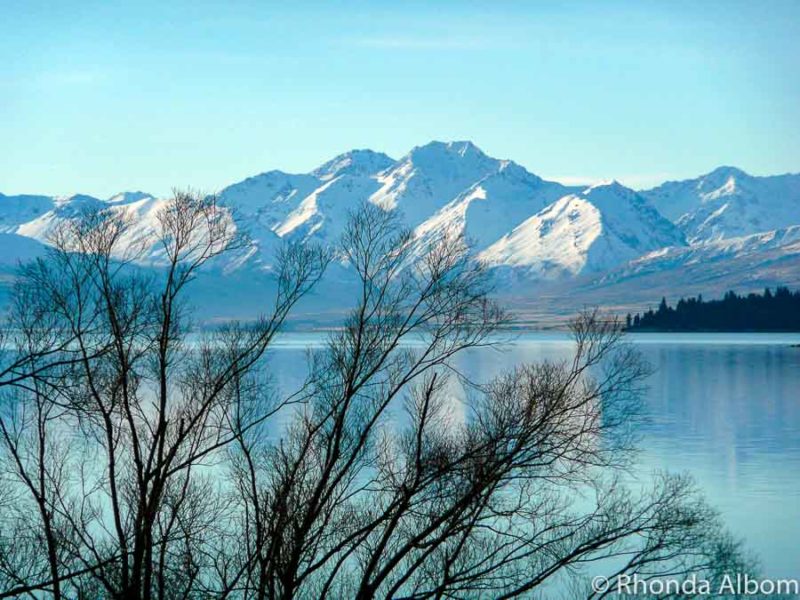 Enjoy Lake Tekapo, Mt Cook, and Fox Glacier from the air
At 3,754 metres, Aoraki Mount Cook is New Zealand's tallest mountain. On the other side is the country's longest glacier. A 50-minute flight will let you enjoy it all, plus turquoise glacial lakes, unique rivers, and three massive glaciers (Fox, Franz Josef, and Tasmin). Commentary will help you identify the sights.
Check price on this 50-Minute Mount Cook and Beyond Scenic Flight
Evening things to do in Lake Tekapo
Relax at Tekapo Springs
Lake Tekapo hot pools, filled with glacial waters, are the perfect solution to sore muscles. Alternatively, take an active approach on the water slides or in a cool pool. Stunning views add to the fun any time of day. We recommend heading there late in the day. After a daylight soak, enjoy the colourful sunset before the stars fill the dark sky.
Get an all-day pass for the hot pools.
Take in a sunset
Whether from the waters of Tekapo Springs, from up a hill, or from the lakeside, be sure to stop and take notice of the sunset.
Stargazing tops any list of things to do in Lake Tekapo at night
The Aoraki Mackenzie International Dark Sky Reserve includes Lake Tekapo. It has been recognized as an area of exceptional starry nights with limited light pollution by the International Dark-Sky Association. Needless to say, it is an ideal place for stargazing.
Tip: Regardless of the season, bring a jacket. It can get cold at night.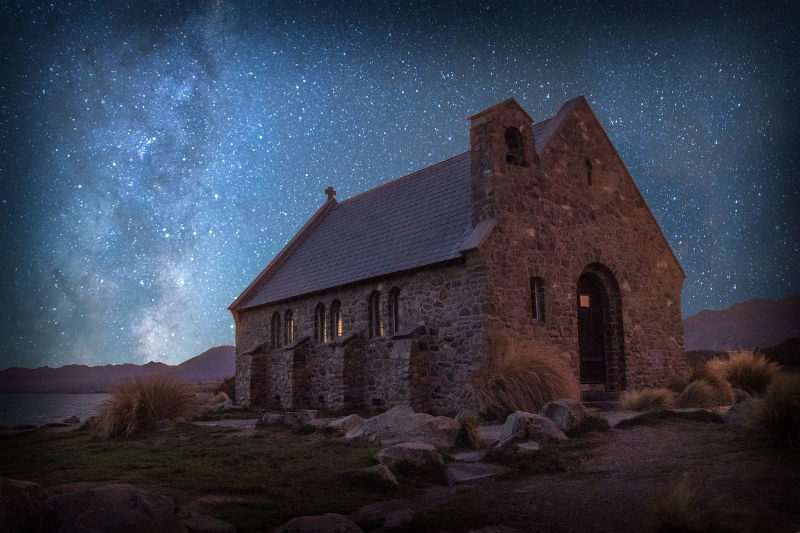 University of Canterbury Mt John Observatory
Impressive starry skies reward visitors all year. Or, head here during the day for dramatic views or a great cup of coffee. The aurora australis is natures light show, painting the sky with colour between April and September. Similar to the Northern Lights, the Southern Lights can be equally as exciting.
A 2-hour Lake Tekapo stargazing tour gives you a closer look at the stars through New Zealand's largest telescope. Despite the open roof, you will be warm as the tour provides US Antarctic Expedition jackets and hot chocolate. You will also learn about the research that is done here.
Check price and availability of the 2-hour stargazing tour
Another option is the new 45-minute stargazing and astronomy guided tour that blends science, tatai aroraki (Maori astronomy), and captivating multimedia installations together. This is an indoor experience in a purpose-built area.
Check price and availability of the Immersive Stargazing and Astronomy Experience
Where to stay in Tekapo
The Mackenzie Suites (Apartments): A quiet and picturesque spot quite close to Lake Tekapo village, these suites feature fantastic views and luxury accomodation. With a kitchenette, laundry facilities, and a gas fire place, it's spacious and comfortable.
Check price and reviews for The Mackenzie Suites.
Peppers Bluewater Resort: Another great accomodation with beautiful lake views, this 4.5-star hotel is in Lake Tekapo village. While most of the rooms don't have cooking facilities, there is a restaurant on-site.
Check price and reviews for Peppers Bluewater Resort.
More about Lake Tekapo
Lake Tekapo is one of four lakes in the Mackenzie Basin on the South Island. The other three are Lakes Ohau, Lake Pukaki, and Lake Alexandrina.
It's about halfway between the Christchurch and Queenstown Airports, making it an ideal stop to break up the six-hour drive, or a destination on its own. We have also added it as a side trip when driving along the South Island's east coast.
Māori were the original settlers. However, the region gets its name from a Scottish shepherd and alleged sheep thief, James Mackenzie. The area was intermittently inhabited by Māori and, in 1857, it was split into ranching stations.
Water from the lake is used in the generation of hydroelectricity.
Booking tips for your New Zealand travel planning
We often have affiliate partnerships with companies that we trust and recommend. We receive a small compensation if you make a purchase using these links. In some cases, the links can save you up to 70%.
First-time visitors start here: New Zealand travel guide or with our favourite New Zealand road trips.

Flights: We use Skyscanner to find all the available flight options at the best prices.

Rental Vehicles: For cars, we always use RentalCars.com, a rental car search engine with no hidden costs. For campervans, note that Spaceships Rentals NZ offers free one-way drop-off between Auckland and Christchurch.

Accommodations: We use Booking.com to find all levels of accommodations in most NZ cities.

Activity Discounts: We use Bookme.co.nz to find discounts on entry tickets and tours in New Zealand.

Travel Insurance: We purchase insurance that covers medical and travel emergencies when we head overseas. We start with World Nomads.

Packing Tips: Get a free copy of our New Zealand packing list when you sign up for our mailing list.

**Find more money-saving resources on our Travel Resources page.
Save for later:
Like this article? Please share this page on social media including Pinterest:

Have you been to Lake Tekapo in New Zealand?