Lake Tekapo caught me by surprise, and without being too cliche, it took my breath away.
The first time I saw it we were tired. We were in a hurry, making the 24-hour drive from Auckland to Wanaka without plans for sightseeing.  We were way too focused on our destination, and suddenly hungry. Lake Tekapo in the heart of the Mackenzie Country was a logical stop according to our map of New Zealand's South Island. What we found was spectacular, so much more than just a meal.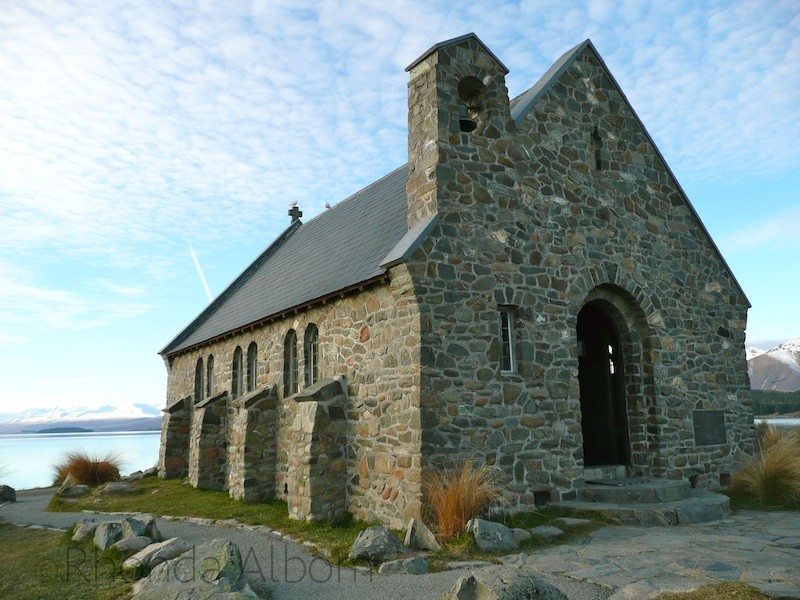 Thinking back to the journey, one which we have made five times, I am inspired to travel; to stop, to see the sights. After that initial trip, our travel return drives took weeks, or longer. We have explored much of the South Island, and never been disappointed. We have discovered amazing places like Hokitika Gorge, the Catlins Rainforest, and more.
Practical Information: 
Lake Tekapo is one of three lakes in the Mackenzie basin on the South Island.
It's about halfway between the Christchurch and Queenstown Airports, making it an ideal stop to break up the six-hour drive, or a destination on its own.
Water from the lake is used in the generation of hydroelectricity.
Have you been to Lake Tekapo in New Zealand? Do you allow time to stop when you need to get from one place to another? Have you been to the South Island of New Zealand?
Like Lake Tekapo? Please share this page on social media including Pinterest: