Thinking about a road trip to Aoraki/Mount Cook? Here we follow the adventure of Kiwi traveller Pam Clarke. She shares her stories and photos while outlining the things to do in Mt Cook and Lake Pukaki. Located on the South Island, Aoraki is New Zealand's tallest peak. See Pam's bio below.
Nothing can prepare you for the first time you set eyes on Aoraki, Mt Cook. The mountain sits there, huge, majestic and somehow mesmerizing, casting its magic over you, drawing you in.
It had been on my bucket list for 20 years to see it with my own eyes, and that finally happened in January of this year. I was on a 7-week adventure in my little Hiace campervan named Wanda.
Heading to Glentanner for my first night in the area, I could feel the excitement building as I drove closer through the most amazing scenery, knowing that soon I would get my very first glimpse.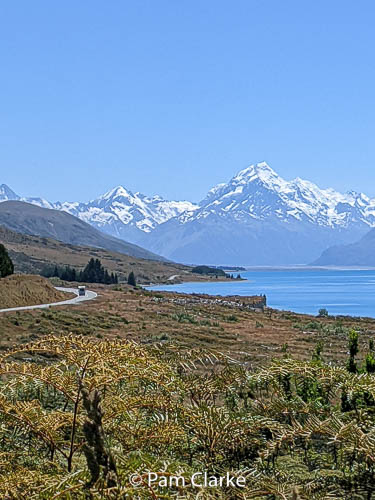 Next, I drove around a bend and then suddenly, there it was! Aoraki rising up, seemingly right out of the turquoise waters of Lake Pukaki.
I hate corny, cliché phrases with a passion, but there really is no way to describe that moment without them! It was so magical, I actually almost cried! Which completely threw me.
I couldn't believe I was actually there, driving along the road I've seen so many times on Instagram or in magazines. It always looks unreal, but there I was, driving it, seeing it all with my own eyes! I stopped at a view point and walked down a little path to the shores of Lake Pukaki, looking over the water to Mt Cook, it was incredible!
Tahr Statue at Lake Pukaki
There are several viewpoint stops along State Highway 80, Mount Cook Road. It is well worth allowing time to stop at each one to soak in the views. I stopped next at Lake Pukaki Visitor Centre to see the Tahr statue and visit the Mt Cook Alpine Salmon shop.
The lifesize bronze Himalayan Tahr statue, which stands on a rock looking out over Lake Pukaki, was sculpted by Murray Matuschka and erected in 2014 to commemorate the introduction of Tahr to New Zealand in 1904. There is a very interesting information panel beside it telling the history.
I bought myself a coffee and sat outside on a bench. Sipping it, I stared out at the views before buying some salmon to take and cook for dinner that evening.
Glentanner Park
When I arrived at Glentanner Park, I was surprised by how spacious it was. I must admit, although I usually research places I stay at beforehand, Glentanner had been a last-minute booking that morning when I realised I was not going to want to rush the drive to the White Horse Doc campsite in Aoraki / Mt Cook National, where I had been planning to go to next.
I booked in at reception and was given a map, showing where the powered sites were, and told to have a drive around and choose whichever I liked. This was a lovely change to the usual campsite booking process of just being given a site number.
After a drive all around the spacious powered site's area twice, I finally chose one to stay on, although any would have been as good!
Everything I could need

Glentanner Park has everything you could need and is in such a beautiful setting. The accommodation options include self-contained motel-style units, standard and basic units, a dormitory for backpackers, as well as a powered campervan and non-powered tent sites.
All had breathtaking views of Aoraki Mt Cook, Mount Cook National Park, Lake Pukaki and Glentanner Station.
I think it was only $25 for the night for myself and Wanda on a powered site, with free use of wonderful hot showers, spotlessly clean bathrooms, kitchen, lounge, laundry, picnic benches etc. There are even a couple of computers you can use, and Wifi available, although I didn't use them.
On site is also an information centre, a souvenir shop with lots of lovely Merino products, the Helicopter Line reservations desk (More on that to come…!) and a cafe.
Once I was parked up and plugged in, I decided I really should attack my overflowing laundry basket. The little tin I keep $2 coins in was empty. I trotted off to reception to get some change for the machines.
A change in plans
While chatting with the lovely lady in reception, the guy at the Helicopter Line desk next to her called out to ask if I wanted to go on a flight with a snow landing. I hadn't yet spotted the "Helicopter Line" sign. He only said the word Flight, so I was thinking little plane.
I asked if it was a plane, and he replied, "No, Helicopter. We go in 20 mins, and we've got one seat left. You can have it at a bargain price! It's a perfect day for it, too. It's going to be stunning up there!"
Well, I am terrified of heights to start with. Add to that a fear of helicopters I've had since I was about 16 when someone I knew who did repairs on them told me never to ever go in one. "There's one bolt holding those blades on, and if that comes undone, you fall from the sky like a stone!"
So I have no idea where the voice that said, "Ok, why not?" came from. I ended up paying and had just ten minutes to run back to Wanda to grab my phone and a sweatshirt, then back to reception, and it was time to go!
No time to think about it, luckily. I remember, as we walked out to the helicopter, thinking, "what am I doing? This can't be happening!! "
A helicopter tour – one of the best things to do in Mt Cook
What an incredible experience!! Once we were up in the air, the views around us were beyond spectacular. They just blew away any nerves as I tried to take it all in, take photos, and believe it was really happening!
We landed high up in the mountains on snow and had time to wander around, taking even more photos and talking to the pilot about the area and what we could see. Soon it was time to get back in and fly back to Glentanner. I walked back to Wanda in a daze, still unable to believe what had just happened!
I made some dinner and then sat and looked through my photos, proof that it was real! In the evening, I strolled down to the lakeside to watch the sunset before settling in for the night.
Oh, and I never did get the washing done.
Mt Cook Village
The next day, I drove to Mt Cook Village and the White Horse Hill Doc campsite at Mt Cook National Park. It had been highly recommended to me and did not disappoint!
Surrounded by mountains, plenty of space for both vans and tents, toilet blocks and water. Plus, it's so convenient for the many walks in the area, the most famous of which is The Hooker Valley Track, which starts here.
That was my plan for today. Once I had chosen my camping spot and packed some lunch and plenty of water, I set off on the track.
Hooker Valley Track – one of the best things to do in Mt Cook
It is a relatively easy walk, taking about 3 hours return (10 Km) if you just walk there and back, but it really is best to allow much longer, as the views at every turn have you grabbing the camera yet again or just standing gawking!
The track leads up the Hooker Valley and along the Hooker River, crossing three swing bridges and ending at the glacier lake, complete with picturesque icebergs and amazing views of Aoraki/Mount Cook.
Along the way, there are some toilets and a few picnic benches. I stopped at one of these for my lunch. The benches and area at the end can get very busy with picnickers.
A chance meeting with a guide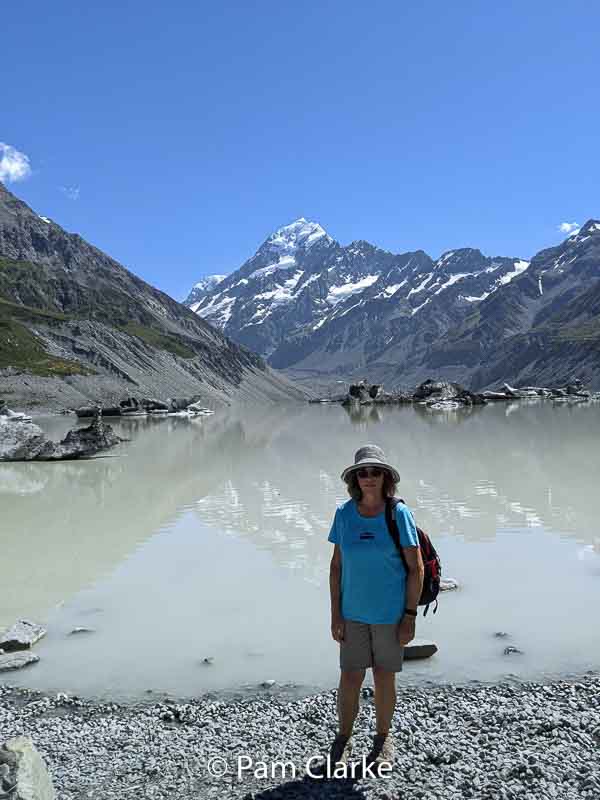 At one of the viewpoints, I caught up with a group doing a guided walk.
The guide was talking to them about the area. He told me about the hut that can be seen from there and asked if I knew where to look. I said I didn't, so he pointed it out. I would never have spotted it without him showing me. A tiny red dot on the mountainside is the Sefton Bivvy, the oldest hut in Aoraki/Mount Cook National Park.
The guide told me that it was built as a shelter for people climbing Mt Sefton and Footstool. The men who built it back in the early 1900s carried the materials to build it up the mountain. It sleeps up to 4, and you can still stay in it today on a first-come, first-served basis.
Down at the lakeside at the end of the walk, I was taking in the views when I got chatting with a lovely lady and her daughter. She offered to take my photo, and I did the same for them. They were booked to go on a Heli flight that afternoon. I told them how amazing mine had been!
After sitting for a while, I started to head back to the campsite; the walk back is just as stunning as on the way. Before I knew it, I was back. Even the swing bridges didn't bother me this time!
Mt Cook Village Visitor centre – DOC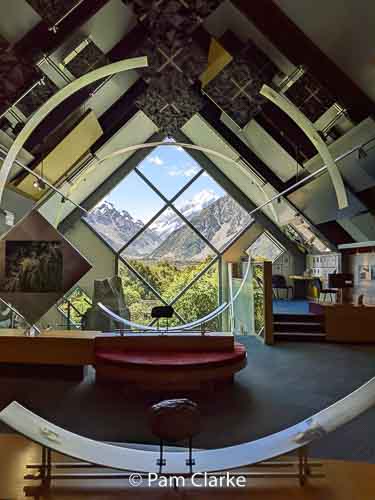 Later that afternoon, I decided to wander into Mt Cook Village to go to the Doc Visitor Centre. It's not far to walk there on the path. Somehow, I missed it and ended up going along the road, which is a much, much longer way round!
I finally arrived and spent quite a while looking around. It's worth a visit just for the incredible building, featuring a large picture window that looks out and frames Aoraki. There are lots of interesting exhibits, information and bookings for local activities, a gift shop, and much more.
Before what I was expecting to be another long walk back to the campsite, I decided to treat myself to a coffee, which I enjoyed looking out at the views. The coffee was the most expensive I had all trip, but with that setting, it was well worth it!
I tore myself away and set off to walk back. This time I found the footpath and was soon back at the campsite, where I cooked dinner and watched the sunset before a good night's sleep.
The next day was a beautiful clear day yet again, with stunning views of the mountains. I couldn't believe how lucky I had been, with clear cloud-free views of Aoraki the entire time in the area!
Kea Point – another of the best things to do in Mt Cook
I spent the morning planning the next few days. Then after some lunch, I set off to walk to Kea Point. It's an easy 20-minute walk from the campsite. The track winds its way through the subalpine grassland and mountain scenery to the Mueller Glacier moraine wall.
When I read about the walk, I learnt that the landscape that the track passes through was formed in 1913 when a stream cut through from the glacier to the original site of the Hermitage Hotel, damaging the building.
At the end of the track, there is a viewing platform. From here, you get amazing views of Mt Sefton, Hooker Valley, The Footstool Mueller Glacier Lake and Aoraki/ Mt Cook.
Spotting kea in the wild
I had never seen a kea in the wild. As I walked along, I was really hoping to spot just one; flying past would do. I just wanted to see one! I arrived at the lookout area and sat staring at the views; it was so beautiful there.
Suddenly I heard a noise behind me, looked round and there, sitting on the railing, was a kea! He flew off, and then lots more appeared, all squawking and soaring around before landing close by. I couldn't believe it! I stood up to take some photos. While I did so, one cheeky kea decided to have a peck at my backpack on the bench!
He hopped up to the rail when I walked closer but didn't fly off. There were at least six keas all swooping around, landing and taking off again for ages. It was really magical as I was the only person there watching them.
The sun was starting to go down, so I knew I should make my way back to the campsite before dark. But I didn't want to leave! Eventually, a young couple arrived who came to watch the sunset from there. After a quick chat, I left them to it and walked back, arriving back at Wanda just in time to watch the sky turn red behind the mountains as the sun set on another incredible day.
Alps 2 Ocean section bike trail
The next day was my last full day in the area and another stunner! I packed food and water, got my bike (named Nigel for some unknown reason, but bikes need names too, right?!) ready, and set off to ride the Alps 2 Ocean section. It goes from White Horse Hill campsite to Mount Cook Airport. It is an easy 7.4km ride, taking approx 1hr 37 min average.
If you plan to continue the A2O ride, you need to take a short helicopter ride across the Tasman River. I was just doing this section there and back again this time. At some point, I really want to do the full trail. The trail is ever so slightly downhill on the way towards the airport, which I didn't notice until I was on my way back.
The scenery the entire way is just stunning. I was rolling along, looking around me, still not quite believing I was actually there! I stopped off by the river to have a drink and just sat for a while, watching some tiny birds flit around over the water and listening to the river rushing over the rocks.
When I arrived at the airport, I took another break. Then I turned and headed back. The slight gradient didn't warrant turning on Nigel's electric mode. That evening I decided to walk to Kea Point again. I set off quite late in the afternoon, so I knew it would be a there-and-back walk with no time to sit for long, but it's still a lovely walk. This time I didn't see any keas, but the scenery was enough.
Red Tarns Walk
The following morning it was time to leave, all be it reluctantly, and with promises to return, but not before stopping in Mt Cook Village to do the Red Tarns Walk and visit the DOC centre again.
The Red Tarns Track is described as a moderately challenging route. It takes an average of 1hr 26 to walk the 2.4kms with a 300m height gain. The track is mostly uphill, with lots of steps.
I had thought it would be a good alternative for me to the Sealy Tarns track, which I had decided I would not be able to do, mainly due to my fear of heights!
An unexpected obstacle
The Red Tarns track turned out to be not the best either if you have a bad fear of heights! Most of it was okay, but there was one section where there had been a bit of a rock fall. This left a narrow path right by the edge, the side of which plummeted down to the valley below. (or so it seemed to me!)
I stopped beside a large rock face that was sticking out into the path and clung to it. Accidentally looking under my arm, I saw the view down, then I froze! I couldn't move and was thinking I should turn back if I could get my legs to work when a lovely lady came by and asked if I was okay.
Normally I'd say yes, thanks, fine! But I wasn't. I told her I was just having a moment. She said she totally understood, and normally that was her. She offered to help me past that bit which she did, and I continued to the top.
The views from the top were worth it, looking all over the mountain range and down to the village below. The Red Tarns are named for the red pond weed that grows in them, giving them a red covering. After walking the path around the tarns, I walked back down, stopping to take photos of the views along the way.
Back at Wanda, there was just time for another quick visit to the DOC Centre before heading off. Looking in the rearview mirror as I drove away from Aoraki/ Mt Cook, I knew that a little piece of my heart was left there, and I had to come back as soon as I could.
Finding the freedom camping site on the shores of Lake Pukaki
I was also excited about my next stop, though not too far away and still with Aoraki in sight, I was headed to a freedom camping spot on the shores of Lake Pukaki. There are several freedom camping areas along the lake for fully self-contained vehicles. Some are marked on the map, and others are just by a sign in the grass.
I had been told about the spot by some people I was talking to at Glentanner. To find it, you turn left onto Hayman Road from SH8, just after the Lake Pukaki Viewpoint carpark. (Coming from Glentanner)
Follow the road round to the right and continue on past three turnings on the left to Freedom Camping areas. The next left takes you down to an area where you can freedom camp. It's not well signposted, so is very quiet.
Relaxing at the lake – a perfect way to finish off the things to do in Mt Cook
I parked up right by the lakeside, with just a short drop down the bank to the stony lake edge and the water. It was perfect for taking my paddleboard out easier. I went for a wander along the lake edge. On one of the rocks, someone had left a beautiful painting of the mountains. The caption read, "Take Time to Take it in" That is exactly what I did.
I spent a wonderful three days here, mostly alone. A couple of other vans arrived to stay overnight and then move on.
I spent my time paddleboarding on the clear waters of Lake Pukaki, floating around sitting on the board just taking in the views, sitting relaxing and reading beside the van, and just generally chilling out in the peace and quiet, making the most of my last few days before I had to turn and head north, towards home, back to the reality of real life and back to work.
Where to find all of these things to do in Mt Cook
Save on your NZ trip with these resources
These are our go-to companies when we travel. We believe this list to be the best in each category. You can't go wrong using them on your trip too.
Flights: we use Expedia for the best and cheapest flight options.
Accommodations: we use Booking.com (hotels), Bookabach (self-contained in NZ) or Hostelworld (budget).
Cars (gas or electric): we use RentalCars to search for deals and dealer ratings.
Motorcycles: we have heard good things about BikesBooking.
Campervans or Motorhomes: we use Campstar where Albom Adventures readers get a 3% discount.
Activity discounts: we check Bookme.com for discounts of up to 70% on activities.
Private guides: we love the private guides at Tours by Locals.
Travel Insurance: while not required, we always opt for travel insurance and start at InsureMyTrip to compare coverage plans.
Check out our travel resources page for more companies that we use when you travel.
Travel to next: Christchurch to Queenstown Road Trip Itinerary – it includes a stop where you can spend days and do all the things to do in Mount Cook from this page. For more expansive road trips, start here: New Zealand Road Trips: Itineraries for North or South Island Adventures
Save for later
If you enjoyed this article, please share it on social media and save it for later on Pinterest.
Which of these walking tracks and other things to do in Mt Cook will you try?
About Pam Clarke

Pam Clarke moved to NZ from the UK 20 years ago and resides on the Hibiscus Coast, where she works in childcare. She enjoys travelling, especially taking short breaks to explore different areas of New Zealand.