Enjoying high tea in Auckland, our home city, is like taking a mini-holiday neatly wrapped up in an afternoon. It's an opportunity to relax and appreciate a touch of elegance, savoury and sweet treats, traditional warm scones, and, of course, a delicate pot of tea.
While traditionally associated with the UK, the custom of high tea in Auckland is long-established. There are new players coming onto the scene all the time. The elegant Chandelier Lounge at Cordis hosted our most recent Auckland high tea, and it was divine.
Following tradition and adding a bit of contemporary flair, our afternoon at Cordis was relaxing, full of delicious flavours, and complete with several surprises.
But, it's not the only great option in town. Below, find our full review of the Cordis Auckland high tea, followed by a list of several other tempting venues. Have a look and see which you think is the best high tea in Auckland.
"Under certain circumstances, there are few hours in life more agreeable than the hour dedicated to the ceremony known as afternoon tea." ~ Henry James
Let us whet your appetite …
Our Cordis Auckland high tea experience
Comfortably settled into plush, high-back chairs surrounded by the luxurious lounge and its sparkling chandelier, we were ready. It's an ideal location for an opulent afternoon tea.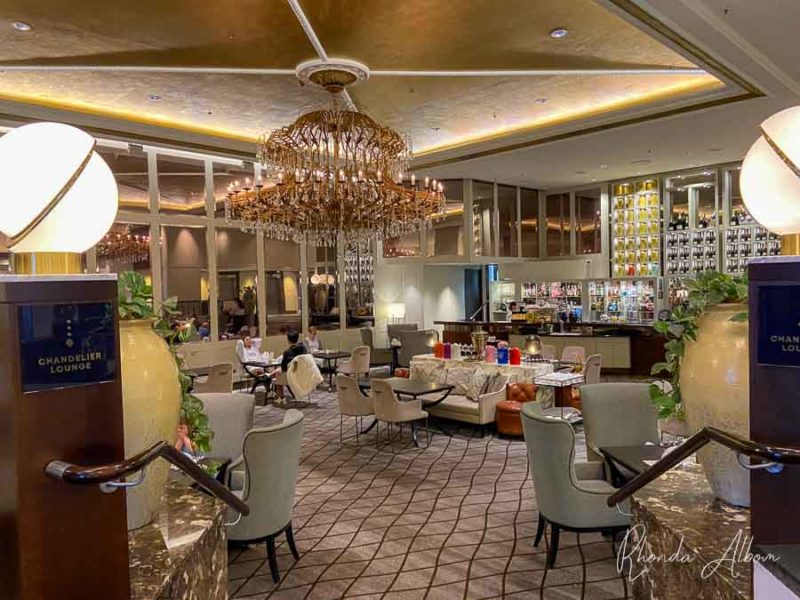 Welcome drink and teas
Delicate flavours, elegant ambience, and five-star service defined our Auckland high tea at Cordis. Even before we had a good look at the tea menu or got recommendations from the tea experts, we were welcomed with creme caramel mocktails.
Alcohol-free, it was a refreshing blend of creme caramel tea, apple juice, and caramel syrup. A splash of soda and a cinnamon stick kept it from being too sweet. Already, we knew we were in for a wonderful afternoon.
The menu offered about 20 different tea options, all from TWG, often considered the world's finest luxury tea. An acronym for The Wellness Group, TWG teas are based out of Singapore.
Cordis' tea options include black, green, oolong, white and decaffeinated and theine-free teas. Jeff opted for a classic Earl Grey tea, while I went for something a bit more exotic.
Importantly, we could choose two hot drinks from their selection of teas or specialty coffees.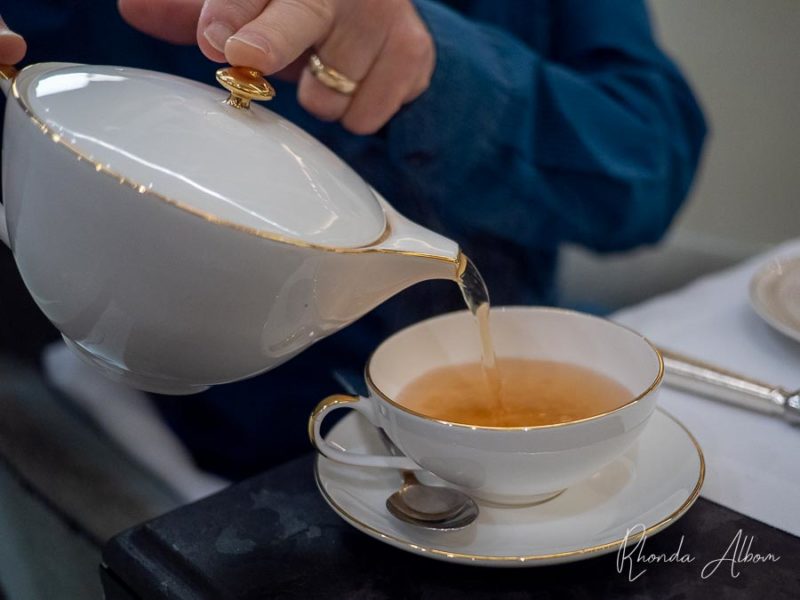 Savoury and sweet
Next came our three-tied golden cake plate filled with exquisitely handcrafted savoury and sweet options. The colourful and creative menu changes seasonally to showcase the best of local freshness.
It's almost impossible to pick a favourite item from the collection of edible delights, but luckily I didn't have to. I simply enjoyed it all.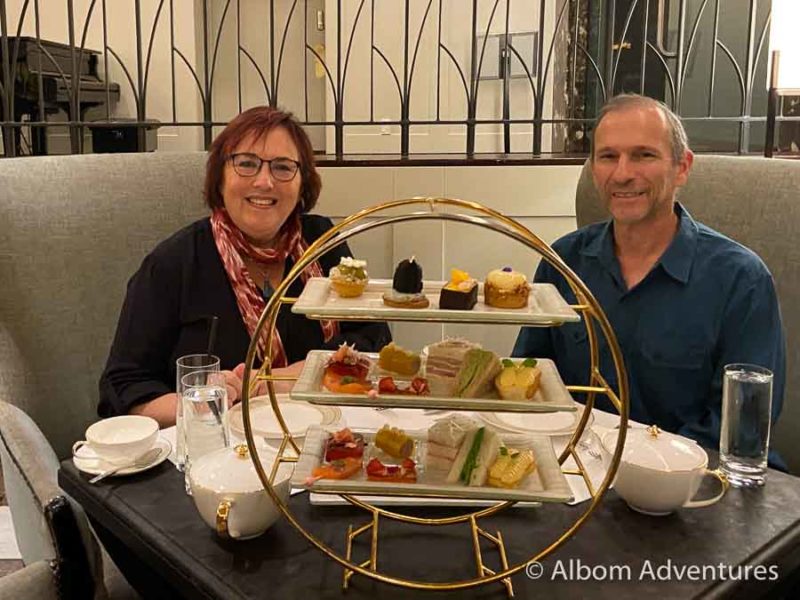 Some of the savoury items included: cucumber cured salmon with cucumber ketchup and onion; roast carrots with hazelnut cream and dukkah; and, impressive mini sandwiches like cucumber, peas, and goat cheese on bread.
The decadent sweets captured my heart. They included tasty delicacies like black sesame and fig choux; mandarin coffee slice; and pecan, honey, and pear tartlets.
The warm and famously fluffy scones arrived on their own elegant fine bone china plate with traditional artisan jam and clotted cream.
And if that wasn't enough (it was), a festive chocolate and orange bar surprise concluded our high tea in Auckland.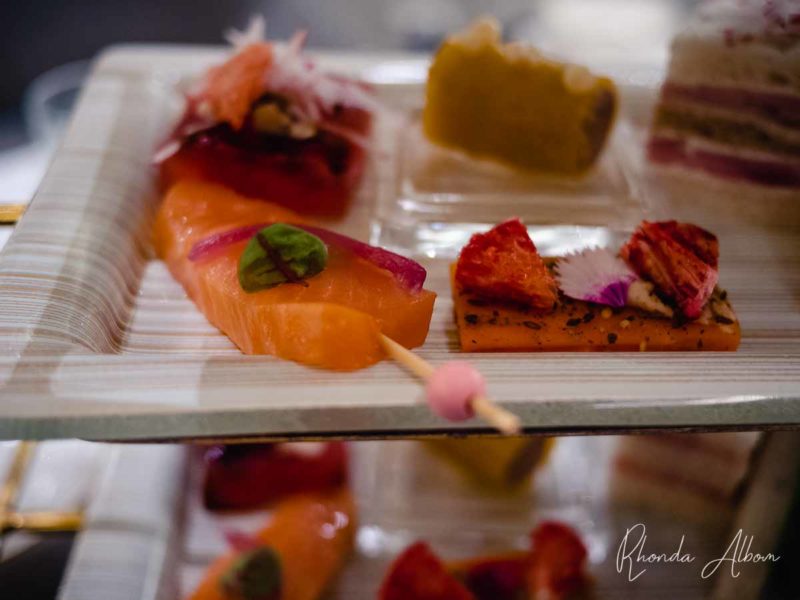 Catering to food allergies and gluten-free diets
I am a bit more complicated than the average customer. While Jeff can enjoy everything, I have quite a few food allergies, and my foods must be both gluten-free and dairy-free.
Cordis met the challenge like a champion. In addition to dairy and gluten-free, they also offer vegetarian, vegan, or halal high tea options, and they do a special spread for kids. They also can cater to those with coeliac disease.
Our Cordis high tea in Auckland conclusion
While originated as a treat between meals (see below for history), for me, it was dinner. An incredibly delicious and elegant gastronomic treat that not only filled me up for the rest of the day it also met my dietary requirements.
Jeff's conclusion is the same. Eating from the traditional menu, he was greeted with culinary excellence and enjoyed every bite.
What you need to know to enjoy a Cordis Auckland high tea
Bookings are essential.
There are two sittings on each of the weekdays (Monday to Friday), with the first sitting at 11:30 am and the second at 2.30 pm.
Saturdays and Sundays are more popular and offer three seating options at 11:30 am, 2:00 pm, and 4:30 pm.
There is an extra fee for a flute of Louis Roederer Champagne.
Cordis requires 24 hours notice to accommodate special dietary requirements.
Cordis is part of the Langham group, and their high tea is a contemporary version of a nearly 150-year-old Langham tradition. We have enjoyed a Langham High Tea in Auckland prior to the transition to Cordis and at the Langhams in Hong Kong and Melbourne, Australia.
Cordis Auckland is located at 83 Symonds Street, an ideal location for tacking on a night's stay and enjoying the city and all the many things to do at night in Auckland.
A bit of history 'high tea' vs 'afternoon tea'
Although technically an afternoon tea, locally, it would be called a high tea in Auckland, as it is in most cities and countries outside of the UK. In fact, the term is so popular now that some of the London hotels that cater predominantly to overseas guests call their late afternoon posh meal a 'high tea'.
"Tea to the English is really a picnic indoors." ~ Alice Walker
What is 'afternoon tea'?
British in origin, the tradition of afternoon tea dates back to Anna Maria Stanhope, the 7th Duchess of Bedford (Mid 1800s).
Having a long wait between breakfast and their fashionably late 8 pm dinner, the dutchess Anna would get hungry around 4 pm. On one particular day, Anna's hunger resulted in a "sinking feeling", and she requested tea and bread/cake sent to her private chambers.
This became a habit, and soon, she began inviting others to join. Thus, the traditional English Afternoon Tea was born. By the 1880s, afternoon tea became a fashionable event associated with the upper class, often served in the drawing-room on a low table.
The term 'afternoon tea' is still widely used in the UK.
What is 'high tea'?
Today, the term 'high tea' is synonymous with 'afternoon tea' although, historically, the two terms are quite different.
Back in the Victorian era, while the elite were enjoying afternoon tea at 4 pm, the common people were still at work. When they did get home, they sat at their table and enjoyed a meat or mealtime tea.
The actual term 'high tea' simply refers to the higher table on which the meal is eaten, as compared to the upper-class posh afternoon tea on the low parlour table. Later, this meal's name was simply shortened to "tea." (When we first arrived in New Zealand nearly 20 years ago, the term "tea" referring to the evening meal, was one of many kiwi slang words that confused me.)
Other options for high tea in Auckland
While we believe Cordis is one of the best options for high tea in Auckland, there are several others worth mentioning. We have not experienced all of them personally and have relied heavily on reviews for some of the information in this section.
Roaring '20s-themed High Tea at DeBretts, 2 High Street, Auckland CBD, phone: 09 925 9000
Saturday and Sunday seating times from 12:30 – 3:45 pm – bookings essential
Surrounded by art deco, this roaring 20s high tea is tasty and fun, featuring savoury starters followed by incredible sweets and traditional lemonade scones. Dress the part in 'Flappers or Dappers' or (for an extra $15) get an accessory pack with faux pearls, elegant headbands, demure long gloves, and bright feather boas. There is also a Tipsy Tea option which adds a trio of prohibition drinks.
Ostro High Tea, 52 Tyler Street, Auckland CBD, phone: 09 302 9888
Sundays from 12 pm – 4 pm – bookings essential
Enjoy harbour views from Britomart's Seafarers building while you indulge in a menu complete with savoury and sweet options. This one had ended but is back by popular demand. You can even order for pick up and enjoy the flavours at home.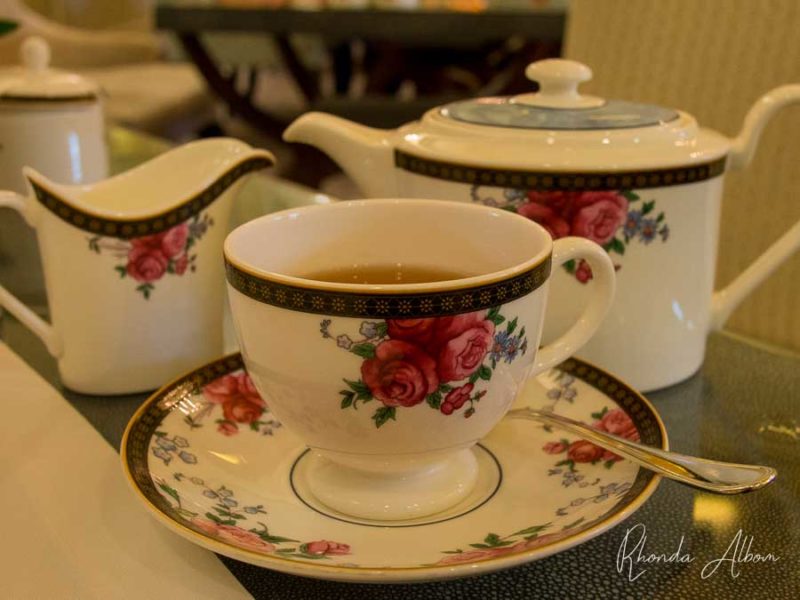 More Auckland high tea destinations
Bluebells Cakery High Tea, Three locations (Commercial Bay, Hillsborough, or Kingsland))
Daily with three seatings at 10 am, 12 pm, 2 pm
Specializing in sweets, Bluebells also knows how to make savoury treats. They offer several specialized selections like their pregnancy-friendly, vegetarian, gluten-free, or kids menus.
Fable Auckland (Cooke's) High Tea, 60 Queen Street, Auckland CBD, phone: 09 309 9979
Saturday and Sunday from 1 – 4 pm. – Bookings essential
All the classics in this elegant high tea, from savoury and sandwiches to sweet treats and of course, warm scones with clotted cream and strawberry and rose preserves. The seasonal menu changes, but there are always gluten-free and vegan menus available.
Sofitel High Tea, 21 Viaduct Harbour Avenue, CBD, phone: 09 909 9000
Saturday – Sunday 12 – 3 pm
Another delicious option, this one is a bit more French-inspired in its flavours.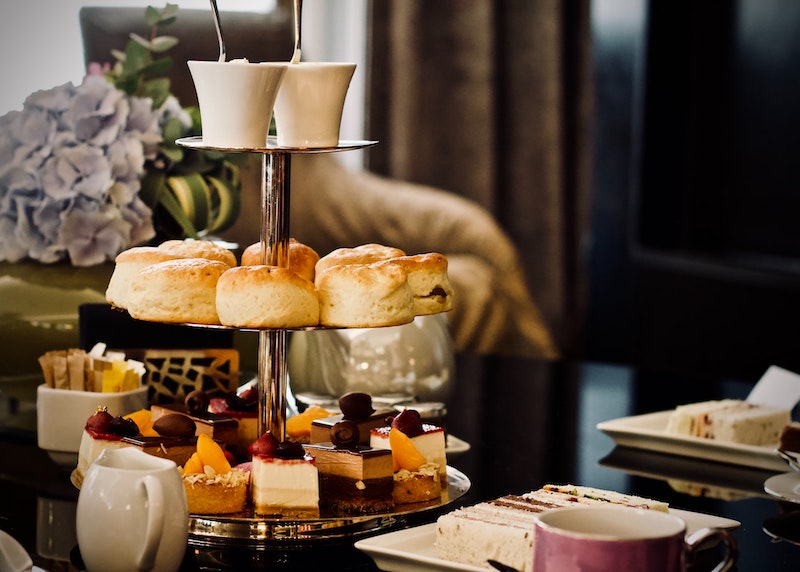 Still more Auckland high tea destinations
Park Hyatt High Tea, 99 Halsey Street, Auckland CBD, phone: 09 366 1234
Thursday – Sunday 12 – 2:30 pm
Arrive hungry and be ready for a five-course Auckland high tea served slowly in a waterfront room. This is the ultimate in relaxation. The menu changes seasonally.
Cornwall Park Bistro High Tea, One Tree Hill, Greenlane, Auckland, phone: 09 630 2888
Tuesday – Friday all-day, Saturday and Sunday 2-4 pm
We love Cornwall Park. An afternoon walking up One Tree Hill and enjoying the city views is the perfect prelude to a high tea in Auckland, and the Cornwall Park Bistro is right there, offering a variety of teas from traditional to some rare white teas.
Cordis High Tea, 83 Symonds Street, Auckland CBD, phone: 09 379 5132
Daily as above
This is the Auckland high tea we wrote about above, placed here again for your convenience.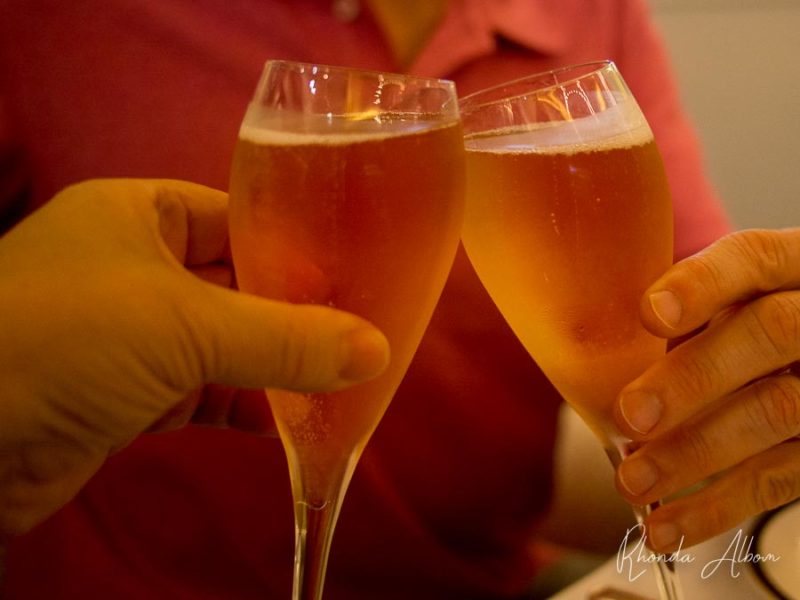 "You can never get a cup of tea large enough or a book long enough to suit me." ~ C.S. Lewis
Save with these resources in Auckland and all of NZ
We usually start with aggregator companies as they do the work for us by providing a list of options, prices, and reviews. However, we also added a few personal NZ favourites:
Before you book the rest of your trip: Check out our travel resources page for more companies that we use when you travel.
We believe this list to be the best in each category. You can't go wrong using them on your trip too.
Save for later
If you enjoyed this article, please share it on social media and save it for later on Pinterest.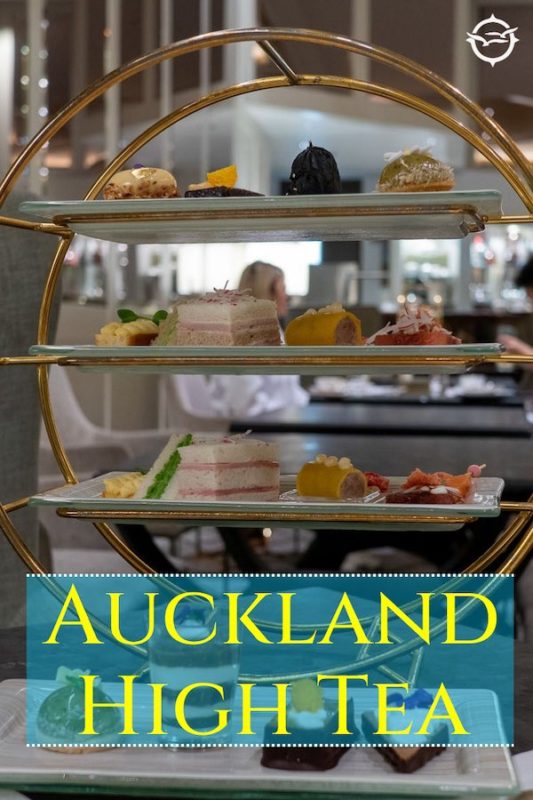 Where will you enjoy high tea in Auckland?
Disclaimer: We were guests of Cordis for our Afternoon Tea, however, the opinions expressed here are strictly my own.
SaveSave