I was surprised when I first learned that there are penguins in New Zealand, and delighted the first time I saw them in the wild. It turns out these elusive flightless seabirds reside throughout the southern hemisphere.
We have been lucky enough to see all three of the penguin species that nest on NZ's mainland. In total, there are 18 different species of penguins worldwide, and nine of these breed in NZ waters.
Even more impressive, 13 of the species have been spotted at least once in the New Zealand region (including the Ross Dependency), according to the Department of Conservation (DOC). That's pretty remarkable for a small country.
Although penguins in New Zealand are protected, humans remain one of their greatest threats. As a result, many, but not all, of the locations frequented by New Zealand penguins require a guided tour for access, but we think it's worth the effort and cost.
Spotting the penguins on your own is still possible and even more likely if you know where to look. Remember to give them space when you do spot them in the wild. This is especially important when they are nesting.
Spotting penguins in the wild is always a big thrill. And while nature is unpredictable, we have highlighted below 18 places to see New Zealand penguins.
Important: Remember to protect New Zealand wildlife. The safest way to view penguins in New Zealand is from a distance. If you come upon them on your own, do not disturb them or their habitat. See tips for keeping penguins safe and the Tiaki promise below.
Best places to see penguins in New Zealand
The map shows some of the places to see wild penguins in New Zealand. Click the expand / collapse icon in the upper left corner of the map for more details.
The majority of the mainland penguin colonies are on the South Island, but we frequently see little penguins when we sail in Auckland. The largest colonies of New Zealand penguins are found at:
Akaroa Harbour
Oamaru
Katiki Point Lighthouse
Otago Peninsula
Curio Bay
Stewart Island
Munro Beach
Three species of penguins in New Zealand
Photos not to scale.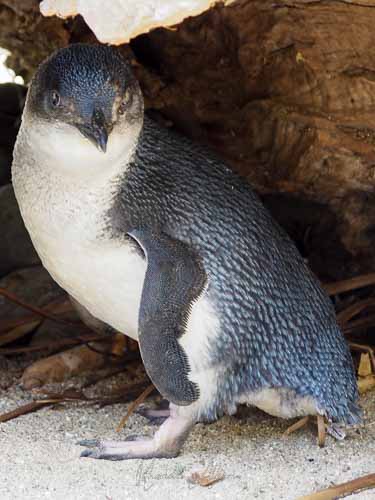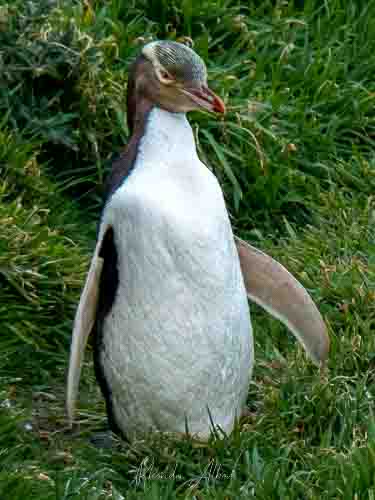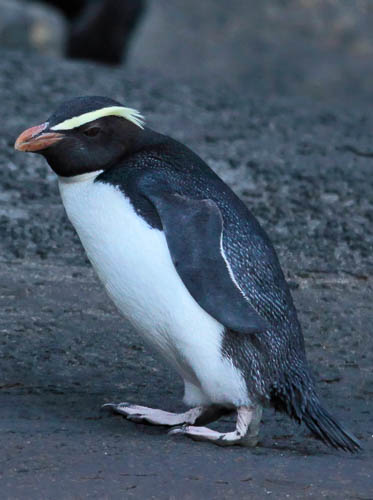 Little penguins, yellow-eyed penguins, and Fiordland-crested penguins are the three species living on the mainland. These penguins nest on the island's rocky shores, caves, and fiords.
Little penguin
The world's smallest penguins, thus their name. On average, they weigh only about 1 kg (2.2 lb) and stand about 35-43 cm (14-17 in) tall. Previously called "little blue" or monikered "fairy penguin," these gorgeous little birds feature white undersides and blueish-grey backsides. A species native to New Zealand, they live and breed on the coasts of both New Zealand and southern Australia. Personally, we have seen them many times, both in the wild and at NZ zoos.
Yellow-eyed penguin
Endemic to New Zealand, the yellow-eyed penguin is the world's rarest species. They are found on the South Island, Stewart Island, and a few of NZ's smaller outlying islands. Easily identifiable by the vivid yellow band around their eyes, we have personally seen them in the wild at three different locations (see below). Hoiho was awarded the 2019 NZ Bird of the Year by Forest and Bird.
Fiordland-crested penguin
The Fiordland crested penguin, also endemic to New Zealand, is often considered to be the second-rarest species. While they mate for life, only 2,500-3,000 breeding pairs remain. They also have a yellow band on their face, but it sits above the eye. We have only seen them in the wild once.
Where to see wild penguins in New Zealand
Below find more detail on the viewing spots on New Zealand's South Island.
Oamaru Blue Penguin Colony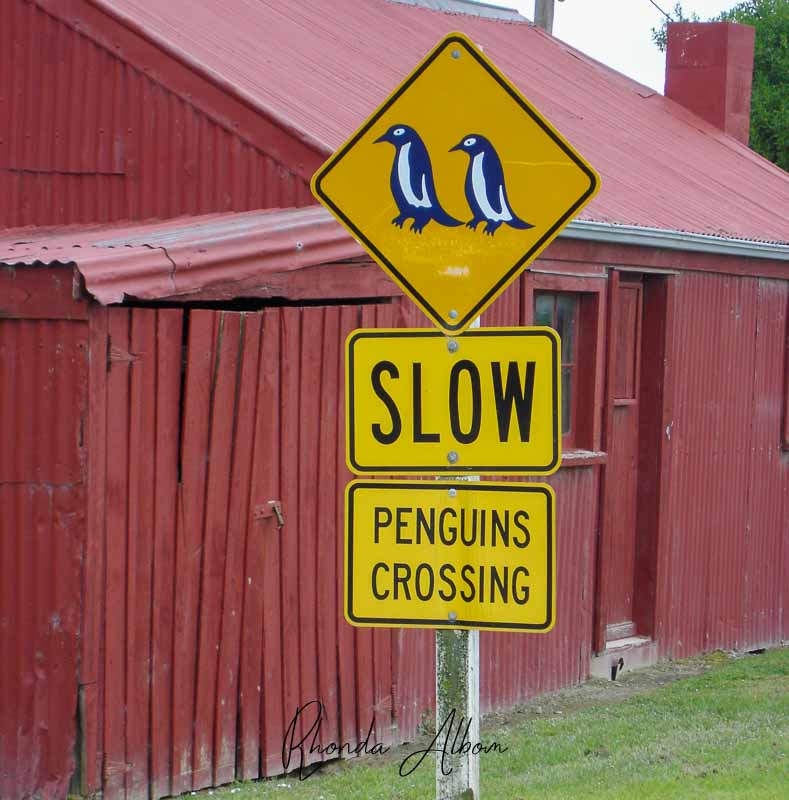 The Blue Penguin Colony in Oamaru is a protected natural habitat. It offers an opportunity to see little penguins up close while learning about their ecology and conservation.
In addition to being a tourist destination, it is a research facility employing marine scientists to explore the impact of changing environments on these flightless birds. They are dedicated to long-term conservation, and the entrance fee supports this important work.
Visitors watch the penguins arrive home after a day of fishing every evening at a safe distance.
It's one of many unique things to do in Oamaru, a town well known for its Victorian-era construction and as the steampunk capital of New Zealand.
Katiki Point Lighthouse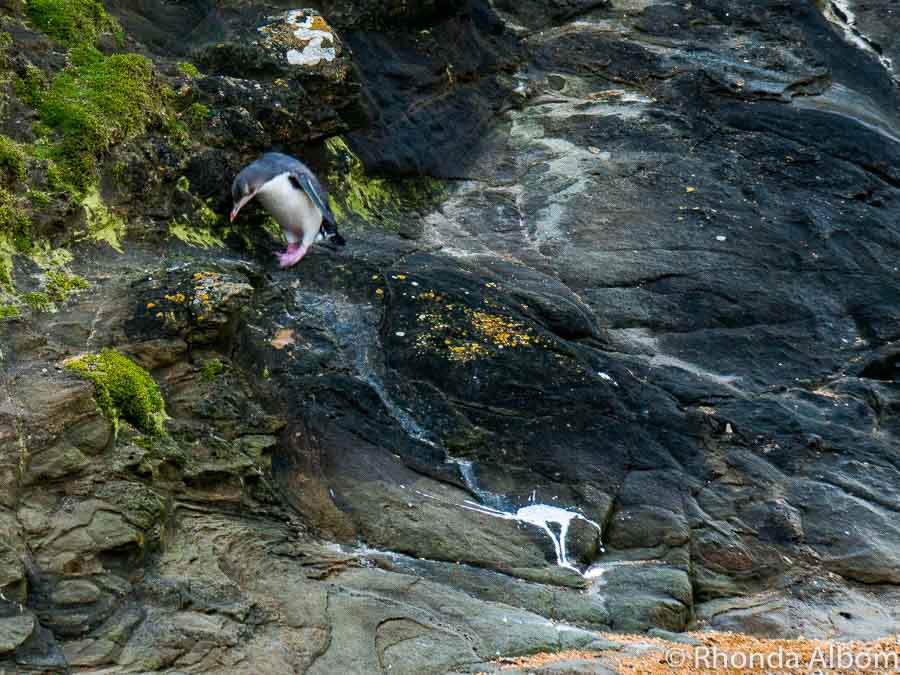 The Katiki Point Lighthouse is about an hour north of Dunedin and just south of the Moeraki Boulders. It's not a popular spot. Our best guess as to why would be that the metals (gravel) road leading to it feels so isolated we were pretty sure it led nowhere and almost gave up.
Once at the car park, we followed the footpath passing the lighthouse until just beyond the stile that was installed to allow us to cross.
Almost immediately, we began to see wildlife in the distance, including some rare yellow-eyed penguins on the rocks below. As I was taking zoom lens photos, my daughter quietly pointed out a striking yellow-eyed penguin that stood watching us from less than 10 meters away. Our full story and images are here.
Otago Peninsula (Dunedin)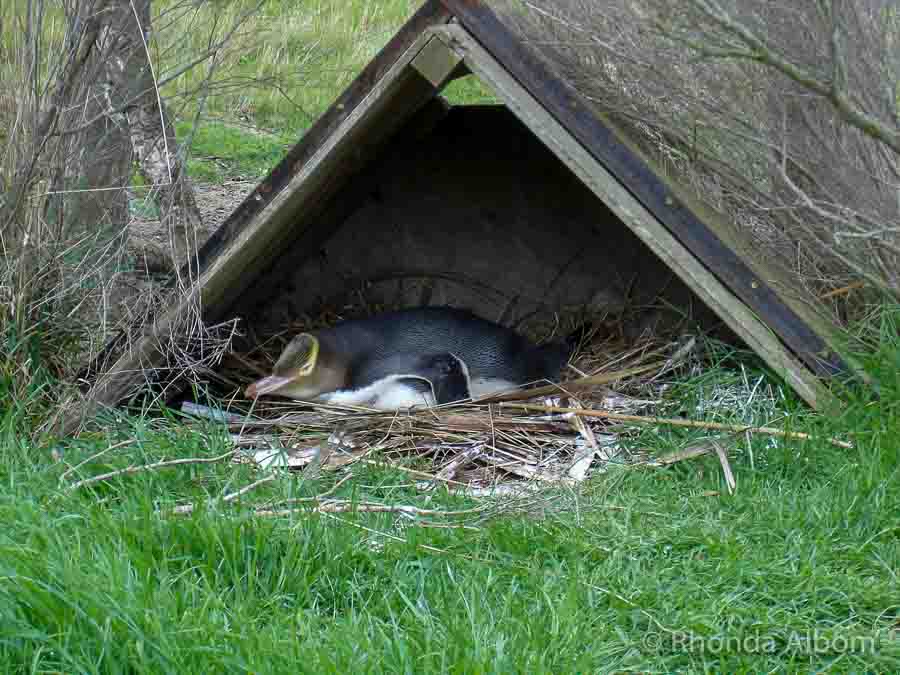 The Otago Peninsula is a great place to see wildlife, and that includes plenty of penguins. While you may stumble across some in the wild, there are two fabulous guided options that we have done and recommend. In both, you view the penguins in their natural environment. These are Penguin Place and Taiaroa Head (just outside the Royal Albatross Centre).
Penguin Place
Penguin Place is the world's first entirely tourism-funded conservation programme offering us a unique perspective. Here, we walked through a series of covered trenches allowing us to remain hidden while observing yellow-eyed penguins in their natural habitat. Many of the birds chose to use the nesting boxes built into the hillside.
Blue Penguins Pukekura
At the farthest end of the Otago Peninsula, on Taiaroa Head (adjacent to the Royal Albatross Centre), we get an inside look into little penguins from a perfectly positioned viewing platform. We watched a raft of penguins return home, as they do every evening at dusk. The tours protect the wildlife while providing an opportunity to learn about the significance of the reserve to the Māori people. In 2022, it was voted among the top 10 best experiences in New Zealand on Trip Advisor. Reserve your Blue Penguins Pukekura tour here.
Curio Bay (The Catlins)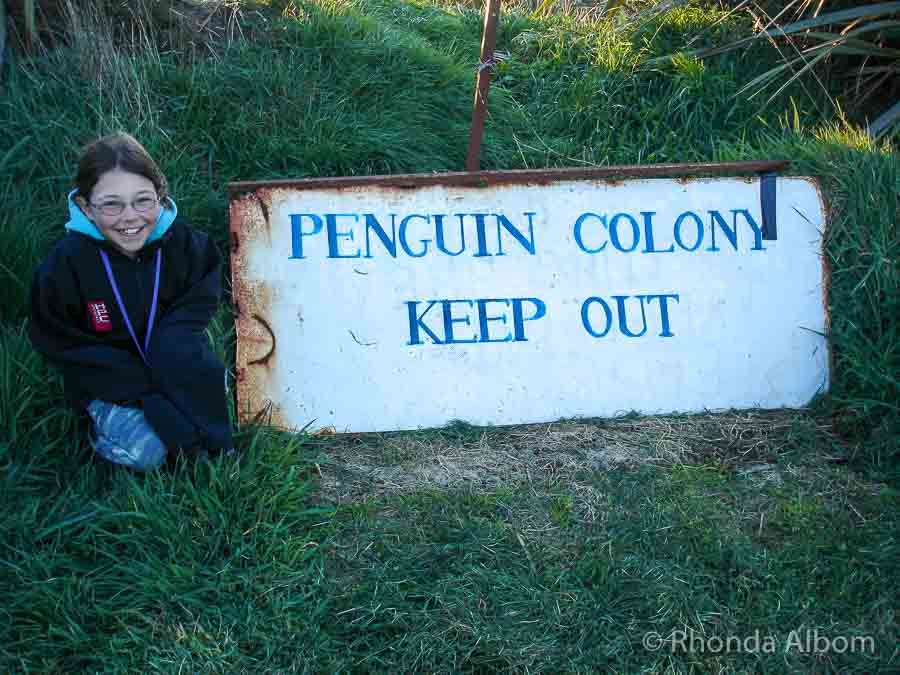 A popular place to see penguins in New Zealand, a raft of yellow-eyed penguins come home every night around dusk. There is easy viewing from the hilltop.
The October night we went, we stood outside in the wind for nearly two hours. In fact, I was the last holdout, staying much longer than the other visitors that night. In total, we saw two penguins in the distance.
The penguin lover I am, this still seemed worth it. The next day we headed down to the petrified forest (also in Curio Bay) and spotted two more in the distance.
Stewart Island – Rakiura
New Zealand's third largest island sits just 30 km south of the South Island and is a wildlife haven. With 85% of the island declared National Park, few driving roads, and a preditor-free bird sanctuary on Ulva Island, Stewart Island's impressive bird life attracts bird watchers and hikers.
While Litte blues are most commonly seen here, there is a high probability of spotting yellow-eyed penguins as well. And, as a bonus, there are more brown kiwi / Tokoeka than humans on the island. Read more about Stewart Island here.
Munro Beach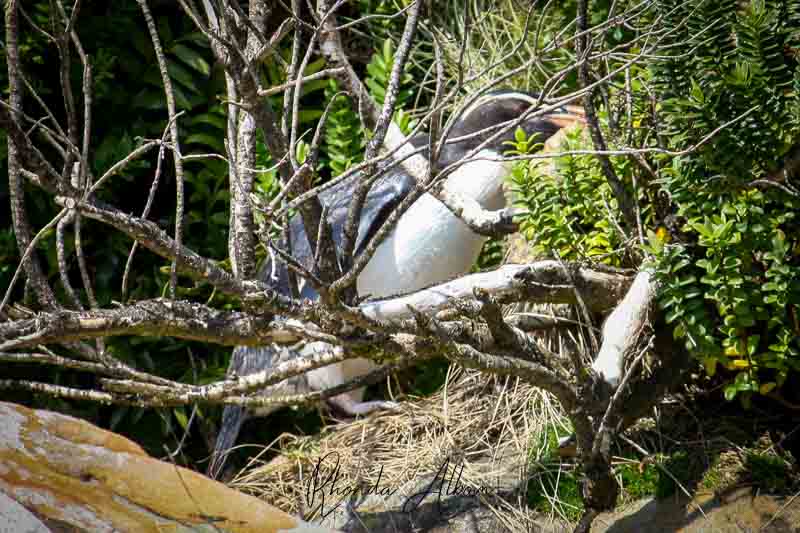 The only time I have personally spotted Fiordland crested penguins was at Monro Beach, a short hike from Lake Moeraki (30 km north of Haast). We saw only a few as they left the surf and waddled across the beach and into the scrub bush.
Despite the signage telling us about the breeding penguins, I believe we got lucky. That, and a bit of patience. We waited quietly on the beach for what felt like several hours before the first penguin came into view. We remained at a distance to protect them. You can read the full story here.
Banks Peninsula
NZ's largest mainland colony of little blue penguins nest just outside of Christchurch, near Akaroa on the Banks Peninsula. These include some white-flippered little penguins, a variety only found in Canterbury.
A popular penguin adventure starts out in Akaroa and heads to Pohatu/Flea Bay to observe a raft of little penguins as they return to land for the evening. Dressed in camouflage and using binoculars (provided), you can observe the birds without disturbing them. The 4WD transport and fabulous views across Akaroa harbour are all part of the fun. Reserve your Pohatu little penguins 3-hour evening experience here
More spots to see wild New Zealand penguins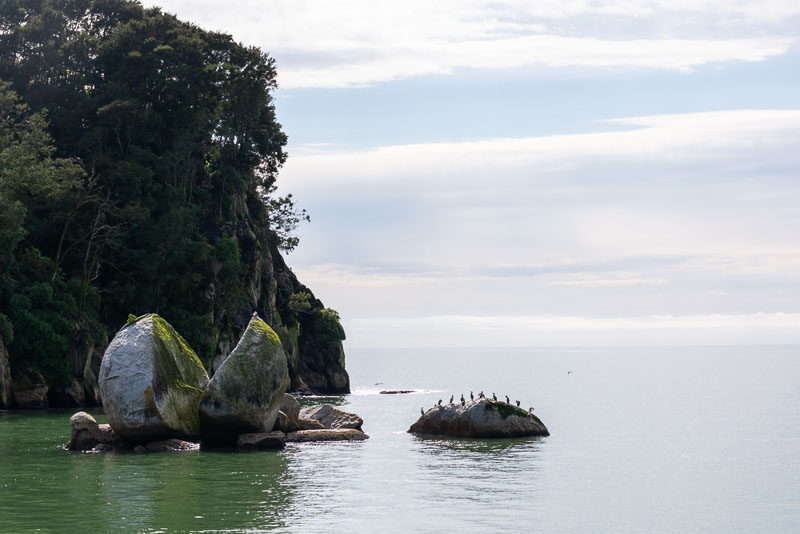 Here are a few more places where you might spot New Zealand penguins.
Marlborough Sounds: Little penguins
Abel Tasman National Park: Little penguins
Timaru: Little penguins
Kaikoura: Little penguins
Milford Sound: Fiordland-crested penguins
Best time of year to see New Zealand penguins
In general, July to March is the best time of year to see penguins in New Zealand, depending on the species. They tend to spend more time ashore during their breeding season but remember to view from a distance. Do not disturb the birds.
Best time to see each species:
Little penguin: June to March (most of the year), they waddle ashore in the safety of darkness.
Yellow-eyed penguin: August to April (although April is moulting season)
Fiordland-crested penguin: July to November (and they sometimes return during the moulting season from mid-January to early March.
Aquariums and zoos where you can see penguins in New Zealand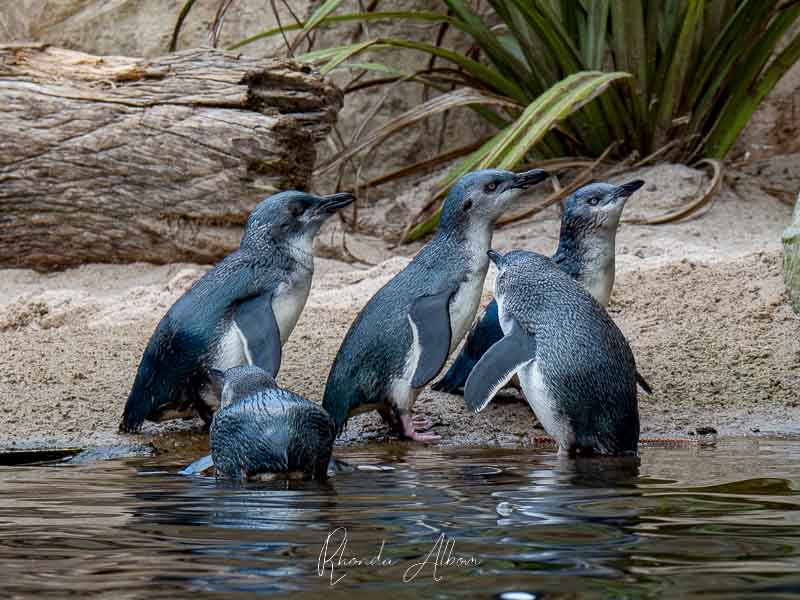 It's not always possible to see penguins in the wild. There are NZ alternatives, like zoos and aquariums, that are home to various penguin colonies. They are also great places to learn about these amazing animals and their habitat and even get to feed them!
On the North Island, these include:
On the South Island, you can see penguins at:
How you can help keep New Zealand penguins safe
New Zealand law protects these birds. And sadly, it is humans, as well as dogs and stoats, that pose the largest threat to penguins in New Zealand. While stoats harm chicks, one dog can damage or destroy an entire colony.
The NZ Department of Conservation offers a few tips on how we can keep our penguins safe.
Leave penguins alone.
Keep your dog on a lead around penguin areas.
Also, keep dogs away from nests, and warn others nearby of the location.
If you spot an injured penguin or one in immediate danger, contact the emergency hotline at 0800 DOC HOT (0800 362 468).
Donate your time or money to help penguin protection groups, such as the Yellow-eyed Penguin Trust or Forest & Bird.
Take the Tiaki Promise
Taiki means to care for people and place. The Tiaki Promise is a commitment to care for New Zealand, now and for future generations.
By following the Tiaki Promise, you are committing to New Zealand to act as a guardian, protecting and preserving our home. It is all our responsibility.
Read next: 20 Unique Animals in New Zealand That Will Make You Smile
Save on your NZ trip with these resources
These are our go-to companies when we travel. We believe this list to be the best in each category. You can't go wrong using them on your trip too.
Check out our travel resources page for more companies that we use when you travel.
Save for later
If you enjoyed this article, please share it on social media and save it for later on Pinterest.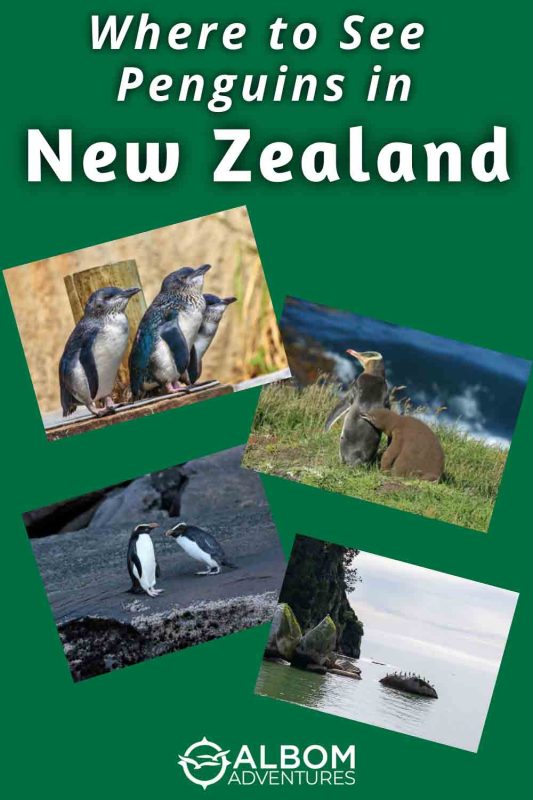 Where will you see penguins in New Zealand?
Photo Credits:
All photos on this page are either shot by our team and watermarked as such or stock images from Depositphotos.