New Zealand's deep, mysterious Fiordlands are legendary for sport fishing, kayaking, and watching Fiordland crested penguins. If you have ever considered an overnight cruise and some fishing in Doubtful Sound NZ, check out the tips below from Stacey Wittig.
Not much has changed in Doubtful Sound since 1770 when Captain Cook, the first Anglo to set eyes on New Zealand's deep Fiordlands, deemed her "doubtful." He sought an inlet navigable under sail, decided this snug harbour was not it, and sailed right by.
New Zealand regions trending on Albom Adventures …
Doubtful Sound, New Zealand
Today, Doubtful Sound is still incredibly remote by any standards. New Zealand South Island's deep waters are plentiful with lobster, blue and red cod, and shark.
My journey to the deep Kiwi fishing hole began with a one-hour ferry ride across windy Lake Manapouri – one of New Zealand's largest lakes. Our guide, Chris, met the ferry with a four-wheel-drive van needed for the adventure's next stretch.
We're now bumping down the 21 km stretch of gravel that takes us through Fiordland National Park, over Wilmot Pass, and then down to the ocean sound. Road builders whittled Wilmot Pass Road out of the daunting mountains and bush in the early 1960s for work on an underground power station.
Fishing on Doubtful Sound, NZ
The views of glacier-carved mountains are spectacular from my comfy seat in the van. Still, I am anticipating the promised dinner of fish harvested from the mysterious Doubtful Sound. I am anxious to get my line in the water.
Chris turns into our skipper as we board the 19-meter Seafinn, my new home for the next twenty-four hours. "We trapped quite a few crayfish last night for your lunch," explains Chris. "And tonight, we'll go check the traps for tomorrow's lunch."
Chris' son Travis cleans the crayfish with a short, hooked knife while Chris motors off the small wharf. "Those look suspiciously like lobster to me," I say to Travis in the galley.
"Yes," Travis confirms, "These are Rock Lobster, but we call them crayfish." After motoring around 600-meter waterfalls, we sit down to an incredible fisherman's lunch of lobster, fresh salad, and locally-baked bread.
After lunch, I finally wet my line in one of Chris's favorite fishing holes. The skipper has outfitted Seafinn with fishing gear, and he cuts up the catch that we can't eat as bait. I'm delighted to reel in a small red cod and many sea perch. "OK, wind it up," says Chris. "We'll go to another place." He's after more massive grouper and Tarakihi and so consults his fish finder as he navigates along.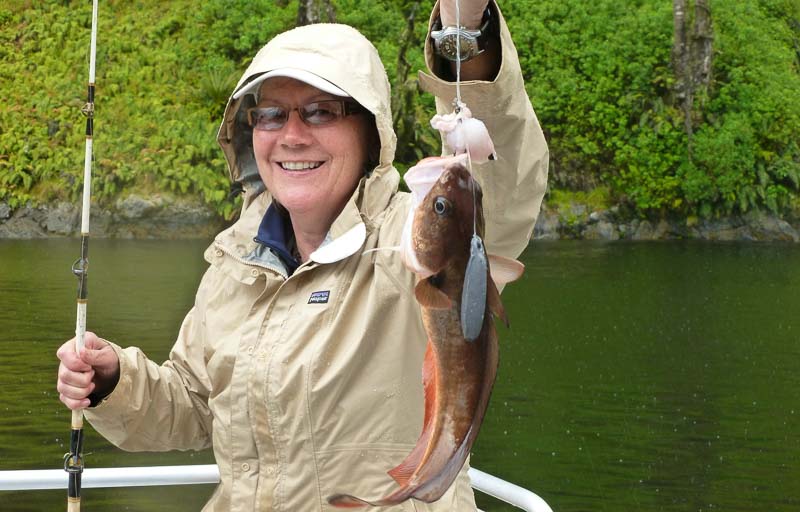 Penguins spotted from our Doubtful Sound boat trip
He takes us on a detour to watch penguins lined up on a rocky shoreline. Advertising billed the overnight on the private yacht as "custom," and I'd made my desire to see penguins known as I boarded. "Here are your penguins," says Chris as I gleefully snap photos.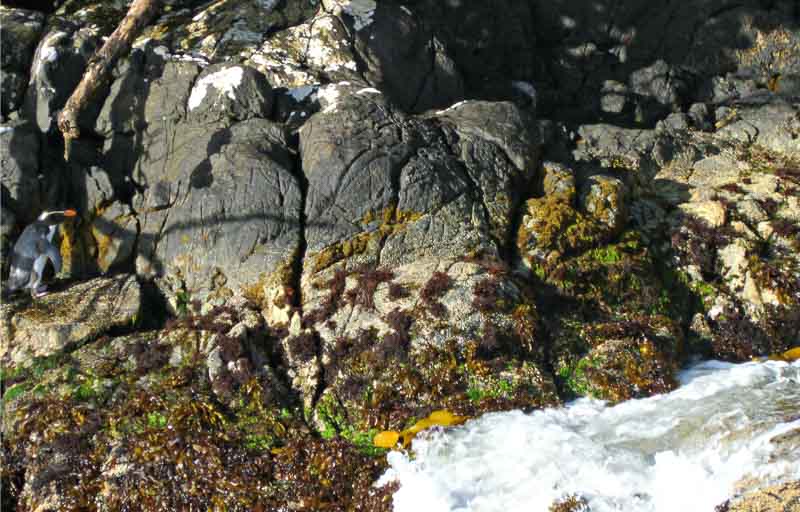 By dinnertime, we've harvested enough fish for all nine on board. Travis has had an elk roast – another New Zealand delicacy — in the oven all day. I sit down to the feast of local food with pride: I helped catch our dinner.
Doubtful Sound trip options
Stacey's story above was from an overnight trip with Deep Cove Charters (no longer operating). If you are looking for this type of experience, try a Doubtful Sound overnight cruise by Real Journeys

If you don't have time for the overnight adventure, check out one of these Doubtful Sound tours:
Doubtful Sound Wilderness Day Cruise: Starting from Manapouri, your full-day adventure includes a 2-hour 45-minute cruise of Doubtful Sound. Guides will point out nature's highlights, including wildlife like fur seals and dolphins. The day also includes a cruise across Lake Manapouri and a coach ride over the Wilmot Pass and through stunning Fiordland Rainforest. Check for discounts here.

Kayak Doubtful Sound: Also starting from Manapouri and including a cruise across Lake Manapouri and a coach ride over the Wilmot Pass, the rest of this 10-hour adventure includes kayaking in the Doubtful Sound. Small groups have a maximum of 8 people, and the tour includes a safety briefing, warm gear, dry bag, jackets, and gloves. Check for discounts here.

Fly over Doubtful Sound: If time is limited, but you don't want to miss this Sound, a scenic 40-minute flight might be just what you are looking for. Check for discounts here.
Save on your NZ trip with these resources
These are our go-to companies when we travel. We believe this list to be the best in each category. You can't go wrong using them on your trip too.
Check out our travel resources page for more companies that we use when you travel.
Save for later
If you enjoyed this article, please share it on social media and save it for later on Pinterest.
Have you visited Fiordland and Doubtful Sound New Zealand?
About the author

Stacey Wittig, an award-winning travel journalist from Flagstaff, Arizona, was named #12 of "100 FAVORITE TRAVEL WRITERS" by the UK's Tripbase. She's called "UNSTOPPABLE Stacey" because she doesn't let age, gender, or family stop her from travelling. You see, her hubby prefers not to travel, so she typically goes solo. The boomer is a veteran Camino de Santiago pilgrim and writes books about The Way of St. James routes in Spain, France and Italy. Follow her adventures at the Unstoppable Stacey.
Photo credits
All photos on this page are ©Stacey Wittig and are used here with written permission. All rights reserved.