New Zealand is full of mystery, wonder and spectacular scenery. Moeraki Boulders, the huge spherical rocks on Koekohe beach on the South Island combines all three and is one of my favourite sites in the country I now call home.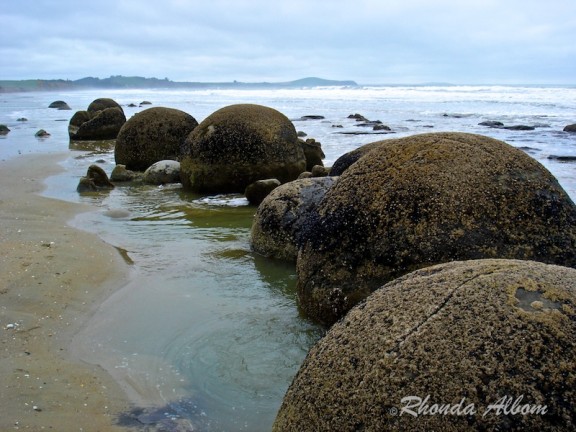 I have always been strangely attracted to these boulders and the mystery behind their origin.  Currently, there are over 50 boulders, and while they are now protected by law, that wasn't always the case.  The largest of the Moeraki Boulders are up to three metres in diameter, weighing several tonnes.  Interestingly, the majority are almost perfectly spherical.
So, where did they come from? My four favourite theories:
A Maori Legend:  The boulders are remains of calabash (a gourd bearing tree), kumara (a sweet potato) and eel baskets which washed ashore when a canoe was shipwrecked. The rocky shoals which extend seaward from nearby Shag Point are the canoe's petrified hull.
Aliens: Conspiracy theorists tell us the Moeraki Boulders are alien eggs either sent from space or washed up by the ocean.
Volcano: A plausible explanation, they were shot out of an ancient volcano and this is where they landed.
Lightning: Mass lightning strikes passed through the region, forming canyons, the boulders and other unusual geological formations. High powered electric arcs can smash matter, spinning it in a vortex and melting and/or compressing it into round shapes – or boulders.
As I am married to a rocket scientist, I feel compelled to include a (too long) Scientific Explanation:
Science classifies them as septarian concretions and says they were formed in ancient sea floor sediments 60 million years ago. Each may have started as a core of fossil shell, bone fragment, or piece of wood. Lime crystals in the sea gathered on the core over millions of years, then accumulated other minerals around it to make the boulder shape. Over time, the original mud stone seabed became uplifted and formed coastal cliffs. As the cliffs eroded, the captive boulders were released.
Travel Tip to Gain Free Access to These New Zealand Boulders
Tourist access to Koekohe beach is gained for a small fee to use the stairs.
Locals and other adventure seekers park their car a kilometer down the road and walk along the public beach to access the boulders without a fee.
Have you been to the Moeraki Boulders? Which theory do you believe? How do you think the Moeraki Boulders ended up on this New Zealand beach?
Love these photos? One of my photos of Moeraki Boulders is on Amazon.
Seven ridiculously simple tips that WILL improve your photos
Whether you shoot with a phone or a DSLR, let me share my secrets.
Subscribe to Albom Adventure's Travel Tips newsletter and download our free ebook: Take Better Travel Photos By Rhonda Albom