Standing at the shores of Lake Wanaka, it was as though I had been transported to a paradise almost too exquisite to be real. Wanaka is my utopia. We spent three consecutive autumn and winter seasons living full-time in this paradise and easily discovered plenty of things to do in Wanaka all year long.
Wanaka is on New Zealand's South Island. Located in the Southern Lakes district, it is well known for its sweeping panoramic views of Lake Wanaka, enveloped by majestic, often snow-capped Southern Alps and Mount Aspiring National Park.
The impressive natural attractions, complemented by adventure and relaxation opportunities, create a seemingly endless yet eclectic list of things to do in Wanaka.
Not-to-be-missed highlights include hiking to Roys Peak, wine tasting at Rippon Winery, summer cycling, winter skiing, and tackling the giant maze at Puzzling World. Adrenaline junkies will also want to experience the world's highest waterfall cable climb or try skydiving, mountain biking, or any of a number of exciting options.
The overwhelming majority of our favourite things to do in Wanaka are free. And, there is more good news as we have been able to source discount entry tickets for many of the other activities. So read on and prepare to add to your bucket list.
First, be inspired by our country …
Things to do in Wanaka – stoke your Instagram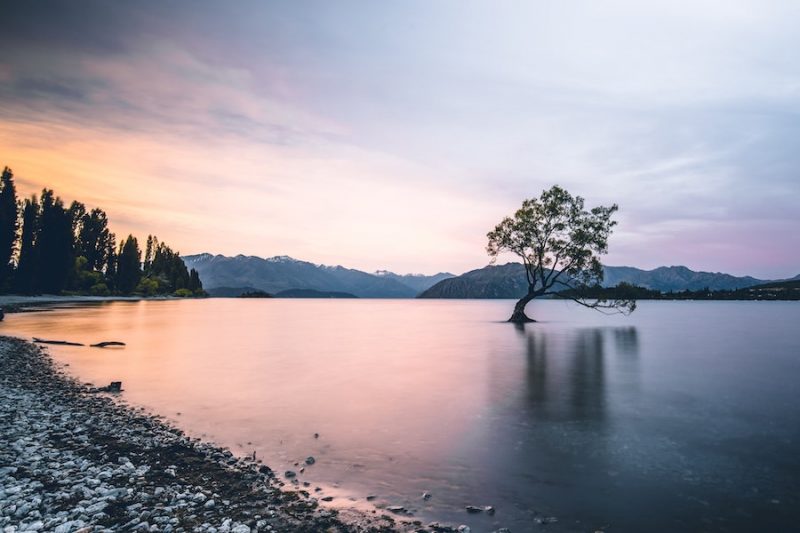 These popular Instagram shots earned their reputation, and whether or not Instagram is your thing, they are worth seeing. There are three key Instagram spots: the Wanaka Tree, the Cardrona Bra Fence, and the view from Roys Peak. I discuss the third in the section on hiking.
Don't miss the Wanaka Tree
A short stroll along the lake will bring you to one of the most popular things to do in Wanaka, take a photo of the Wanaka tree. Often thought to be the country's most famous tree, this lone willow grows from the water.
Of course, unless you get there early in the morning, you won't be alone, as Instagrammers queue up all day. If you are one of them, don't forget the hashtag #ThatWanakaTree.
Stare in wonder at the Cardrona Bra Fence
Yes, you read that correctly. Another famous (or should this be infamous), slightly bizarre must-see is the Cardrona Bra fence. This one is a bit out of town. You will find it along the Crown Range Road on the way to Queenstown, near the Cardrona Distillery and the Cardrona Hotel.
I imagine it started as a joke in the late 1990s when a bra was left attached to a rural fence. This somewhat controversial photo stop has become so popular they have added a donation box and have raised money for cancer research.
Things to do in Wanaka: Walking and hiking
With over 750km (466 miles) of trails and tracks, there is no shortage of walking and hiking opportunities in Wanaka and the surrounding national parks. Here are just a few of our favourites. The list includes something for everyone and ranges from gentle options like lakefront walks to challenges like Roys Peak.
Get epic views at Roys Peak
16km [10miles] out and back – 5-6 hour return
This moderate to challenging uphill hike rewards day trampers with one of New Zealand's most awe-inspiring views. No wonder there is frequently a queue at the famous Roys Peak Instagram photo spot.
After you grab that shot, keep going for about another 30 minutes if you want to reach the summit. The hike is long, and in summer, it gets very hot, so starting out by 7 am is the recommendation. Of course, if you want a sunrise photo, you'll need to start much earlier.
Take an easier hike up Mount Iron
4.5km [2.7 miles] loop track – 1.5-hour return
The first time we ascended to the top of Mount Iron with our kids, it took an hour to reach the summit of this glacier-carved rocky knoll. The track climbs 250m, yet the panoramic views are stunning.
Labelled as an easy walking track, note that it is all uphill. From my memory, parts were steep but none were difficult. The car park is across the street from Puzzling World.
Mou Waho Island nature walk
Thanks to an article in BBC, Mou Waho, an isolated pest-free island reserve in Lake Wanaka is gaining attention. Its highlight is the Arethusa Pool, a freshwater glacial lake sitting about 150m above Lake Wanaka.
You'll need to take a boat to get there, and if you don't have one on Lake Wanaka, check out this cruise and nature walk from Klook.
Walk along the lakefront
Follow any one of the many surrounding forested or lakefront paths around the lake, the options seem almost endless.
Relaxing things to do in Wanaka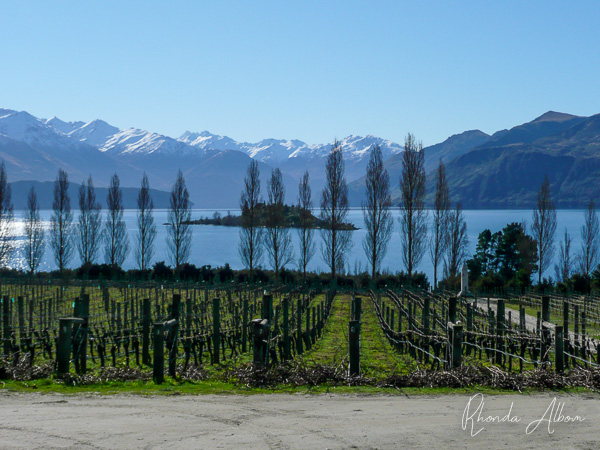 Visit the Wanaka Lavender farm
What's more relaxing than the delicate floral aroma of lavender? Here you can walk amongst the purple flowers or shop for just about anything lavender.
Enjoy a glass of wine and impressive views from Rippon Winery
One of our favourite places to relax in Wanaka is the tasting area of Rippon Winery, Wanaka's oldest vineyard. We sampled about six wines, and as of our last visit, which was a few years ago, this was still free. Afterwards, we take in the lake views overlooking the vineyard while we enjoy a cheese platter.
Take a sunset cruise on the lake
Pinot Gris in hand, a 1-hour cruise at sunset is a lovely way to welcome the evening and get a different view of the Wanaka Tree from the water. Then sail up to Waterfall Creek and Ruby Island, cross to Stevensons Peninsula and return via Beacon Point and Eley Point. Check price or book your cruise with Get Your Guide.
Outdoors and adventurous things to do in Wanaka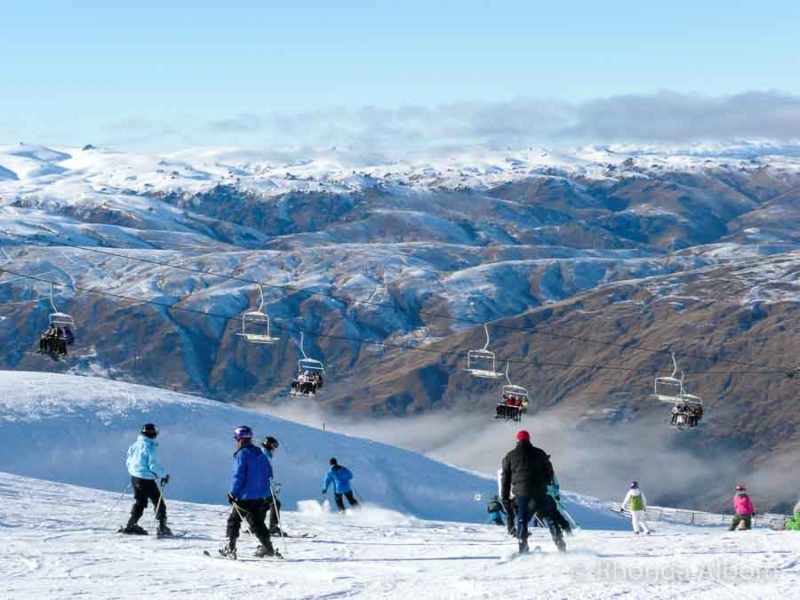 Adventure seekers – welcome home. The Southern Lakes District was made for you. While nearby Queenstown, home to the world's first commercial bungee jump, is often called the Adventure Capital of the World, Wanaka is no slouch in this department. Look no further if you are seeking an adrenaline rush.
World's highest waterfall hike
Wanaka is now home to the world's highest waterfall hike.
The most popular adventure option is a 4-hour, heart-pounding climb using cable iron rungs, pegs, bridges, and ladders. After a safety briefing, getting your gear, and completing a practice route, you will climb 350m of vertical cliffs and suspension bridges.
There's time for lunch and a swim at the top, and you have earned the break. As groups are small (maximum of four per guide), it's best to book in advance.
If you aren't ready for the big hike, there is a smaller 1.5-hour beginner option to test the waters (pun intended).
Skydive
Another great adventure, Skydive Wanaka offers adrenaline junkies the ultimate experience: the rush of freefall for almost a minute, stunning scenery, and the comfort of knowing you are with a professional instructor.
After your safety briefing, you will board the plane for a tandem jump at your choice of height: 9,000 or 12,000 feet. Check out the skydive options and prices at Klook.
Mountain biking
What could be better for mountain biking than summertime at a mountain ski resort? Best of all, there is no uphills with a full-day Cardrona mountain bike lift pass (made even better with a discount from Bookme).
And Cardrona has a free learner zone, and if you still want more, there is a bike school (fee-based).
Alternatively, there is 30km of world-class mountain biking trails at Bike Glendu, with trails for every level. There are also discounts available for Glendu.
Crossfire Wanaka
My kids loved to do archery here, but it also offers a mini-golf, rifle range, clay bird shooting, and a golf driving range. If your choice is the rifle range, you can often get discounts at Bookme.
Winter skiing at Cardrona or Treble Cone
Cool and refreshing, a winter wonderland awaits you at Wanaka's two world-class ski resorts. And if that's not enough, there are more options in nearby Queenstown.
In fact, it was New Zealand's ski season at Cardrona that inspired us to spend half the year living in Wanaka year after year. Not only are both snowfields top-notch, but they both have impressive views of the valley.
Indoor things to do in Wanaka
Wanaka is an outdoor destination, but sometimes the weather doesn't agree. When it rains, or if you just need a break from the beautiful outdoors, there are plenty of indoor Wanaka activities. Here are a few of our family's favourites.
Enjoy a coffee at a waterfront or downtown cafe
This one is for me. I love hanging out with friends, or even alone, with a cafe latte. And, there are plenty of choices in Wanaka. Amongst my favourites are Kai Whakapai, The Coffee Shack, and Urban Grind. And don't miss Patagonia Chocolates if you are in the mood for hot chocolate.
Puzzling World will push your imagination
If you are into puzzles, mental challenges, or optical illusions, then Stuart Landsborough's Puzzling World is a must-see. We were regulars here when we lived in Wanaka.
It features the world's first "modern-styled" two-level human maze, a museum filled with challenge, mystery, and "puzzling eccentricity," and a cafe with free access to small challenging puzzles. Save on Puzzling World entry tickets.
Cinema Paradiso
I know we saw several amazing movies here, but to us, it was always about the atmosphere. Comfortable couches, recliners, and even an old car offer eclectic and home-feel seating. However, to be honest, it's the aroma of fresh-baked chocolate chip cookies and muffins sold warm at intermission that I remember most about Cinema Paradiso.
National Transport and Toy Museum
It takes four major buildings to display the over 600 vehicles, 20 aircraft, and over 60K toys that make up the National Transport & Toy Museum. It is considered to be one of the largest private collections in the world. And now, it is the home of the giant Santa that stood over Farmers on Auckland's Queen Street for years.
Climb at Basecamp Adventure
When they weren't on the slopes, you could often find our kids at Basecamp, comfortably intermixing with adults who were often experienced climbers. Basecamp offers something for all levels, from 'clip and climb' for beginners, to a sports wall with 30 climbs ranging from grades 12-25+. There's even a bouldering cave with walls for 20º, 5º and vertical.
Save on your NZ trip with these resources
These are our go-to companies when we travel. We believe this list to be the best in each category. You can't go wrong using them on your trip too.
Check out our travel resources page for more companies that we use when you travel.
Save for later
If you enjoyed this article, please share it on social media and save it for later on Pinterest.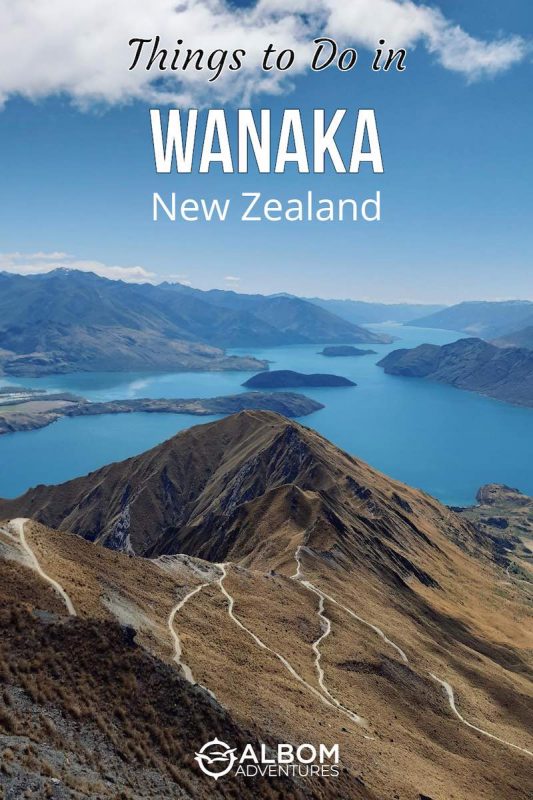 What are your favourite things to do in Wanaka?