Cool and refreshing, a winter wonderland awaits at New Zealand ski resorts, and the best news of all, they are opening soon. From Queenstown in the South Island to National Park in the North, there are several great options for skiing and snowboarding in New Zealand. While all ultimately cater to every ability level, knowing some of the differences will help you find the best New Zealand ski resorts for you.
A typically international ski and snowboarding destination, for now, Kiwis get it all to ourselves. New Zealand's reputation includes uncrowded runs, plenty of gentle family-friendly slopes, wide-open bowls, and no trees. Add to that world-class training facilities and a high percentage of world champions from such a small country and it's easy to understand why skiing and snowboarding in New Zealand is so popular.
Traditionally, ski resorts in New Zealand are daytime venues. Most visitors to the area revel in the après ski of off-mountain ski towns and make the daily drive from either Queenstown, Wanaka, Methven, Christchurch, or Ohakune.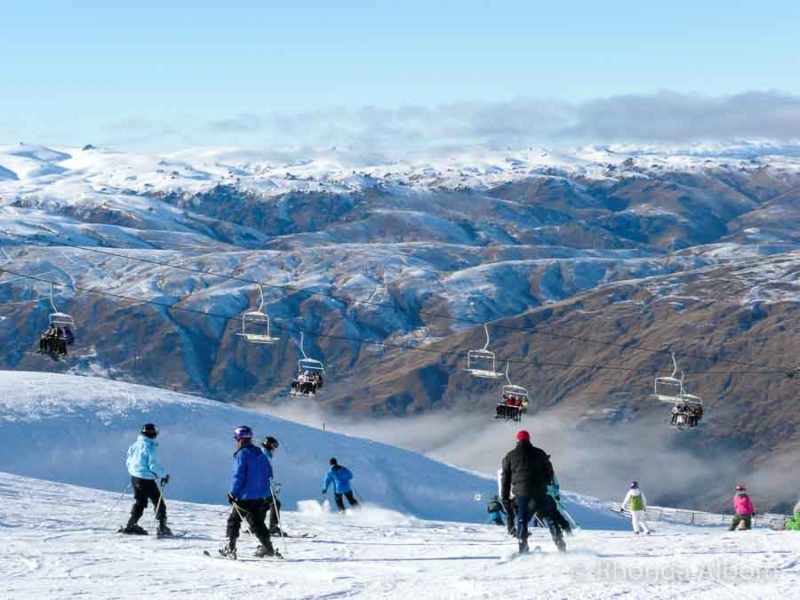 Skiing and snowboarding in New Zealand by region – large fields and opening dates for 2020
Whether you are a skier or a snowboarder, there are several amazing options for your next New Zealand snow holiday. Here are the major ski resorts. We also included a list of some of the smaller ones below.
South Island skiing and snowboarding

Cardrona (Wanaka or Queenstown)
Treble Cone (Wanaka)
The Remarkables (Queenstown) – open daily during July school holidays, otherwise only open on weekends.
Coronet Peak (Queenstown)
Mt. Hutt (Christchurch) – Open five days per week until July 1, then it will open daily.

North Island skiing and snowboarding

Whakapapa (Mt. Ruapehu, Tongariro National Park)
Tūroa (Mt. Ruapehu, Tongariro National Park)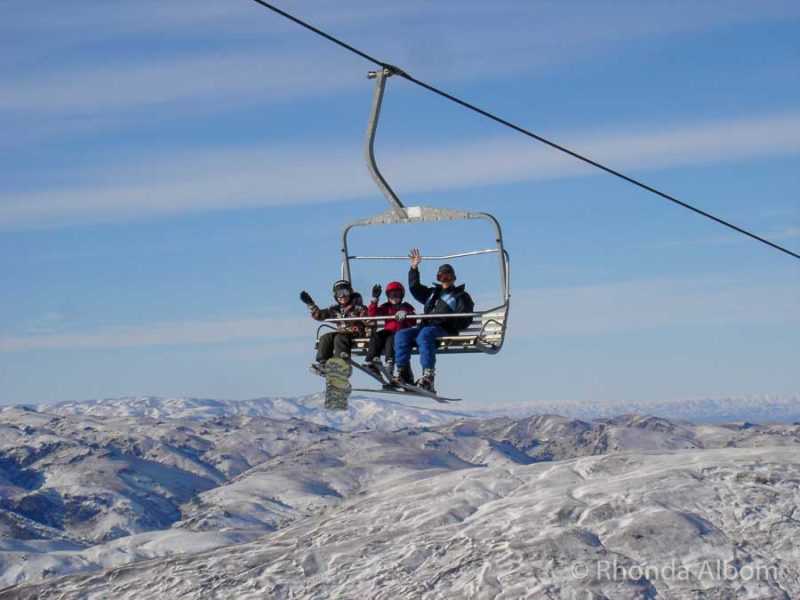 New Zealand highlights trending on Albom Adventures
We often have affiliate partnerships with companies that we trust and recommend. We receive a small compensation if you make a purchase using these links. In some cases, the links can save you up to 70%.
Cardrona Alpine Resort
Cardrona is a family-friendly environment perfect for all ability levels with loads of wide-open trails. As our former home away from home for 19 months (over 5 winter seasons), we are biased towards Cardrona. The dedicated beginner hill welcomes newcomers, while daredevils head straight to NZ's most extensive terrain park or the 22-foot Olympic superpipe. Here, visitors frequently find themselves practising alongside world-class athletes.
Cardrona features the country's most successful snow sports training centre. Our girls trained here and both are former Jr. National champions.
What makes Cardrona truly unique is that it is the only ski area with accommodation on the mountain. With fifteen self-contained apartments and a restaurant that stays open late to accommodate guests, Cardrona is setting a new trend.
Where to stay: Wanaka or at Cardrona.
Note that in extreme weather the Crown Range road closes, making it a long bypass drive from Queenstown.
Driving Tips: If you self-drive, be aware that the 10km access road from the valley to Cardrona is unpaved and often requires snow chains. Drivers unfamiliar with snowy mountain roads may want to take a shuttle available from either Wanaka or Queenstown.
Treble Cone Ski Area
The largest ski area in the South Island, Treble Cones' vertical rise of 705m offers challenging fun and loads of dry powder. It's the ideal choice for intermediate and advanced skiing and snowboarding in New Zealand. Catering to everyone, Treble Cone has an excellent beginner programme for both skiers and snowboarders.
Treble Cone is located at the south-east end of the Southern Alps, just 19km from Wanaka. I love it for its impressive views while the rest of our family returns for the dry powder, challenging black runs, off-piste options, and New Zealand's longest groomed intermediate run at 4km.
Where to stay: Wanaka
Driving Tips: The final 7km of the access road is unpaved. While it rarely requires snow chains, carrying them is still advised.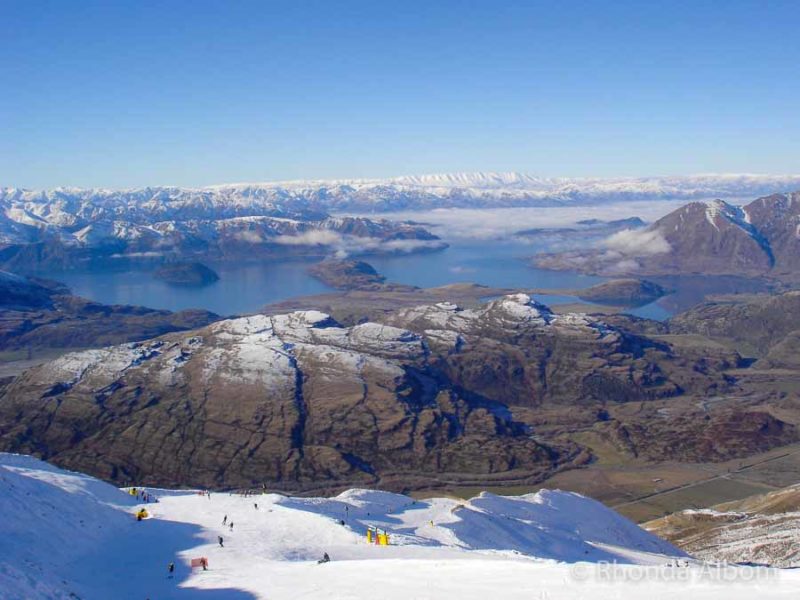 The Remarkables Ski Area
Just a 45-minute drive from Queenstown, The Remarkables is the full package. All ability levels can enjoy a day of skiing or snowboarding followed by an evening of Queenstown fun. Relaxed and friendly, the atmosphere at The Remarkables will keep you coming back.
Loved by experienced skiers for both black diamond and a 1.5km 'in-bounds' backcountry run, The Remarkables also have a progressive network of terrain parks and an award-winning snowboard and ski school.
Where to stay: Queenstown
Driving Tips: Much (13km) of the windy road up to The Remarkables is unsealed. There is a shuttle option available from Queenstown.
Coronet Peak Ski Resort
If you are looking for a long day on the slopes, Coronet Peak is for you. It's first to open in the morning and the only slopes offering Friday and Saturday night skiing. Featuring the largest snowmaking facilities, they are the most likely to be open when nature doesn't cooperate.
Often called a roller coaster terrain, Coronet Peak is both fun and challenging, with options for all ability levels. And, if you get tired, there is often live music on the heated decks.
Where to stay: Queenstown
Driving Tips: A sealed road will bring you to Coronet Peak, so self-driving is a good option. However, if you prefer, there are shuttles from Queenstown.
Mt. Hutt
A 90-minute drive from Christchurch, the ski fields at Mt. Hutt are at the foot of the Sothern Alps. Located a bit more than 2000 metres above sea level, it is the highest ski area on the South Island. As a result, it typically has the longest ski season from early June to late October.
A family-friendly ski resort, it caters to all ability levels from beginners through to those brave enough to tackle the double black diamond run on the south face of the mountain. And, it's been named by the World Ski Awards as New Zealand's best ski resort for the past five years.
Mt Hutt is the only New Zealand major ski field on this page that I have not personally been to; however, one of our children competed here. They say that on a clear day, the magnificent views from Mt Hutt extend from the Pacific Ocean across the Canterbury Plains to Aoraki Mt Cook.
Where to stay: Methven
Driving Tips: The road up to the mountain is steep, unsealed near the top, and often requires snow chains. Therefore, even many New Zealand drivers prefer to take the ski shuttles either from Methven or Christchurch.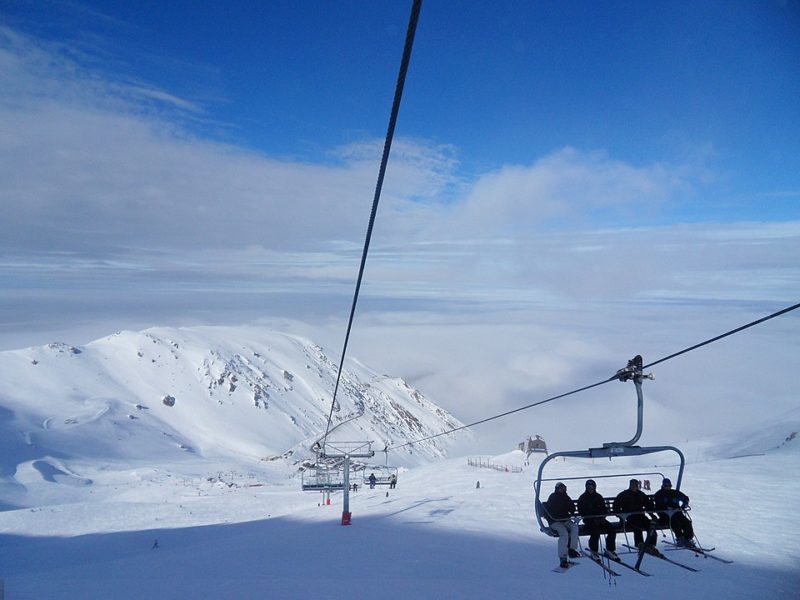 Whakapapa on Mt Ruapehu
Whakapapa is New Zealand's largest ski area, featuring a volcanic terrain covered with plenty of big basins and wide runs. It is also home to the country's largest and most technically advanced gondola and the country's premier beginner facility in a self-contained dedicated area.
Located on the northern slopes of Mt. Ruapehu, Whakapapa is fun for all abilities. It is one of the few, if not the only, places in the world where you can ski on an active volcano.
Note: Both Whakapapa and Tūroa are covered by a single ski pass.
Where to stay: If your ski trip is a romantic getaway, consider the iconic historical Chateau Tongariro Hotel in the national park or stay in Ohakune.
Driving Tips: Access road is sealed, and there is plenty of car parking. A shuttle bus is also available.
Tūroa on Mt Ruapehu
Located on the south-western slopes of Mt. Ruapehu, Tūroa has a long season and is the place to go for spring skiing in New Zealand. It is probably best known as being home to the longest vertical descent in Australasia at 722m.
Tūroa has a dedicated terrain park as well as some amazing natural features offering challenges and fun for intermediate and advanced skiers and snowboarders. These include kickers, wide-open slopes, a natural halfpipe, and challenging terrain created by old lava flows.
Note: Both Whakapapa and Tūroa are covered by a single ski pass.
Where to stay: Ohakune
Driving Tips: Access road is sealed, and there is plenty of car parking. A shuttle bus is also available.
Compare New Zealand ski fields
Field
Skiable area
Lifts
Terrain
Cardrona
345 hectares
7
Beginner – 25%
Intermediate – 55%
Advanced – 20%
Treble Cone
550 hectares
5
Beginner – 10%
Intermediate – 45%
Advanced – 45%
Remarkables
220 hectares
7
Beginner – 30%
Intermediate – 40%
Advanced – 30%
Coronet Peak
280 hectares
8
Beginner – 25%
Intermediate – 45%
Advanced – 30%
Mt. Hutt
365 hectares
4
Beginner – 25%
Intermediate – 50%
Advanced – 25%
Whakapapa
1050 hectares
11
Beginner – 25%
Intermediate – 50%
Advanced – 25%
Tūroa
500 hectares
6
Beginner – 20%
Intermediate – 55%
Advanced – 25%
Smaller snowfields in New Zealand
Above, we featured all of the larger New Zealand ski fields. Here are some of the smaller ones, a few of which are club fields that are also open to the public. New Zealand club fields typically have accommodation on-site and are often only open to club members.
South Island skiing and snowboarding
North Island skiing and snowboarding

Tukino – a family-friendly ski field with heaps of activities. (Mt. Ruapehu, Tongariro National Park)
Manganui Ski Area – a no-frills club field. (Taranaki)
There's also indoor skiing and snowboarding in New Zealand
If you're in Auckland and don't want to travel to the snow, New Zealand's only indoor snow dome is a short drive north over the bridge. At SnowPlanet, visitors can ski, snowboard, or tube regardless of the weather in a consistent -5°C. There's even a beginners area as well as a small terrain park. The main hill is 200m long.
Check for discounts depending on the day and time selected (not always available, but always worth checking):
Click here for a Snowplanet full-day pass
Or, click here for a Snowplanet 4-hour pass
General information on skiing and snowboarding in New Zealand
Regardless of where you choose to ski or snowboard in NZ, there are a few things you should know.
New Zealand is located in the southern hemisphere; therefore, winter runs from June – August.
A note about winter weather and the ski fields. We found the weather in Wanaka and Queenstown to be the most consistent, nearly always offering at least one field that was open on poor weather days. Similarly, at National Park, if one field is closed, the other is often open. However, at Mt. Hutt, there is only one option.
Most New Zealand ski fields are open from late June until early October.
Unlike many other countries, in New Zealand, most people stay at après ski towns and commute to the mountain for their day of skiing.
Snow chains (or 4wd vehicles) are often required when driving the access roads to or from NZ ski resorts. More than once, it began snowing while we were on the mountain and chains were required to get home. We recommend carrying chains in your vehicle so you don't get caught out and have to buy an overpriced option just to get back home.
Booking tips for your New Zealand travel planning
First-time visitors start here: New Zealand travel guide.

Flights: We use Skyscanner to find all the available flight options at the best prices.

Rental Vehicles: For cars, we always use RentalCars.com, a rental car search engine with no hidden costs. For campervans, note that Spaceships Rentals NZ offers free one-way drop-off between Auckland and Christchurch.

Accommodations: We use Booking.com to find all levels of accommodations in most NZ cities.

Activity Discounts: We use Bookme.co.nz to find discounts on entry tickets and tours in New Zealand.

Travel Insurance: We purchase insurance that covers medical and travel emergencies when we head overseas. We start with World Nomads.

Packing Tips: Get a free copy of our New Zealand packing list when you sign up for our mailing list.

**Find more money-saving resources on our Travel Resources page.
Join our virtual community and explore New Zealand with us!
At Explore New Zealand, a Facebook group, members share photos, stories, itineraries, and more.
Save for later
If you enjoyed this article, please share it on social media and save it for later on Pinterest until you are ready to plan your New Zealand snow holiday.
Which is your top pick? Where will you go skiing and snowboarding in New Zealand?
You might also like: