Gisborne, New Zealand, is the first place in the world to see the start of each new day as the sun peeks over the horizon. A small coastal city off the main tourist track, there are a surprising number of unique things to do in Gisborne.
Steeped in Maori culture and history, it is worth a visit. We spent our limited time here hiking, relaxing in hot pools, hand-feeding stingrays, walking through the national arboretum, drinking coffee, and at a waterfall.
Gisborne has something for everyone.
20 Unique things to do in Gisborne NZ
Get up early and watch the first sunrise of the day
There is no excuse for missing sunrise in Gisborne if you spend the night. It happens every morning, starting each day for the world. It's the city that was watched closely at the turn of the current millennium, the first place in the world to experience the new year.

You will want to spend at least one night in Gisborne to be here at sunrise.
An inherent bonus of starting your day early in the morning is more daylight to enjoy all of the things to do in Gisborne. It may be a small New Zealand city (estimated population is 35,000), but it offers a surprising variety. A coastal town, there are both water and land-based activities.
Be inspired:
Soak up history at Poverty Bay
I'll admit, the name "Poverty Bay" doesn't hold much appeal when you first hear it; that is, until you understand a bit of Gisborne history:

In 1769, Captain James Cook became the first European to set foot on New Zealand soil. He was seeking fresh food and water after his long journey on the Endeavour. Traditional greetings between him and Toka a Taiau, the Maori chief, were misunderstood, Maori were killed, and Cook sailed away without any provisions, thus naming it Poverty Bay. As they sailed north around the East Cape, they found everything thing they needed in the next bay, thus naming it the Bay of Plenty.
Two statues not to miss: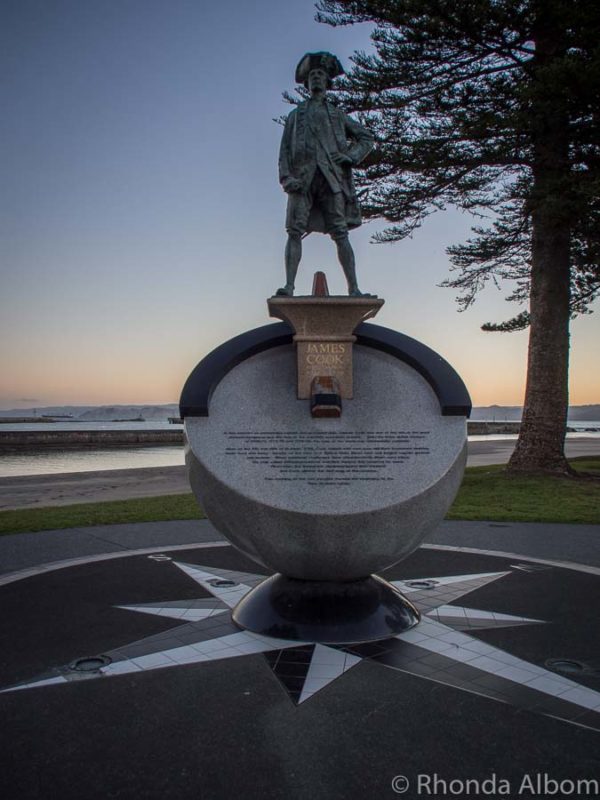 Water-based things to do in Gisborne
Surf or swim in the waves
Surfing is popular in Gisborne. In fact, the city has two surf lifesaving clubs, suggesting it is a surfer's paradise. Many of the dedicated surfers are up with the sun. There are several Gisborne beaches along the coast, ranging from more gentle to bigger surf waves. There is something for just about everyone.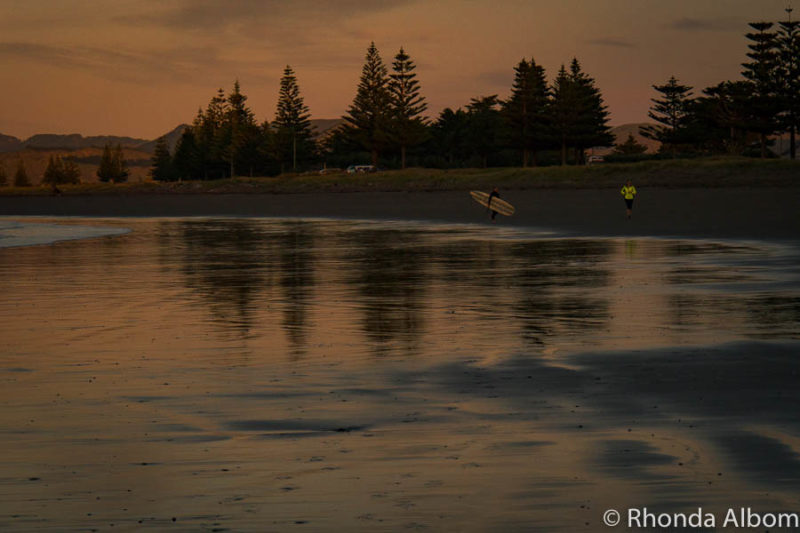 Swim in the Olympic pools – Gisborne
If saltwater is not your thing, check out the 98-metre water slide and the Olympic Pools. Gisborne takes swimming seriously, and the pool complex opens at 6 am daily. We stopped by just after sunrise, and a group of enthusiastic morning people were doing a water aerobics class. The slides were closed at this early hour, and the outdoor temperature was in the low teens.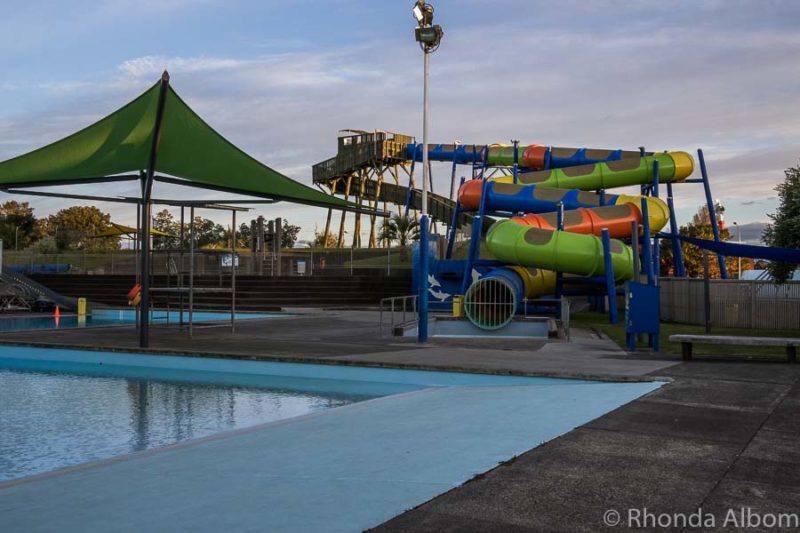 Hand-feed stingrays
My favourite Gisborne region activity was the Reef Ecology Tour with Dive Tatapouri. Donning waders (waterproof boots attached to waterproof overalls) and carrying a stick for balance, we carefully followed our guides and shuffled out into the ocean at low tide.
Standing shoulder to shoulder to form a human wall, we watched wild kingfish, eagle rays and short-tail stingrays. If you have time to do only one thing in the Gisborne region, this is it.
Go fishing
Fish from the pier or take one of the many Gisborne fishing charters. Whichever you choose, there is plenty of fish out there, even some big game.
If you don't believe me, check out the impressive catches covering the walls of the Gisborne-Tatapouri Sports Fishing Club. If you can find a member to sign you in, it's a tasty place for a "locals" dinner.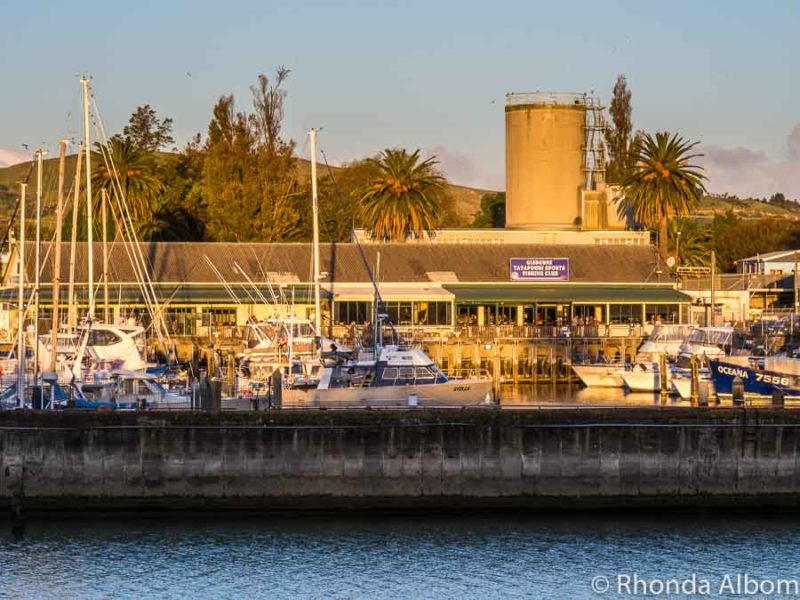 Soak your cares away at Morere Hot Springs
Soaking your cares away in natural hot springs is a must-do for any visitor to New Zealand. The beauty of Morere Hot Springs is that the water is in tubs and pools, contrasted with cold pools and surrounded by 364 hectares of native bush dominated by nikau palms.
Hiking trails let you explore for hours or just a few minutes before you dip into a tub. And the healing waters felt as though they were caressing me while at the same time moisturising my skin.
We stopped at Morere Hotsprings while driving from Napier to Gisborne.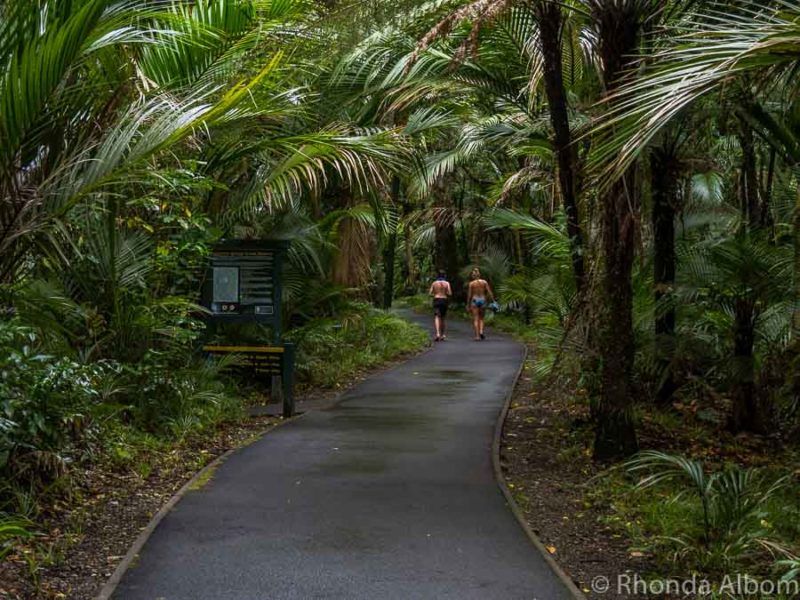 Get a natural adrenaline rush at Rere Rockslide
For me, it was the icy cold water, cool air temperature, and lack of preparation that stopped me from indulging in this natural rockslide. For those braver than us, it was a blast. This natural wonder is about a 30-minute drive from Gisborne.
The city council has put up warning signs that are ignored about the risk of serious injury and death and poor water quality from nearby beef and lamb farms.
Jump off the tracks into the river
The old train tracks curve and cross the river. While not encouraged by the city, we were told taking the plunge is a favourite activity amongst young people.
Land-based things to do in Gisborne
Hike or drive up to Kaiti Hill lookout
A 30-minute hike along bushwalk tracks up to the top of Kaiti Hill (Titirangi Domain) rewards walkers with fantastic views of the region from Gisborne towards Mahia. Despite knowing this, we simply ran out of daylight. Alternatively, there is a fitness trail filled with local exercise enthusiasts running up and down steps.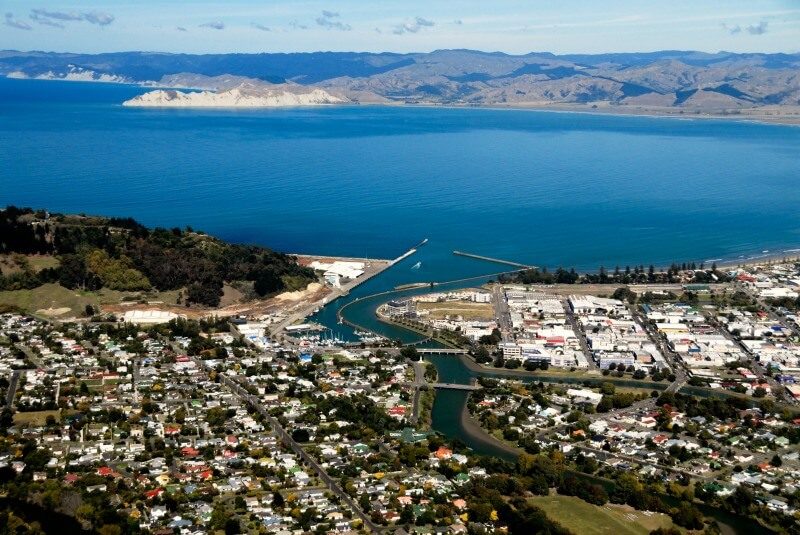 Discover new flora at the National Arboretum of New Zealand
Eastwoodhill Arboretum is the National Arboretum of New Zealand. A destination that changes with the seasons, it was full of colour when we visited in autumn. It's a must-see for all nature lovers, boasting over 2,300 different trees from around the world.
This natural tree museum has over 25 kilometres of trail options ranging from an easy 45-minute walk through the flat ground to an over three-hour hike with moderate to steep grades. The map and trail markers make it easy to follow and know where you are. Bring a camera.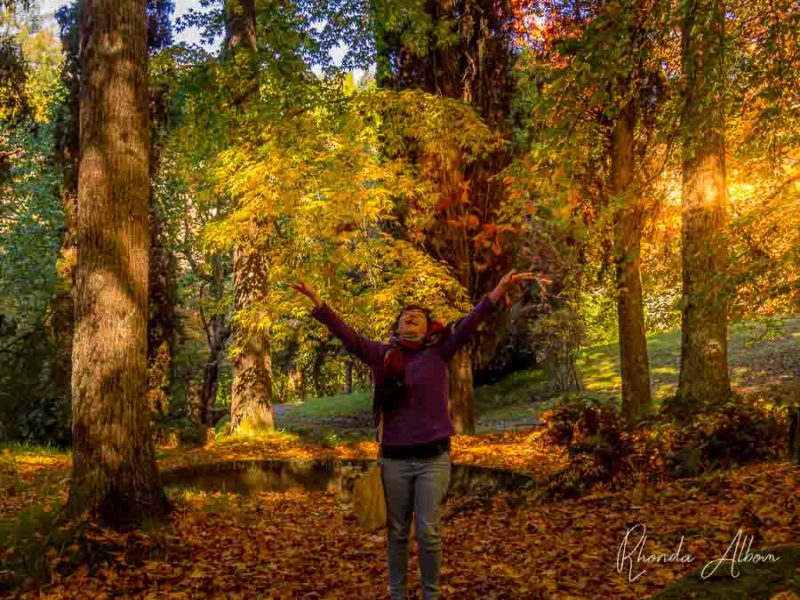 Be impressed by Rere waterfall
The mist rises as the water crashes down only 5 metres off the cliff edge. Te Papa Rāhuitanga o Rere (Rere Falls) is loud yet a bit mesmerising. I think any time of day other than midday will render better photos of this Gisborne waterfall.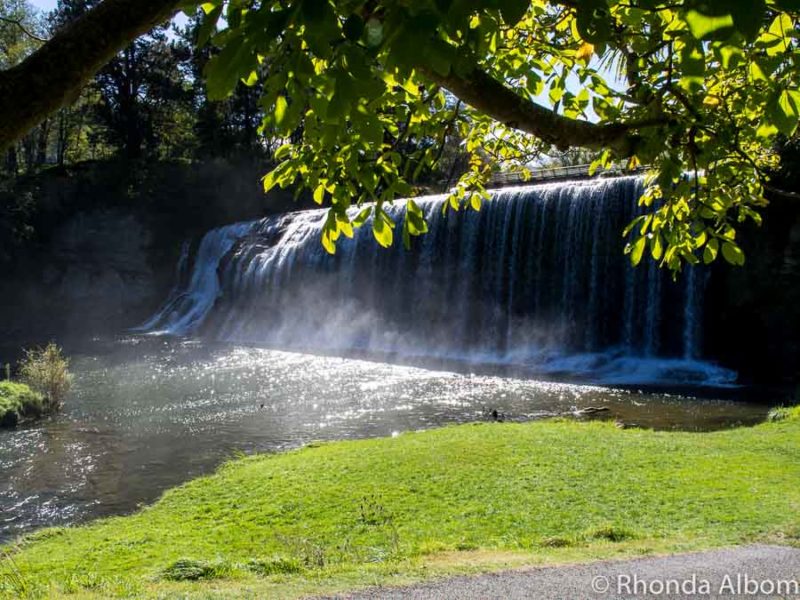 Read a book
Or just check out the brand-new library in town. Open less than a week when we visited, we didn't get a chance to go inside (as it was evening by the time we walked by). We heard from a few locals that it is lovely and well worth a visit.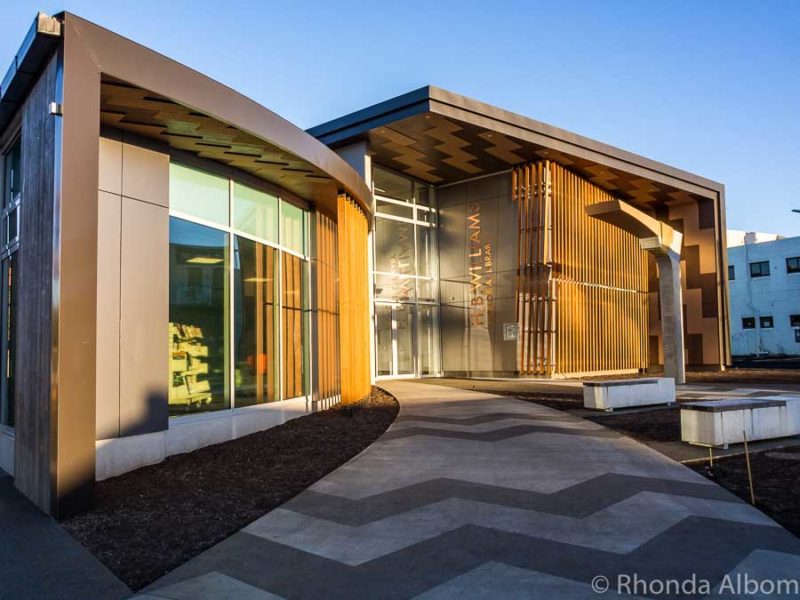 Check out some of the local artwork
All around town, we saw intriguing statues, Maori carvings and some street art. Here are a few of my favourites: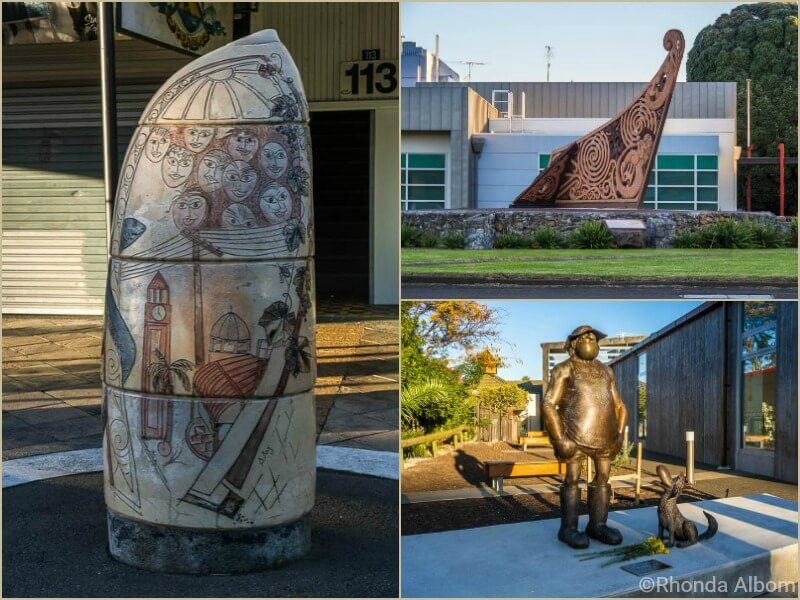 Take a photo of the town clock
Standing proudly in its prominent location in the centre of the main road in town, the town clock chimes at seemingly random intervals. I imagine there is a logic to it, but we couldn't figure it out.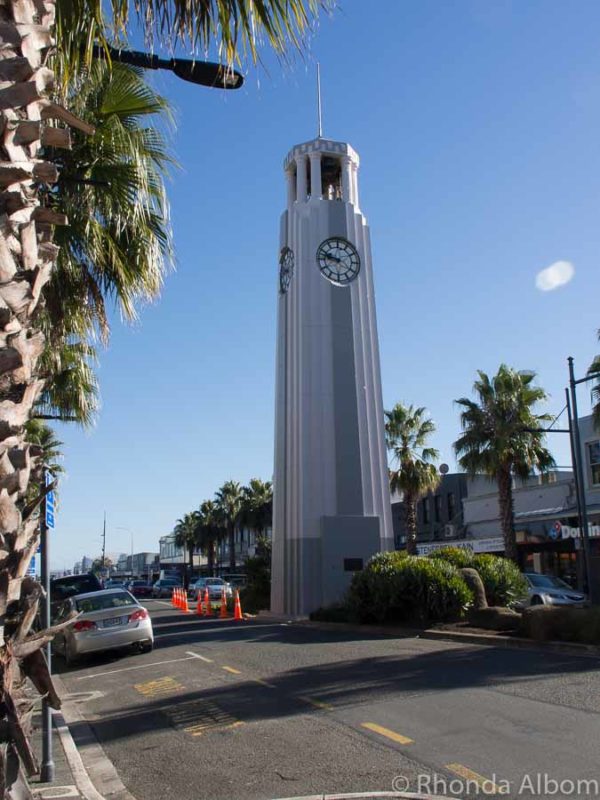 More things to do in Gisborne
Have a cuppa (coffee) with friends, new or old
Shops, restaurants, and cafes fill Gladstone Road (the main street in town). With so many options, we asked locals for the best coffee and were quite pleased with both Verve Cafe and Peel Street Cafe.
Head to one of the Gisborne vineyards for wine tasting
We can't do it all, and for us, coffee trumps wine. Therefore in two days, we had two visits to coffee shops and no time for wine tasting. However, it is a recommended activity in the region with local wineries, including Bushmere Estates, Matawhero Wines, Poverty Bay Wine Estates, and Bridge Estate.
Visit the Tairawhiti Museum and Art Gallery
Considered to be one of New Zealand's best regional museums, it hosts impressive exhibits like the travelling DaVinci exhibit we saw when it was at MOTAT.
Walk the boardwalk
The Oneroa Beachfront cycle and walkway opened in 2015. Paralleling the sea and providing continuous views, the boardwalk connects the Olympic Pool to the city.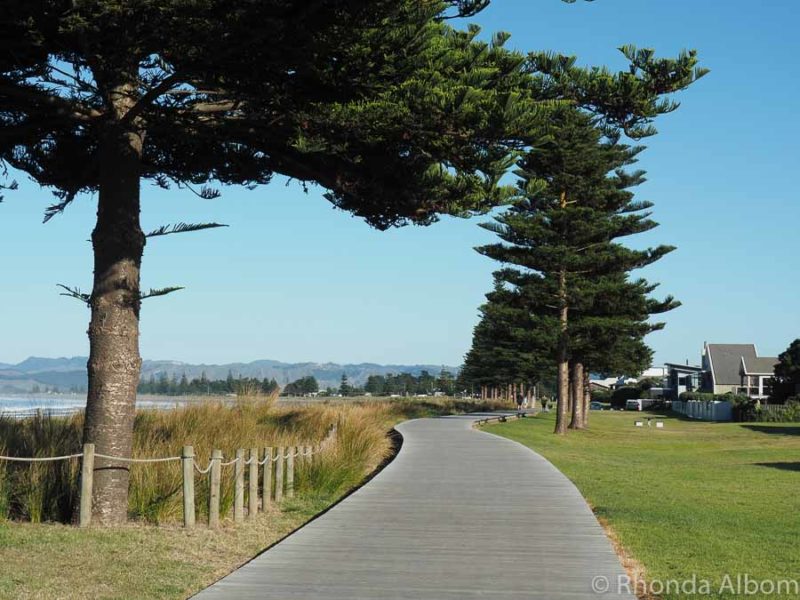 Where is Gisborne NZ?
Gisborne is on the east coast of New Zealand, at the southern gateway to the East Cape. It is just over 200 kilometres north of Napier and only a six-hour drive from Auckland. There is a bus to Gisborne from either city or from several other locations. We visited Gisborne as part of an Auckland to Wellington driving adventure.
If you don't have a car, consider a private tour to destinations of your choice. This gives you the flexibility to include Gisborne, the East Cape and other amazing areas of New Zealand so often missed by tourists. Get pricing and more information on a Private VIP Luxury Tour
Gisborne accommodations
Like most cities in New Zealand, there is a variety of accommodation options from which to choose, ranging from luxury to backpackers. We opted to stay in a midrange motel. Our top three recommendations are:
Portside Hotel – Heritage Collection: This lovely boutique hotel sits at the water's edge. Offering ocean views, a swimming pool and some fun and funky decor, it's the perfect upscale stay in Gisborne.
Check price and availability at Portside Hotel

Waikanae Beach Motel: This is where we stayed, in a clean and tidy one-bedroom apartment. The proprietor is both friendly and helpful, making suggestions for meals and even moving my laundry to the dryer so I could get out to dinner quicker. It is perfect for families and anyone who wants to be close to the beach at an economical price.
Check pricing and availability at Waikanae Beach Motel
More on Gisborne
Despite all these cool things to do in Gisborne, if you ask locals what they like best about living here, the first thing usually mentioned is the weather.
According to this article in the New Zealand Herald, even though Samoa and Tokelau crossed the dateline several years ago, Gisborne is still the first to see each new year based on the earth's rotation.
After spending time in Gisborne, we loved our drive around the East Cape to Opotiki. It's one of our favourite New Zealand road trips.
Save on your NZ trip with these resources
These are our go-to companies when we travel. We believe this list to be the best in each category. You can't go wrong using them on your trip too.
Flights: we use Expedia for the best and cheapest flight options.
Accommodations: we use Booking.com (hotels), Bookabach (self-contained in NZ) or Hostelworld (budget).
Cars (gas or electric): we use RentalCars to search for deals and dealer ratings.
Motorcycles: we have heard good things about BikesBooking.
Campervans or Motorhomes: we use Campstar where Albom Adventures readers get a 3% discount.
Activity discounts: we check Bookme.com for discounts of up to 70% on activities.
Private guides: we love the private guides at Tours by Locals.
Travel Insurance: while not required, we always opt for travel insurance and start at InsureMyTrip to compare coverage plans.
Check out our travel resources page for more companies that we use when you travel.
Save for later
If you enjoyed this article, please share it on social media and save it for later on Pinterest.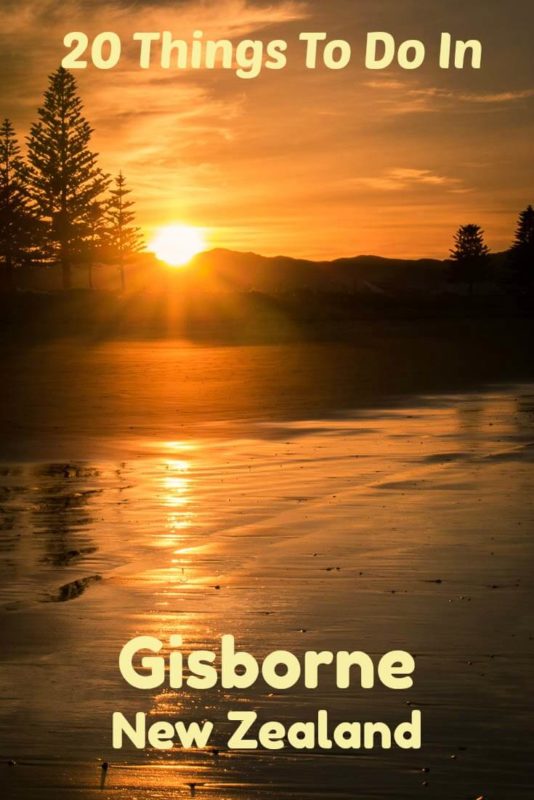 Which of these things to do in Gisborne do you think you will try?
Disclaimer: We worked with Tairāwhiti Gisborne, the local tourism board. Also, we were provided with many complimentary entrances, tours, sample items, or media rates to assist in the writing of this review. The opinions expressed here are strictly our own.