Napier, on the east coast of New Zealand, is the Art Deco Capital of the World. In fact, there are 140 Napier Art Deco buildings, doors, sculptures, and more in this town. Not surprisingly, as we walked downtown, fun and funky examples of Art Deco in Napier surrounded us.
To clarify, this is all by design. Not by the original plan, but Napier is one of a few world cities that was given a chance to reinvent itself.
This is due to a devastating 7.8 magnitude earthquake that destroyed the city in 1931. As New Zealand does, it turned this disaster into an opportunity. With so many people unemployed during the depression era, the rebuilding of Napier attracted skilled and talented workers from around New Zealand.
As a result, Napier is an Art Deco city that is a must-see, as well as being impossible to miss.
Napier Art Deco Trust
While one could easily discover much of the style on their own, a walking tour helped us capture the magic.
While there are plenty of options (see below), we chose and recommend the walking tour with Napier's Art Deco Trust. In just 1½ hours, we learned about various Art Deco elements as well as Napier's history.
We walked past classic examples while our passionate volunteer guide highlighted the nuances and finer details.
A few Napier Art Deco buildings
Before we get into what specifically defines the style, take a look at a few examples of the Art Deco in Napier.
Criterion Hotel: Spanish mission style with cordoba tiles, arched windows, symmetry, ziggurats, and false balconies
Bowman building: one of many designed by Louie Hay with reinforced concrete covered in brick.
Public Trust Office: example of classical revival (with Art Deco columns) built in 1921 and repaired after the quake.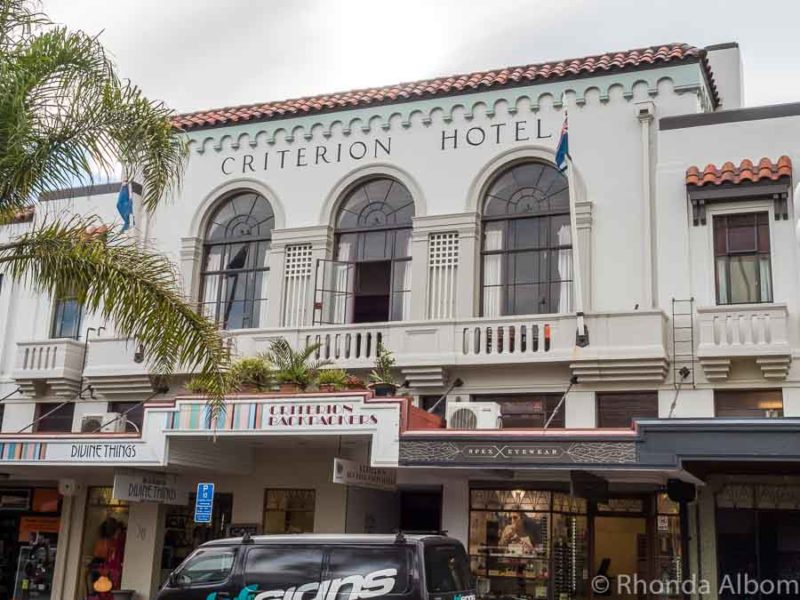 This design won awards for its ziggurat and lines: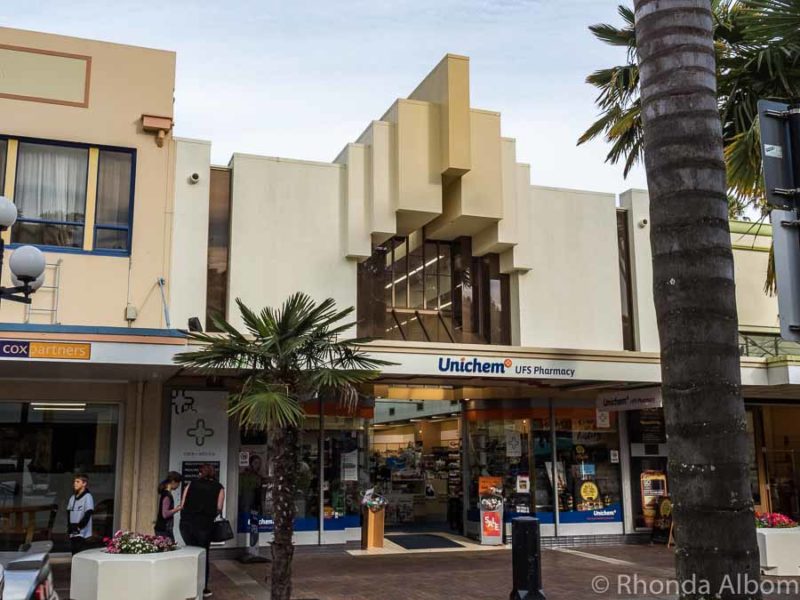 While the T&G building (now A&B) is an example of stripped classical style:
Even the artwork represents the era
I instantly fell in love with these Art Deco bronze figures on the main street in town.
She stands prominently on Emerson street, while he is a bit less noticeable, hanging onto a street lamp across the street and waving back.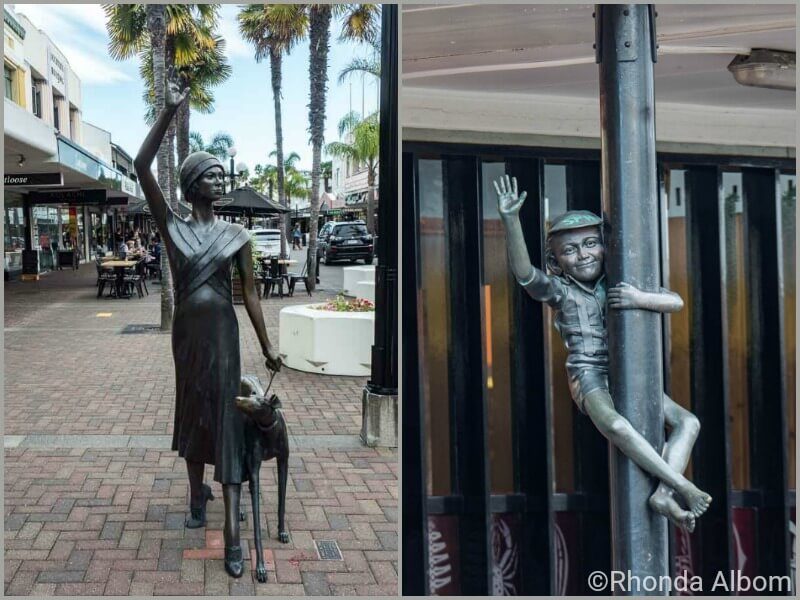 The birth of Art Deco
The 1920s -1930s were an age of change with new technology and materials. A faster-paced modern lifestyle included the availability of travel and new freedoms for women.
From the Napier Art Deco trust, "Art Deco expressed all the vigour and optimism of the roaring twenties and the idealism and escapism of the grim thirties."
Art Deco's worldwide popularity was born in Paris in 1925 at the great Exposition Internationale des Arts Décoratifs et Industriels Modernes (International Exhibition of Modern Decorative and Industrial Arts).
Patterns and features that identify Art Deco
Once you know what to look for, Art Deco decor is easy to identify. With its sharp lines and geometric patterns, the style radiates optimism, speed, the dawn of a modern age, and a bit of breaking the rules.
But more than just the shapes, several primary Art Deco colours are bold, bright, or metallic, yet they often include combinations: black and white; creams, taupes and medium browns; silver, gold, blue, and charcoal grey; or, dandelion yellow, forest green, peacock blue, royal purple, and cherry red.
Above all, the key features to look for in Art Deco architecture include:
Ziggurat
Chevron
Trapezoids and other geometric shapes
Sunbursts
Sweeping curves, including fans and fountain shapes
Long vertical lines – symbolise skyscrapers
Horizontal "speed" lines – Symbols of speed, power and flight
Ancient cultures (mostly civilisations of Egypt and Central America).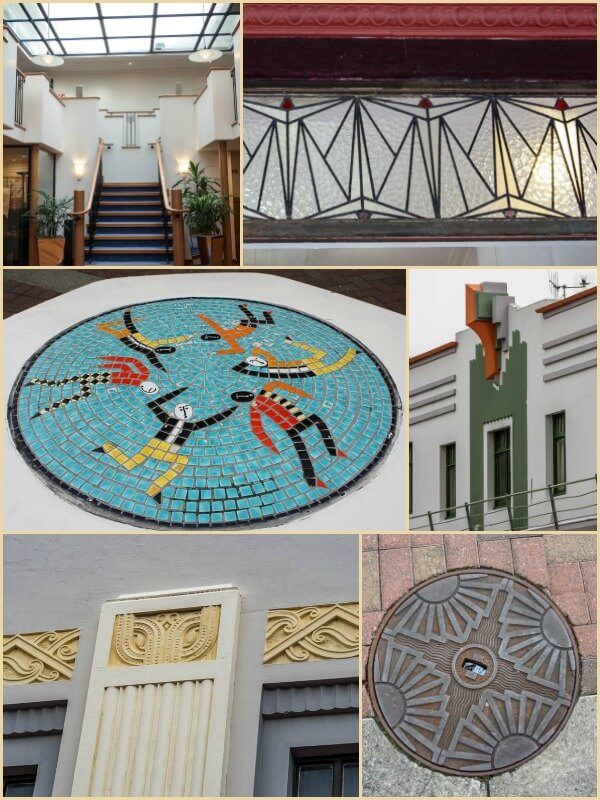 Napier Art Deco buildings with Māori motif
Of course, New Zealand makes it unique. That is to say, the integration of Māori motifs with artistic features gives Art Deco in Napier a distinctive flavour found nowhere else. Much of this design is the work of local architect Louis Hay.
The ASB bank building's ceiling is a fabulous example of a Maori Motif used in Art Deco architecture.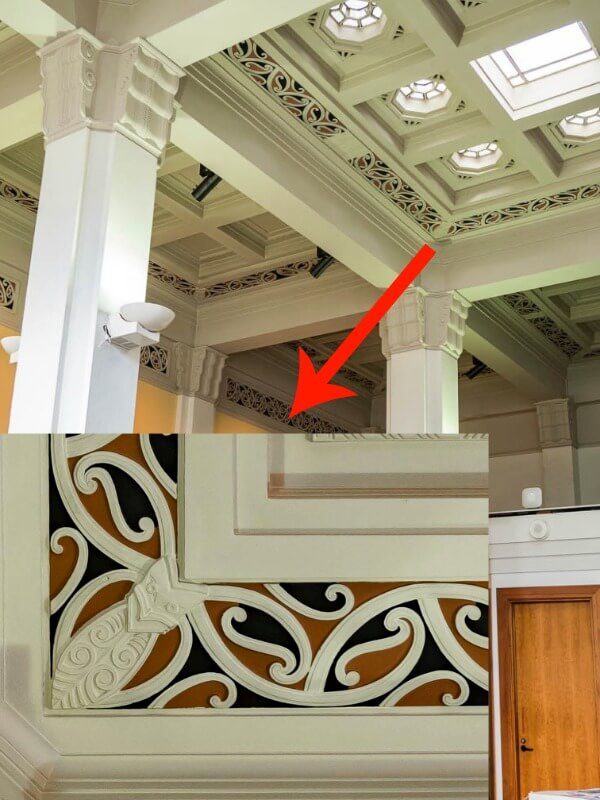 Napier Art Deco Tour Options
TOUR
HIGHLIGHTS
DURATION
Guided Napier Art Deco Walk
Walk the Napier Art Deco district
Earthquake history and Art Deco revival
Video about the history of Napier
1.5 hrs
Napier Art Deco Tours by Minivan
Morning or afternoon departure
See and learn about Art Deco landmarks
Explore Marewa and Ahuriri areas of Napier
2.5 hrs
A closer look at some of the Napier Art Deco buildings
Take a closer look at some of these features:
Central Hotel – classic Art Deco elements
The original entrance to the Hawke's Bay Museum
Blooms Jewellery's entrance is an example of an "ingo" with leadlight and terrazzo features.
Leadlight and chevron designs are prominent on these Art Deco doors at the Masonic Hotel.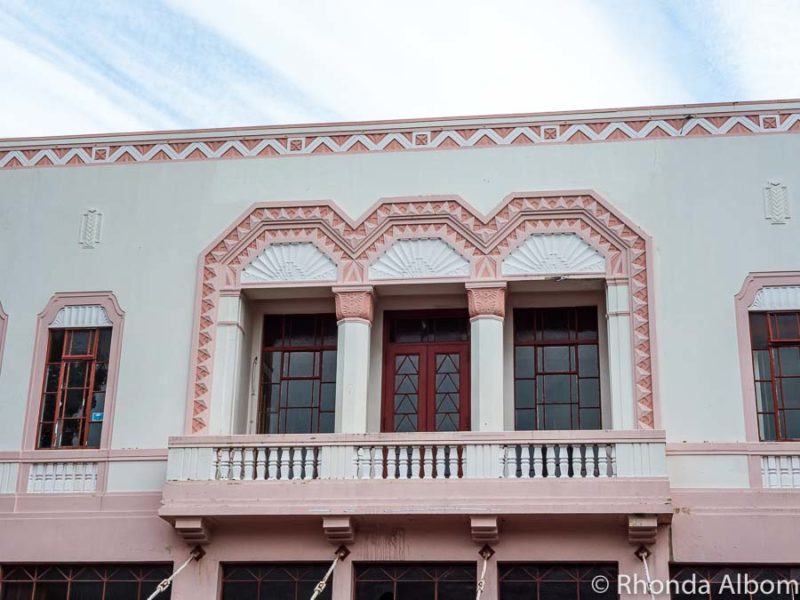 The Art Deco walking tour also took us inside the Municipal Theatre where we found classic Art Deco carpet, lighting, seating, and designs.
Art Deco vs Art Nouveau
If you have a keen eye, you might notice occasional influence from Art Nouveau, the defining art form of the time just before the first world war. Whereas Art Deco is defined by its sharp angles and geometrical shapes, the historically earlier Art Nouveau features elegant curves and long lines.
Mixed within the Napier Art Deco, the Australian Mutual Provident building is in Art Nouveau style, as evident in the details.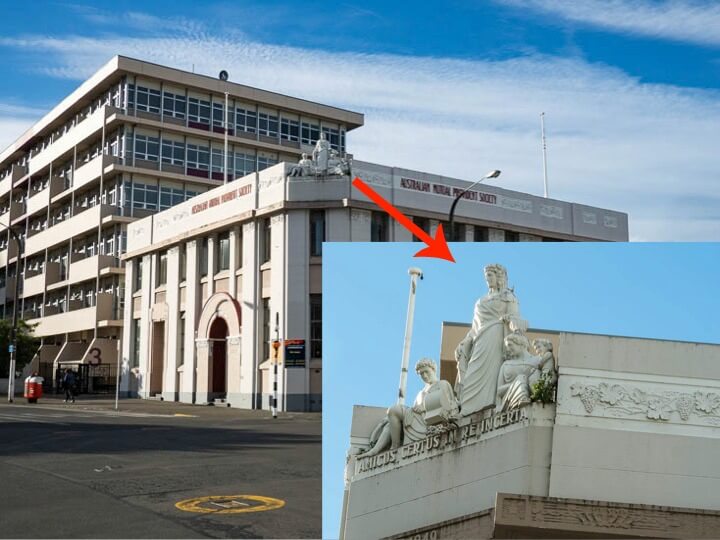 Napier Art Deco Festival
Like a scene from Back to the Future, Napier's Art Deco district steps back in time for one weekend each February. It's a Napier Art Deco Festival that attracts over 40,000 people over four days. (In comparison, the town's population is 57,000.)
Visitors and residents don Art Deco costumes all weekend long and enjoy events like vintage car parades, Art Deco fashion shows, outdoor concerts, and Great Gatsby themed picnics and dances. If you are thinking about heading to this Napier art deco weekend, you might want to book your hotel now.
Tip on Art Deco in Napier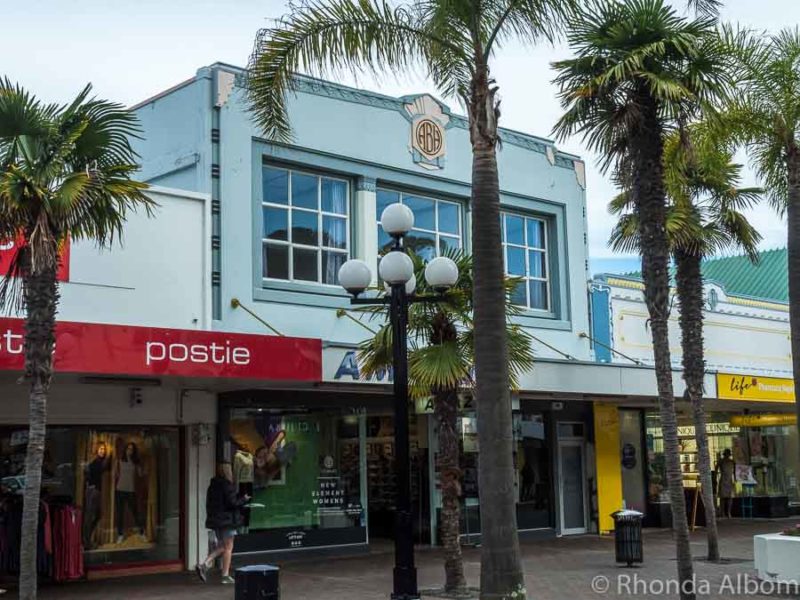 There are over 120 Art Deco buildings in Napier. If you are in a hurry and want to see some of the best examples, head to the centre of town and walk along Emerson, Tennyson, and Hastings Streets.
Many of the building interiors are not open to the public without a tour.
If you are interested in the finer details of any of the buildings featured here, download the Napier Architecture Reference page.
A walking tour is one of the best things to do in Napier.
Napier is on the east coast of the North Island in the Hawkes Bay region. We visited as a detour while driving from Wellington up to Auckland
Save on your NZ trip with these resources
These are our go-to companies when we travel. We believe this list to be the best in each category. You can't go wrong using them on your trip too.
Flights: we use Expedia for the best and cheapest flight options.
Accommodations: we use Booking.com (hotels), Bookabach (self-contained in NZ) or Hostelworld (budget).
Cars (gas or electric): we use RentalCars to search for deals and dealer ratings.
Motorcycles: we have heard good things about BikesBooking.
Campervans or Motorhomes: we use Campstar where Albom Adventures readers get a 3% discount.
Activity discounts: we check Bookme.com for discounts of up to 70% on activities.
Private guides: we love the private guides at Tours by Locals.
Travel Insurance: while not required, we always opt for travel insurance and start at InsureMyTrip to compare coverage plans.
Check out our travel resources page for more companies that we use when you travel.
If you enjoyed this photographic Art Deco tour, please share it on social media and share this pin on Pinterest: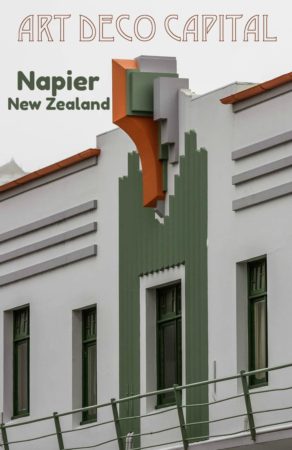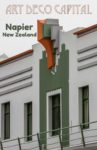 Which is your favourite of the Art Deco buildings in Napier?
Disclaimer: As media guests of the Art Deco Trust we were provided with complimentary walking tours to assist in the writing of this review. The opinions expressed here are strictly our own.