Are you looking for something to do inside when it's rainy outside? Never fear; there are plenty of fun, energetic, or relaxing indoor activities in Christchurch, New Zealand.
From unique museums to trampoline centres, Christchurch is filled with a plethora of exciting activities that will keep you entertained, whatever the weather. Be it a day out with the family or a date night, here are some great ideas on what to do indoors in Christchurch.
Our last visit brought a mix of weather, giving us that perfect opportunity to enjoy some of our favourite rainy day activities like the Antarctic Centre or the Canterbury Museum.
Whatever your interests, you're sure to find something fun to do in Christchurch on a rainy day. With so many possibilities at hand, boredom just won't be an issue.
So grab your umbrella and head inside and explore the amazing indoor activities on offer in Christchurch.
Before we get into the details, be inspired by New Zealand …
Museums top our list of indoor activities in Christchurch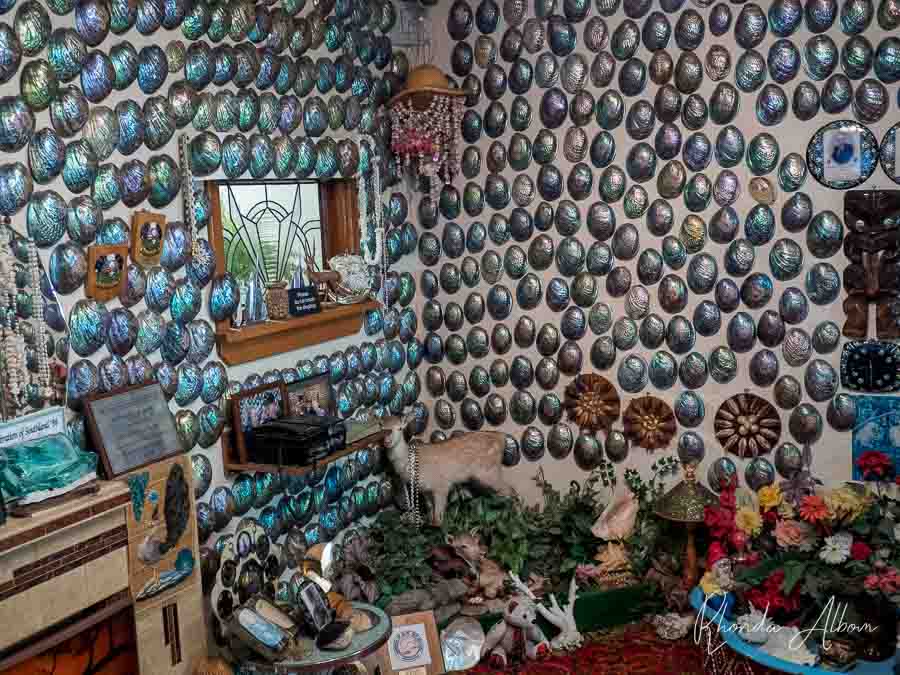 Canterbury Museum
Free entry (nominal charge for Discovery)
Always our first choice on a rainy day in Christchurch, the Canterbury Museum is where we discover the history of the region and learn about our natural world.
We learn something new every time we visit, but we also have our personal must-sees. Highlights include rare Maori artefacts; a Scott Base tractor of Sir Edmund Hillary; Iver Mauger's gold-plated motorbike, and Fred and Myrtle's paua shell house (image above).
There's also a Discovery Centre for kids offering interactive displays and hands-on activities.
Quake City Museum
A must-see for anyone who wants to understand the region's earthquake history. While we found it to be an emotional visit, it was also one that focused on impressive stories about everyday heroes.
More than just stories, the museum is the new home to some of the iconic and significant objects damaged by the quake, including the spire of the Christchurch Cathedral.
Air Force Museum of New Zealand
Free entry
Located about a 15-minute drive outside of the city, it's worth the effort. Here find about 20 historic aircraft, personal stories, and NZAF history. There are also interactive exhibits, including a flight simulator (charges apply).
One of the really cool things to do is to explore the museum's aircraft restoration workshop and meet the team of dedicated volunteers responsible for maintaining these vintage aircraft.
Museum of Toys & Collectibles
This is a great place to explore the history of toys and collectibles from around the world. It showcases an array of vintage items, including dolls, action figures, robots, tin toys, board games, and more. The museum also features a variety of interactive exhibits that allow visitors to get up close and personal with some of their favourite childhood items.
Yaldhurst Museum of Transport and Science
It's a place to explore the history of transport and science from around the world. The museum has an extensive collection covering 200 years of horse-drawn carriages.
There's an eclectic mix of cars, other vehicles, scientific equipment and computers. Visitors can also learn about local history through displays on New Zealand's first motor car, the first railway line in Christchurch, and the development of aviation in the region.
Energetic indoor activities in Christchurch
Trampoline centre
While we've taken kids, teens, and even adults to our local trampoline centre, we still believe it's the best of the active rainy day things to do in Christchurch with kids. Loaded with action-packed fun, the whole family can jump and flip on a range of trampolines.
To add to the fun, some of the parks also have foam pits, scooter tracks, an ice rink, or basketball hoops. The three we know of are: Launch Pad in Papanui, MoveX in Bromley, and Mega Air in Hei Hei.
Energetic rainy day in Christchurch options with multiple locations
Go-karts (locations in Harewood and Sydenham)
Rock climbing (locations in Waltham and Sydenham)
Indoor golf (locations in Avonhead and Parklands)
Indoor mini-golf (locations in Central City, Woolston, and New Brighton)
Laser tag (locations in Waltham, Riccarton, and Sydenham)
Ice skating (locations in Bromley and Opawa)
Indoor swimming (locations throughout Christchurch)
Pole dancing class (locations throughout Christchurch)
10-Pin bowling (locations throughout Christchurch)
Learn something new on a rainy day in Christchurch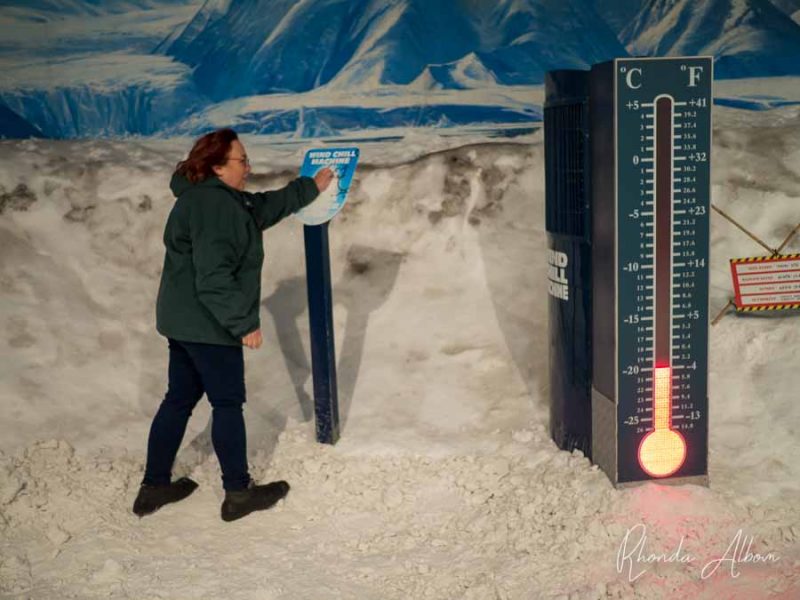 International Antarctic Centre (a must-see indoor activity in Christchurch)
We have visited multiple times, each time learning a bit more about Antarctica's past and present scientific research, but mostly we have a lot of fun both with and without our kids.
Sometimes I think I am a glutton for punishment, but I always go into the sub-zero Antarctic storm. In fact, I am at the start of a polar blast in the photo above. The coats and shoe covers are provided.
The other highlights for our family are an opportunity to ride in the Hägglund (all-terrain amphibious Antarctic vehicle), penguin viewing, and a 4D movie with wind and infrequent sea spray. Reserve your tickets for the International Antarctic Centre here.
Christchurch Art Gallery
Free entry
The Christchurch Art Gallery is a great place to visit for art lovers of all ages. It features an impressive collection of New Zealand and international artists. From iconic sculptures to traditional paintings, the gallery has something for everyone.
Honestly, I found the architecture alone is worth exploring, with its enticing curved walls. We enjoyed it both from the exterior and the open atrium cafe. The ever-changing exhibits included works by Henri Matisse on our last visit.
Riccarton House and Bush
Riccarton House and Bush is a New Zealand Heritage site that dates back to the mid-19th century. The house itself is a Victorian-Edwardian home built in three stages between 1856 and 1900 for the Dean family.
Meticulously preserved, it serves as a living museum where visitors can learn about New Zealand's history. Inside the house, there are period-style rooms showcasing furniture and fixtures from the 1850s as well as artifacts from other eras up to the present day.
Outside is expansive bush and ornate gardens better suited for a sunny day.
Tūranga
Yes, Tūranga is a branch of the library, but I imagine it is New Zealand's coolest library. It's the impressive creator spaces that will keep you here for hours.
Imagine a library that offers 3D printers, sewing and embroidery machines, an audio/video studio (editing music), vinyl cutting, vacuum former, heat press, and, of course, books.
There's even the Foundation cafe and two rooftop gardens where you can enjoy the city sights.
And, if that's not enough, some of Christchurch's other libraries offer things like laser cutting and garment printing.
Relax your body, challenge your mind on a rainy day in Christchurch
Movie at a boutique cinema
Going to the cinema is a great way to spend a rainy day, and even more fun at one of the boutique theatres in Christchurch. Enjoy luxurious seating, gourmet snacks, and even waiter service (so you don't have to get up from your seat). With a range of blockbusters and independent movies, there's sure to be something for everyone. Plus, many of these small cinemas offer private screening rooms you can book in advance.
Day spa
On a rainy day in Christchurch, there's no better way to relax than at a day spa. I love being pampered while revitalizing body, mind, and spirit.
For me, it's the soothing massage that eases tensions. For others, it's facials and wraps. With several to choose from, the favourites among my friends are Lotus Day Spa and Moss Spa.
Escape rooms
We love escape rooms, either as a family or with our friends.
If you haven't been to one, here is how it works: A group of people work together to solve puzzles and find clues in order to escape from a theme-based room within a fixed amount of time. It requires teamwork, as the clock is ticking, and time runs out quickly!
There are locations in Central City and Waltham.
More indoor activities in Christchurch to challenge you
Pool and billiard halls (locations in Central City, Sydenham, Bishopdale, and Woolston)
Virtual reality (locations throughout Christchurch)
Floatation tanks (locations throughout Christchurch)
Yoga class (locations throughout Christchurch)
Enjoy boutique shopping or dining on the next Christchurch rainy day
While there are plenty of malls, cafes, and restaurants to choose from, why not make the rainy day a bit special and head to a boutique centre, either for shopping or food? Here are a few of our favourites:
Tannery
The Tannery, located in the centre of town, is a convenient shopping hub boasting a diverse selection of over 50 high-end stores and services. It is housed in a refurbished 19th-century Victorian tannery. Shoppers can find a variety of fashion items, bookstores, home decor items, beauty products, an upmarket cinema and plenty of eateries.
Riverside Market
Riverside Market, on the banks of the River Avon, features about 70 vendors undercover. It's the perfect day out, even when the weather isn't ideal.
Little High Eatery
When we couldn't decide what we wanted to eat as a family, Little High Eatery was the perfect solution. It's the variety offered by the nine-different family-run eateries under one roof that allowed us each get the cuisine we craved. Then we ate together in the shared seating area. Our last visit included hamburgers, Thai food, Latin cuisine, pizza, and milkshakes.
Still want more?
Don't miss our comprehensive list of things to do in Christchurch or our list of rainy-day things to do in Auckland
Always check for discounts in New Zealand
We always check 100% New Zealand owned bookme for discounts before we visit any venues or participate in activities. They frequently feature different discounts depending on the day and time you choose for your activity.
Save on your NZ trip with these resources
These are our go-to companies when we travel. We believe this list to be the best in each category. You can't go wrong using them on your trip too.
Flights: we use Expedia for the best and cheapest flight options.
Accommodations: we use Booking.com (hotels), Bookabach (self-contained in NZ) or Hostelworld (budget).
Cars (gas or electric): we use RentalCars to search for deals and dealer ratings.
Motorcycles: we have heard good things about BikesBooking.
Campervans or Motorhomes: we use Campstar where Albom Adventures readers get a 3% discount.
Activity discounts: we check Bookme.com for discounts of up to 70% on activities.
Private guides: we love the private guides at Tours by Locals.
Travel Insurance: while not required, we always opt for travel insurance and start at InsureMyTrip to compare coverage plans.
Check out our travel resources page for more companies that we use when you travel.
Save for later
If you enjoyed this article, please share it on social media and save it for later on Pinterest.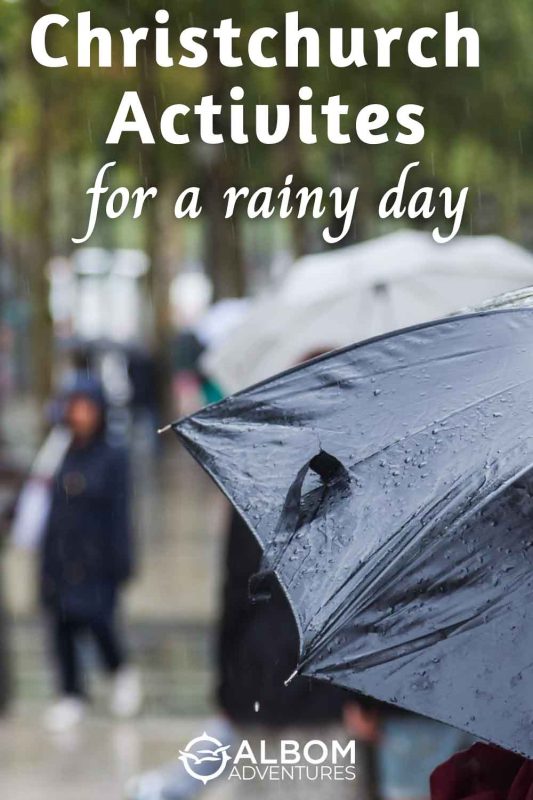 Which is your favourite of these indoor activities in Christchurch?
Photo Credits:
All photos on this page are either shot by our team and watermarked as such or stock images from Depositphotos.