Punting on the Avon River through the Christchurch Botanic Gardens is like turning back time for a short while. An iconic activity, it is much more than that.
If you are wondering what it means to be punting on the Avon, don't worry, you are alone. Unless you are from Christchurch or certain parts of England, you may have never heard of it before.
A punt is a single-hulled boat. Designed with a flat bottom, it is expressly perfect for shallow waterways. A punter manually moves the punt by pushing against the river bed with a pole. This makes them perfect for the tranquil Avon River that runs through the Christchurch Botanic Gardens from a tributary feeding in from the sea.
It's not only a lovely way to enjoy the park, but it's also an adventure on its own. Relaxing and peaceful, we share and recommend our experience below.
Punting on the Avon River
The process is easy. We got our timed tickets in advance, long before we knew about discounts for the same activity from Bookme.
Then, we arrived at the Antigua Boatsheds a bit in advance, as it often sells out, so if we were late, we may have missed out. We registered, took a few photos, and boarded our punt.
The velvet-covered cushions surprised me by their comfort. I was ready for a peaceful glide down the river.
Our time on the water was much more than just a boat ride.
The Edwardian-dressed punter shared stories and history with us as he guided us down a section of the Avon River. Self-proclaimed guardians of the river, a big part of the punter's job is minimizing their impact on the environment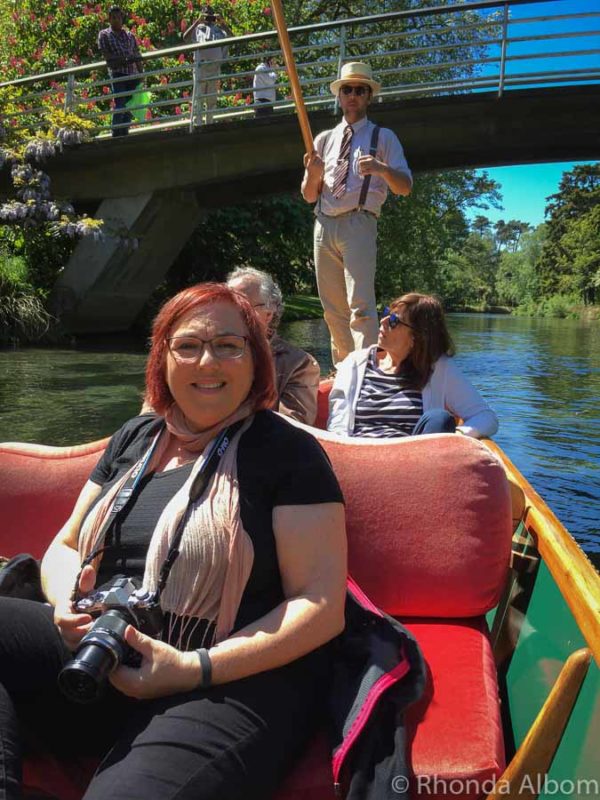 Punts vs gondolas
When I first glanced at a photo, I thought they were gondolas. But they are not. In fact, punts and the gondolas of Venice are very different, although both move through shallow waters.
Flat-bottomed punts: move by pushing against the river bed with a pole.
Venetian gondolas: a shallow draft boat propelled with an oar.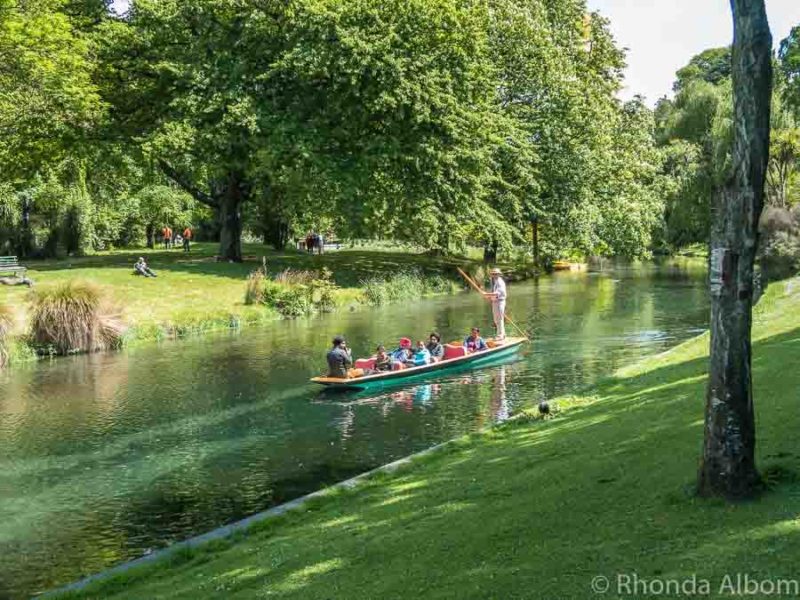 Christchurch Botanic Gardens
It was a perfect day, and a gentle breeze wafted the fragrant aroma of azaleas our way and drew us into the Christchurch Botanic Gardens. As we had the time, we opted to wander through and enjoy the gardens on our way to punting on the Avon River.
Normally an escape from the hustle and bustle of the city, today, the tranquil gardens are also an escape from the never-ending remnants of the two earthquakes (2010 and 2011) that devastated this New Zealand city.
Surrounded by mature trees, colourful flowers, and the gently flowing Avon River, we felt life slow down. We strolled, rather than walked, breathed deeply, and relaxed. The 21 hectares of the Christchurch Botanical Gardens are a place to enjoy.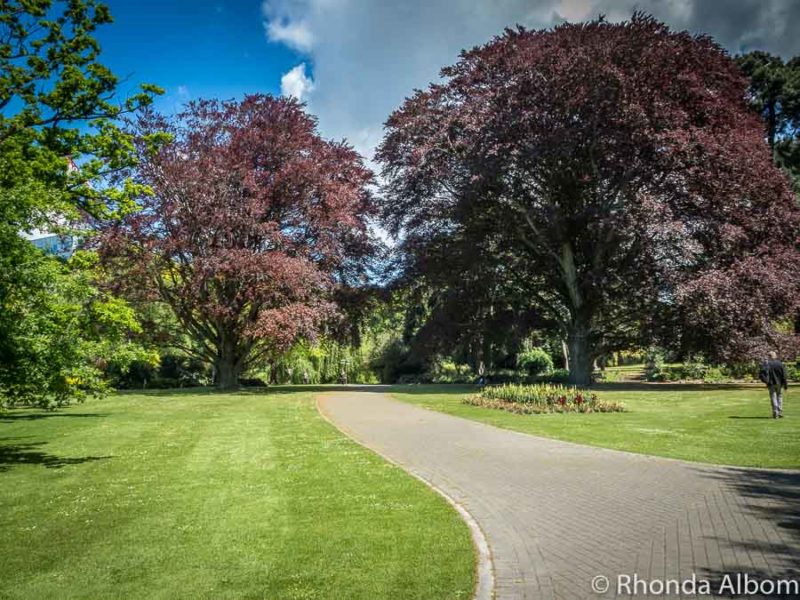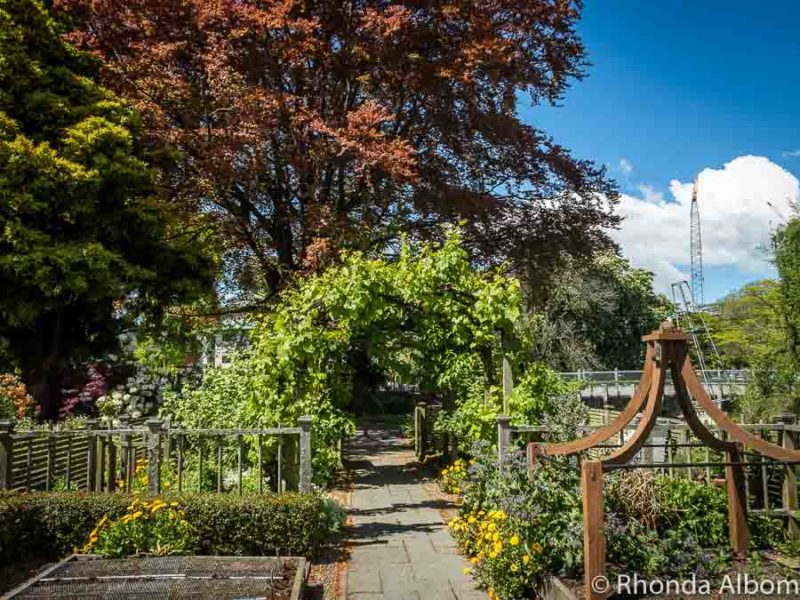 Antigua Boatsheds
The Antigua Boatsheds are New Zealand's only surviving 19th-century boatsheds built for commercial purposes. In fact, they have been used for commercial boat hire since they opened in 1882. They survived both earthquakes and are still operational.
It is here that we began our punting adventure. Aside from punting on the Avon, one can rent canoes, kayaks, paddleboats, or traditional rowboats at the boatsheds.
The photos below are:
A view of the Antigua Boatsheds shot from the footbridge in the photo just above.
A row of Edwardian jackets and straw boater hats hang in the portion of the Antigua Boatshed dedicated to punting on the Avon.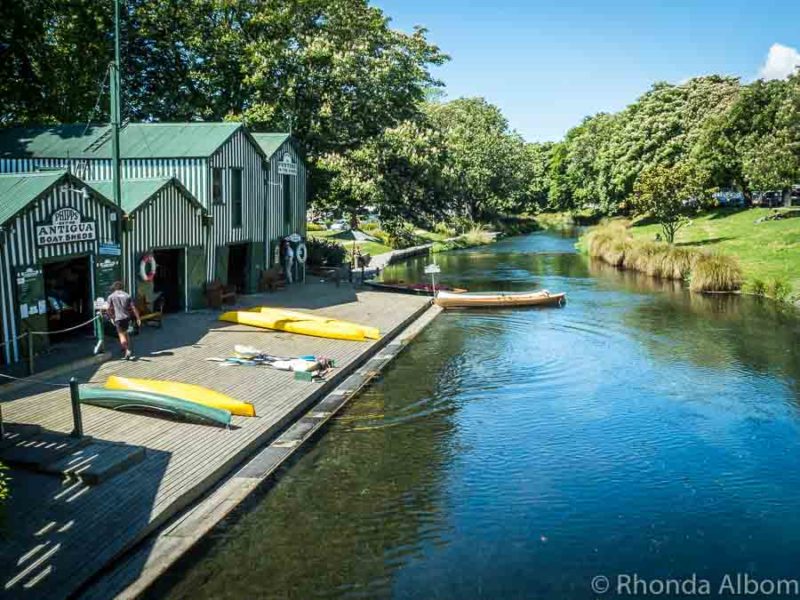 Practical information: Christchurch Botanic Gardens and punting on the Avon
Save even more with a Christchurch Pass
The Christchurch Pass tour includes:
Unlimited rides (in a day) on Christchurch's historic tram
Punting on the Avon River
Christchurch Gondola ride (see our gondola review and images)
⇒ Check price and reserve your Christchurch Pass with Klook
Save on your NZ trip with these resources
These are our go-to companies when we travel. We believe this list to be the best in each category. You can't go wrong using them on your trip too.
Check out our travel resources page for more companies that we use when you travel.
Save for later
If you enjoyed this article, please share it on social media and save it for later on Pinterest.
Have you been punting on the Avon River in Christchurch?
Disclaimer: We worked with the local tourism board who arranged for our punting on the Avon experience to assist in the writing of this review. The opinions expressed here are strictly our own.