The Distinction Hotel Dunedin is a refurbished masterpiece. A classic building occupying an entire city block, this former 1937 chief post office sat empty since the 1990s.
Now restored with elegance, it reflects the heritage of this New Zealand city.
Distinction Dunedin opened in 2015 and is a 4.5-star luxury accommodation. It is part of the 100% New Zealand owned and operated Distinction Hotel Chain.
Their goal "is for every visitor exploring the beauty of New Zealand's most captivating regions to stay in comfortable, quality accommodation with the highest standard of service." For us, they met and exceeded this objective.
Ideally located, incredibly comfortable, and a quiet escape, the Distinction Hotel Dunedin is the perfect South Island choice.
Here's why …
Our family suite
We earn from qualifying purchases through partnerships or affiliate programs.
Travelling as three people, we opted for a family suite.
It was huge, with two sleeping rooms, a kitchenette, a modern bathroom, and plenty of sitting space. The cosy pillow-top mattresses on our king bed made staying awake to watch the big TV a bit difficult. Our teen had no complaints in her own bedroom, which featured two twin beds and a second large flat-screen TV.
There is nothing quite like waking up in a bed so comfortable that for the first moment of the day, I forget I am away from home.
Donning the slippers and plush robe provided by Distinction Hotel Dunedin, I had the choice of making a quick coffee or tea or taking a shower to wake me. Normally, I would reach for the coffee, but not here. The shower was a splash of pure happiness.
Our room also featured plenty of USB ports, free and unlimited internet, a laundry washer and dryer, a microwave oven, a toaster, and triple glazed windows.
It is the attention to detail that I really enjoyed. We have had washing machines in other hotel rooms, but this is the first time a hotel went the extra step of providing a sachet of pre-measured laundry soap.
And, of course, it had all the personal toiletries one would expect in luxury accommodation.
Like what your reading? ⇒ Check prices for your next stay in Dunedin at the Distinction.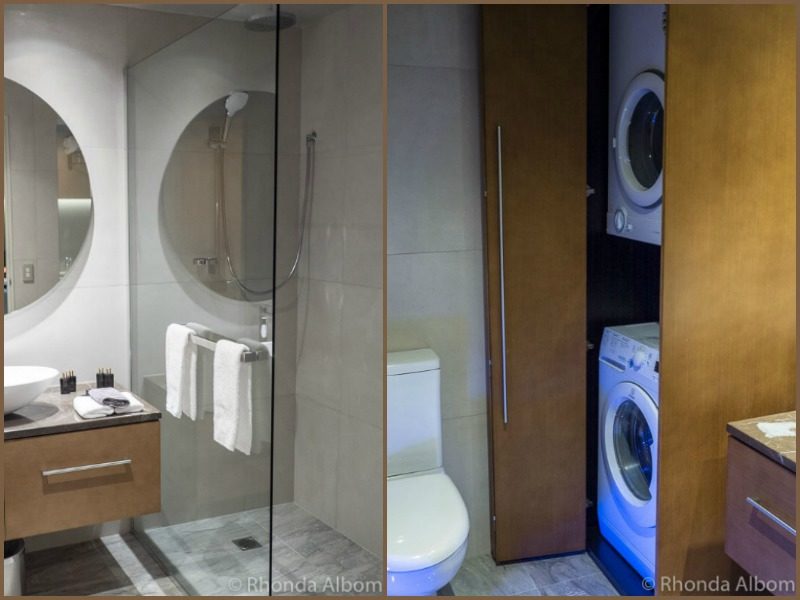 There is more to the Distinction Hotel Dunedin than just our room
The 24-hour reception area presented an elegant simplicity. Neither overstated nor unrefined; it offered a bit of art nouveau fun.
The friendly, knowledgeable staff instinctively knew the right amount of conversation to keep each visitor happy; from the all-business client to our chatty family, they met the mark.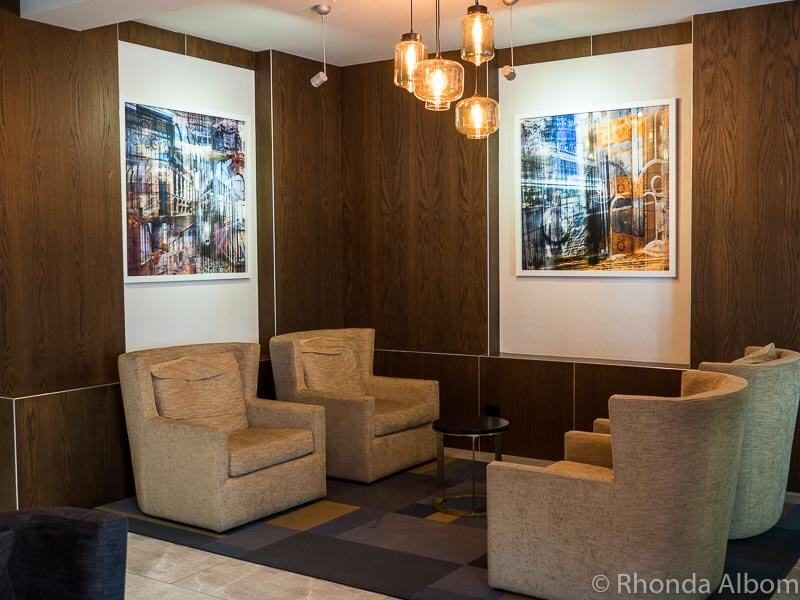 Utilizing an entrance from the original building, the restaurant is named Parcels. It's a clever name for a restaurant in an old post office.
Similarly, the bar is called Post Bar. The mesmerising illuminated top-shelf display changes colours.
The decor is welcoming and comfortable. The Post Bar and restaurant overlap a bit, again with friendly, attentive service and, importantly, good coffee.
We ate at Parcels one morning for breakfast and were pleasantly surprised by the affordable pricing and huge meals.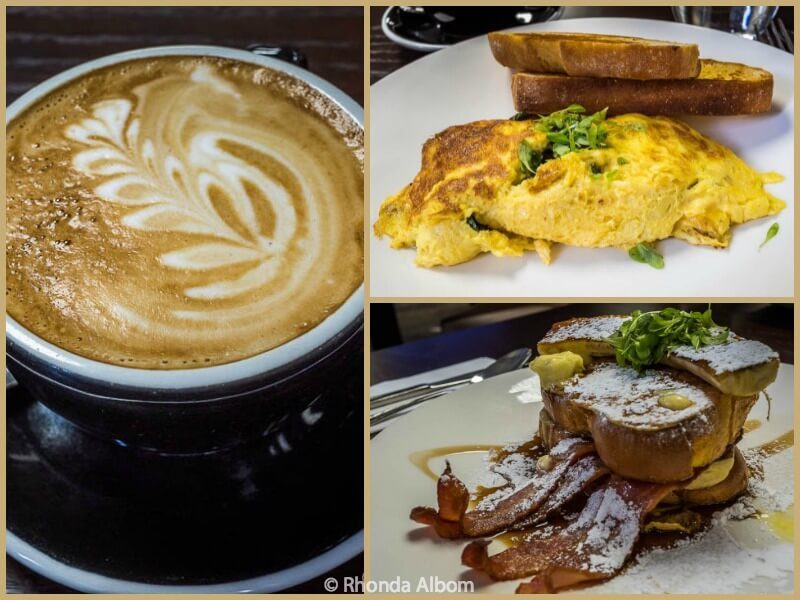 And then there is the gym. Run by Air Fitness and located on the third floor, it is open 24 hours a day for hotel guests. One of the most impressive gyms I have seen in New Zealand, it has it all, and more.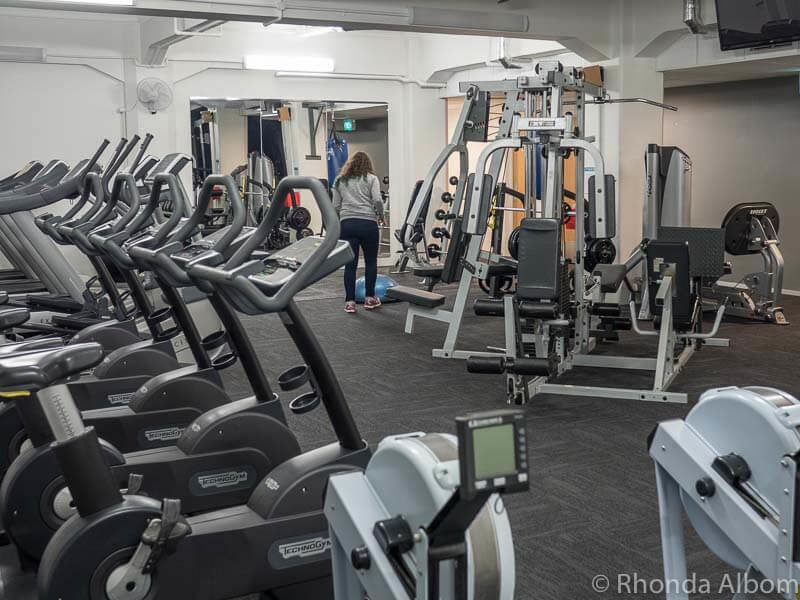 Location, location, location
We couldn't have been happier with our location.
The hotel is at 6 Liverpool St, Dunedin, a short walk to the Octagon, the Dunedin Chinese Gardens, the Dunedin Railway Station (New Zealand's most photographed building), and many other cool things to do in Dunedin.
Basically, it's central to everything we wanted to do, we only needed our car to enjoy the wildlife on the Otago Peninsula.
The hotel offered both valet and self-parking at a nominal additional fee. We opted for the extremely efficient valet parking. We simply left our key, and everything was done for us.
Like what you see? ⇒ Check prices for your next stay in Dunedin at the Distinction.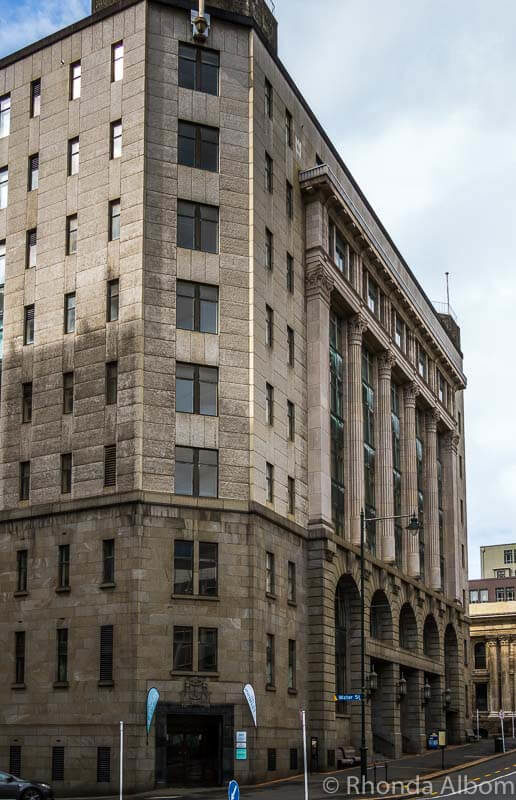 Final thoughts on the Distinction Hotel Dunedin
If you are looking for a touch of luxury around every corner, we believe the Distinction Hotel Dunedin is a winner.
They exceeded our expectations on every level from the room to the location, we couldn't have been happier with our choice.
For me, sleep ranks high in importance, and it was easy at this hotel.
If we had to find a negative, it would only be that the refurbishment wasn't fully completed when we stayed and there were areas that were off-limits to us. However, that should be fully resolved by now.
Overall, we highly recommend the Distinction Hotel Dunedin and plan to stay there again whenever we are in Dunedin. You can check availability and book your room at the Distinction Dunedin here.
Book your NZ trip: Logistical tips
Book your flights
Use Expedia, our favourite flight search engine. They search worldwide and find the best and cheapest options.
Book your accommodation
We use Booking.com as they consistently return the best rates and their reviews are from actual guests. For self-contained lodging, we use Bookabach.
Reserve your vehicle
Use RentalCars.com to find the best deals on cars. With no hidden costs and outstanding customer service, we have successfully rented from them worldwide. Use Jucy for small campervans.
Activity discounts
Always check Bookme.com for discounts of up to 70% on selected tours, activities, restaurants and more. Also, our readers get an exclusive 10% discount on New Zealand activities from Klook with code: EXPLORENZ10
(Applies to NZ activity purchases over $50 initiated in NZ or Aus)
Before you book your trip
Check our travel resources page for more of the companies we use when we travel. We believe them to be the best in each category. You can't go wrong using them on your trip too.
Will you stay at the Distinction Dunedin on your next visit?
Disclaimer: As media guests of the hotel we were provided with a few extra benefits. However, the opinions expressed here are strictly my own.