It doesn't take long to be captivated by Hawkes Bay, an often-overlooked eastern region on New Zealand's North Island. Whether seduced by award-winning wines, fascinated by the art deco architecture, or entranced by sweeping agricultural or coastal views, the region will find some way to win you over. With so much diversity, it's not surprising that there are so many things to do in Hawkes Bay.
The region attracts beachgoers, wine connoisseurs, history and Māori culture buffs, art deco fans, hikers, and bicyclists.
Furthermore, nature lovers climb Te Mata Peak, adventure seekers hang glide, and animal lovers will not want to miss a colony of thousands of breeding birds. Hence, it's an idyllic holiday destination, much more than just a wine region.
Where is Hawkes Bay New Zealand?
Hawkes Bay is on the east coast of the North Island, extending from the Mahia Peninsula 100km south to Cape Kidnappers. The region is known for some of the country's top wines as well as its 360km of coastline. A region filled with small towns, it's also home to two cities: Napier and Hastings.
We visited Hawkes Bay as part of a larger trip around the North Island, as we travelled from Wellington to Auckland, or more specifically in the road trip segment between Napier and Wellington.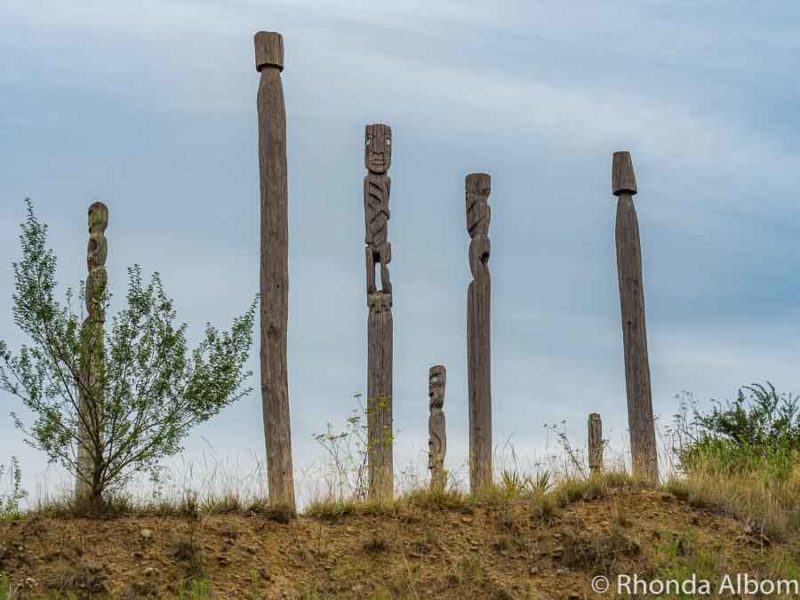 Things to do in Hawkes Bay: Māori culture
The region is rich with Māori culture and legend. In fact, some say it all started here. After all, it was Māui (Māori god) who fished up the North Island using a hook that became Cape Kidnappers, the southernmost tip of Hawkes Bay.
Ātea a Rangi Star Compass
Clive, Napier
When you think about it, it's pretty impressive that the first Polynesian people to arrive in New Zealand did so using the stars to guide them. These celestial (star) navigation skills have been passed on through the generations for thousands of years, and require memorizing sun, moon, planet risings and setting points, as well as position through different times of the year.
Using a tool like the Ātea a Rangi Star Compass, along with the star, sun, moon, and planet positions, navigators can find their way across the open ocean. According to the signage, the Ātea a Rangi Star Compass "splits the horizon into 32 equal areas called 'whare' (houses) which are the pou (tall poles) around the compass."
You can learn more about Atea A Rangi Waitangi Regional Park
Otatara Pa
Taradale, Napier
Just 10 km southwest of Napier (and on the way to Te Mata Peak) is the car park for Otatara Pa. This archaeological site is the largest pa (fortified Māori village) in Hawke's Bay.
We enjoyed the one hour walk, passing through quarry and palisades, pou, raised rim storage pits, house sites, views of terraces, and the defensive bank and ditch. Some of these have been reconstructed. The impressive views from the top can extend from Mount Ruapehu to Cape Kidnappers on a clear day.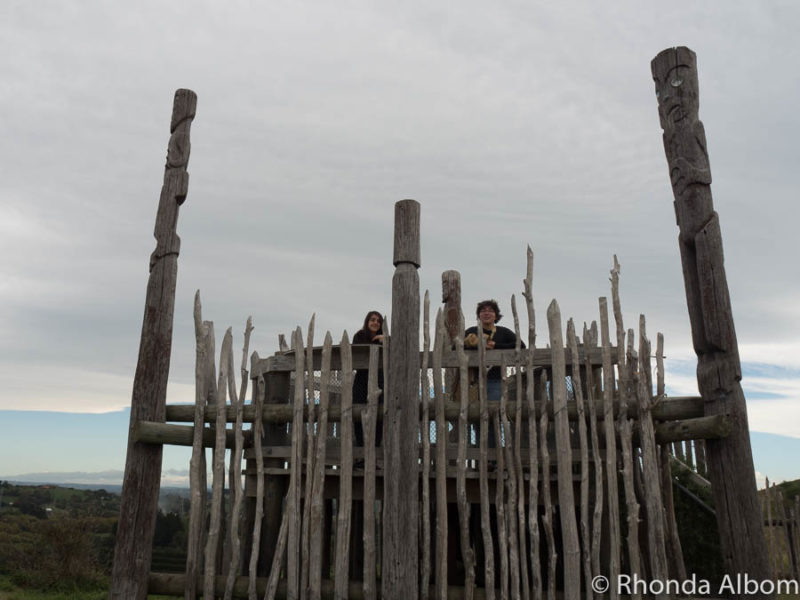 Things to do in Hawkes Bay: wine tasting and vineyard tours
Hawke's Bay is New Zealand's oldest and second-largest wine-producing region, made famous by full-bodied red wines, and complex chardonnay. So successful, in fact, it is responsible for 80% of the country's Merlot, Cabernet Sauvignon, and Syrah grapes. As a result, it's been nicknamed the 'Bordeaux of New Zealand.'
With 72 wineries in the region, you will have to make some choices. Select from this wine trail map, or make your life easy with one of the tours just below. Here are a few of the more popular wineries you're likely to see on a tour, some of the best wineries in Hawkes Bay.
Craggy Range, Havelock North: From the foothills of Te Mata Peak, Craggy Range is best known for their award-winning red wines. The only NZ winery in the Top 50 of the World's Best Vineyards of 2022.
Mission Estate, Poraiti (near Taradale): New Zealand's oldest winery, established in 1851. It is often referred to as the birthplace of New Zealand wines.
Elephant Hill, Haumoana (Te Awanga coast): a coastal winery with impressive unobstructed views overlooking Cape Kidnappers.
Urban Winery, Ahuriri, Napier: the city's newest winery.
Clearview Estate, Te Awanga (near Cape Kidnappers): Four wineries clustered together.
Te Mata Estate, Parkvale, Havelock North: located in New Zealand's oldest winery building.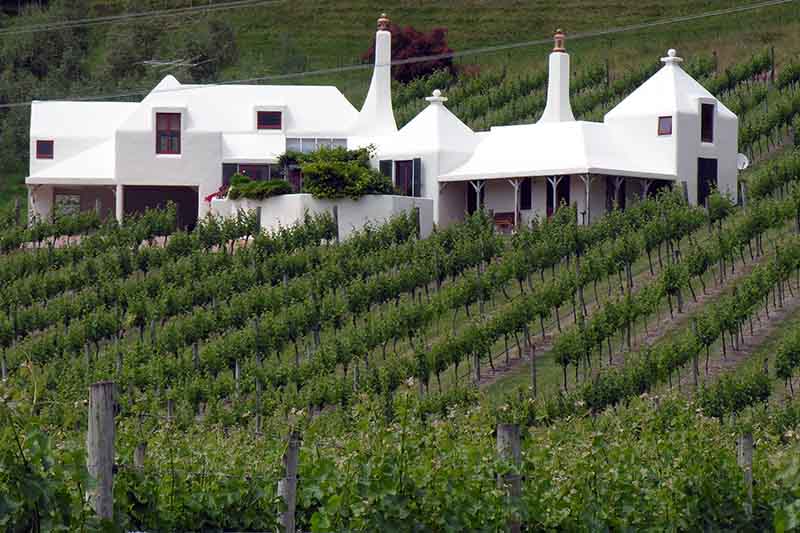 Wine tours in Hawkes Bay
With so many outstanding wineries to choose from, tours help with selection, as they have preselected their favourites. Plus, a guide means a driver, and therefore no worries about the safety and legal issues of driving after drinking. Or, even better, take a bicycle tour through the countryside, allowing you to stop at many wineries as you enjoy the views.
Hawkes Bay Wine Tour: This top-rated half-day tour will chauffeur you in an air-conditioned minivan from Napier or Hastings to several wineries. Enjoy tastings at each. Then drive up to Te Mata Peak for stunning views. Check price and reviews of this Hawkes Bay wine tour.
Napier: Afternoon Wine, Gin, & Craft Beer Tour with Tastings: Wine tastings and winery tours, this top-rated tour visits Mission Estate, Linden Estate, Urban Winery and a distillery. Check price and reviews of this afternoon wine tour from Napier
Cycle in Hawke's Bay, Winery Tour – Self-Guided: In contrast to the other tours, cycling offers a bit of exercise too. As a result, I think it's the most fun way to enjoy the vineyards. This self-guided tour includes everything you need: the bicycle, pannier, helmet, water bottle, and the route. Making it even better, there is optional transport to and from the start point (from Napier) and a service that brings purchased wine back to the start. Check price and review of this self-guided bicycling wine tour
Things to do in Hawkes Bay: hiking and nature
Hike (or drive) to Te Mata Peak
Taradale, near Havalock North
With so many fabulous Hawke's Bay walks, choosing a favourite is difficult. However, the amazing views at Te Mata Peak top my list, and we are not alone as an estimated 200,000 people visit annually.
The peak rises 399 metres and towers over the neighbouring countryside and forested areas. As a result, we enjoyed extensive views incorporating nearly all of the Hawke's Bay region. And for adventure seekers, there is a hang gliding launch ramp. In addition, there is an expansive network of hiking and mountain biking trails through the 99-hectare Te Mata Park. Click for a map of the hiking trails.
Māori legend tells us of the Sleeping Giant. In it, the hill is the prostate body of the Waimarama chief Te Mata. In short, it is the spot where Chief Te Mata O Rongokako attempted to eat his way through the cliffs so he could win the hand of his lover. Read the full Māori legend.
Gannet Colony
Cape Kidnappers
If you visit the region from October to March, take time to observe the world's largest mainland Gannet Colony at Cape Kidnappers. These graceful birds fly thousands of miles to feast and breed in New Zealand, returning to Australia for winter.
If you want to see the birds without hiking or walking, check out this gannet colony tour. You will travel in a 4×4 coach, hence, the drive can get you within a few feet of the gannets. Tour options allow for pick up from Napier, Hastings, or Havelock North.
Watch one of the world's first sunrises of the day
Anywhere on the Hawkes Bay coast
New Zealand sits just beyond the dateline and as a result, the east coast is the world's first place to welcome each new day. Therefore, if you head to any Hawkes Bay beach at dawn, you will be one of the first people to see the new day's sunrise, only a few seconds after Gisborne, the official first.
Things to do in Hastings and Napier (the region's largest cities)
Visit Napier
Napier is an exciting seaside community. It's New Zealand's art deco capital and Hawkes Bay's second-largest city. Click to see our detailed Napier activity options page. Some of the highlights include:
Take an art deco tour
Walk or cycle along the coast or uphill for some wonderful views
Visit New Zealand's National Aquarium
Explore the regional museum: MTG Hawke's Bay
Self-guided tour of the Napier Prison
Be mesmerised by the colourful night fountain display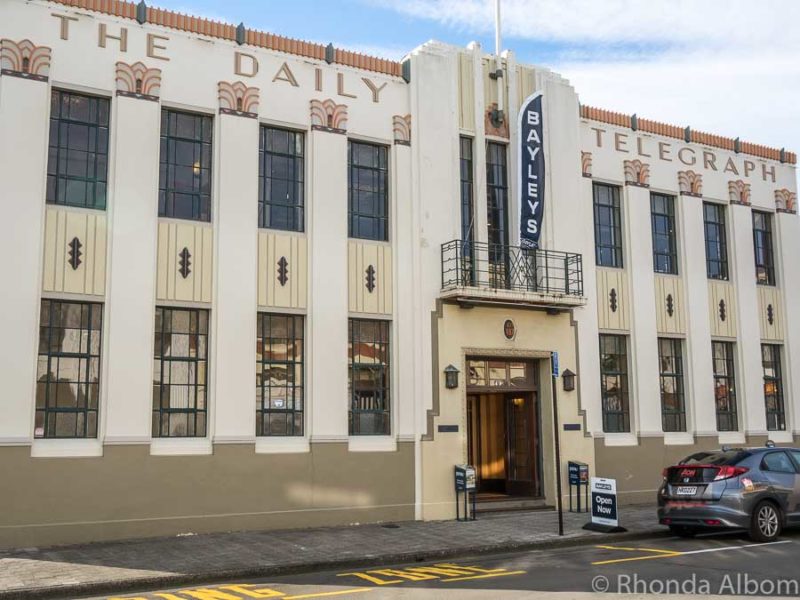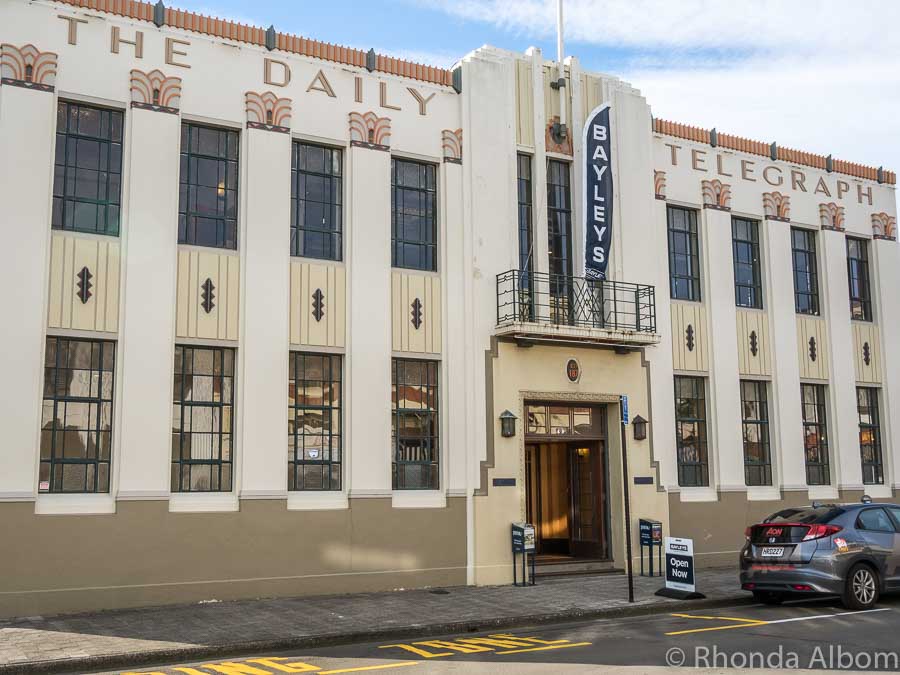 Visit Hastings
In contrast, Hastings is larger in both population and landmass, spanning from the ocean to the mountains. A farming and horticulture centred community, it has fewer tourist hot spots than nearby Napier. The two cities are close enough that the drive from Hastings to Napier takes less than 25 minutes.
Top things to do in Hastings revolve around agriculture and include culinary excellence, wine tasting, cafés, or an olive grove visit. And, if you can time it to be in Hastings on a Sunday morning, don't miss the Hawkes Bay farmers' market.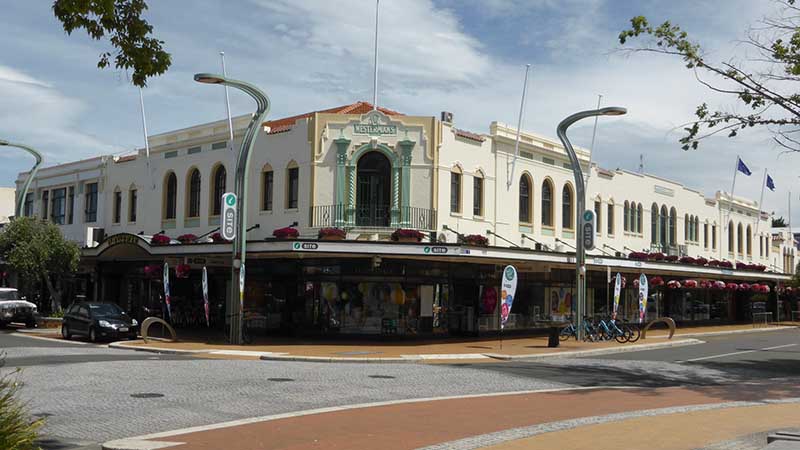 Things to do in Hawkes Bay: sporting activities
Trout fishing and rafting
Mohaka River
These are two exciting activities bound into one tour that we skipped, but with great reviews, we thought we would include it on the list. Spend a half-day drifting on the Mohaka River, a great place for rainbow and brown trout fishing. You will stop to learn fly and spin fishing techniques. Discounts are available on some days.
Golf at one of the country's best courses
Cape Kidnappers
Cape Kidnappers Golf Course is rated number 2 in New Zealand. Here you can go 18 holes on one of the world's top 50 courses. Plus, they say the scenery is fantastic.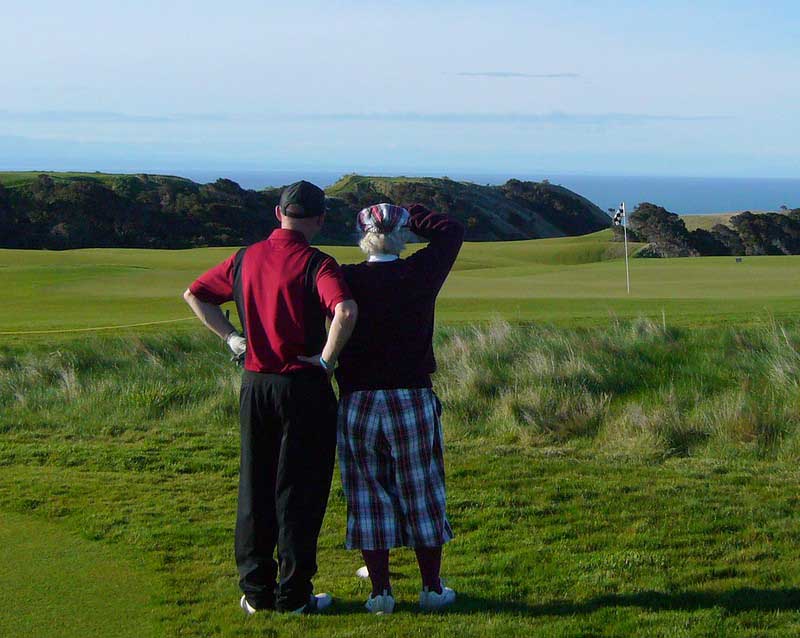 Other things to do in Hawkes Bay
Head to the beach
Hawkes Bay and Waimarama
Hawkes Bay, like many of New Zealand's regions, has a long list of beaches. Two local favourites for a swim are Ocean Beach in Hawkes Bay and Waimarama Beach, located about 18km farther south.
Get some seriously good honey
Havelock North
Arataki Honey, the country's most popular honey, has been caring for bees in Havelock North since 1944. The visitor centre offers an opportunity to sample the delicious honey and to discover the world of the honeybee through a self-guided tour. Best of all, entry is free.
Relax at Morere Hot Springs
Morere
If you are heading north, your final stop in the Hawkes Bay region can soak your cares away in natural hot springs. More than just hot and cold pools, the waters are surrounded by 364 hectares of nikau palms and other native bush. Hiking trails allow you to explore before you dip into a tub allowing the healing waters to envelop your skin. It's one of my favourite hot springs in New Zealand.
Take a photo of the world's longest place name
Near Porangahau
Named Taumata-whaka-tangihanga-koauau-o-Tamatea-turi-pukaka-pikimaunga-horonuku-pokai-whenua-kitana-tahu, the hilltop behind the sign has the world's longest place name.
It translates to 'The hilltop where Tamatea with big knees, conqueror of mountains, eater of land, traveller over land and sea, played his koauau to his beloved.' Or in more simple terms, Tamatea, a Māori chief, played his flute while he mourned the death of his brother.
Located near Porangahau, it is the world's longest place name. According to this article (June 2019), the name has recently been edited to officially recognise the use of macrons (the line above a vowel). Therefore, the new official name is Taumatawhakatangihangakōauauotamateapōkaiwhenuakitānatahu.​
Where to stay in Hawkes Bay
Hawkes Bay options cover the full gambit from world-renowned luxury accommodation at The Farm at Cape Kidnappers to backpackers (shared accommodations). Check here to see a list of options.
Save on your NZ trip with these resources
These are our go-to companies when we travel. We believe this list to be the best in each category. You can't go wrong using them on your trip too.
Check out our travel resources page for more companies that we use when you travel.
Save for later
If you enjoyed this article, please share it on social media and save it for later on Pinterest.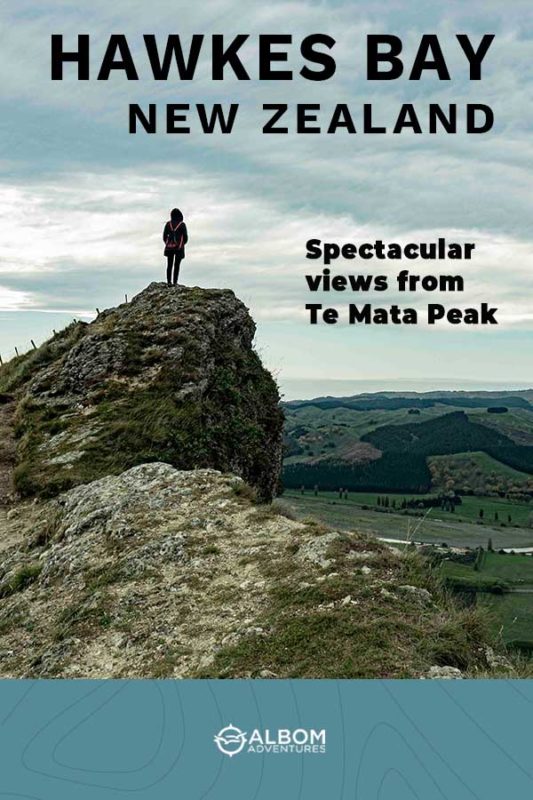 Which of these things to do in Hawkes Bay inspires you?
Disclaimer: We worked with Hawkes Bay Tourism. Also, we were provided with many complimentary entrances, tours, sample items, or media rates to assist in the writing of this article. However, the opinions expressed here are strictly our own.