Napier to Wellington is a relatively short scenic drive that showcases the best of New Zealand's countryside. While it can be done in half a day, we prefer to take it slow and enjoy some of the fascinating things to see in both Hawke's Bay and Wairarapa.
State Highway 2 winds its way through a perfect mix of rolling green hills, mountains, quaint towns, vineyards, and farmland.
It's a drive that we have done in both directions. We chose to write it from Napier to Wellington to go from north to south. It's sort of arbitrary. In fact, we have done the drive as part of larger road trips several times, and each time went a slightly different way.
Key stops on our Napier to Wellington road trip
Te Mata Peak
Waipawa
Mangatainoka
Mount Bruce
Masterton
Greytown
Stonehenge Aotearoa
Martinborough
Featherston
Plus, several very cool, off-the-main-road options.
Napier to Wellington road trip map
The overwhelming majority of this road trip is on State Highway 2.
Click the expand / collapse icon in the upper left corner of the map for details. Note that the stops along the main route are marked in red, while those marked in yellow require extra driving.
Direct route from Napier to Wellington
If you are in a hurry, you can drive the 320 km (200 miles) in just under 4 hours, but if that were your choice, you are probably not reading this page.
All stops route: Napier to Wellington extended road trip
This option highlights all stops listed on this page, including some amazing sites requiring extra driving to see. The total drive time will be nearly 10 hours if you do it all.
Be inspired …
Car hire (rental)
Unless you are using your own vehicle, you will need to hire a car. We always rent from RentalCars. They offer a comprehensive list of multinational and local rental car agents, ratings on specific car types, and agency ratings, including pick-up or drop-off options in Napier or Wellington.
Importantly, they often have lower prices than going direct.
Whether you rent from them or not, it's still the perfect place to begin your search for petrol or electric vehicles. Click here to compare options and check availability at RentalCars.com
Road trip starting city: Napier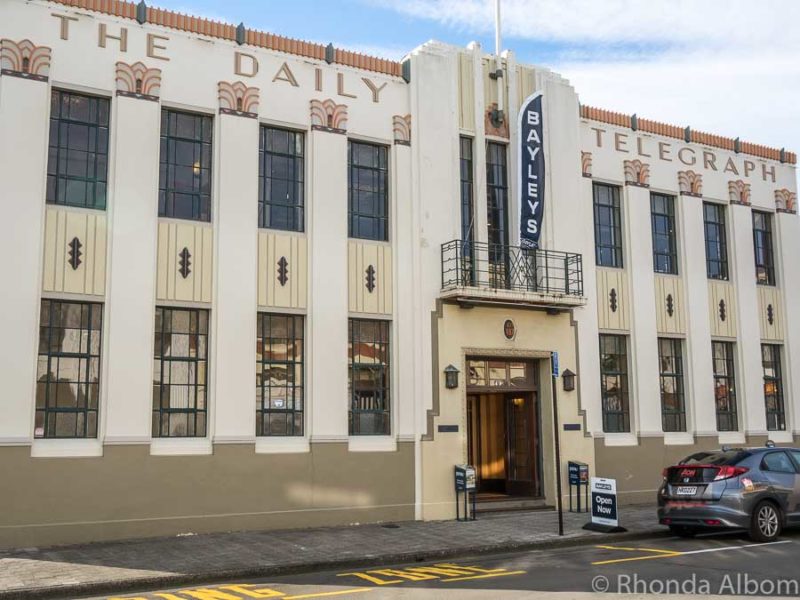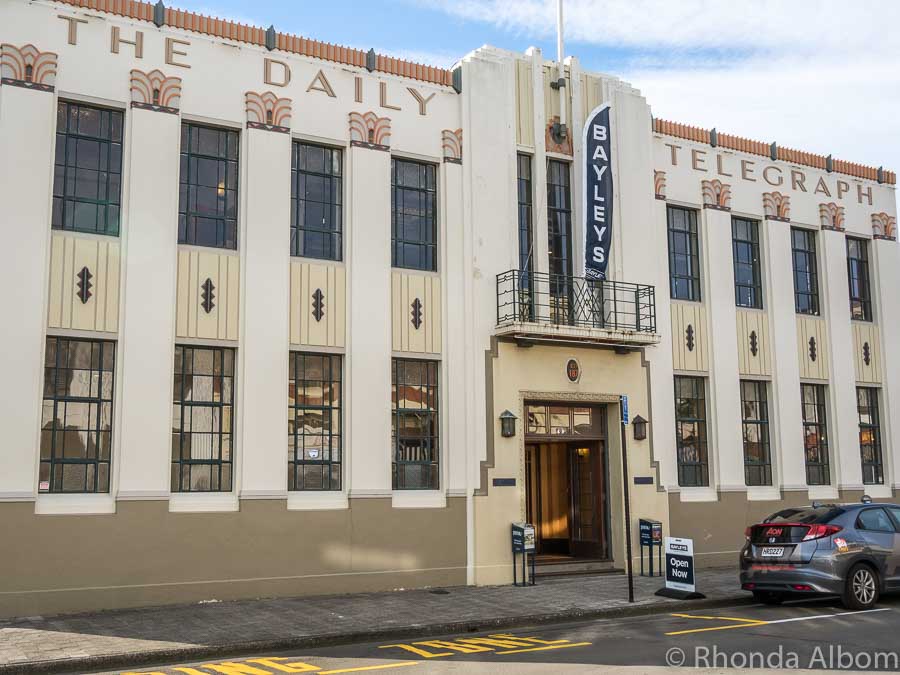 Napier is the self-proclaimed art-deco capital of the world and a really fun city to visit. We like to spend several days here and often use it as a midpoint for other North Island road trips (as we live in Auckland and will always return home).
It's a fascinating town, rebuilt in art-deco style after a major earthquake, and if nothing else suits me, just walking the streets is often enough. However, the town is also rich in interesting history and is home to the National Aquarium.
We love Napier so much that we have detailed all our favourite things to do in Napier here. The three that top our list are an art deco tour, a visit to the national aquarium, or a self-guided tour of the country's oldest prison.
Napier to Wellington: Hawke's Bay portion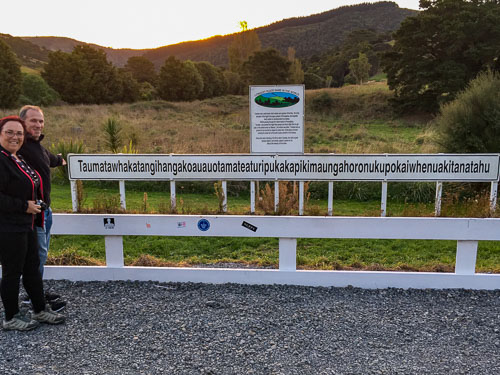 The drive from Napier to Wellington starts out on State Highway 2 as it passes through the fascinating Hawke's Bay region. There are loads of things to do in Hawke's Bay, many of which we do as day trips from Napier. The two key stops along the road to Wellington are:
Te Mata Peak
Located just outside of the city of Havelock North, this iconic landmark is known for its sweeping views of its jagged cliffs and craggy peaks, as well as the Hawke's Bay region. We just went for a short hike to enjoy the view, but it's a popular spot for the adventure seeker, as evidenced by the hang gliding launch ramp.
Waipawa
If we were into fishing, we would have spent a night here (best at a farm stay) and then gone fly fishing on the Tukituki River in the morning. For me, the highlights are the Central Hawke's Bay Settlers Museum which provides a fascinating glimpse into the region's history and the many galleries and studios featuring the work of some very impressive local artists.
Cape Kidnappers (adds about an hour of additional drive time)
We still haven't made it to Cape Kidnappers, as it is only accessible by a tractor ride along the beach, a 4×4 vehicle, or a carefully planned low-tide walk, therefore requires some planning. Home to New Zealand's largest colony of nesting gannets, it also rewards visitors with towering cliffs, vast ocean views, and unique geological formations. We think the easiest way to see it would be with a tour from Napier. Reserve your Cape Kidnappers tour here.
Pōrangahau (adds one hour of additional drive time)
Sometimes I wonder if it was worth the extra drive just to reach the charming seaside village of Pōrangahau, a town steeped in Maori culture that's best known as the home of the longest place name in the world: Taumatawhakatangihangakoauauotamateaturipukakapikimaungahoronukupokaiwhenuakitanatahu. The name roughly translates to "The summit where Tamatea, the man with the big knees, the slider, the climber of mountains, the land-swallower who travelled about, played his nose flute to his loved one."
Napier to Wellington through Wairarapa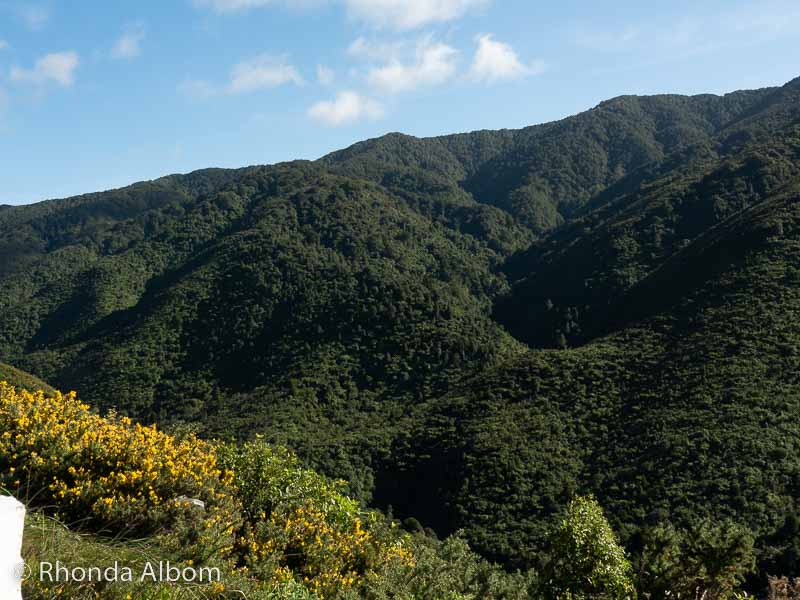 From Hawke's Bay, we cross into Wairarapa, still on State Highway 2.
As we drove through Wairarapa, I was struck by the stunning scenery of rolling hills and sprawling vineyards. The small towns that dotted the landscape are quaint and full of character, with charming cafes, impressive wineries, and boutique shops. We make a few stops along the way to fully appreciate this picturesque region.
Driving from Napier to Wellington, you will come to these Wairarapa towns in this order: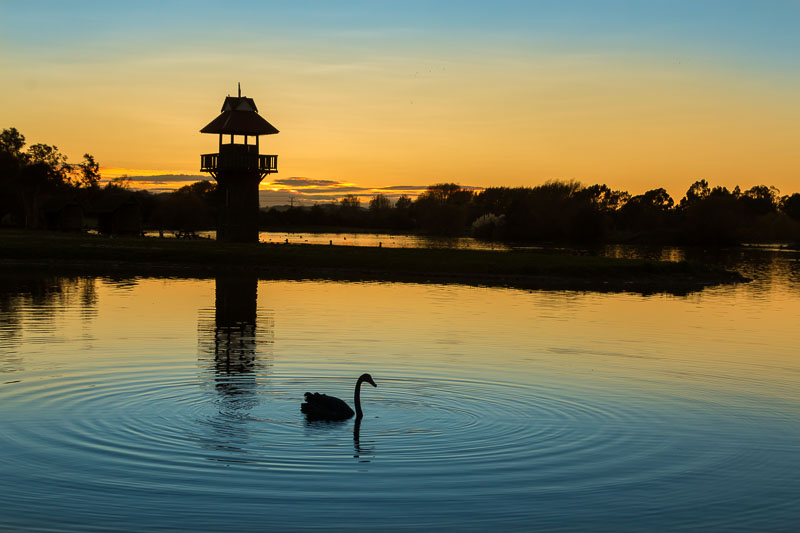 Mangatainoka
I don't know why, but the first time we visited Tui Brewery, I was surprised that the grounds look just like they did in the old commercials. We find it a fun stop for, at minimum, the cafe, but if time allows, we enjoy the tour, which has changed quite a bit over the years, and we wrote about our visits to Tui Brewery here.
Mount Bruce (Pūkaha National Wildlife Centre)
Pūkaha National Wildlife Centre is home to several rare and endangered bird species, including kiwi, takahe, and kaka, in their natural habitats. The park offers a range of activities, from guided tours to feeding experiences, which give us an up-close and personal look at the wildlife. Also very cool is the carving studio where we can watch the talented carvers at work. Check for entry discounts here.
Masterton
The Aratoi Wairarapa Museum of Art and History is a great place to learn more about the region's rich cultural heritage. If you are here in the evening, be sure to watch the sunset over Henly Lake. We based ourselves here recently and found plenty to do.
Greytown
We tend to choose between either Greytown (the oldest town in Wairarapa) or making the loop that passes through Stonehenge Aotearoa and Martinborough. However, the extra time to do it all is really worth it and that's how we made the map on this page. The charming town of Greytown is known for its Victorian architecture and antique stores.
Featherston
Nestled at the base of the Rimutaka Range, Featherston is popular with cycling, railway, or military enthusiasts. Key things to see include the Featherston Heritage Museum and the Fell Locomotive Museum (which features the historic steam engine that was used to traverse the Rimutaka Incline). Note that both museums are only open on Saturday and Sunday.
Optional Wairarapa add-ons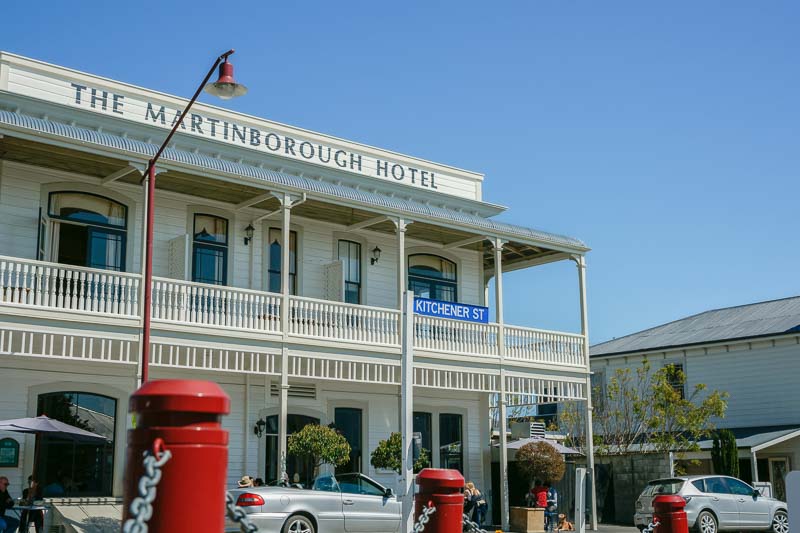 Stonehenge Aotearoa
Stonehenge Aotearoa is not a replica of England's ancient stone circle but rather a unique structure offering the same astrological and spiritual benefits as other stone circles around the world. If you haven't been here before, it's worth a visit. We wrote much more about our visit to Stonehenge Aotearoa here.
Martinborough
Next, we headed to Martinborough. This small town is home to some of the best wineries in New Zealand and is renowned for its Pinot Noir. Cycling tours and wine tastings are both super popular, as is the classic architecture, like the Martinborough Hotel. Reserve your stay at the hotel here.
If you are looking for an all-day wine tour, check out this top-rated small group tour from Wellington that travels out to the coast and includes cellar tours and tastings in Martinborough, a vineyard lunch, a shoreline hike, and dinner at the edge of Lake Onoke. Reserve your all-day tour from Wellington here. Or, if it's just the wineries you are after, check out this five-hour Martinborough Winery Tour, also from Wellington. You will visit three wineries and a cheese factory. Reserve your Martinborough Winery Tour here.
If it is cycling you are after, check out this popular Martinborough bike tour that brings you from Wellington and does the Remutaka rail trail. Reserve your bike tour here.
Off the main road stops in Wairarapa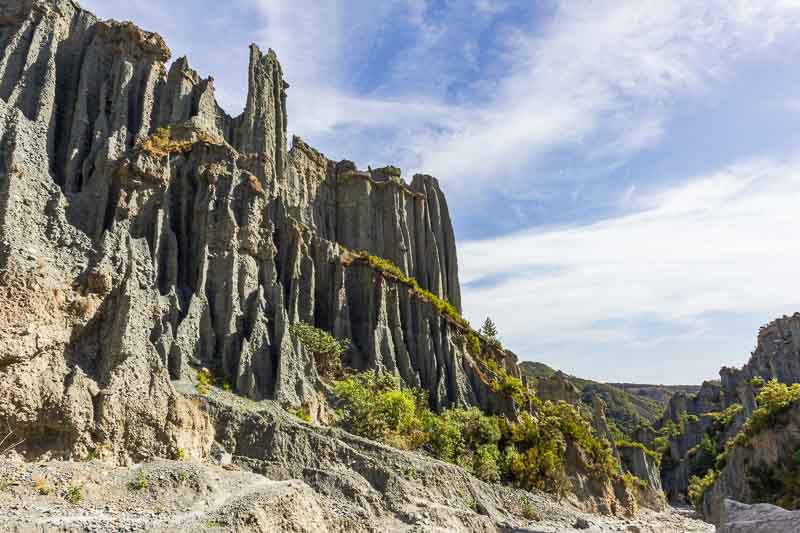 If you have the time or are just out to enjoy Wairarapa, you might also want to include:
Castlepoint (adds 2 hours additional drive time)
Another stunning spot that is still on my bucket list, the photos I have seen of Castlepoint, offer stunning views of the lighthouse and surrounding coastline. Key activities here include a walk along the beach, climbing up to the lighthouse, or a more adventurous hike up to the top of Castle Rock for an incredible panoramic view of the area.
Putangirua Pinnacles (adds 75 minutes total drive time plus a 2-3 hour return hike)
Currently closed due to a slip (landslide)
Another added stop that requires a bit of planning, you will need to hike in to see the Putangirua Pinnacles. These towering pillars offer otherworldly beauty. Even if you haven't been, you might recognize them as a Lord of the Rings film location. (Dimholt Road – Paths of the Dead)
Cape Palliser (adds 90 minutes drive time from the main route or only 15 minutes from Putangirua Pinnacles)
Be in awe of the rugged cliffs and wild coastline that greet you as you arrive at Cape Palliser, the southernmost point of the North Island. The iconic lighthouse perched atop the cliffs is a sight to behold, although there are 253 steps to the top for a panoramic view of the ocean. There's also a nearby seal colony.
Ending city: Wellington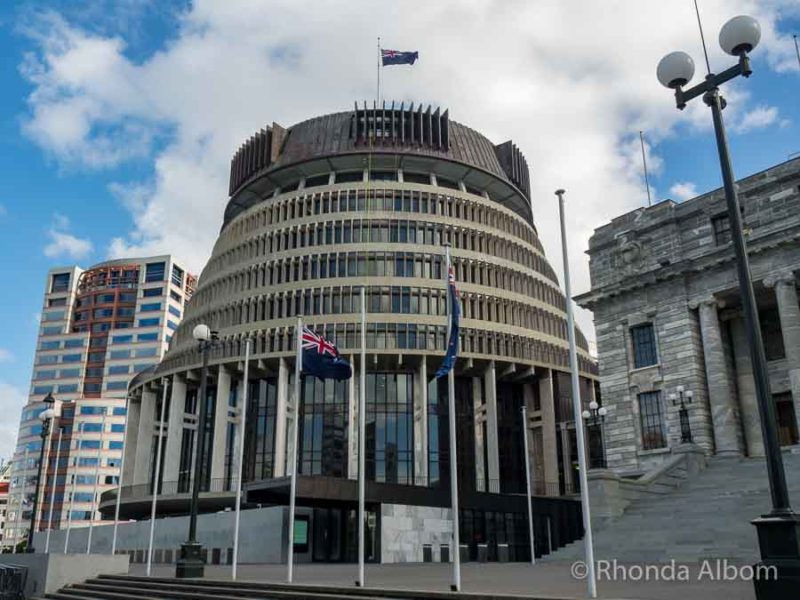 The beautiful capital of New Zealand, Wellington, is an absolute must-visit destination. With its stunning harbour, gorgeous green hills and vibrant culture, Wellington is truly a unique and memorable city.
It has been of my favourite places to visit in the country long before my daughter moved there.
We have been to the capital countless times, each time enjoying some favourites but also exploring somewhere new. We detailed all our favourite things to do in Wellington here. The three that top our list include visiting the free-to-enter National Museum of New Zealand Te Papa Tongarewa, taking a free tour of parliament, and exploring the wildlife at Zealandia.
Other options for travel from Wellington to Napier
Save on your NZ trip with these resources
These are our go-to companies when we travel. We believe this list to be the best in each category. You can't go wrong using them on your trip too.
Flights: we use Expedia for the best and cheapest flight options.
Accommodations: we use Booking.com (hotels), Bookabach (self-contained in NZ) or Hostelworld (budget).
Cars (gas or electric): we use RentalCars to search for deals and dealer ratings.
Motorcycles: we have heard good things about BikesBooking.
Campervans or Motorhomes: we use Campstar where Albom Adventures readers get a 3% discount.
Activity discounts: we check Bookme.com for discounts of up to 70% on activities.
Private guides: we love the private guides at Tours by Locals.
Travel Insurance: while not required, we always opt for travel insurance and start at InsureMyTrip to compare coverage plans.
Check out our travel resources page for more companies that we use when you travel.
Continue your North Island discovery
Driving the length of the country year after year gave us ample opportunity to explore the country fully. Here are a few more itineraries.
Save for later
If you enjoyed this article highlighting stops from Napier to Wellington, please share it on social media and save it for later on Pinterest.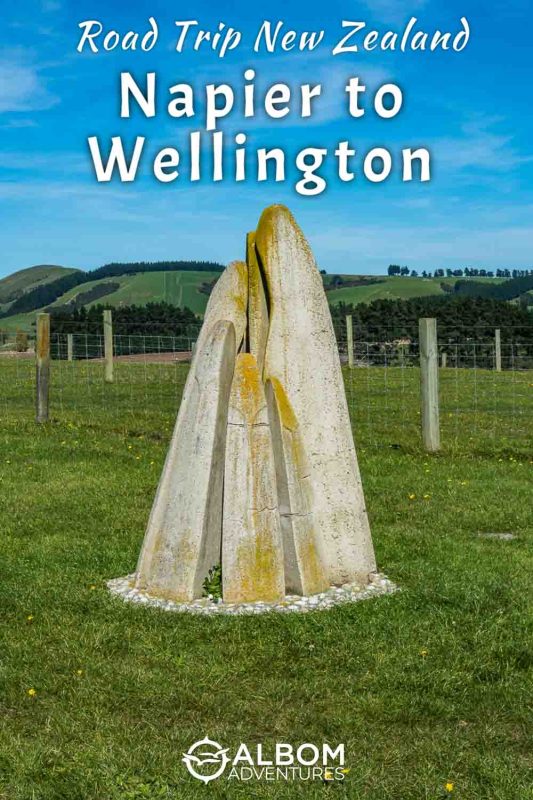 Where will you stop on your Wellington to Napier road trip?
Photo Credits:
All photos on this page are either shot by our team and watermarked as such or stock images from Depositphotos.