Only a couple of hours' drive from New Zealand's largest city, the Coromandel Peninsula is where Kiwis go to relax, play, or have an adventure. One laid-back community after the next, a Coromandel road trip produces endless surprises. Below, we highlight some of our favourite things to do in Coromandel.
We recommend staying a while and really soaking it all in. For ourselves, we stayed in both the town of Coromandel and in Whitianga (recommendations below).
Don't let the names confuse you; there is a town named Coromandel located along the Coromandel peninsula.
Following our own route, we present our list of things to do in Coromandel peninsula in segments found in the table of contents:
Our Coromandel road trip map
First, an overview of our favourite things to do in Coromandel …
Coromandel road trip: Thames to Coromandel Town
Although we began this segment of our adventure in Thames, we spent our first night in Coromandel Town. The latter is a fabulous artist community that reminds me of Raglan. In both towns, the relaxed atmosphere is contagious, and creativity can be seen everywhere.
What to do in Thames
Coastal Thames is the gateway to the Coromandel peninsula. A former gold mining town, it is loaded with heritage buildings and several former gold mining sites.
Towering over the town is a WWI memorial. It is seen from just about everywhere and offers lovely views of the town itself.
Other things to do in Thames:
Adventure seekers and hiking enthusiasts will tell you that the highlight of Thames is the Pinnacles hike. This eight-hour return adventure has a steep and jagged portion at the top. But, we have been told the views are well worth the effort.
For the more casual walker like us, there is a lovely 3km coastal walkway shared by joggers, walkers, and bicycles.
Visit the Thames Museum.
Explore historic sites from the gold mining days, including the operational gold stamper battery and tunnels.
Driving Thames to Coromandel Town
Everchanging, yet always awe-inspiring, the drive north along the western coast of the Coromandel Peninsula is a scenic delight. Coastal beaches intertwined with jagged cliffs offer an endless array of views.
The windy roads have frequent pullouts, and as photographers, we found ourselves frequently stopping for another shot.
It's 54km from Thames to Coromandel Town, and without stops, the drive takes about an hour.
Driving Creek Railway and pottery (and zipline!)
Driving Creek is an absolute must-do if you are in Coromandel. And, if you have the time, do it all: ride New Zealand's only mountain and steepest railroad, fly over the treetops on the zipline, and/or take a pottery class.
We opted for the train. In addition to the spectacular views, as we climbed, our driver outlined fascinating history. Above all, it was enjoyed by everyone from the 5-year-old in front of us, to the seniors behind.
If that's not enough, there is also a wildlife sanctuary and a gold mine. In fact, I loved it so much that I wrote a separate article on Driving Creek.
Coromandel road trip: 309 Road (Coromandel Town to Whitianga)
There are two routes across the peninsula. We chose the 309, which is not your typical motorway, but rather a taste of rural New Zealand. It's a mostly unpaved road (called metals in NZ) that locals will tell you is named for its 309 curves during the 20-kilometre scenic journey.
The reality is that the 309 is only 32km and takes about 45 minutes to drive without stops.
If you are not comfortable driving on narrow, windy, gravel roads, you would do better to take State Highway 25, also called the Pacific Coast Highway.
However, if you are ready for an adventure or just don't mind the less-than-ideal road, here are some of the treasures you will find in order from Coromandel Town to Whitianga.
Stu Edmondson's pig farm
Love them or hate them, there is nothing quite like seeing a litter of piglets following their mother across the road. And, since they were in the middle of the road, we knew when we were here. We simply pulled over, snapped a few shots, and were on our way.
The Waterworks, Coromandel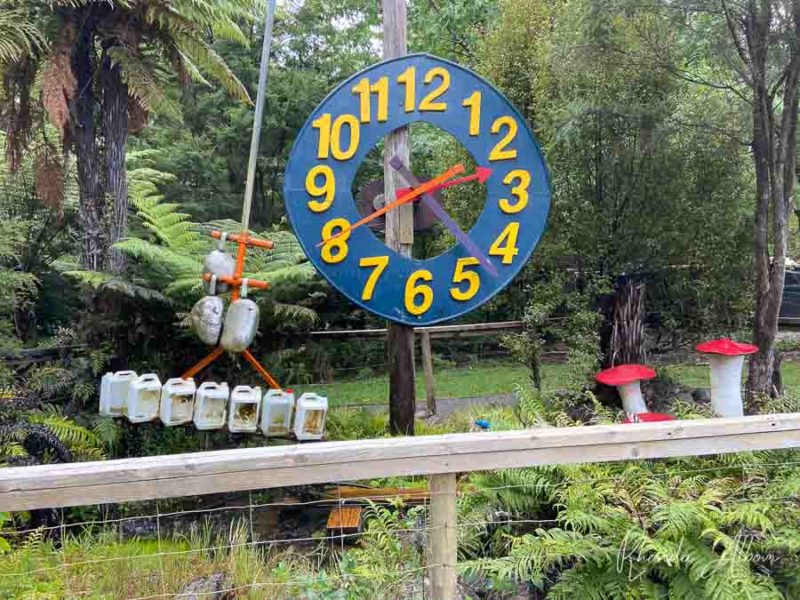 Quirky fun, this is not just a place for kids. Everything you see is 100% water-powered and highlights some impressive engineering, both modern and ancient. They call themselves a theme park, but we found it more of a fun hands-on adventure.
The concept behind the park is to create something new from something old. In fact, 70% of the materials used in construction are recycled.
In short, it's a fun stop. Allocate about 90 minutes if you just want to enjoy the kiwi ingenuity. Or, bring the family, a picnic, and even your pets and spend the day enjoying water slides, interactive water fun, and swimming holes.
For kids, it's like an amusement park, complete with a flying fox. (Actually, there are two flying foxes, and one of them holds adults too).
Waiau Falls
Well-signposted, there are only a few car park spots at the Waiau waterfall trailhead. An easy three-minute walk, and you are rewarded with a lovely waterfall. It's a popular local swimming hole on a warm summer's day.
Read next: 18 Amazing Waterfalls in New Zealand: Embrace Nature's Beauty
Kauri Grove lookout walk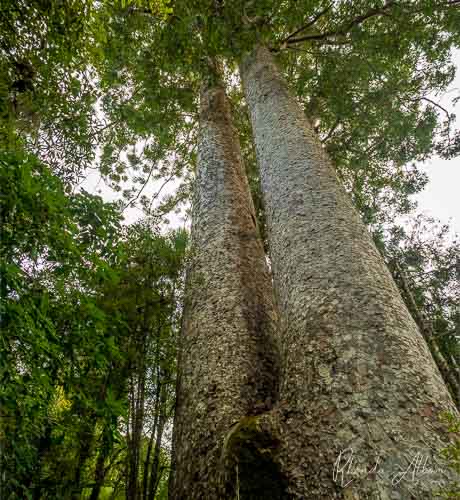 Another 1/2 km up the road is the trailhead for the Kauri Grove lookout walk. Important to note if you are coming from Coromandel, the signage is missing; therefore, you want to keep a lookout for a small car park on the right-hand side of the road.

Cross the road, and there is a signpost at the start of the walking track, so you know it's the right spot. It takes about 30 minutes to walk along the peninsula's most accessible track to see a mature kauri stand.
One of the grove's highlights is a 'siamese' kauri, which was originally two trees but now forks just above the ground.
Coromandel road trip: Whitianga to Whangamata
Open to the ocean; the east coast is full of surprises. Whitianga is the main hub, the perfect place to enjoy the beach and stock up on anything you might need for your Coromandel road trip.
Seventy-five kilometres separate Whitianga from Whangamata. It takes just over an hour if you were to drive without making stops.
The Lost Spring, Whitianga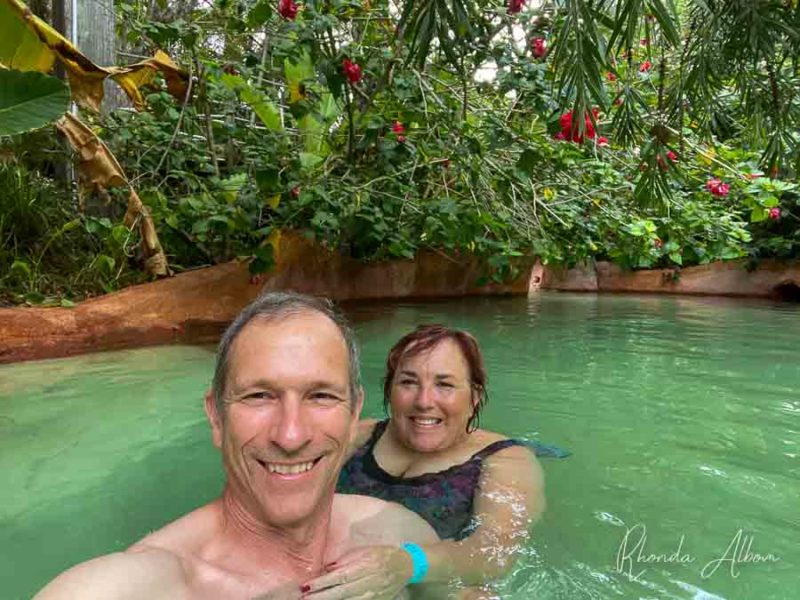 If you are seeking a bit of tropical relaxation, head to The Lost Spring in Whitianga. It's a blissful paradise that took 23 years to build, yet, it feels like a natural oasis. And, in some ways, it is. After all, the 16,000-year-old springs offer rejuvenating natural mineral water from 667 meters below the ground.
Soaking away our cares, we moved between geothermal pools ranging in temperature from 32ºC to 41ºC (89°F – 106°F). Surrounded by caves, bridges, and hibiscus flowers, we were in a utopia that was made even better with exotic drinks.
The attentive service and plush robes added to our feeling of escape. Even without indulging in the spa services, I left a new woman, relaxed and happy. Although next time, I will book well in advance to be sure to enjoy some of the decadent spa treatment options. (Bookings are essential for the spa and recommended for the pools).
Hot Water Beach, Whitianga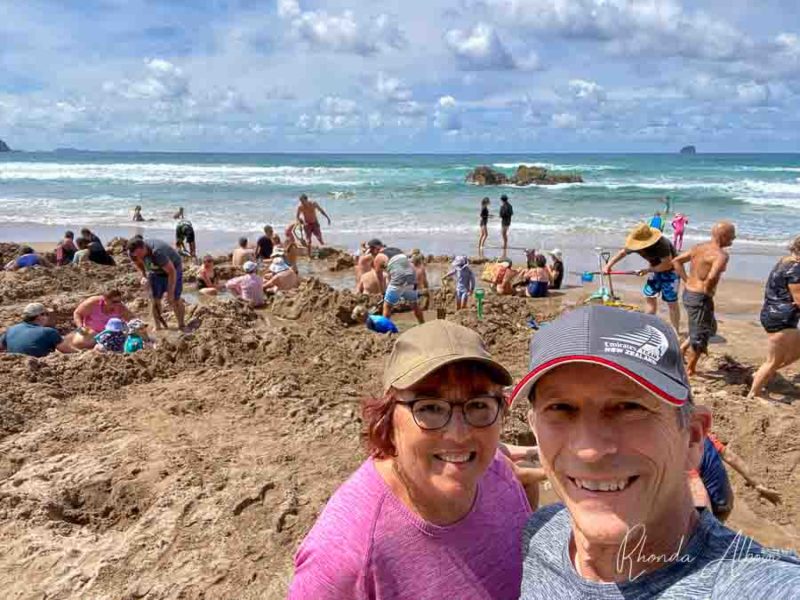 Spade in hand, we walked along the beach, heading to one of nature's wonders and one of the many unique things to do in NZ. Be sure to check the tides before you go and arrive within 2 hours on either side of the low tide.

The hot spots are easy to find, as it's inland from the huge boulders in the water or, if you're not the first on the beach, just look for the two spots where everyone else dug. The area with hot water is actually somewhat small. Our first hole was cold, but moving a bit, we created our own day spa.

As you dig, build a sand wall on the ocean side to help stop the water from filling it as the tide turns. Also, if you don't have a spade, you can rent one at the beach. But, if you like to be fully prepared, you will want to bring a bucket for ocean water cooling off.

Importantly, swim where it's allowed and with caution, as there are rip currents. On the day we were there, we watched an adult get rescued by surf lifesaving.
Hot Water Beach is a 30-minute drive from Whitianga and a must-see on the North Island.
Read next: 14 Best New Zealand Hot Springs – relax, soak, unwind
Cathedral Cove, Whitianga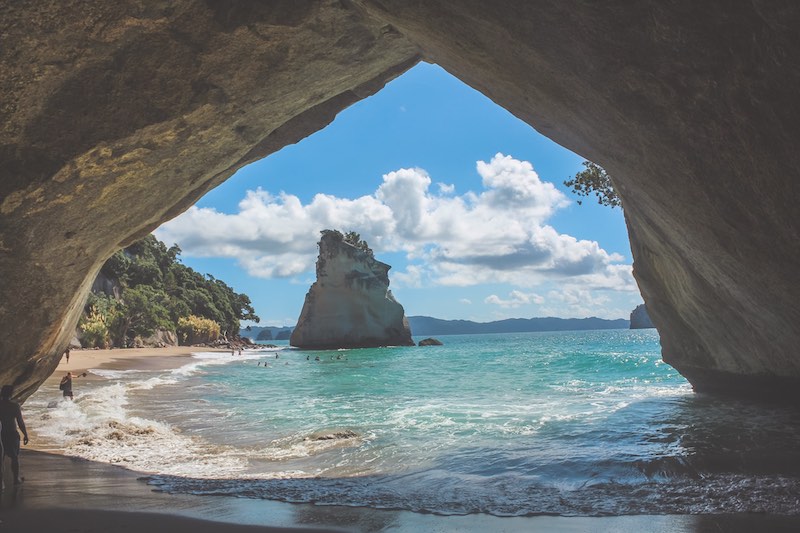 Cathedral Cove at Te Whanganui a Hei Marine Reserve, is considered one of the top things to do in Coromandel. Located at the northern end of Hahei beach, it is named for its cathedral-like natural arches that you might recognize from the Chronicles of Narnia: Prince Caspian.
Snorkelling, swimming, kayaking, or just relaxing or taking photos, whichever you choose, the 40-minute walk to get here is worth the effort.
Alternatively, one can take a 2-hour boat tour along the rugged volcanic coastline in Mercury Bay. The tour's highlight is Cathedral Cove, but you will also enjoy Lonely Bay, Cooks Beach, towering pinnacles, giant blowholes, huge sea caves, and maybe even dolphins or whales. Reserve your Catherdral Cover Boat trip here.
Climb Mt Paku, Tairua
Rising up and towering over the town of Tairua, Mt Paku would be hard to miss. From the top, one can enjoy 360º views of the ocean and harbour, islands and mountains, and the nearby town of Pauanui.
While the final scamper to the top will make you hungry, the solution is Flock Restaurant and Bar. Located at 227 Main Road, they have tons of gluten and dairy-free options – and best of all, everything we had was delicious!
Other key things to do in Coromandel
Discover the secrets of Karangahake Gorge.
Climb Mt. Pauanui.
Take up surfing.
Enjoy the Wentworth Valley Waterfall Walks in Whangamata.
Take a selfie with the iconic giant L&P bottle in Paeroa.
Visit the Miranda Shorebird Centre.
Discover both beauty and laughter at the unique Ngatea Water Gardens.
Take the short hike to New Chums Beach. Although we missed it, it tops our list for our next visit.
Fishermen know the Coromandel as one of the places to go for deep-sea fishing.
Tour Coromandel from Auckland
If you don't have a car, don't like the bus, or simply love the convenience of a driver along with the knowledge of a guide, here's an optional Coromandel day trip from Auckland.
Starting with pick up from your Auckland hotel, you will walk through the lush native forest to reach Cathedral Cove and dig a hot pool at Hot Water Beach. There is also a lunch stop and optional kayaking.
This small personalized group tour has a maximum of 12 participants. It's great for couples, individuals and families, but there is a minimum of 4 participants to operate the tour.

Best of all, there are discounts available depending on the day you choose.
Where to eat and stay in the Coromandel
Like most places in New Zealand, there is a huge variety of places to stay, ranging from freedom camping to luxury accommodation in the Coromandel. We always prefer somewhere a bit upscale, special, or unique, and we are thrilled with both of our choices.
Accommodation in Coromandel Town
We wanted something a bit different and fun, and we sure found it at Hush Boutique. We stayed in the cabin called Hideaway, and it was a little piece of rustic paradise with modern facilities and a comfortable bed.
Our cabin had an ensuite bathroom, but be sure to read the room descriptions carefully before selecting yours, as at least one of the cabins has a nearby bathroom. Reserve your stay at Hush Boutique.
If Hush Boutique isn't available on the nights you need, or you just want something else, check out these options.
Where to eat in Coromandel Town (if you are gluten-free)
Like most laidback towns, there are plenty of friendly cafes and restaurants to choose from. Of course, we didn't try them all but we are super comfortable recommending either of the two we did try.
Pepper Tree Restaurant and Bar (31 Kapanga Road, Coromandel) – classic kiwi restaurant that is open for lunch and dinner. They specialize in fresh local seafood and modern NZ cuisine. I had a lamb dish that was divine (and dairy and gluten-free). Jeff enjoyed a hearty creamy seafood chowder.
Wharf Road Cafe (24 Wharf Road, Coromandel) – If I lived in Coromandel, I am pretty sure this would be where you would find me most days. A menu loaded with light and tasty selections, they were well versed in accommodating my dietary restrictions. Plus their display case daily features two gluten-free and dairy-free treat options. Importantly, they make great coffee.
Where to stay in Whitianga
In Whitianga, we went for luxury and Water's Edge B&B far exceeded our very high expectations. With the sound of the waves and a lush, inviting bed, sleep came easy. And the next morning's fabulous breakfast made us want to stay forever.
There is attention paid to every detail, a welcome fruit basket, and our hosts even went the extra step to have chocolates on my pillow that meet my restrictive dietary requirements. I can't imagine staying anywhere else if we go back to Whitianga. Reserve your stay at Water's Edge here.
If Water's Edge B&B isn't available on the nights you need, try one of these.
Where to eat in Whitianga (if you are gluten-free)
Whitianga offers a variety of dining options, covering the full gambit from cafes to more formal dining. As we had a massive breakfast at the B&B, we didn't eat as many restaurant meals as normal. However, we did find one that you won't want to miss
Blue Ginger (1/10 Blacksmith Lane, Whitianga) – Casual and relaxed, the Blue Ginger seems to be a locals' favourite. Get there early so you don't miss out, as my understanding is they do fill up nearly every night. Asian fusion featuring Polynesian, Thai and Vietnamese flavours, it's great for sharing or getting your own meal. Nearly everything is dairy-free, and there are plenty of GF options as well.
Save on your NZ trip with these resources
These are our go-to companies when we travel. We believe this list to be the best in each category. You can't go wrong using them on your trip too.
Check out our travel resources page for more companies that we use when you travel.
Save for later
If you enjoyed this article, please share it on social media and save it for later on Pinterest.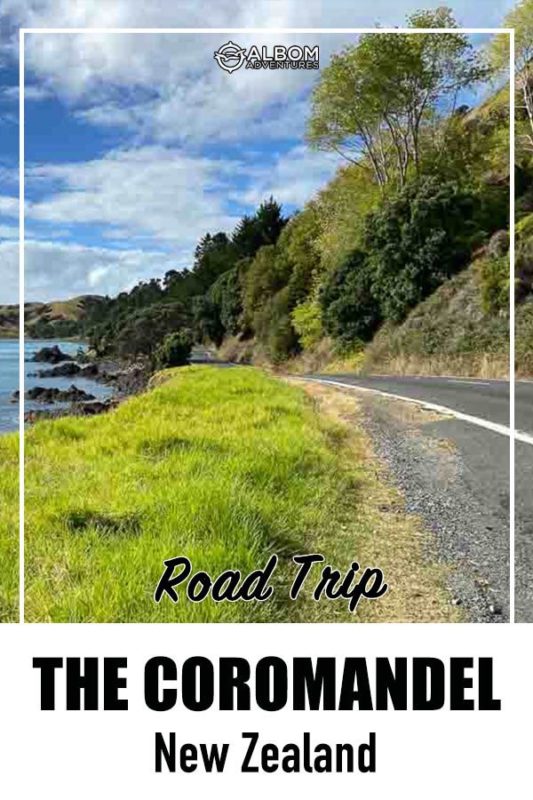 Which of these things to do in Coromandel will you try?
Disclaimer: Thanks to Destination Coromandel, the local tourism board, for assistance in our Coromandel road trip adventure. We received recommendations, complimentary entrances, and tours to assist in the writing of this article. However, the opinions expressed here are strictly our own.