Set in the hills over Coromandel town, Driving Creek is much more than just a mountain railway. It's an escape into the artistic world of Barry Brickell, surrounded by the beautiful landscapes that define New Zealand. Depending on your choices, Driving Creek is a place to explore, relax, create, or get an adrenaline rush.
Driving Creek is probably best known to visitors as New Zealand's only mountain railroad. However, the lush, hand-planted native forest can be enjoyed on foot, flying over the canopy, or on the train.
To the artist community, Driving Creek is a place for pottery, both creation and sharing. And, regardless of which activities you choose, you'll want to pay special attention to the mass number of impressive ceramic artwork hidden in plain sight throughout the complex.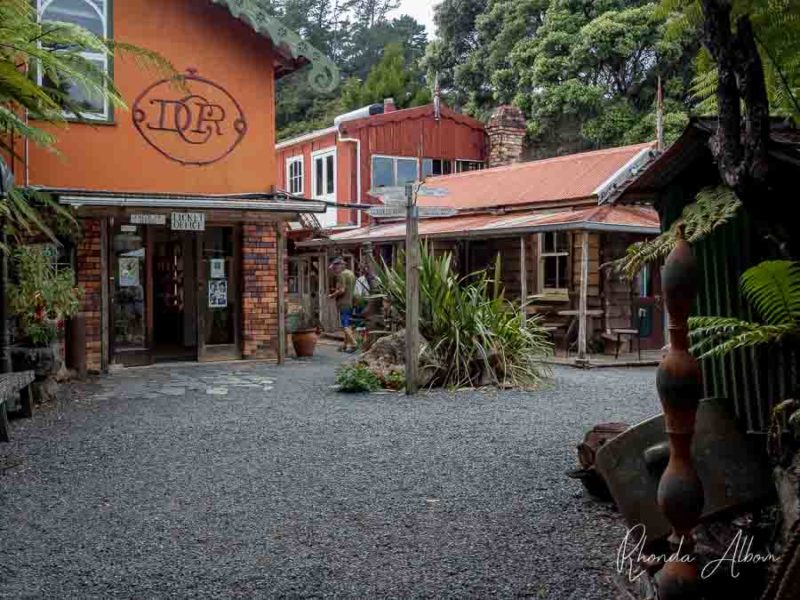 What will you do when you visit Driving Creek?
Enjoy the lush forest and history from New Zealand's steepest mountain train
Fly over the canopy on the zipline
Take a pottery class
Explore the native wildlife sanctuary
Check out an old gold mine
Let the Coromandel inspire you
Driving Creek Railway
Family-friendly, the famous Driving Creed Railroad is as much for adults as it is for kids. In fact, we visited as a couple and believe we enjoyed it even more than the young boy sitting in front of us donning a Thomas the Tank Engine shirt.
While the scenery was fantastic, it was the stories told by our guide that really made this a trip to remember. We learned about Barry Brickell, the inspiration and creator of much of what is there.
Everyone walks away with something different. For me, it was nature. For Jeff, I think it was the engineering that went into hand-building much of this 3km narrow-gauge track that was the most impressive.
The rough landscape resulted in a track that includes ten bridges, three tunnels, two spirals, and five switchbacks (reversing points). It's these reversing points that makes every seat a good choice, as the front becomes back at each switch.
We stopped at the upper end of the line and walked up a small ramp on what they call the Eyefull Tower. Go on, say it out loud, and you will understand why no one knew exactly what to expect before we saw it.
To be honest, the tower itself wasn't the feature, but rather the view over the Hauraki Gulf and its islands.
Coromandel zipline tours
Adrenaline junkies only take the train to the first exit and then fly over native forest, gullies, and streams on a series of eight ziplines. Not feeling exceedingly adventurous on the day, we opted to skip the zip, but we spoke with several people who really enjoyed it.
I have no real excuse. After all, this zipline has been enjoyed by people from age 6 to 82. (Note: there is a minimum age of 6 and children under 17 must be accompanied by a responsible adult.)
The guides are experts at helping everyone from natural thrill-seekers to those who feel a bit intimidated by either height or speed. Along the way, they share the story of Driving Creek's conversion to a lush native forest from what was once kauri logging, gold mining, and farming.
If you are ready to give it a go, you might want to book your zipline tour now.
Pottery at Driving Creek Railway
Barry Brickell, the man behind Driving Creek Railway and Potteries, is New Zealand's first kiwi born full-time handcraft-potter. Whether or not you indulge in a pottery class, you will want to check out some of the twelve kilns on the property, five of which are still in use today.
In addition to the kilns, they still make their own clay.
Take a pottery class
If you have ever wanted to try your hand at pottery, either through slab building or throw down on a wheel, Driving Creek is the place to do it. The small group (maximum 5) allows for lots of personalization, and the teachers are visiting potters or skilled locals. Either way, you're learning from someone who practices what they teach.
Although we didn't take a pottery class ourselves, we had lunch alongside the two women in the photo, and they raved about the class. More than just fun, the instructor was there every step of the way, and super helpful without ever taking over or changing their project.
Check availability and book your class here.
For a nominal additional fee, you can have your artwork fired, glazed, and fired again by a professional artist before it is shipped to you.
Driving Creek also offers studios and accommodation for resident and visiting potters from all over the world, including other parts of New Zealand.
Conservation efforts at Driving Creek Railway
Before leaving Driving Creek, we followed a short trail to a native wildlife sanctuary surrounded by a predator-proof fence, like the one in Shakespear Park. Inside, we enjoyed the native birdlife as well as some fascinating lizards in protective enclosures.
An old goldmine
A turnoff from the native wildlife sanctuary path brought us to an old goldmine entrance. Had I read the sign before entering, I would have been prepared for what I found at the other end.
Unfortunately for me, not only had I not read the large sign, I also looked at the ground as I walked into the shaft. So, once at the other end, the cave weta gave me quite the fright.
If you're wondering, the sign at the entrance talked all about the NZ weta that live in the mine, explaining that wētā (Māori spelling) evolved into more than 100 different species, all of them endemic to New Zealand. Wētā are giant flightless crickets, and cave wētā have extra long antennae and long, slender legs.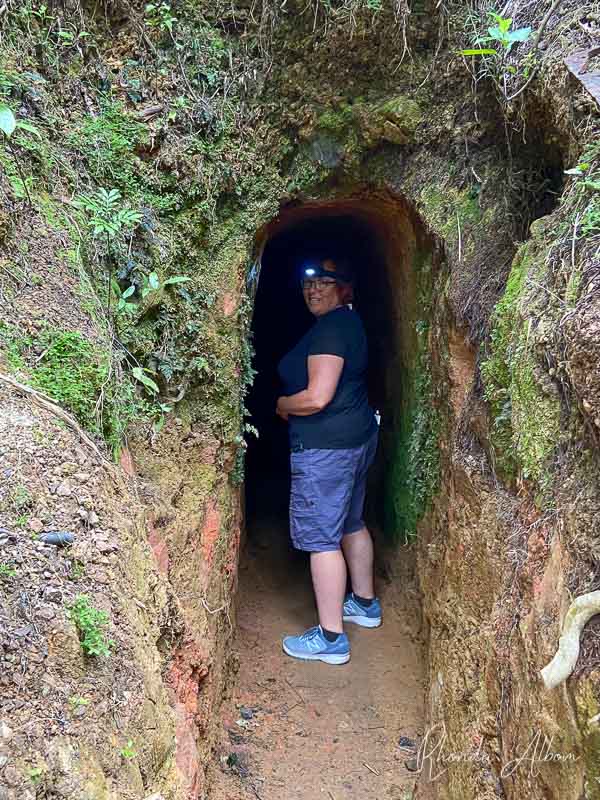 Where is Driving Creek Railway?
You will find Driving Creek Railway just outside the town of Coromandel at 380 Driving Creek Road, which is located on the northwestern coast of the Coromandel Peninsula on the North Island of New Zealand.
Be sure to allocate time for some of the other fascinating things to do in the Coromandel.
Booking tips for New Zealand travel planning
Some links on this page can save you up to 70%. We earn from qualifying purchases through partnerships or affiliate programmes.
First-time visitors start here: New Zealand travel guide or with our favourite New Zealand road trips.

Flights: We use Skyscanner to find all the available flight options at the best prices.

Rental Vehicles: For cars, we always use RentalCars.com, a rental car search engine with no hidden costs. For campervans (and larger cars), note that Spaceships Rentals NZ offers free one-way drop-off between Auckland and Christchurch.
**Albom Adventures readers can check for discounts off Spaceships campervans.**

Accommodations: We use Tripadvisor to find ratings and reserve accommodations in most NZ cities.

Activity Discounts: We use Bookme.co.nz to find discounts on entry tickets and tours in New Zealand.

Travel Insurance: We purchase insurance that covers medical and travel emergencies when we head overseas. We start with Travel Insurance Master, an aggregator that gives us a free and easy-to-read comparison of the inclusions of each policy.

Packing Tips: Get a free copy of our New Zealand packing list when you sign up for our mailing list.

**Find more money-saving resources on our Travel Resources page.
Save for later
If you enjoyed this article, please share it on social media and save it for later on Pinterest.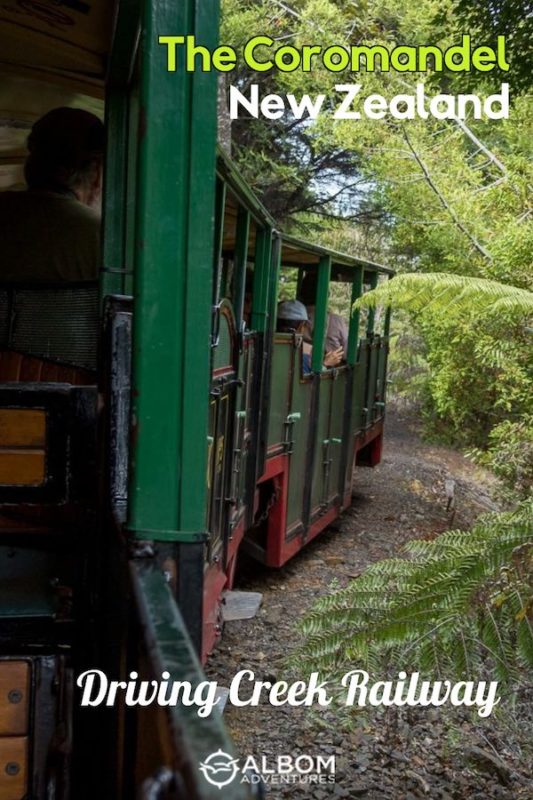 What will you do when you visit Driving Creek Railway and Potteries?
More on New Zealand you might enjoy:
Disclaimer: We were guests of Driving Creek Railway and Potteries and also provided general assistance by Destination Coromandel, the local tourism board, to assist in the writing of this article. Importantly, the opinions expressed here are strictly our own.