Monikered "windy Wellington", it's not all that surprising that the weather may be an issue on your visit. Fortunately, there are plenty of Wellington indoor activities. Therefore, on rainy days or not, we always enjoy a visit to the capital city.
Wellington is one of my favourite getaway cities in New Zealand. In fact, many of our go-to things to do in Wellington are indoors.
While the prospect of a rainy day in Wellington might sound quite dreary, it doesn't have to be. There is no reason to be bored.
From taking a tour of Parliament to exploring creative art at the Weta Workshop, the possibilities for an enjoyable rainy day in Wellington are endless.
We explore the rich history of New Zealand at the National Museum Te Papa Tongarewa on every visit.
If it rains, and it might, as Wellington averages 124 days with precipitation annually, don't let it get you down. Instead, check out the list below of our favourite indoor activities in Wellington to give you a perfect way to spend a day when it rains outside!
Before we get into the details, be inspired…
Wellington indoor activities – 3 must-sees for locals and visitors
Raining or not, these are all near the top of our list, especially for first-time visitors to our capital city. Our three top pics are:
Te Papa Tongarewa
Parliament tours
Weta Workshop & Weta Cave
Te Papa Tongarewa, the National Museum of New Zealand
Located along the waterfront in the heart of Wellington, we try to visit Te Papa every time we are in the region. Te Papa Tongarewa, the National Museum of New Zealand, is simply referred to as Te Papa by locals.
The museum's extensive collections include art, history, Pacific culture, Māori culture, wildlife, and the natural environment. Plus, several areas are dedicated to frequently changing exhibits, so there is always something new to see.
Now that we have been many times, we usually just hit up a few handpicked exhibits each visit. My two personal favourites, which I consider must-sees for everyone, are the world's only colossal squid on display and Gallipoli: The Scale of Our War (ends April 2025). Kids love the Discovery Centre, where this interactive museum really comes to life for them.
But with free admission, we can come back as many times as we want, making it the perfect rainy-day activity in Wellington (charges apply for some special exhibits). However, if you want a special tour, this just might be what you are looking for: Mana Māori Tour.
Parliament tours
As expected, the New Zealand parliament is located in Wellington, the nation's capital. Looking at the image, it's easy to see how the central government building got its nickname, "the Beehive." If you have time, we recommend you take a free guided tour of parliament and observe a live session.
Take a tour of Parliament: We have taken advantage of this free behind-the-scenes look inside the central government buildings more than once. Not only do we get inside, but we also uncover some of the interesting political history. On one tour, we passed the Speaker of the NZ House, and he stopped and talked with our group. Guided tours require booking at least 24 hours in advance.
Observing New Zealand Parliament in session: For me, quietly sitting in the chamber viewing gallery overlooking an actual session of Parliament was an even bigger thrill than the tour. Independent of the tour, there is also no charge.
Note that adults are not allowed to wear short pants inside Parliament, and photos are not allowed during the tour or in the viewing galleries.
Weta Workshop and Weta Cave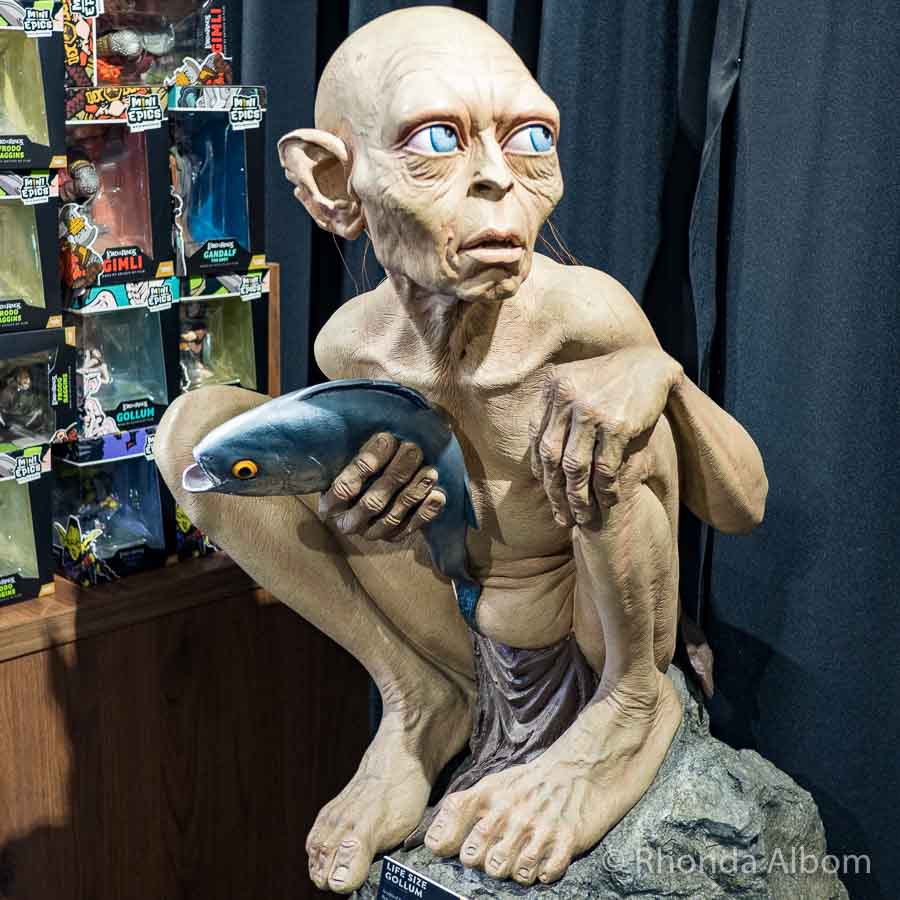 Wellington is famous around the world for Weta Workshop, the 5-times Academy Award-winning special effects and props company that worked on films like The Lord of the Rings, The Chronicles of Narnia, Avatar, and The Hobbit. Weta specializes in constructing sets, costumes (including armour and weapons), creatures, and models.
Best of all, with Weta Workshop tours, visitors can get an inside look into the imaginative process. You can observe artisans while they are working as well as view props, costumes, and vehicles from different productions. Last time we just dropped in, and the tours were booked for the day, so if you can, reserve your Weta Workshop tour in advance here.
(Photos are not allowed on the tour.)
Weta Cave: This is Weta's free-to-enter shop filled with film paraphernalia, souvenirs, gifts, and a miniature museum. It's a fun place to visit, even if you are not taking the tour.
More Wellington indoor activities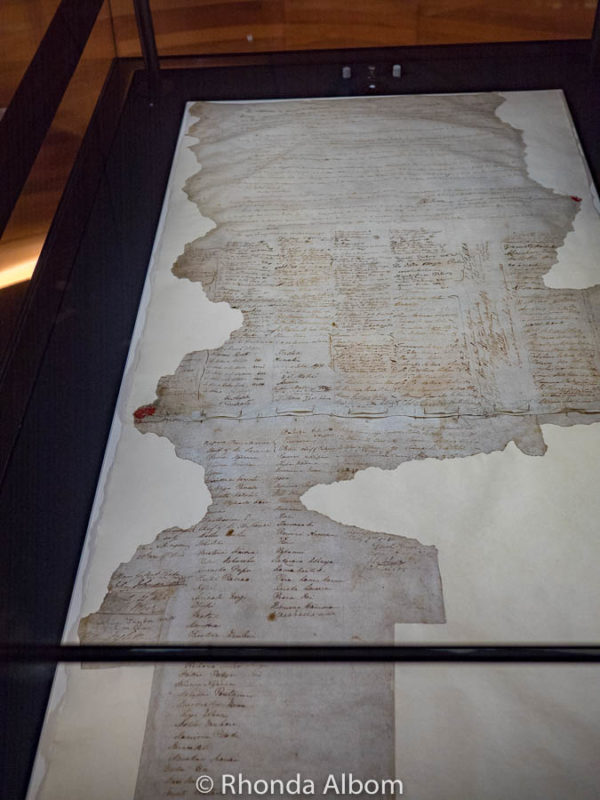 Uncover our history at the National Library
Of course, the library is a place to read, but the national library also now houses the original Treaty of Waitangi document. It's a pretty cool display in a secure zone with controlled temperature and lighting. Alongside it, find other historical records, making it an essential destination for anyone passionate about New Zealand history. True history buffs will also want to check out the nearby Archives New Zealand building.
Test your bravery at Fear Factory
Fear Factory is an awesome, scary and haunted maze below deck on the HMS Wayfarer, a fictional lost ship. What makes it so special is that it's tailored to scare each person. That's right, they ask about your fears to customize your adventure.
And if that's not enough, much of your nautical-themed interactive adventure takes place in the dark. Don't worry, if it gets too scary, you have a safe word that will get you out. What do you think, did I scream "chicken" (the safe word)? If you're brave enough … check for discount Fear Factory entry tickets here.
Watch a movie at the Embassy or a boutique theatre
Movies on the big screen are a fun rainy-day activity in Wellington. While there are lots of theatre choices in the city, if you are a LOTR fan and a visitor, at a minimum, you'll want a selfie at the Embassy Theatre, home to the world premiere of the first The Lord of the Rings film.
Be impressed at the New Zealand Portrait Gallery
Here we discovered New Zealanders through portraits in a variety of mediums, including paintings and photography. The gallery holds the largest collection of portraits in New Zealand, highlighting iconic Kiwi faces.
Discover the buried Plimmers Ark
Head to the lowest level of the Old Public Trust Building on Lambton Quay, a heritage-listed site. Under a section of glass floor, we can see the remains of Plimmers Ark. As the story goes, the big earthquake in 1855 pushed this triple-masted sailing ship ashore. It was discovered when retrofitting the building in 1997-99.
This won't take too long, but if the rain is intense or your just want to be indoors, there are shopping options and several cafes also in the building.
Find out what's out there at Carter Observatory and Space Place
This family-friendly destination is a two-minute walk from the upper end of the cable car. There's an interactive child's section, as well as planetarium shows. While the show was great (best seats in the back), our highlight followed when we got a chance to look through New Zealand's largest refracting telescope, surveying the skies since 1867.
Browse the artwork at City Gallery
The Wellington City Gallery is the perfect place to discover New Zealand's visual culture. Situated in the former Wellington Public Library Building, it has been a part of Wellington's cultural life since 1980.
This world-class contemporary art gallery hosts exhibitions by major New Zealand and international artists, as well as installations and screenings of film and video art. There is also an ever-changing programme of exhibits and frequent events.
Explore the Cable Car Museum
If you are heading up on the cable car, right at the top is the Cable Car Museum, one of the many free things to do in this city. This small museum features vintage cable cars and paraphernalia, and to my surprise, it has a lower level with the gear room. (We missed it the first couple of times we visited.)
Have you tried axe throwing yet?
This is seriously fun. I'll admit that so far, I have only been to Sweet Axe at their Auckland location, but there is one in Wellington that I will throw at on my next visit. Importantly, safety was a top priority, and everyone learns how to throw before we began. If you haven't tried it yet, don't wait for a rainy day. Best of all, you can often get a discount at Sweet Axe with this link for individuals or with this link for groups.
Journey back in time at the Wellington Museum
I am not sure if it is the journey back in time or the 1892 heritage building it is housed in that makes this place so special. The history of the city is a celebration of the people and places that brought it together. It's a free-to-enter museum and is a perfect way to spend part of a rainy day in Wellington.
Indoor activities in Wellington (with multiple locations)
Go-karts (Upper Hutt and Porirua)
10-Pin bowling (locations throughout Wellington)
Rock climbing (Wellington Central, Petone, and Alicetown)
Escape rooms (Wellington Central, Te Aro (multiple), and Lower Hutt)
Board game cafe (City centre and Te Aro)
Indoor Golf (Virtual golf in Wellington Central and mini golf in Te Aro)
Laser tag (lTe Aro and Moera)
Ice skating (July pop-up rink at Queen's Wharf, plus locations in Te Aro, Newtown, and Upper Hutt)
Trampoline centres (Newtown and Moera)
Pool and billiard halls (Te Aro)
Indoor swimming (List of City Council Swimming Pool Centres)
Pole dancing or yoga class (Te Aro, Oriental Bay, Maupuia, and Thorndon Bay)
More rainy day activities in other NZ cities
Travelling the country? Don't let the rain get you down. Perhaps one of these will help:
Or, if you just want more in Wellington, check out these 37 things to do in the Capital of NZ
Save on your NZ trip with these resources
These are our go-to companies when we travel. We believe this list to be the best in each category. You can't go wrong using them on your trip too.
Check out our travel resources page for more companies that we use when you travel.
Save for later
If you enjoyed this article, please share it on social media and save it for later on Pinterest.
What are your favourite things to do in Wellington on a rainy day?