Wellington Zoo calls itself the "Best Little Zoo in the World," and they just might be accurate. Having lived most of my life near large cities with somewhat famous zoos, I thought I had seen it all. Not so. The Wellington Zoo offers many surprises and is worth a visit.
We had perfect weather on the day we visited, warm and sunny, but neither too hot, nor too windy. The animals agreed, being active and playful. Maybe, like the rest of New Zealand, they were just celebrating our country's recent win over Australia in the Cricket World Cup.
Unique Animals at Wellington Zoo
• Malayan Sun Bear
The Malayan Sun Bear gets his name from that yellowish circle on his chest that looks like a rising sun. Classified as vulnerable, their native habitats are found in the tropical forests of Southeast Asia
It is the only bear species in New Zealand and found only at the Wellington Zoo. When he stood on two legs for just a moment, we saw his distinguishing chest and those long sickle shaped claws that make him such a good climber.
• Kiwi Bird
The Kiwi bird is a national icon of New Zealand. It's also well protected and nocturnal so spotting one in the wild is a rare occurrence. Even at Kiwi enclosures, they are often difficult to locate as enclosures are always in the dark. Flash photography is not allowed, so this shot was taken at an ISO of 25600, then converted to black and white to filter out the red lighting of the enclosure. Once again I am glad to have my Olympus OM-D EM-5.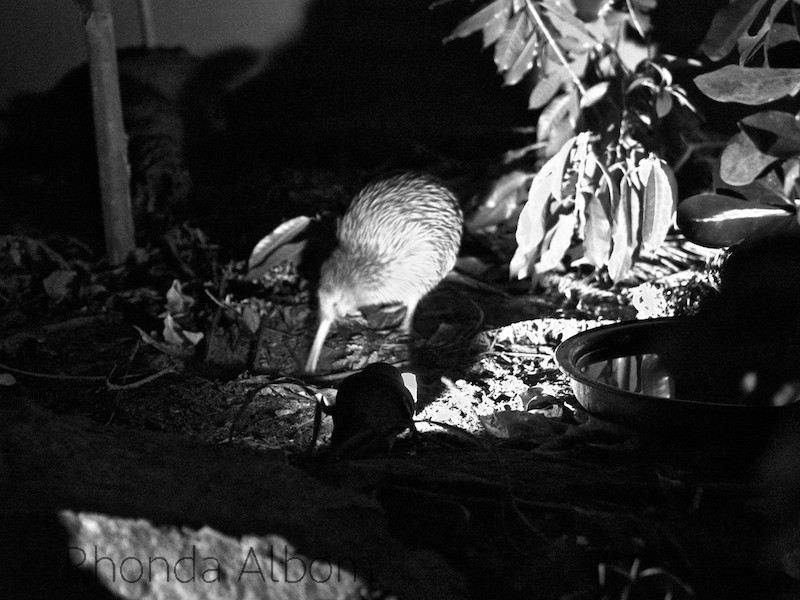 • Pelican
"Lanky", the pelican's huge eyes, long neck, short legs, and big feet, made me smile. Sadly, in April 2016 Lanky passed away, and New Zealand no longer has a pelican in captivity. Having been at the Wellington Zoo for 40 years, he was their longest living resident.
• Tasmanian Devil
Tasmanian devils are a carnivorous marsupial found in the wild only on Australia's island of Tasmania.
• Caracal
Another one-of-a-kind for New Zealand, these two Caracal arrived at the Wellington Zoo from Denmark only five prior to our visit. While not too active on the day we visited, they were awake, with their big ears reaching up to the sky. From a photography standpoint, I was a bit disappointed to watch them from behind glass, but realizing they are great jumpers, I got over it
Getting to the Wellington Zoo:
The zoo is located in Newton, about a 10-minute drive from downtown.
Bicycle: There is a bicycle rack in front of the zoo, for those inclined to get some extra exercise and help the environment.
Private Vehicle: The drive from downtown to the zoo is well signposted. There is limited free parking, so our best tip for drivers is to get here early. If you are thinking about renting a car, we recommend Rentalcars.com. With worldwide rental partners and outstanding customer care, they have been our favourite since the first time we rented with them.
Public Bus: Stopping right outside the Wellington Zoo, the number 23 or 23z bus are the easiest options from downtown. Check out the Metlink for current timetables.
Visitors to the city love the Hop-on Hop-off bus option. It also stops at the zoo, as well as 9 additional locations, providing commentary along the way.
⇒ Click here for pricing or purchase of the Wellington Hop-on Hop-off bus
Animal Encounters in Wellington
More Animals at Wellington Zoo
• Little Blue Penguins
We often see Little Blue Penguins (also called fairy penguins) when we sail in Auckland. We have seen wild Little Blue penguins in St. Kilda (Melbourne Australia) and in Dunedin (New Zealand) last year. Native to New Zealand these Little Blue Penguins are fairly common on New Zealand coasts and also found in southern Australia. They are the world's smallest penguin, standing just over 25cm (10 inches) and weighing only about a kilogramme (2.2 pounds). They are flightless and use their wings to swim.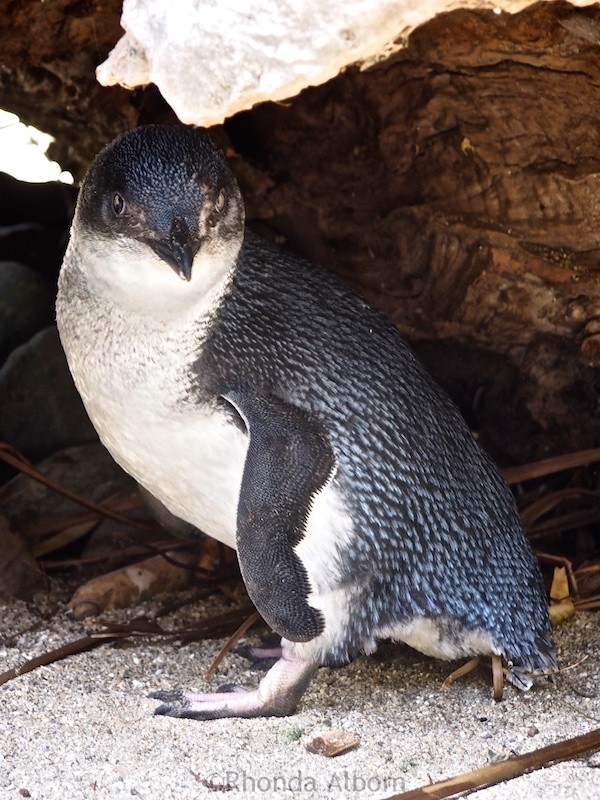 • Squirrel Monkey
• Giraffe
The giraffes have both an inside and outside the enclosure. While I was enjoying the heat of the day, these magnificent creatures came inside. They do have daily feeding opportunities, but we missed it.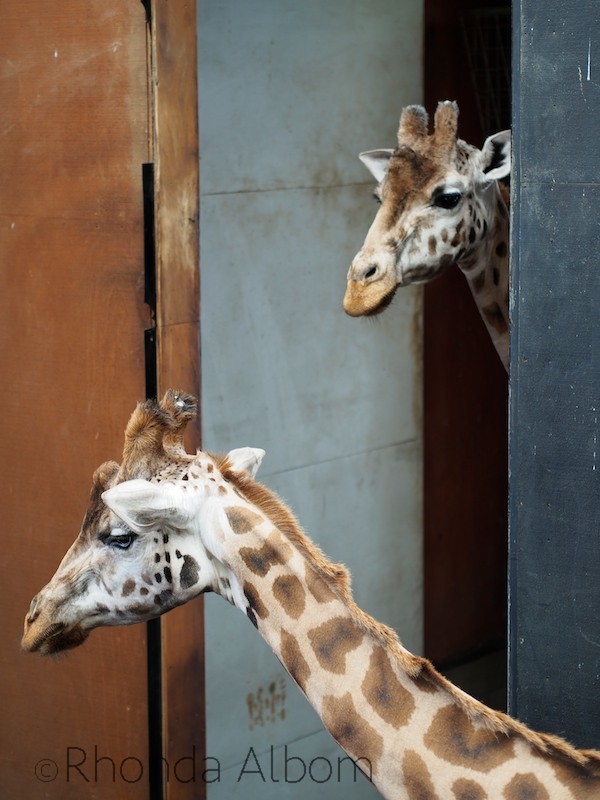 Educational and Animal Encounters at Wellington Zoo
• Kid-friendly Fun
While the unusual animal exhibits appeal to everyone, the Wellington Zoo has many kid-friendly learning opportunities. Since there were no young children nearby, my teen demonstrated it for the shot. There is also conservation information throughout the zoo.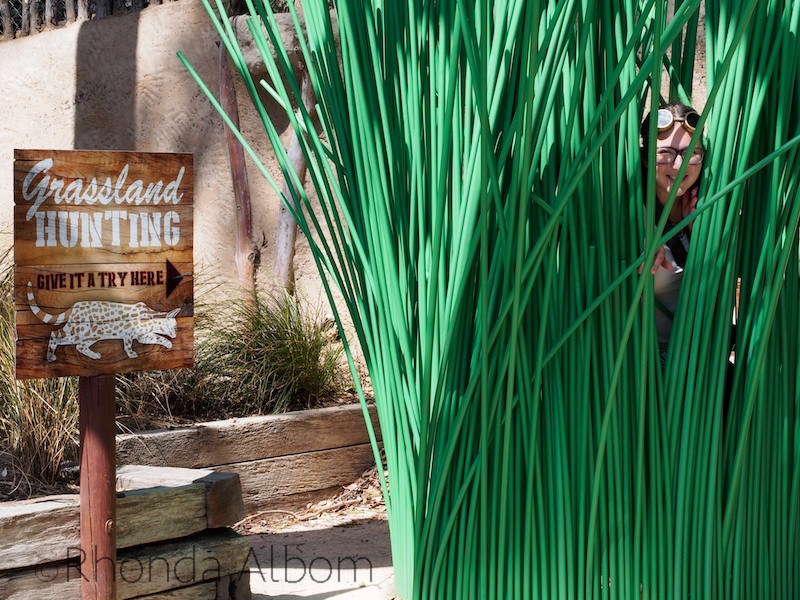 • Zookeeper Talks
Throughout the day there are zookeeper talks, often with a chance to get up close and personal with the animals
A Few Practical Tips for Visiting Wellington Zoo:
It's a small zoo, yet built on a hill, so be sure to wear comfortable walking shoes.
If you have favourite animals you want to learn more about or you want to know when to feed the giraffes, be sure to check the daily schedule and plan your visit accordingly.
We spent less than two hours at the zoo, saw all the animals and listened to one "zookeeper talk".
For more information see the Zoos official website.
In addition to visiting the Wellington Zoo, while in the capital be sure to check out the wildlife at Zealandia.
The Wellington Zoo is one of the best things to do in Wellington with kids. It is featured amongst our list of recommended Wellington Activities and our list of things to do when travelling from Auckland to the capital city.
What's the last zoo you visited? Which of the animals on this page are new to you?
Disclaimer: I was provided with complimentary entry to aid in the writing of this page. However, the opinions expressed here are strictly my own.