A few hours at The Lost Spring and we were transported to a place of peace. The mineral-rich Whitianga hot pools are a paradise on New Zealand's Coromandel peninsula.
If you are wondering why we would need to escape the natural paradise that already surrounded us, that's simple. Sometimes it needs to just be about us … about pampering ourselves, about being attended to, and about pure relaxation.
If we are not too greedy, we want that surrounded by a tropical paradise.
And that is what separates the Lost Spring from many other spas we have been to. It's the total package. Thermal pools, waterfalls, tropical foliage, palm trees, and speciality drinks served with little umbrellas. It is plush robes, hot pools, massage, and culinary delights.
Let us take you on a virtual tour of this adults-only paradise until you can get here yourself.
But first …
Let the region tempt you …
This site contains affiliate links to products and/or services. We may receive a commission for purchases made through these links at no additional cost to you.
Whitianga hot pools
There is nothing quite like soaking my cares away in water naturally enriched with over 400 minerals. In fact, the water here emerges from 667 metres below the ground through a small crack in the bedrock after more than 16,000 years underground. Sterile, the thermal water is crystal clear and naturally good for you.
We casually moved through the topical surroundings, enjoying geothermal pools ranging in temperature from 32ºC to 41ºC (89°F – 106°F).
A tropical utopia, we enjoyed a waterfall, cave, bridges, hibiscus flowers, and exotic drinks.
While some areas of the therapeutic hot pools seemed well-populated, there are so many nooks and crannies that we could always find a peaceful escape, be it in the crystal and amethyst cave, the crater lake, or the bathtub terraces.
Whitianga hot pools brief history
Lost Spring Whitianga was created from nothing but a dream of its owner Alan Hopping, who made it a life mission to find the lost spring of Taputapuatea. In fact, he spent over 20 years (and seven million dollars) trying to find it. And in the end, he succeeded and created a hand-built paradise for all of us to enjoy.
Local legend tells us of a lost mineral-rich volcanic spring known to have healing properties. In fact, over 100 years ago Mother Brown used to bathe her five children in such a stream, but that disappeared about 90 years ago.
The Tapa, also called Mother Brown Creek, is fed by the spring of Taputapuatea ("tapu" meaning sacred and "atea" faraway).
The detailed story is much more complex and involves three failed attempts before success, but in the end, the Lost Spring opened to the public in 2008.
What's most impressive is the attention to every detail.
The Lost Spring day spa and restaurant
In addition to the Whitianga hot pools, Lost Spring has a day spa and a restaurant.
Had we planned ahead and made a booking, we would have indulged in some of the spa services. Although, I would have had a tough time choosing between relaxing with a hot stone massage or being invigorated first by an island wrap and then enjoying a full-body massage.
In reality, it didn't matter as just from my time in the pools I left a new woman, relaxed and happy. And, I was pleased my package included the plush spa robes.
Lost Spring day spa services cover the full spectrum from relaxing body treatment to cosmetic enhancement like a spray tan or a brow tint. The options range from 30 minutes to all day.
Check out the menu of decadent spa services.
To complete the experience, enjoy a meal, or snack, or an exotic bar drink in the restaurant or out at the pools.
Need to know before visiting these Whitanga hot pools
Do not submerge your head in the hot springs.
The pools are currently open Friday to Sunday, while the restaurant and day spay are open Thursday to Sunday.
Lost Spring is an adult oasis, and children under 14 are not permitted in the pool areas, while those from 14 to 18 must be accompanied by an adult, ideally with a 1:1 child/adult ratio.
Bookings are recommended for the pools and essential for the day spa and restaurant. Email ([email protected]) or call (07 866 0456) to book.
If you shower after the pools, remember to just do a quick rinse as you want all those natural minerals to do their magic on your skin.
See more reviews or bundle it into a larger adventure at Trip Advisor.
Where are the hot pools?
Whitianga is a lovely coastal community on the east coast of the Coromandel Peninsula. Getting there by car will take you north along a stunning coastal road from just about anywhere off the peninsula. The drive times are:
Auckland to Whitianga: 2.5 hours
Tauranga to Whitianga: 2.5 hours
Rotorua to Whitianga: 3 hours
Located in a residential neighbourhood, the Lost Spring is down a driveway between two homes. Set your GPS for the address and you'll be fine.
The Lost Spring
121A Cook Drive, Whitianga
There appeared to be plenty of car parking when we visited.
More things to do in Whitianga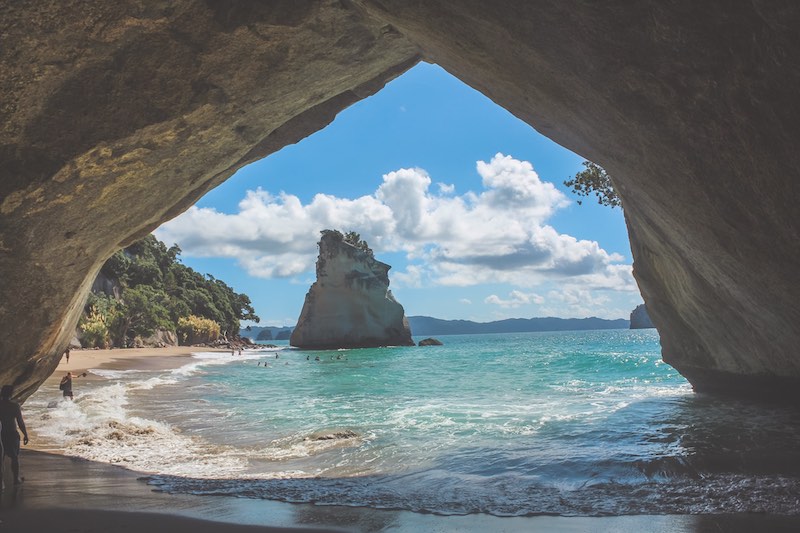 Lost Spring isn't the only thing to do here. The two most frequently visited sites in Whitianga are Hot Water Beach and Cathedral Cove. If you're visiting, here are a few things to enjoy in addition to your spa.
Take a drive around the Coromandel peninsula. And if you have allocated time, we recommend at least one additional night at in the town of Coromandel and ride the Driving Creek Railway.
Drive the narrow, windy 309 road and see a kauri grove, a waterfall, the Waterworks, and a pig farm.
Dig a hole and soak your cares away at Hot Water Beach.
Take a boat ride out to the stunning and iconic Catherdral Cove.
Feast on some Asian fusion cuisine at the Blue Ginger restaurant.
Sip on a coffee at any of the local cafes.
Spend the day at the beach.
Booking tips for New Zealand travel planning
This site contains affiliate links to products and/or services. We may receive a commission for purchases made through these links at no additional cost to you. In some cases, the links can save you up to 70%.
First-time visitors start here: New Zealand travel guide or with our favourite New Zealand road trips.

Flights: We use Skyscanner to find all the available flight options at the best prices.

Rental Vehicles: For cars, we always use RentalCars.com, a rental car search engine with no hidden costs. For campervans (and larger cars), note that Spaceships Rentals NZ offers free one-way drop-off between Auckland and Christchurch.
**Albom Adventures readers can check for discounts off Spaceships campervans.**

Accommodations: We use Tripadvisor to find ratings and reserve accommodations in most NZ cities.

Activity Discounts: We use Bookme.co.nz to find discounts on entry tickets and tours in New Zealand.

Travel Insurance: We purchase insurance that covers medical and travel emergencies when we head overseas. We start with Travel Insurance Master, an aggregator that gives us a free and easy-to-read comparison of the inclusions of each policy.

Packing Tips: Get a free copy of our New Zealand packing list when you sign up for our mailing list.

**Find more money-saving resources on our Travel Resources page.
Save for later
If you enjoyed this article, please share it on social media and save it for later on Pinterest.
Are these Whitianga hot pools calling you?
You might also like
Disclaimer: We are frequently provided with complimentary entrances, tour, or sample items to aid in the writing of Albom Adventures. However, the opinions expressed here are strictly our own.