Offering surprises around every corner, Ngatea Water Gardens in New Zealand exceeded our expectations on every level. While the landscape is beyond lovely and the birds and fish plentiful, it is both the owner's sense of humour and the massive "Can Museum" that caught us off guard.
The five-acre water gardens are the design and creation of owners Roger and Emma Blake, but the humour is all Roger. The grounds are attractive, and their gardening expertise shines through. The paved walking path makes the facility accessible to everyone.
Ngatea Water Gardens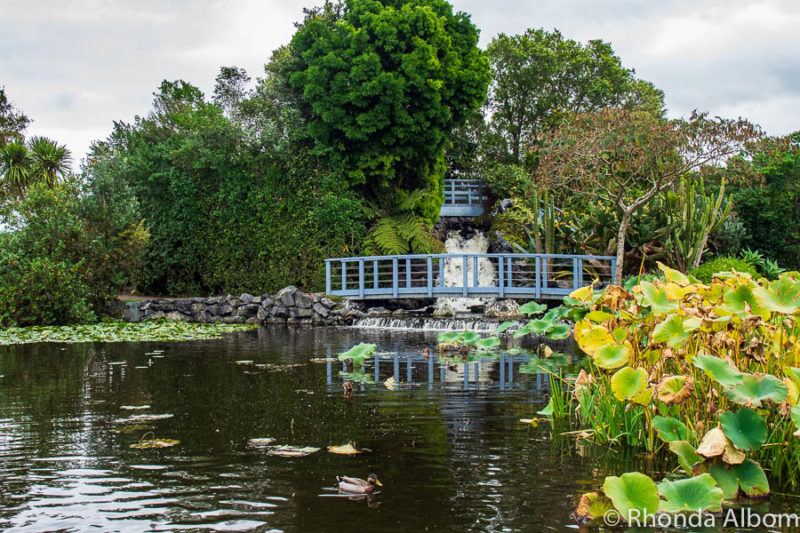 If you visit only for the beautiful water gardens, you won't be disappointed. The meticulously cared for grounds, gardens, and water features highlight the attention to detail. Although manmade, the details make you forget that fact. For example, a massive 10HP pump powers the waterfall behind the bridge in the photo below.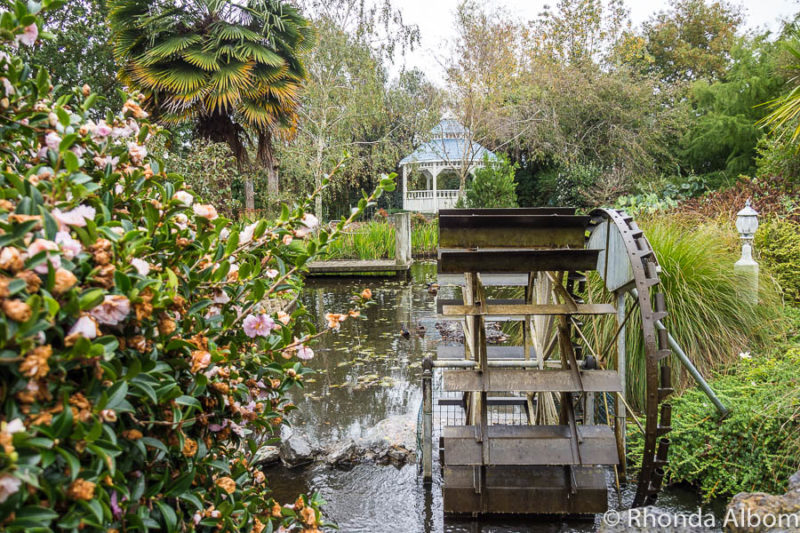 Do you know how to pronounce Ngatea?
In the Maori language, the "g" is silent in the combination of 'Ng', therefore, the town name is pronounced "Na-tee-a."
Click to hear it pronounced.
New Zealand highlights on Albom Adventures
Ngatea Water Gardens birds, fish, and turtles
Your low entrance fee covers pretty much everything. However, we recommend adding a bag of their fish/bird food on your way into the gardens, as feeding the ducks, geese, and fish added to our fun.
Ngatea Water Gardens' sense of humour
The sign on the door reads: "Warning: Joke Zone, Sense of humour required beyond this point. You have entered a property with high concentrations of jokes and humorous scenes. We are not responsible for any health problems arising from excessive laughter while viewing this amazing attraction."
Furthermore, it's all true. The humour is everywhere, but subtle. If one ignored all the signage around the gardens (most of it is jokes) and just looked at the beauty, then maybe one could get through the water gardens without a laugh. But you sure would miss out.
My sense of humour matches Roger's and so I read everything and took time to explore each nook and cranny. For instance, one might walk past this outhouse and just find it odd decor, without looking a bit closer at the feet.
A few of my other favourite funny spots:
Arthur's Canny Museum
Then we opened a door and found Arthur's Canny Museum . . . and stood speechless for a few moments.
With over 11,000 cans on display, this is one massively impressive room. When Arthur Blake began collecting cans in 1989, I doubt he ever thought it would become the only collection of beverage cans on display to the public in New Zealand.
This "Can Museum" is like nothing I have seen. There are plenty of labels I recognize, intermixed with antique beer cans and other rare items. This is much more than a beer can collection.
Visiting Ngatea Water Gardens
Ngatea Water Gardens is on Darlington Street, just off State Highway 2 (SH2) and across the street from the Ngatea gem factory.
Ngatea is often just a service stop for travellers. Don't make this mistake, you will be missing out on a real gem. We visited Ngatea as part of an Auckland to Wellington road trip.
The Ngatea gardens are open Sunday to Thursday from 10 am to 4 pm (summer) and only on Sundays in the winter (May to September). They are also open by appointment. Check their official webpage for details.
Stay in Paeroa
If you are looking for Ngatea accommodation, we suggest staying in nearby Paeroa. Just 20 minutes away, in Paeroa, you will find the antiquing capital of New Zealand as well as home to our unofficial national drink, L&P (which stands for Lemon and Paeroa and is now owned by Coca-Cola).
And while in Paeroa, don't miss the giant 6 metre-tall L&P bottle. Actually, not missing it would be more difficult as it is in the centre of town on State Hwy 2, just beyond the round-about with State Hwy 26.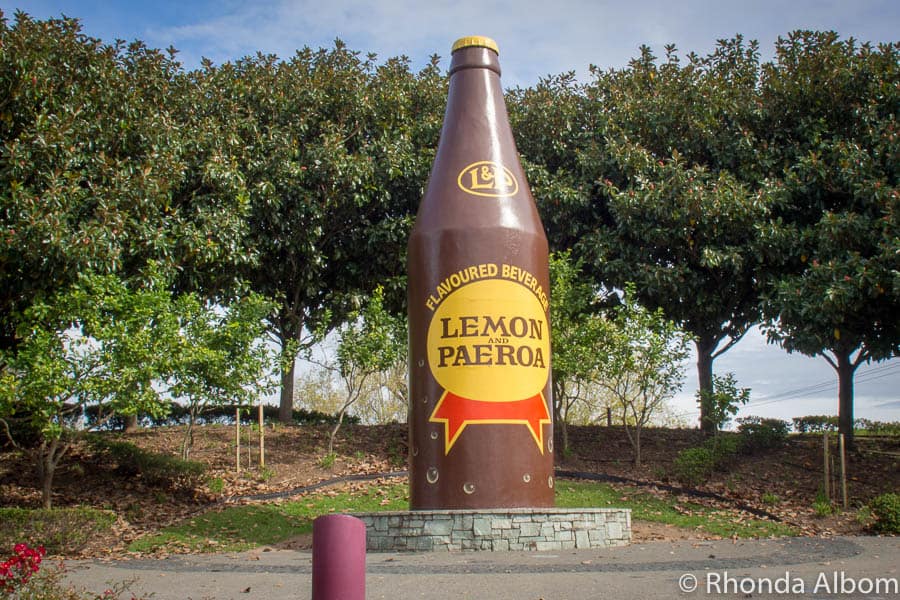 Don't miss these other great things to do in the Coromandel region.
Book your NZ trip: Logistical tips
Book your flights
Use Expedia, our favourite flight search engine. They search worldwide and find the best and cheapest options.
Book your accommodation
We use Booking.com as they consistently return the best rates and their reviews are from actual guests. For self-contained lodging, we use Bookabach.
Reserve your vehicle
Use RentalCars.com to find the best deals on cars. With no hidden costs and outstanding customer service, we have successfully rented from them worldwide. Use Jucy for small campervans.
Activity discounts
Always check Bookme.com for discounts of up to 70% on selected tours, activities, restaurants and more. Also, our readers get an exclusive 10% discount on New Zealand activities from Klook with code: EXPLORENZ10
(Applies to NZ activity purchases over $50 initiated in NZ or Aus)
Before you book your trip
Check our travel resources page for more of the companies we use when we travel. We believe them to be the best in each category. You can't go wrong using them on your trip too.
Save for later
If you enjoyed this article, please share it on social media and save it for later on Pinterest.
Have you been to Ngatea Water Gardens?
Disclaimer: We were guests of Ngatea Water Garden. However, the opinions expressed here are strictly my own.