Driving north from Auckland to the Bay of Islands, we made four detours, each rewarding us with stunning New Zealand waterfalls. It doesn't take long to realize that this country's landscape is some of the most vibrant and dramatic in the world.
We took our time as we headed to the Bay of Islands on the North Island. (It's not just the South Island that must be visited for the natural beauty one expects to see in New Zealand.)
Whangarei Falls, Piroa Falls, Haruru Falls, and Rainbow Falls are within 150 kilometres of each other, and each is worth a visit. Enjoy these beautiful waterfalls.
Whangarei Falls
Located in the Whangarei Scenic Reserve on the Hatea River, Whangarei Falls can practically be viewed from the carpark. Falling 26 metres, the glistening water leads to a local's swimming hole.
The optional 30-minute loop walking track around the falls has two bridges and takes you down to the base for a different view of this cascading curtain fall. It was the river gently flowing away that caught my eye.
Visiting this waterfall is just one of many cool things to do in Whangarei.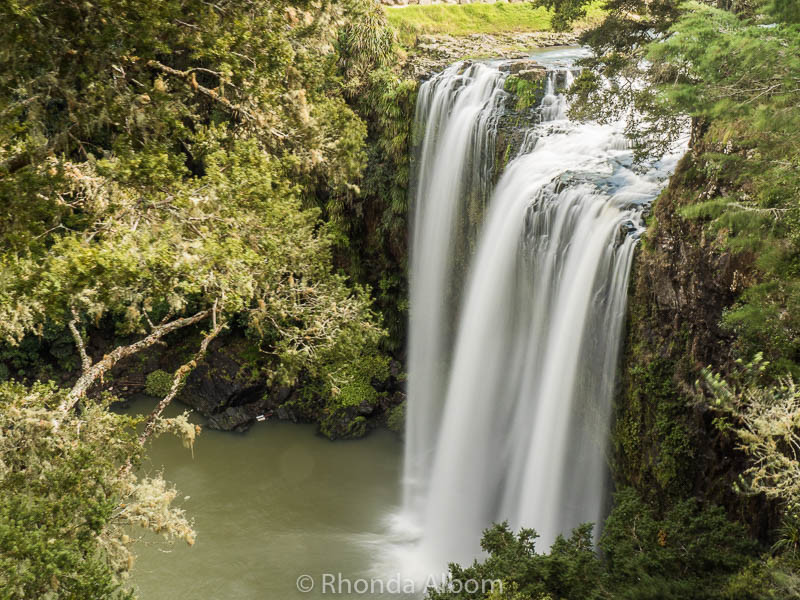 Piroa Falls
To find this hidden gem located north of the Brynderwyns, we drove 7km on the unpaved Waipu Road. The Brynderwyns Range is more of a hill than a mountain, its ridge runs east-west across the Northland Peninsula.
From the trailhead marker, we followed a 10-minute, mostly downhill walk through the lush native forest. We heard the water crashing over the 20m cliff before I saw it.
Located on the Ahuroa River, Piroa Falls turned out to be my favourite of the day. We were surprised to find a concrete table nearby and wondered how it got there.
Piroa Falls is a 20-minute drive from Waipu Cave, should you be seeking a bit of adventure mixed in with your New Zealand waterfall exploration.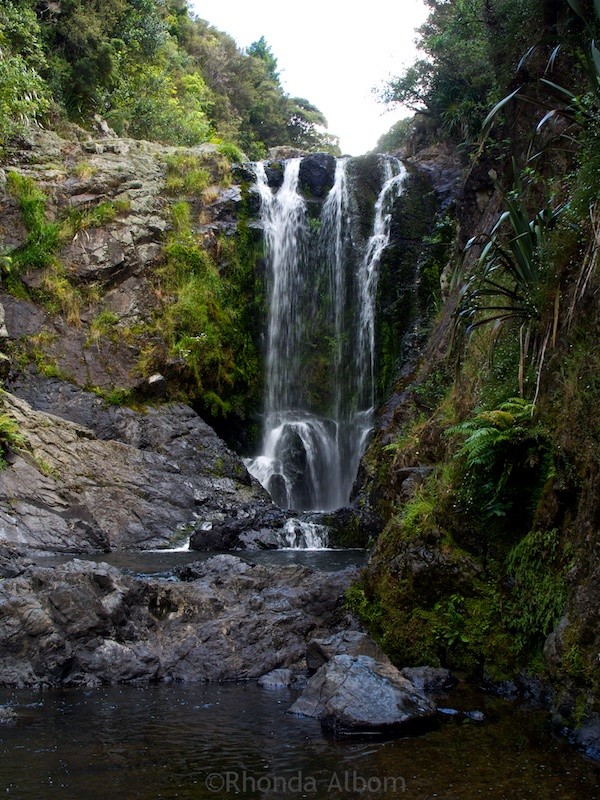 Haruru Falls
Haruru Falls is a block waterfall located on the Waitangi River. The word Haruru means "big noise" and you know the falls are correctly named as you hear it long before you see it. According to Māori legend, a taniwha (water monster) lives in the lagoon below this waterfall.
It's easy to find, just past Pahia on SH11. From Haruru Falls you can hike in the forest. Be sure to visit the birthplace of our nation, the Waitangi Treaty Grounds. It is here that the Maori and British signed the original treaty creating New Zealand.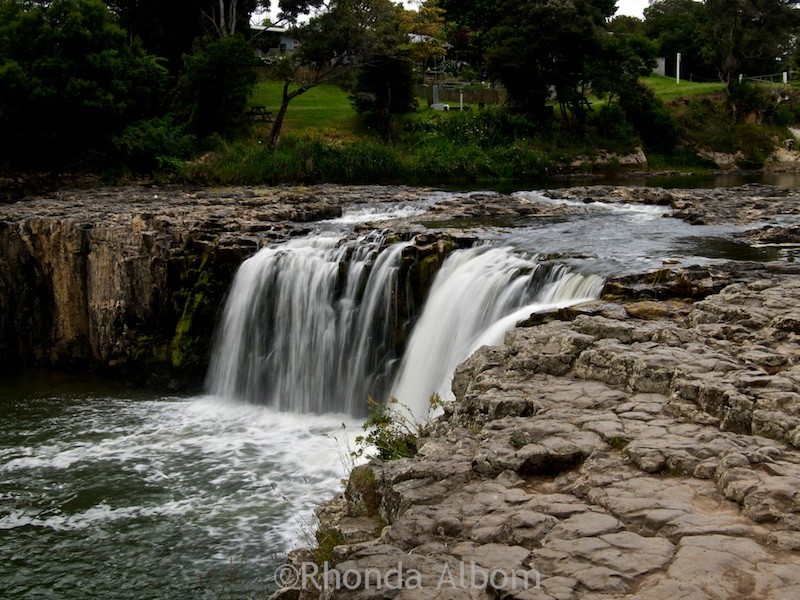 Kayaking and other Haruru Falls adventures
Haruru Falls kayaking appeals to adventure seekers. Paddle through sheltered waters passing a mangrove forest before having a refreshing swim near the horseshoe-shaped Haruru waterfall.
When my niece visited New Zealand a few years ago during summer, she met some locals and jumped with them from a tree into the base of Haruru Falls. I am past the days when you would find me leaping into any local waterfalls!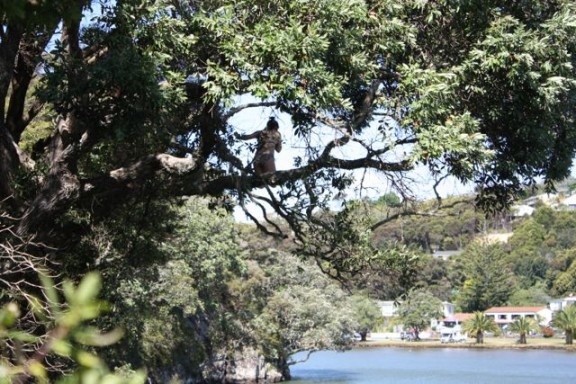 Rainbow Falls, Kerikeri
Located just 20 minutes north of Haruru Falls (following the Twin Coast Discovery route towards Kerikeri), many tourists skip the 27m drop of Rainbow Falls. It is the tallest of the four New Zealand waterfalls we saw. It is a very short walk to the lookout and about 5 minutes farther to the base.
Map of the four New Zealand waterfalls on this page
Practical information on these North Island waterfalls
There are toilet facilities at Whangarei Falls, but not at the other waterfalls listed here.
Bring insect repellent, sunscreen, and a light jacket. The weather is quick to change, and it is often cooler in the forest, a refreshing treat in the summer.
Bring togs (swimwear) and a towel if you might want to swim at some of these locations.
While in the Bay of Islands, check out this 3-hour Bay of Island Cruise out to the hole in the rock
If you are looking for longer hiking trails with waterfalls, check out New Zealand's Great Walks.
New Zealand is in the Southern Hemisphere, therefore winter is June through August. In the regions of these North Island waterfalls, the winter months average the most rainfall. In contrast, the waterfalls of the South Island's subtropical rainforests have their peak flow in January, April, and March, the three months with the most substantial rainfall.
For more of the best waterfalls in the country, don't miss these 18 amazing waterfalls in New Zealand.
(We visited these waterfalls as part of a more extensive road trip from Auckland to Cape Reinga, the spiritual northern tip of New Zealand's North Island.)
Save on your NZ trip with these resources
These are our go-to companies when we travel. We believe this list to be the best in each category. You can't go wrong using them on your trip too.
Flights: we use Expedia for the best and cheapest flight options.
Accommodations: we use Booking.com (hotels), Bookabach (self-contained in NZ) or Hostelworld (budget).
Cars (gas or electric): we use RentalCars to search for deals and dealer ratings.
Motorcycles: we have heard good things about BikesBooking.
Campervans or Motorhomes: we use Campstar where Albom Adventures readers get a 3% discount.
Activity discounts: we check Bookme.com for discounts of up to 70% on activities.
Private guides: we love the private guides at Tours by Locals.
Travel Insurance: while not required, we always opt for travel insurance and start at InsureMyTrip to compare coverage plans.
Check out our travel resources page for more companies that we use when you travel.
Waterfall photography on this page
The photos on this page were shot with an Olympus OMD Em5. Some are handheld, others use a tripod.
⇒ Don't miss these tips for taking better waterfall photos.
Please Share
If you enjoyed these waterfalls, please share the article on Pinterest: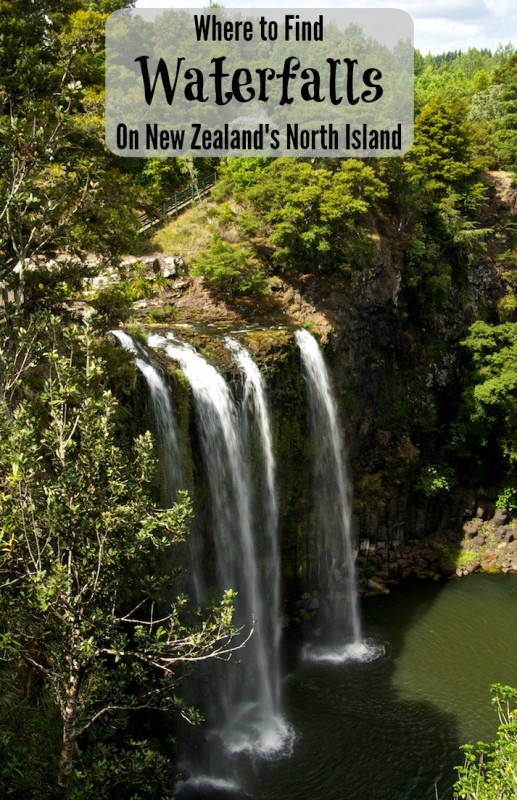 Have you seen any of these New Zealand waterfalls? Do you have a favourite?