Waitangi Treaty Grounds is probably the most historic and significant site in New Zealand. Only three hours north of Auckland, it should be a required visit for anyone who wants to understand this great nation. Once you arrive, take the tour and experience the cultural show. This was my third visit to the Waitangi Treaty Grounds since we immigrated to New Zealand 13 years ago. Yet this time it was different. There is a fascinating new museum, plus I got to see it all through the eyes of our two European exchange students, but it was the walking tour of the grounds that brought the history alive.
In short, the Waitangi Treaty Grounds marks the location of the signing of the document that created the New Zealand we know today. In 1840 it brought the Maori and British people together, creating a nation under one rule . . .  and creating controversy that is still being resolved. The problem stems from the interpretation of a single word: sovereignty.
The agreement between the Crown and the Chiefs of the United Maori tribes was in two languages, and they are not the same. The English version gave the crown sovereignty over the land. As there is no direct translation (English to Maori) of the word sovereignty, so the translator used the word governance. Thereby the chiefs believed they signed an agreement that allowed the Crown only governance in return for protection. There is much more to this issue than just this simple explanation.
Here is what we saw, starting with a cultural performance:
Shop related products on Amazon
Price: $12.88

Was: $18.95

Price: $16.99

Was: $24.99

-35%

Price: $16.97

Was: $25.99
‹
›
Practical Information:
The Waitangi Treaty Grounds are located in the Bay of Islands, 2 kilometres north of Paihia. There is plenty of free parking.
The grounds and museum are open every day from 9 am to 5 pm, with extended hours in summer.
Day entry includes a guided tour, cultural performance, film, and museum and ground entry. The tours and performance are timed, and bookings can be made in advance. I recommend allocating 2-3 hours and seeing it all. If time is limited, don't miss the tour or cultural performance.
A hangi and concert option is available on Tuesday, Thursday, and Sunday summer evenings.
More information is available on their official website.
**If you are heading up north in New Zealand, the Waitangi Treaty Grounds in the Bay of Islands are one of many fascinating things to see. We visited as part of our recommended Northland itinerary for a 4-5 day adventure.
Have you been to the Waitangi Treaty Grounds?
Please share this on social media including Pinterest: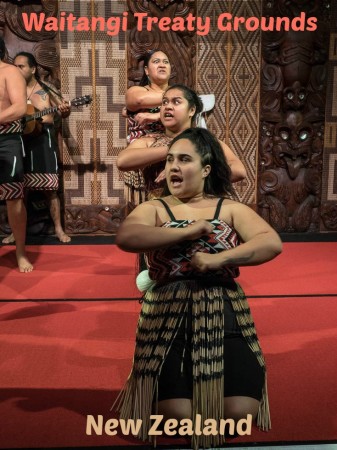 Disclaimer: We were provided with complementary entry. However, the opinions expressed here are strictly my own.
Here's the secret to packing light:
Download our free packing light checklist when you sign up for our newsletter.