Stingray feeding in Gisborne was the highlight of my Reef Ecology Tour with Dive Tatapouri in New Zealand. . . . Standing thigh-deep in the ocean, I felt gentle pressure as the eagle ray brushed my leg. I pressed against my walking stick and held my ground.
Just before her second pass, I placed the food in my hand low in the water so she could glide over it. As she did, I felt a sucking, like a vacuum cleaner, as she ingested the food. Then, I quickly stood upright before the nearby kingfish nibbled at my fingers . . .
As a group, we followed our expert guide out to the reef, where we now stood shoulder to shoulder like a human wall for the short-tailed stingray and eagle rays to swim alongside. However, there is much more to it.
We had a briefing, donned waders (one-piece waterproof overalls and boots), learned how to shuffle our feet so as not to step on a ray, and to follow the guides as they know the seafloor, where to step, and where it drops off.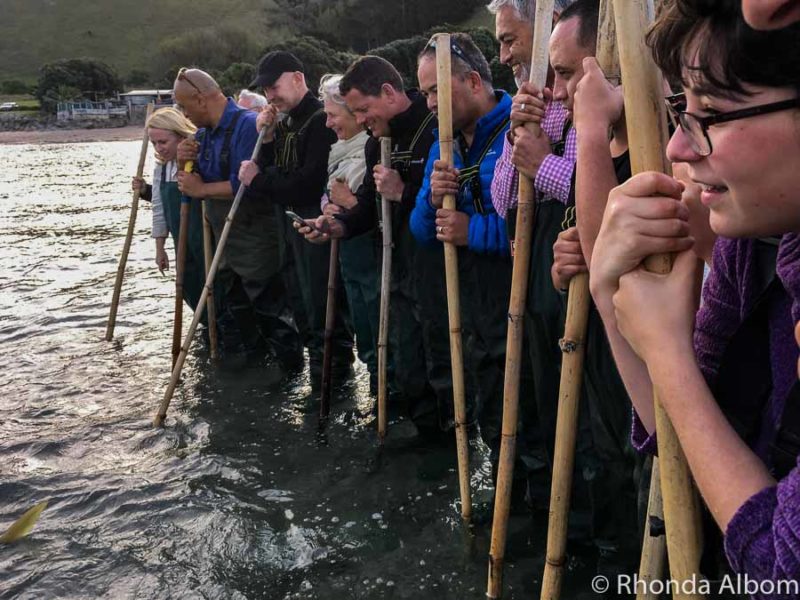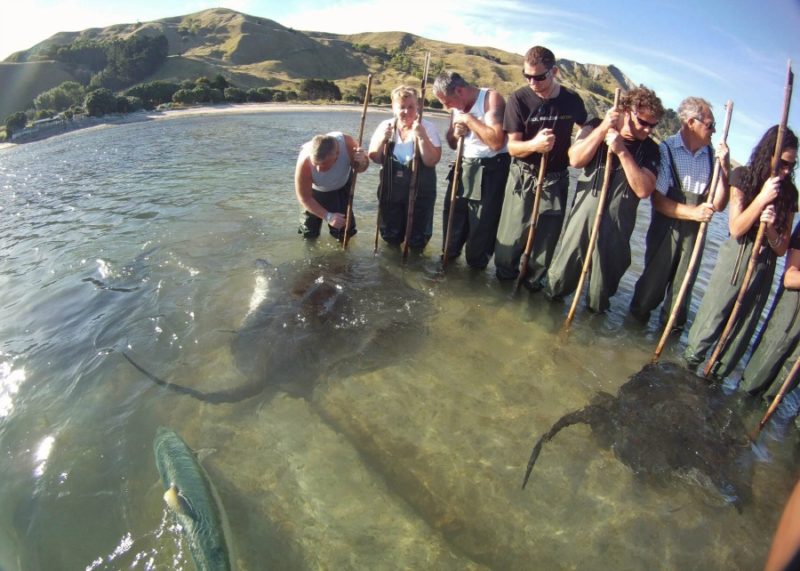 Learning about stingrays at Dive Tatapouri
We also talked about the importance of the sea to the indigenous Māori people as they relied on it for food and other resources. According to Te Ara, the Encyclopedia of New Zealand, "Māori believe that water is an energy, with many moods. It can be calm and life-giving, or dangerous and destructive. This energy is called Tangaroa – 'god of the sea.'"
The wild stingray feeding in Gisborne is a once-in-a-lifetime opportunity that in itself is extraordinary. But to walk away an hour later with a better understanding of these graceful creatures and the ocean in which they live added to the experience. Dive Tatapouri's Reef Ecology Tour is one of the many unique things to do in New Zealand. It's an eye-opener, a surreal experience, and a fun and fascinating adventure.
Stingray feeding in Gisborne
On our reef ecology tour, we saw wild kingfish, eagle rays, and short-tail stingray. Had we tried to do this on our own, we may have seen nothing. The wild stingray that swam out to meet the group recognise and trust the handlers. The rays use electroreception, and it's believed they identify people by their heartbeats. As the story goes: a person accidentally stepped on a ray, and from that day on, the animals all splashed them and swam away when he joined the group.
Our guides showed us how we to safely touch both types of rays, explaining that their skin is rough and scaly. However, they felt soft and slippery as they produce a protective layer of slime. In contrast, it is not good for the kingfish to be touched by humans as the oils on our skin irritate them and can lead to disease.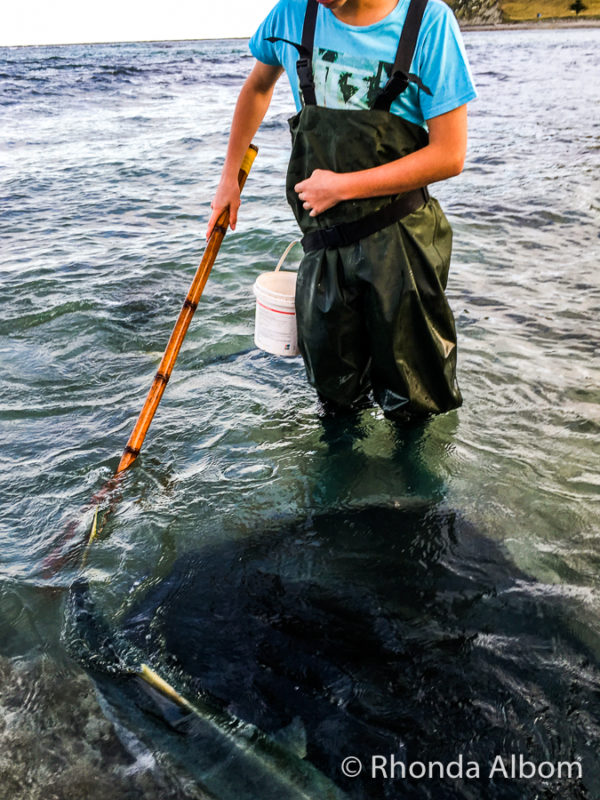 Dive Tatapouri's Reef Ecology Tour focuses on animal and marine safety. Therefore, the amount of food given to marine animals is limited. The idea is to keep these wild rays and fish from becoming dependent on people for food. New Zealand law protects the stingray.
There is little question in my mind. My favourite Gisborne region activity is the Reef Ecology Tour with Dive Tatapouri.
Our bonus: We met Sir John Key and Christopher Luxon while stingray feeding in Gisborne
A second, slightly larger group joined us out on the reef. I glanced up and whispered to Jeff, "Look at that guy across from us." As he did, he whispered back, "he looks a bit like John Key." By now, I was convinced, "That is Sir John Key." And it was.
We hand-fed wild stingray side by side with the former Prime Minister of New Zealand. He was one of the few to be wearing a business suit under his waders. And alongside him was Christopher Luxon, who at the time was CEO of Air New Zealand.
Hand feeding stingrays with Dive Tatapouri is a unique encounter and one that I recommend to anyone heading to Gisborne or the East Cape of New Zealand.
What to bring for a Dive Tatapouri Reef Ecology Tour
Whether you choose the stingray feeding or the snorkelling tour, Dive Tatapouri provides everything you need. However, remember to dress for the weather. If you wear long sleeves, be sure they can be rolled up. For the stingray feeding tour, Dive Tatapouri supplies waders and walking sticks.
Having never worn or even heard of waders before, I wondered how we were going to stay dry. It turns out waders are waterproof boots attached to waterproof overalls, and they do the job quite well. If you choose the summer snorkelling tour, Dive Tatapouri includes a wetsuit, snorkel, and mask.
Bring a waterproof camera – like the Olympus TG-5
We recently found the perfect camera for the job. Unfortunately, we discovered it after we visited. The Olympus TG-5 is waterproof, shockproof, crushproof, freezeproof, and dustproof.
Made for adventure, it's the perfect sport and underwater camera. It takes amazing close-ups, high-resolution RAW stills and Ultra HD 4K video. Best of all, it's portable, durable, and fits in my pocket.
Practical information on Dive Tatapouri
Dive Tatapouri is in Tatapouri Beach, Gisborne, about 15 km east of central Gisborne on the East Cape of New Zealand.
The Reef Ecology Tour requires low tide and is dependent on tides, weather, and sea conditions. You can check Gisborne tide times here.
Reef tours are suitable for all ages.
Bookings (reservations) at Dive Tatapouri are essential and can be made on their booking page.
Allow about 90 minutes for the Reef ecology tour and the briefing.
They are open from September until the end of May nearly every day. From June to August, they open as weather and conditions permit.
From January through March, Dive Tatapouri offers the option to snorkel with stingrays, where you will also learn how and get an opportunity to safely touch the stingrays.
Gisborne accommodations
Low tide in Gisborne may be early or late. For us it was right before sunset, so we were glad to be staying in the Gisborne region. Plus, there are plenty of unique things to do in Gisborne.
Like most cities in New Zealand, there is a variety of accommodation options from which to choose, ranging from luxury to backpackers. We opted to stay in a midrange motel. Our top three recommendations are:
Portside Hotel – Heritage Collection: This lovely boutique hotel sits at the water's edge. Offering ocean views, a swimming pool and some fun and funky decor, it's the perfect upscale stay in Gisborne. Reserve your stay at Portside Hotel.
Waikanae Beach Motel: This is where we stayed, in a clean and tidy one-bedroom apartment. The proprietor is both friendly and helpful, making suggestions for meals and even moving my laundry to the dryer so I could get out to dinner quicker. It is perfect for families and anyone who wants to be close to the beach at an economical price. Reserve your stay at Waikanae Beach Motel.
Save on your NZ trip with these resources
These are our go-to companies when we travel. We believe this list to be the best in each category. You can't go wrong using them on your trip too.
Check out our travel resources page for more companies that we use when you travel.
Save for later
If you enjoyed this article, please share it on social media and save it for later on Pinterest.
Read next: Enjoy an Auckland to Wellington Drive with These Stops
Will you do a reef ecology tour and stingray feeding or snorkel with the rays?
Disclaimer: We worked with both Dive Tatapouri and Tairāwhiti Gisborne, the local tourism board. We were provided with complimentary entrances to assist in the writing of this review. The opinions expressed here are strictly our own.