Modern in historical terms, the Holy Trinity Cathedral Auckland is the world's only example of Pacific Gothic architectural style. Unique stained glass windows, impressive choral acoustics, and cultural performances attract visitors to this active place of worship and learning in the heart of Parnell, Auckland's oldest neighbourhood.
We were warmly welcomed upon arrival. Entering from Parnell Road, we stood in the cathedral's centre. Modern stained glass windows lining the nave's walls to my left tell the Christian story with both traditional and Polynesian designs. They stand in sharp contrast to the neo-Gothic archways in the chancel to my right.
Both sections project Holy Trinity Cathedral's mission statement: Living God's Love: Welcoming, Worshipping, Nourishing, Empowering.
Let's explore Holy Trinity Cathedral a little closer.
The stained glass
While everything about this cathedral is impressive, it is the great window at the back of the nave that captivates the imagination. Designed by Nigel Brown, it features a Polynesian Christ surrounded by vividly coloured Pacific motifs on what is said to be the southern hemisphere's largest expanse of stained glass.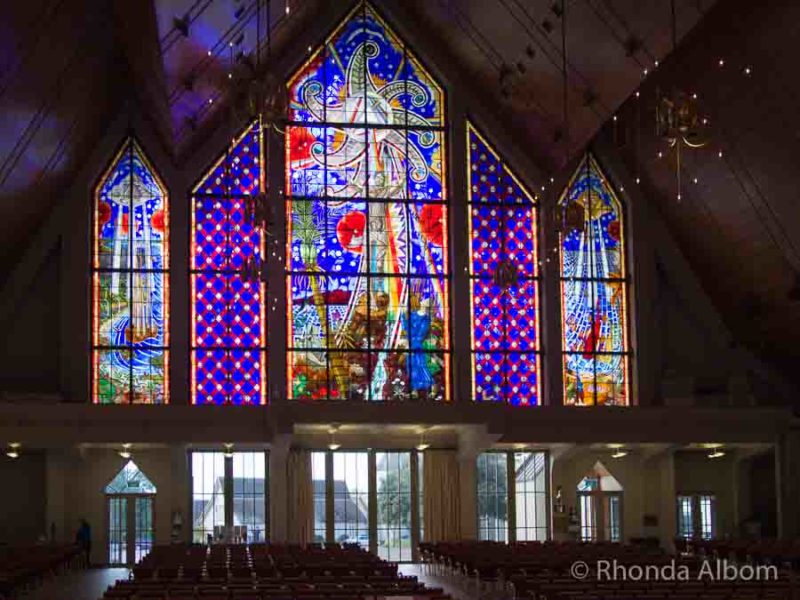 Along the east and west walls of the nave are 18 windows that pictorially tell the story of God's redeeming actions with his people using both historic and New Zealand symbolism. Dedicated in 2004, the modern windows are both an effective storytelling method and a magnificent decor drawing thousands of tourists annually.

Download a detailed description of each of the windows.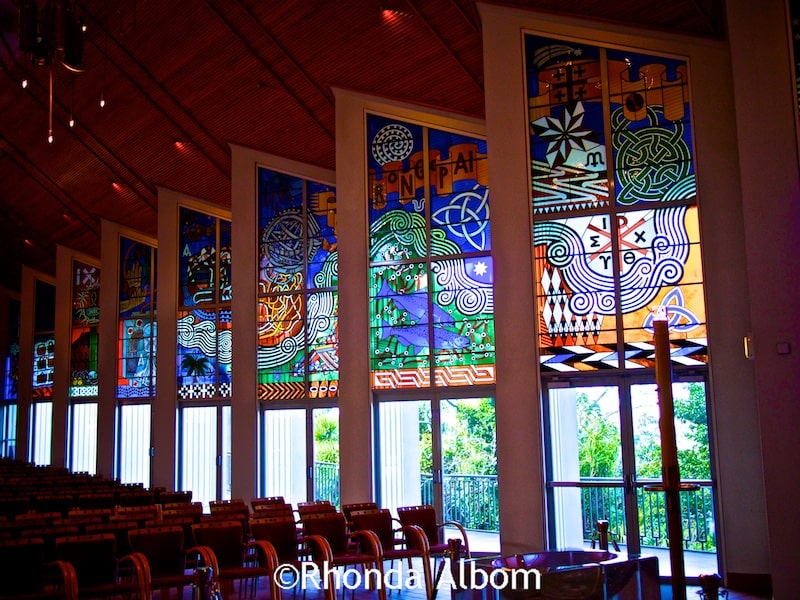 The acoustics of Holy Trinity Cathedral Auckland
The acoustics seem perfect, and we happened upon a choir rehearsal on one visit. I could have listened forever as the melodic tones echoed off of the walls and the passion of the voices invited us in.
A newly commissioned Cathedral organ, completed in 2017, compliments the acoustics. Imagine the rich and magnificent sound produced by 5,432 pipes.
Taking advantage of the acoustics, schools and professionals frequently have concerts at the cathedral. Brooke Fraser, Dave Dobbyn, and Bic Runga have each performed there in the past.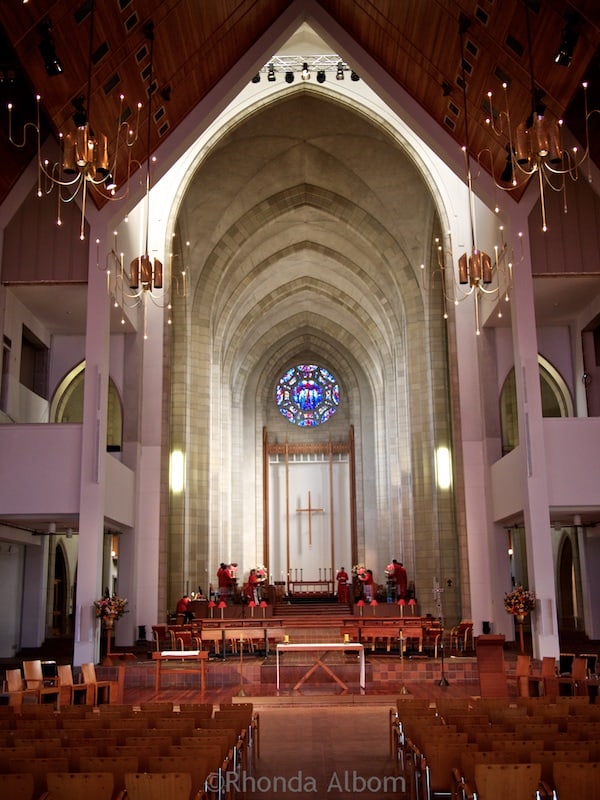 Holy Trinity Cathedral Exterior
Saint Mary's parish church in the Holy Trinity Cathedral Auckland complex
Just outside of the main cathedral stands Saint Mary's church. Regarded as one of the finest wooden gothic buildings in the world, it dates back to 1886. When built, it was a parish church and the pro-cathedral for the Anglican Diocese of Auckland.
Native kauri wood covers Saint Mary's well-maintained interior. Small in comparison to Holy Trinity, with a seating capacity of 550, it is one of New Zealand's larger wooden churches.
Interestingly, it is not in its original location. It joined the Holy Trinity Cathedral complex in 1982 when it was moved in one piece from across the road.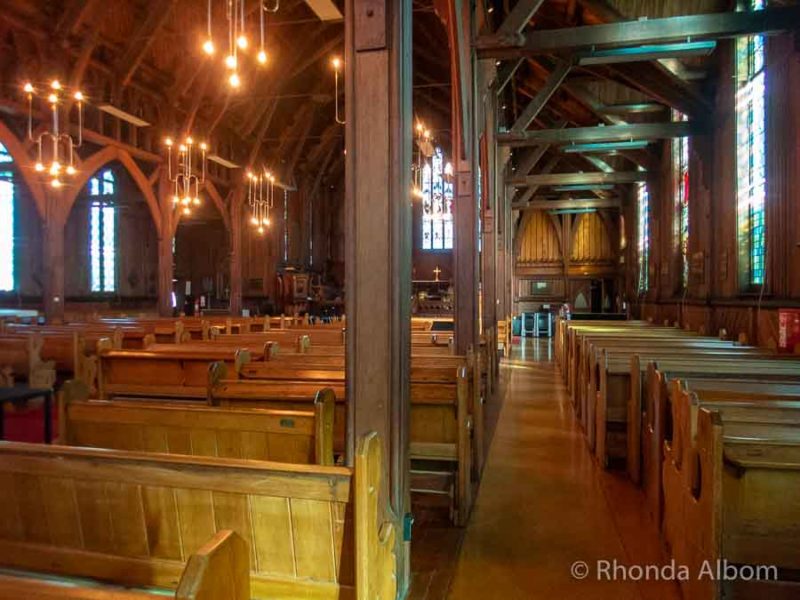 Getting to Holy Trinity Cathedral Auckland
Holy Trinity Cathedral is located at the corner of St Stephens Avenue and Parnell Road in Auckland, New Zealand.
Access to their large car park is from Brighton Road or Parnell Road. Note that parking is free only for those attending Sunday services. There are pay and display metres for other times, including events, weddings, and funerals.
City bus options include both the green Inner Link and orange Outer Link buses that stop right outside the cathedral, or the 703, which requires a short walk. Similarly, it is a short walk from the Parnell railway station. You can use the free journey planner from Auckland transport to get directions via public transportation.
If you are a visitor to the city and ready for some exploration, the Auckland Hop on Hop off Explorer bus also stops at Holy Trinity Cathedral.
Practical information on visiting the Holy Trinity Cathedral Auckland:
Save on your NZ trip with these resources
These are our go-to companies when we travel. We believe this list to be the best in each category. You can't go wrong using them on your trip too.
Check out our travel resources page for more companies that we use when you travel.
Save for later
If you enjoyed this article on the Holy Trinity Cathedral, save it for later on Pinterest: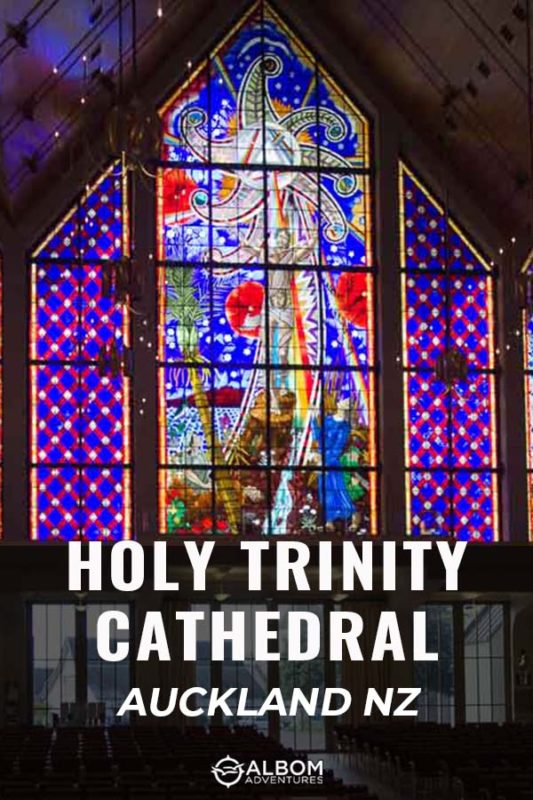 Have you visited the Holy Trinity Cathedral in Auckland?
SaveSave