Kelly Tarlton's Sea Life Aquarium was the first place we visited when we arrived in New Zealand over 12 years ago. Despite being tired from the long flight we were looking forward to seeing penguins and riding the moving sidewalk through the world's first acrylic tunnels allowing stingrays, sharks, and other southern ocean marine life to freely swim all around us. It lived up to our expectations back then, and to my surprise, surpassed them last week.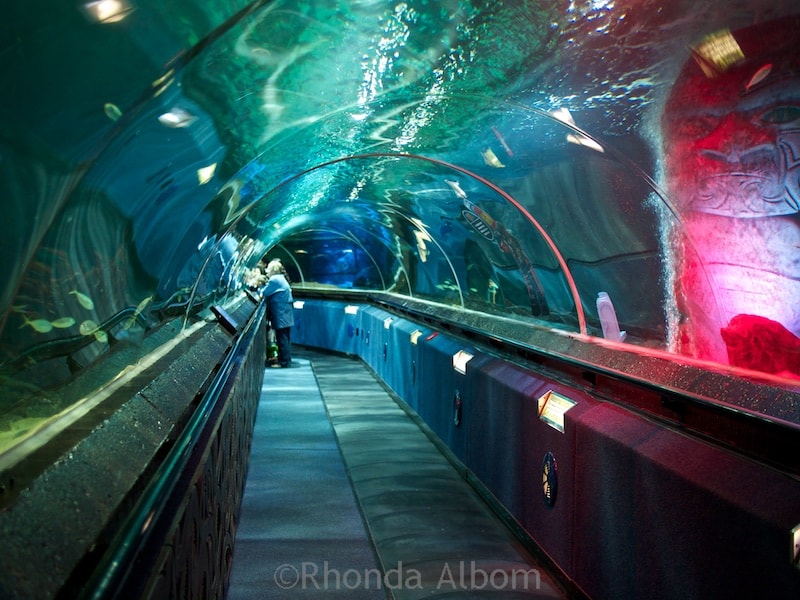 Even before entering, we are transported to a different world as we walk down the ramp from street level to reception. As a visitor, the lighting seems perfect; as a photographer, I found it a bit dark. Here are some of my highlights:
Replica of Captain Robert Falcon Scott's Antarctic Hut
Captain Scott lead the Discovery Expedition to Antarctica in 1901–04. Several years later he led a second expedition that reached the geographic south pole on 17 January 1912, 34 days after Norwegian Roald Amundsen became the first to accomplish this. Sadly, Scott and his team were lost in a whiteout blizzard in 1912 on their return.
The pathway through Kelly Tarlton's allows us to experience the disorientation of a whiteout as we pass through a slowly spinning white tube. Stopping for a few moments and turning to the side enhances the effect.
Antarctic King and Gentoo Penguins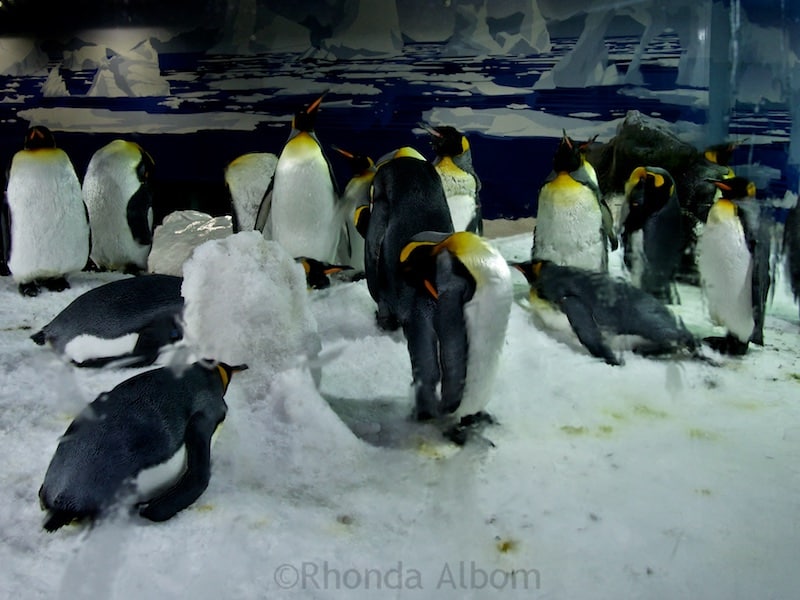 Polar Plunge Trial
A Peek Under the Ocean
Leaving Antarctica, we return to the Southern Ocean of New Zealand . . . literally: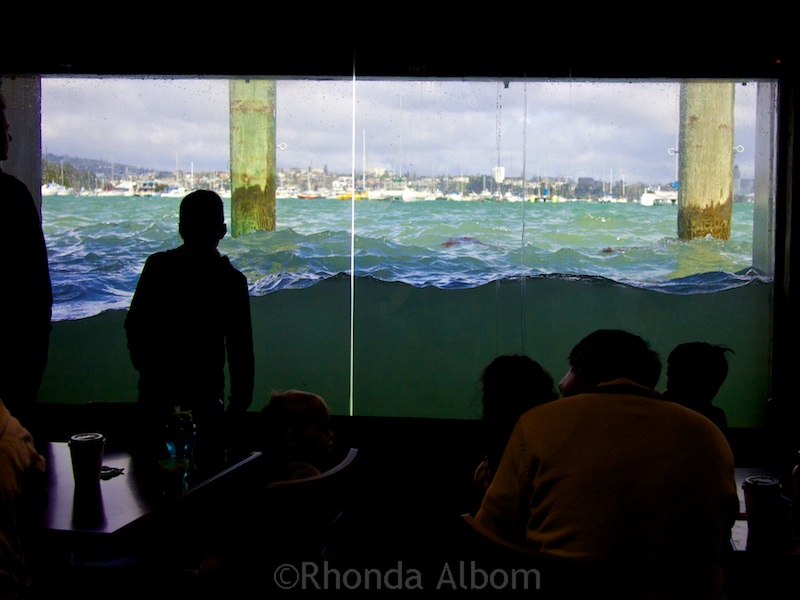 Stingray Bay
Shark Tunnels
Finally, the area I remember most clearly from all of our visits so many years ago.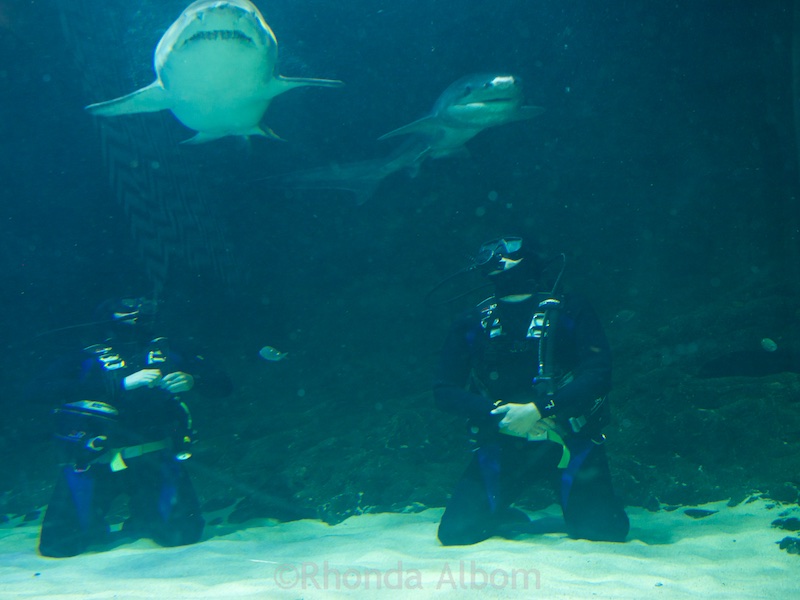 Fish Gallery
There is still more: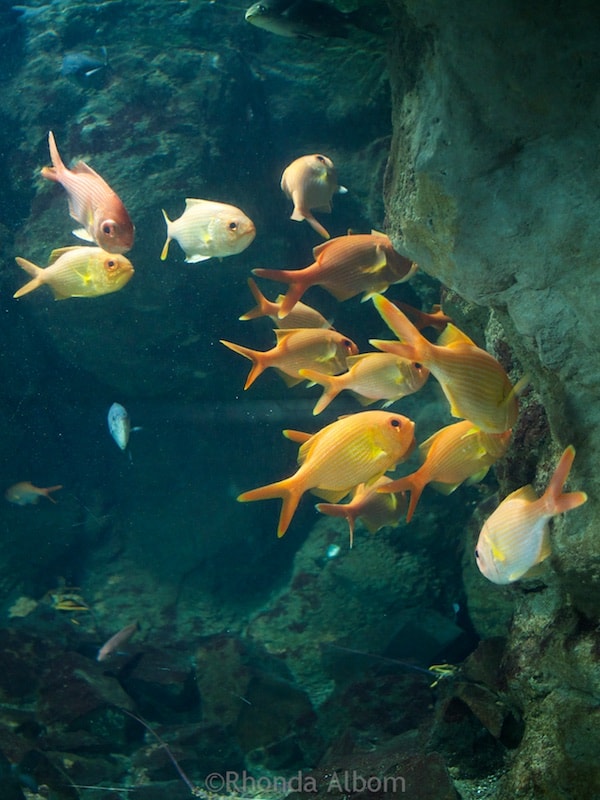 Gift Shop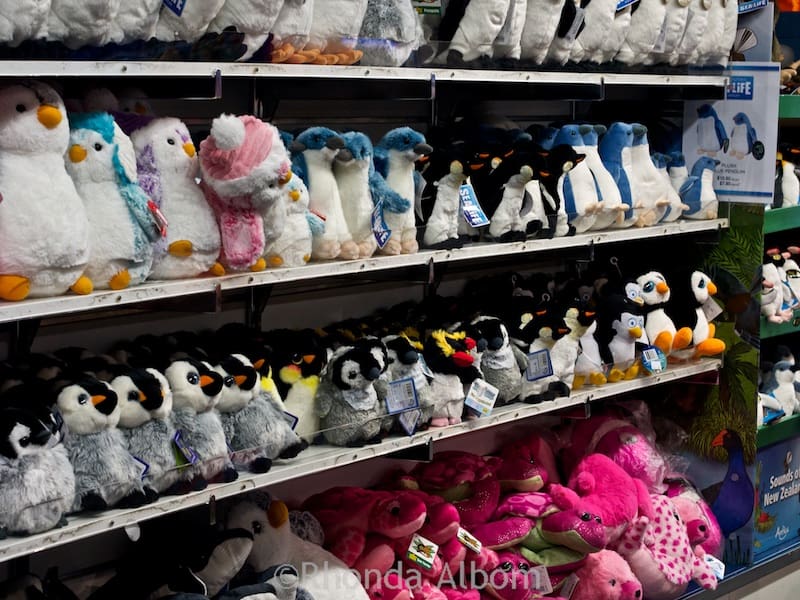 Practical Information on Visiting Kelly Tarltons:
Kelly Tarlton's Sea Life Aquarium is located at 23 Tamaki Drive, along the Auckland waterfront about 6 kilometres east of the Auckland CBD. It is an underground facility, therefore doesn't look like much from the outside.
The buildings at either ends of the car park are the entrance and exit, so there are no bad spots, however, the lot is often full and street parking is required.
A free shuttle bus runs daily with pick up in the CBD on the half hour from 172 Quay Street (opposite the downtown ferry terminal). The last shuttle pick up is at 3.30, however, the last shuttle to return to the city leaves from Kelly Tarlton's at 3.20, so plan accordingly. You'll recognize the bus as it looks like a giant shark with wheels.
For more information, see Kelly Tarlton's Sea Life Aquarium official website.
→ Check prices and get tickets in advance
Conclusion
Kelly Tarlton's Sea Life Aquarium is good fun for young and old. Most of the more adventurous activities include entrance, so a bit of planning can save quite a bit of money.
** Kelly Tarltons is just one of many fun things to do in Auckland.
If you enjoyed this post, please share it on social media and pin it:
Penguins, shark tunnels, marine life, Antarctica; which is your favourite bit of Kelly Tarlton's Sea Life Aquarium?
Disclaimer: I was provided with a complimentary entry to aid in the writing of this page. However, the opinions expressed here are strictly my own.