Kelly Tarlton's Sea Life Aquarium is not just for kids, although it is definitely a hit with children.
As an adult, I am intrigued by exhibits about the original Antarctica explorations, captivated by penguins, enchanted by the turtles, and impressed by the sheer engineering genius that created the shark tunnels. While children have different levels of fascination.
It's a special place, and it doesn't take long to understand why it is one of Auckland's top attractions. In fact, the very first time we set foot in New Zealand, Kelly Tarlton's Sea Life Aquarium was the first place we visited.
Despite the jetlag, our then young children were super excited about penguins and riding a moving sidewalk through the world's first curved acrylic tunnels allowing stingrays, sharks, and other southern ocean marine life to freely swim all around us.
It lived up to our expectations back then, and to my surprise, surpassed them on our last visit almost 20 years later.
Reduced daily capacity makes booking ahead more important.
As daily capacity has been reduced and frequently reached, booking in advance guarantees your entry.
What makes Kelly Tarlton's special?
Unique in many ways, Kelly Tarlton's is more than just a typical aquarium you might find in any major city. Some of the more noteworthy features include:
A replica of Captain Robert Falcon Scott's Antarctic Hut
Not only can you watch Antarctic Penguins, but there is also an opportunity to get on the ice with them (advance booking and extra fee apply).
The moving sidewalk takes you through the world's first acrylic shark tunnel of its type.
Adults can have an underwater encounter with the sharks (advance booking and extra fee apply).
A strong focus on conservation.
A touch pool to interact with starfish.
Highlights from our last visit give you an idea of what to expect at Kelly Tarlton's Sea Live
Antarctic Adventure
Captain Robert Falcon Scott lead the Discovery Expedition to Antarctica in 1901–04. Several years later he led a second expedition that reached the geographic south pole on 17 January 1912, 34 days after Norwegian Roald Amundsen became the first to accomplish this. Sadly, Scott and his team were lost in a whiteout blizzard in 1912 on their return.
The pathway through Kelly Tarlton's allows us to experience the disorientation of a whiteout as we pass through a slowly spinning white tube. Stopping for a few moments and turning to the side enhances the effect.
Our southern journey starts with a walk-through replica of Captain Scott's Antarctic hut and an opportunity to imagine life in Antarctica over 100 ago. This is followed by a viewing area overlooking New Zealand's only colony of Sub-Antarctic penguins at play in their cold and icy environment.
We also had the opportunity to do a mini Polar Plunge. An actual Polar Plunge would involve jumping into the icy cold waters. Here we could stick our hands into the icy water, and that was enough to know the "real" polar plunge is not for me. Kelly Tarlton's challenge is to keep your hand submerged for 30 seconds. (I can't confirm that this is currently available.)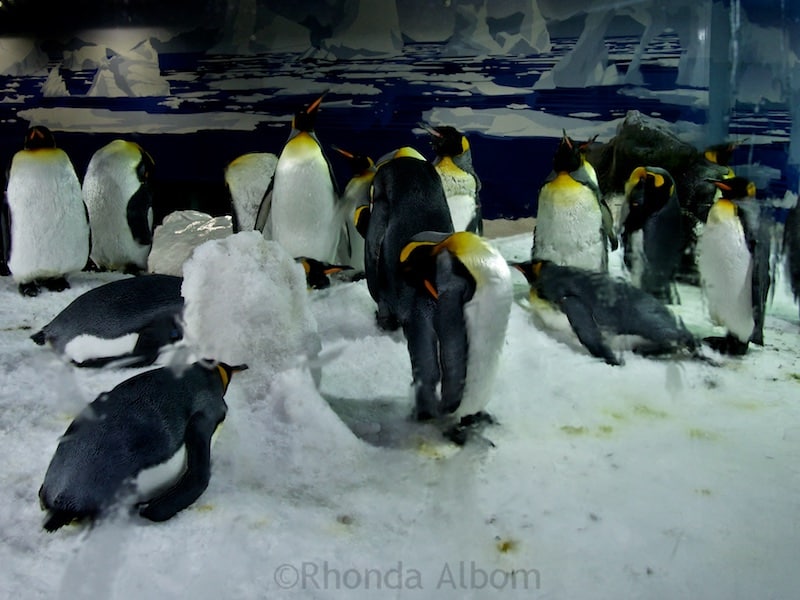 Shark Tunnel
I love the shark tunnel! Honestly, where else can I be safe and completely dry while sharks swim all around me.
To date, we have seen similar tunnels all around the world. But what makes these shark tunnels so unique is that they are the original. The first curved aquarium tunnels in the world.
They represent some of the world's largest aquarium sharks and include the endangered Sand Tiger Sharks, Broadnose Sevengill Sharks, and a Wobbegong Shark.
And, for brave adults who plan ahead, there is an opportunity to get into the tank with the sharks.
Turtles, stingrays and other special exhibits
I don't know why I am so fascinated by stingrays, but I am. Kelly Tarltons has three short-tail stingrays, the world's largest stingray species, on display. (If you are like me, don't miss the opportunity to hand-feed stingrays in the wild if you get to Gisborne.)
There are also Eagle Rays (much smaller) that are located in the Shipwreck Discovery section.
More than just an opportunity for visitors to see some of the marine life, Kelly Tarltons is also a rescue centre. More specifically, Kelly Tarltons is the country's only turtle rehabilitation centre. It is here that you can also get a peek under the current ocean as it laps against the window.
Plus, for kids, there are also touch pools with sea stars, an arts and crafts room for kids where they can watch their coloured creations come to life on the screen, and an indoor playground.
More fish to discover at Kelly Tarltons
If it lives in the Southern Ocean, there is a good chance you will find it at Kelly Tarltons. From colourful tropical species to unusual seahorses, be ready to discover something you have never seen before.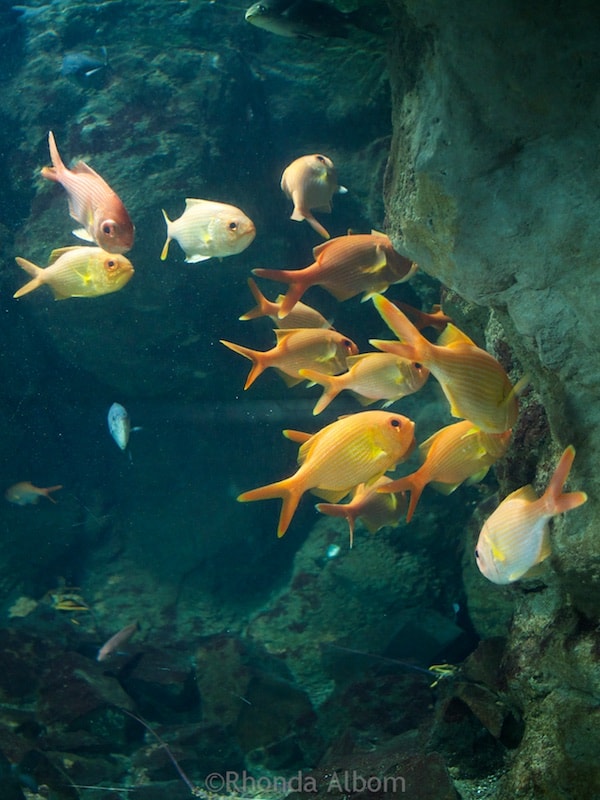 Visiting Kelly Tarltons – what you need to know
Kelly Tarlton's Sea Life Aquarium is located at 23 Tamaki Drive, along the Auckland waterfront about 6 kilometres east of the Auckland CBD. It is an underground facility, therefore doesn't look like much from the outside.
The buildings at either end of the car park are the entrance and exit, so there are no bad carparks, however, the lot is often full and street parking is required.
Always check for discounts in New Zealand
We always check 100% New Zealand owned bookme for discounts before we visit any venues or participate in activities. They frequently feature different discounts depending on the day and time you choose for your activity.
Final thoughts on Kelly Tarltons
Kelly Tarlton's Sea Life Aquarium is good fun for young and old. Most of the more adventurous activities include entrance, so a bit of planning can save quite a bit of money.
If you love Kelly Tarltons, don't miss the national aquarium in Napier.
** Kelly Tarltons is just one of many great Auckland museums and zoos and among the many fun things to do in the city.
Save on your NZ trip with these resources
These are our go-to companies when we travel. We believe this list to be the best in each category. You can't go wrong using them on your trip too.
Check out our travel resources page for more companies that we use when you travel.
*World Nomads provides travel insurance for travellers in over 100 countries. As an affiliate, we receive a fee when you get a quote from World Nomads using this link. We do not represent World Nomads. This is information only and not a recommendation to buy travel insurance.
Which is your favourite bit of Kelly Tarlton's Sea Life Aquarium?
Disclaimer: I was provided with a complimentary entry to aid in the writing of this page. However, the opinions expressed here are strictly my own.