Relaxing on one of the Santos beaches, visiting the Santos Coffee museum, or heading into nearby São Paulo are among the many choices one has when cruising into the Santos Port. Regardless of which you choose, be sure to make your way to the waterfront, where you will easily spot some of the city's 63 leaning buildings.
As we cruised into the Santos Brazil port, passing South America's largest dock, we had two choices for our day onshore.
Many onboard planned to visit São Paulo, Brazil's largest city. While a culturally fascinating choice, the traffic is well known for being miserable, and we were told the journey could take anywhere from 45 minutes to a few hours.
Therefore, we opted to stay in São Paulo's seaside resort town of Santos and enjoy some of the world-famous Santos coffee, relax at one of the many Sanots beaches, ride the funicular, and stare in wonderment at the tilted buildings along the coastline.

Top things to do from the Santos port
Check out the leaning buildings
Relax or play at the beach
Visit the Coffee Museum
Enjoy a fabulous coffee at the Coffee Museum cafe
See the stadium once home to Pelé and visit the Pelé museum
Ride the funicular to the top of Mount Serrat
Admire sea life at the Aquarium of Santos
Leaning buildings in Santos
With 63 leaning buildings intermixed along the oceanfront, it's a bizarre look. They are mostly apartment buildings.
Engineers check the stability of these apartments annually, and the buildings remain habitable by brave souls who don't seem to mind the unsteady environment. Apparently, a marble placed on the high side of one of the units will roll downhill, furniture needs to be shimmed, and a full cup will often overflow. I wonder if dishes fall off the tables?
To date, only one has been straightened. We are unable to find any being used as hotels or even nightly rate apartment rentals.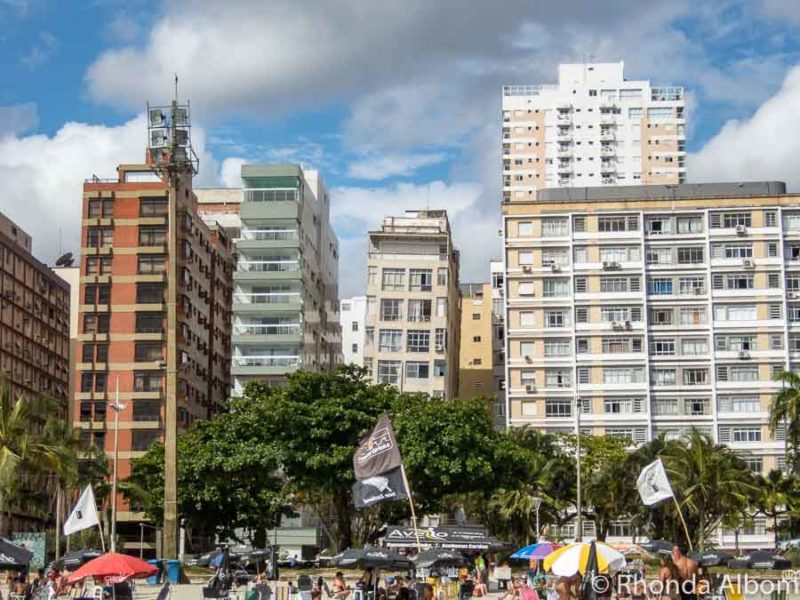 Why do the buildings lean?
The problem stems from lax building codes some 50 years ago. While 63 of the buildings are inspected annually, it is estimated that nearly every beachfront building (over 650) leans to some degree. The most simplistic explanation is that to be stable, the foundations need to be anchored in bedrock. Above the bedrock in Santos is 30-40 metres of unstable clay covered by 7 metres of surface sand. The foundations are anchored in clay. The buildings lean when the clay shifts. Today's building codes are more rigid.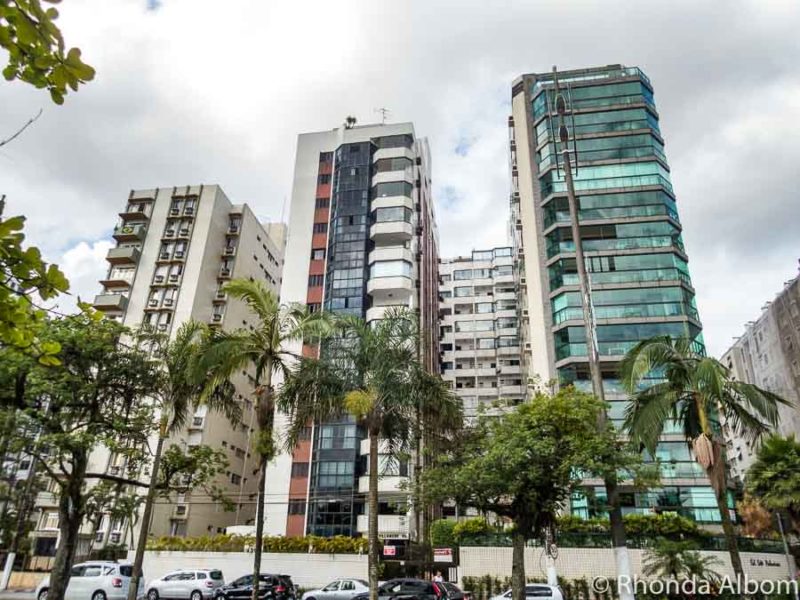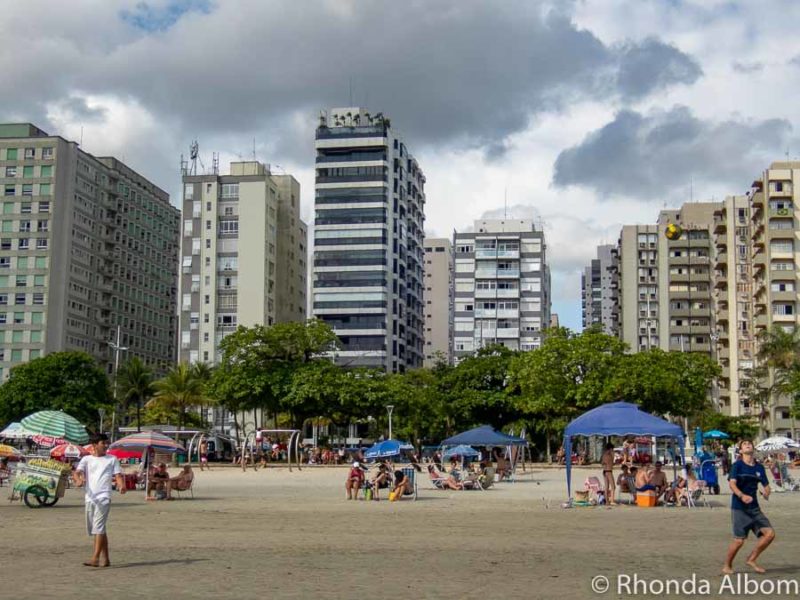 Santos beach
Water is key to this city, with seven major beaches covering five miles and 19 canals that have earned the city the nickname "the Brazilian Venice." Alongside the sand runs the world's largest garden in front of a beach.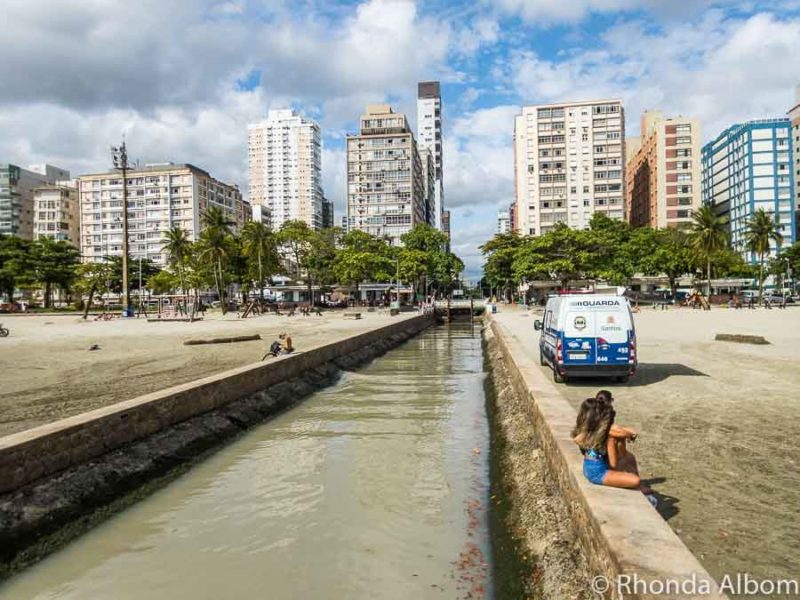 If walking around the streets and beaches of Brazil makes you nervous, or if you want to see more than just nearby beaches on your day in Santos port, check out this full-day private shore excursion for up to six people to the beaches of Santos, Sao Vicente (Brazil's first village), and Guaruja (called the "Atlantic Pearl"): Reserve your Santos beaches shore excursion here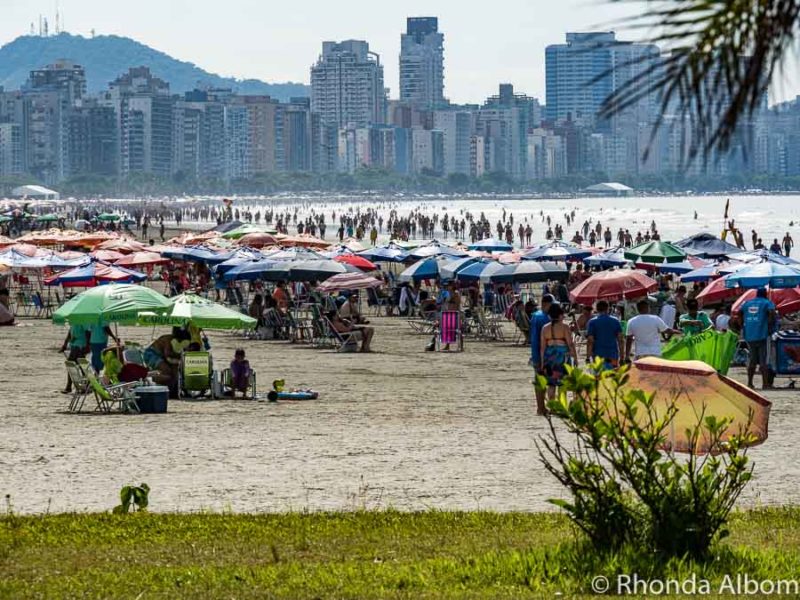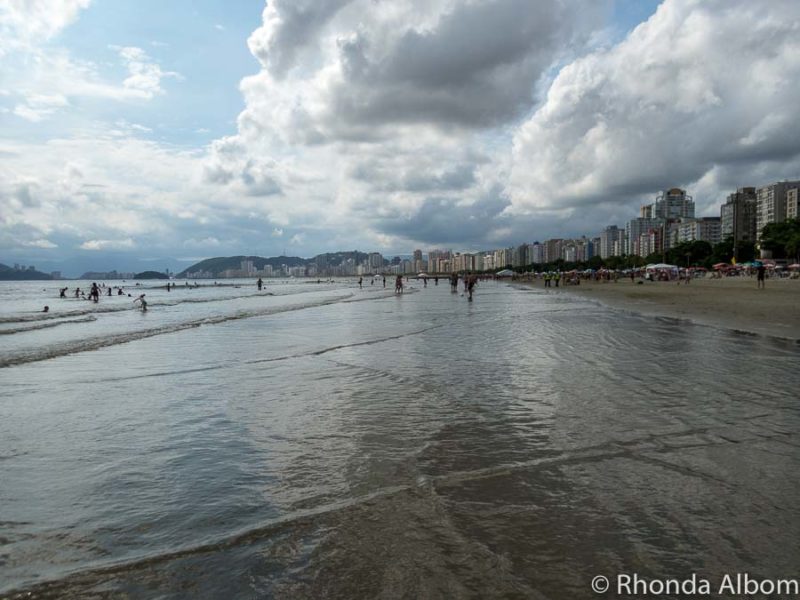 Island of Cobra
This small island just offshore is nicknamed the Island of Cobra, according to our guide. (Portuguese name is: Ilha de Urubuqueçaba).
Apparently, if you stand on the shore long enough, you will eventually see a bird of prey swoop down and pick up a snake. We didn't stay there long enough, nor do have any idea how often this happens, or if it really does.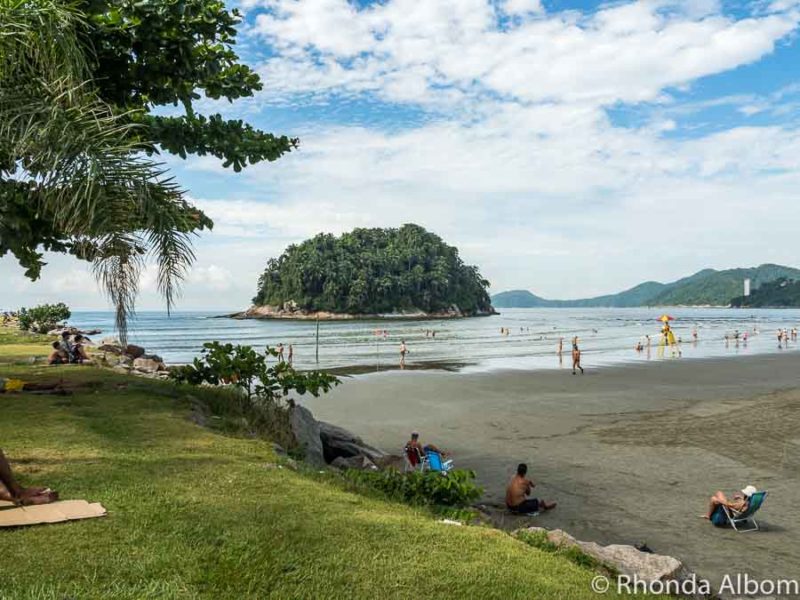 Santos Coffee Museum
For me, there are two obvious highlights of the Santos Coffee Museum. First is the architecture of the building, which is the former coffee exchange market. Secondly, it is in the Coffee Museum Cafe where we had the best cup of Brazilian arabica coffee.
The heavily worded exhibits in the museum are all in Portuguese. The Coffee Museum is 4.5 km (2.8 miles) from the Santos port cruise terminal.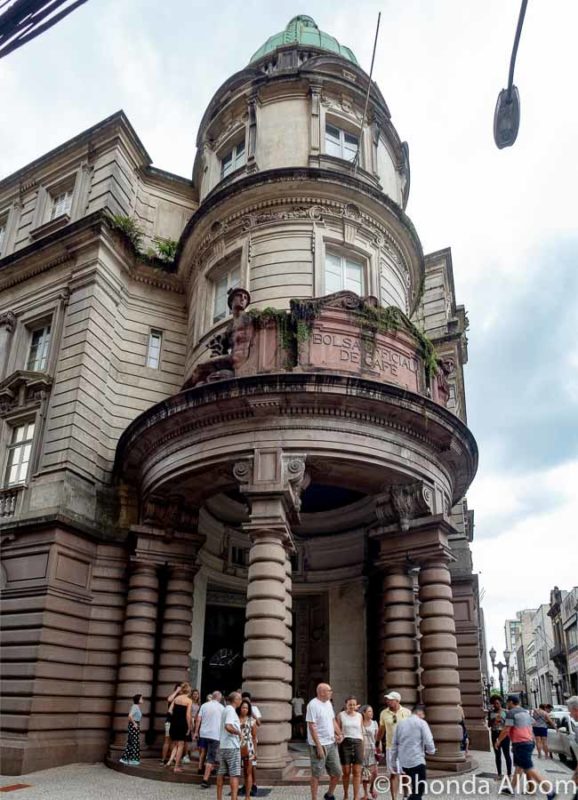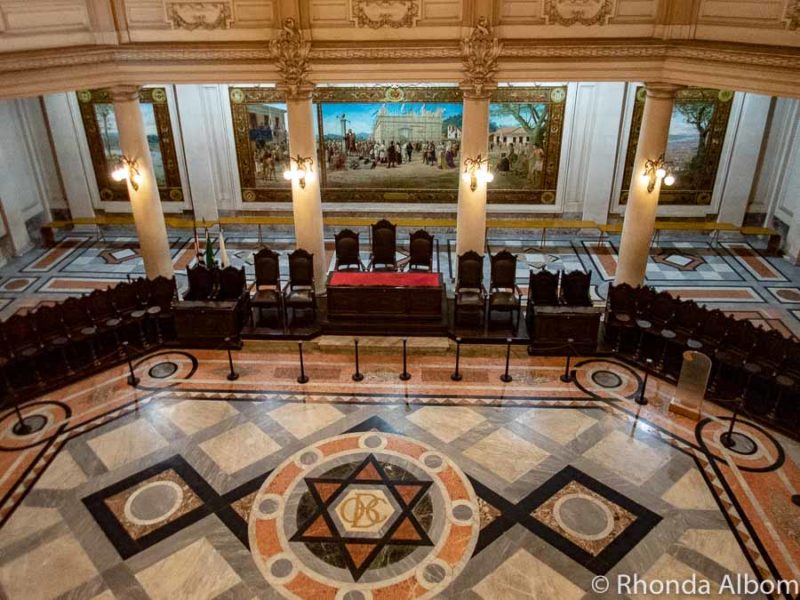 Interesting fact: Today, Brazil is the world's largest coffee producer, and the USA is the world's largest coffee consumer by volume.
Santos Football (Soccer) Club
Football (soccer) fans know Pelé as the world's greatest player. Now living in the hills between Santos and São Paulo, he once played in Santos stadium. Small by world standards, it holds 35,000 spectators.
The stadium is about 6 km (3.7 miles) from the Santos port cruise terminal.
If you are an over-the-top football fan, consider a private football shore excursion. It will take you to the Santos Football Stadium, the Pelé Museum, the São Paulo Stadium and Museum, the Palmeiras Stadium and Museum, and the Corinthians Stadium and Museum before returning you to your ship. Reserve your private football shore excursion here
Funicular to Mount Serrat
For great views over the city, we took the funicular up to the top of Mount Serrat. The building at the top, now a cafe, is a former casino that was popular in the early half of the last century until Brazil banned casinos in 1946. Brazil has since banned bingo halls (2007) as there was concern that they were laundering money.
Also at the top is a tiny church, Our Lady of Mount Serrat. It was built in 1605 to protect the city from pirates.
The entrance to the funicular is 4.5 km (2.8 miles) from the Santos port cruise terminal and 1.2km (.8 miles) from the Santos Coffee Museum.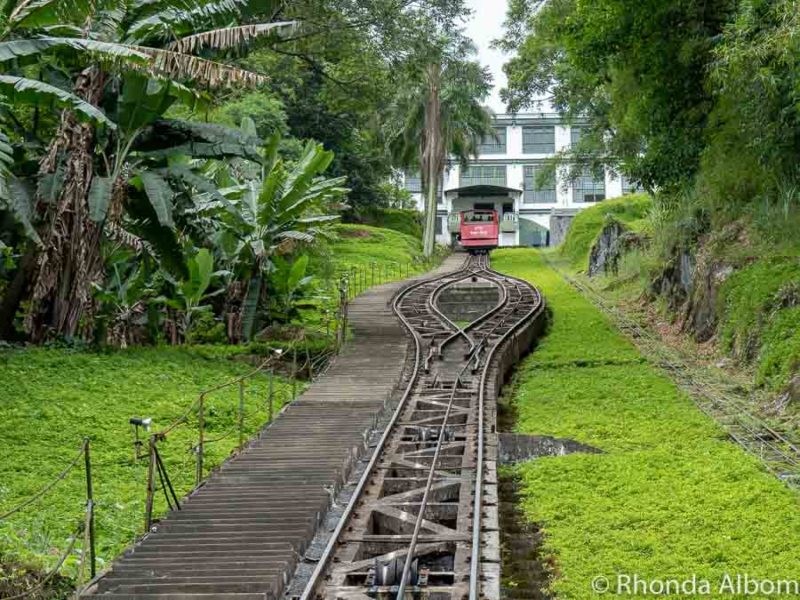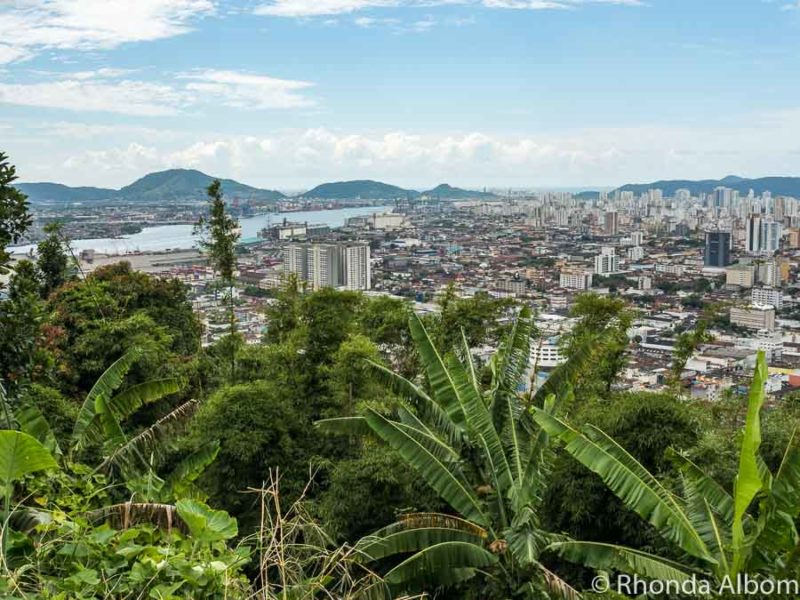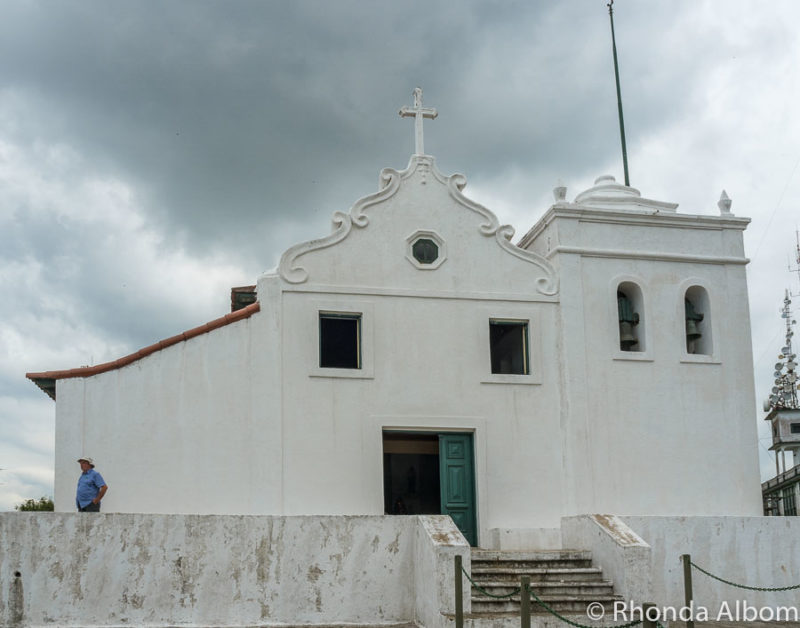 Getting around Santos city
Taxis with meters are generally considered to be safe.
A public bus can be a good option if you speak Portuguese. If not, you may find it difficult to navigate as the signage will be in Portuguese, and the bus drivers will generally speak only one language.
Rent a car and self-drive. Be warned, traffic can be pretty bad if you are planning to drive to São Paulo. In South America, we had our best luck renting cars through RentalCars.com. We tried going directly to the agent in one city and in the end, we paid considerably more among other problems. (Personally, I will avoid direct booking with Europcar in the future.)
If you are visiting from a cruise ship as we did, you can save money by taking an independent excursion.
Other things to do in Santos Brazil
As a cruise port, we had only one day here. Here are some of the other key things to do in Santos:
Admire sea life at the Aquarium of Santos (family-friendly).
Take a ride in the old trams.
Discover history at the old fortress of Santo Amaro.
Enjoy over 6,000 orchids at the Municipal Orchidarium.
Shop at the modern Praiamar Mall.
Spend a day in nearby São Paulo. We opted not to do this as it was the week between Christmas and New Years in Brazil, and the normally heavy traffic that separates these two cities was expected to be worse. With predictions of up to four hours to return to the Santos port if we went to São Paulo, we opted to stay in Santos city. Drive time with no traffic is about an hour, as the two cities are only 75 km (46.6 miles) apart.
Watch the boats at Santos Port, Latin America's second busiest container port with nearly 16 km (10 miles) of docks.
Practical information and tips on visiting from the Santos Port Brazil
Be sure to notice the leaning coastal buildings.
If you are a soccer fan, don't miss the Pelé Museum.
For the best Brazilian coffee in town, get one at the cafe in the coffee museum. If you are brave, try the exquisite Jacu coffee. Its seeds passed through the digestive system of a Jacu bird. (A similar process to civet coffee.) Or, buy jacu coffee beans from Amazon.
Even in shopping malls, if you pay with cash, you can ask for a discount and will usually get about 5% off.
The coffee museum will take US dollars, but most places in town will only take Brazilian reals (National currency).
Other nearby Brazilian ports that we visited included: Paraty, Buzios, Itajai, and Rio de Janeiro.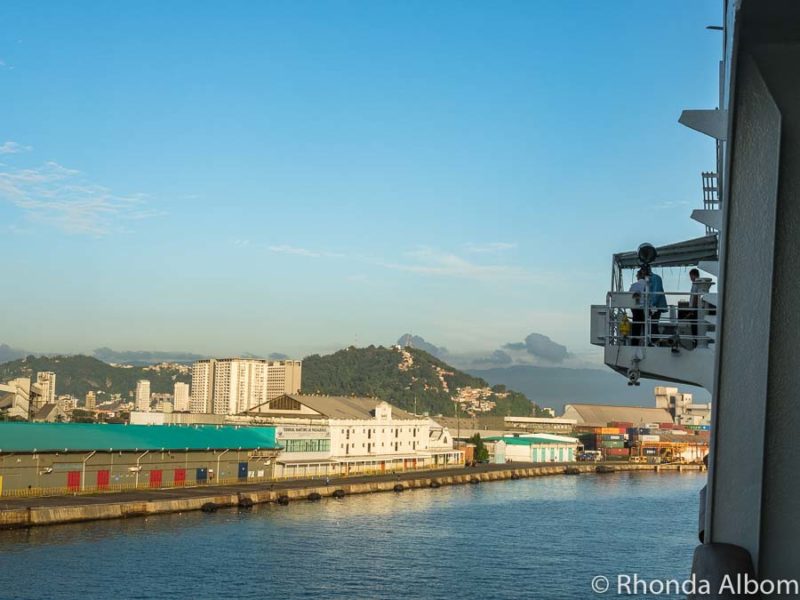 Stay a while at one of the Santos Brazil hotels
If we weren't on the ship, I could easily imagine myself staying in Santos a while. It's a relaxing seaside community. With a reputation like that of Flordia in the USA, Santos is a popular retirement community with about 20% of the population over age 60. Reserve a room at a Santos hotel or at one of the São Paulo hotels
Photography on this page
In Brazil, my mirrorless camera (Olympus OMD-em5) never left the cruise ship. Instead, I took the predecessor to the Olympus TG-6, a tough little shockproof, waterproof, dustproof, crushproof, and freezeproof point-and-shoot camera that has an option of RAW output. As you can see from above, it takes great shots. It's the perfect camera to keep in my pocket, especially in questionably safe areas.
Save on your trip with these resources
These are our go-to companies when we travel. We believe this list to be the best in each category. You can't go wrong using them on your trip too.
Flights: we use Expedia for the best and cheapest flight options.
Accommodations: we use Booking.com (hotels), VRBO (self-contained), or Hostelworld (budget).
Cars (gas or electric): we use RentalCars to search for deals and dealer ratings.
Campervans or Motorhomes: we use Campstar where Albom Adventures readers get a 3% discount.
Motorcycles: we have heard good things about BikesBooking.
Private guides: we love the private guides at Tours by Locals.
Travel Insurance: while not required, we always opt for travel insurance and start at InsureMyTrip to compare coverage plans.
Check out our travel resources page for more companies that we use when you travel.
Please Share on Social Media
If you enjoyed this article, please share it on social media, including Pinterest.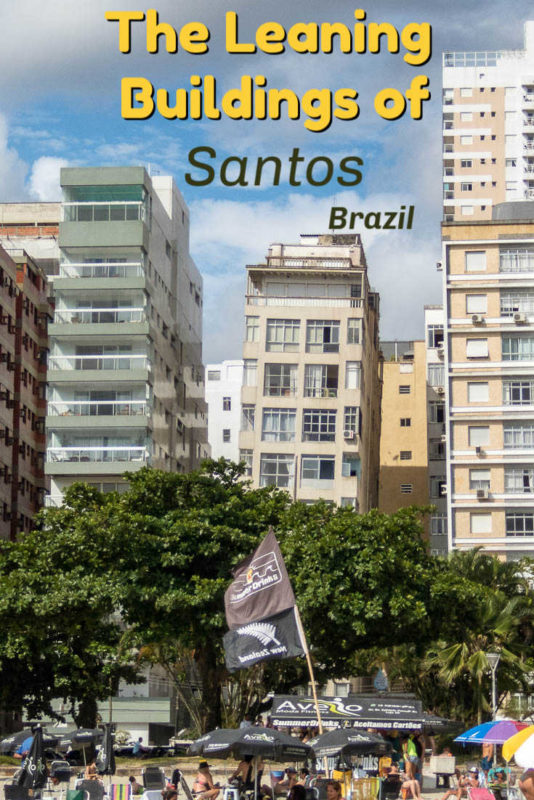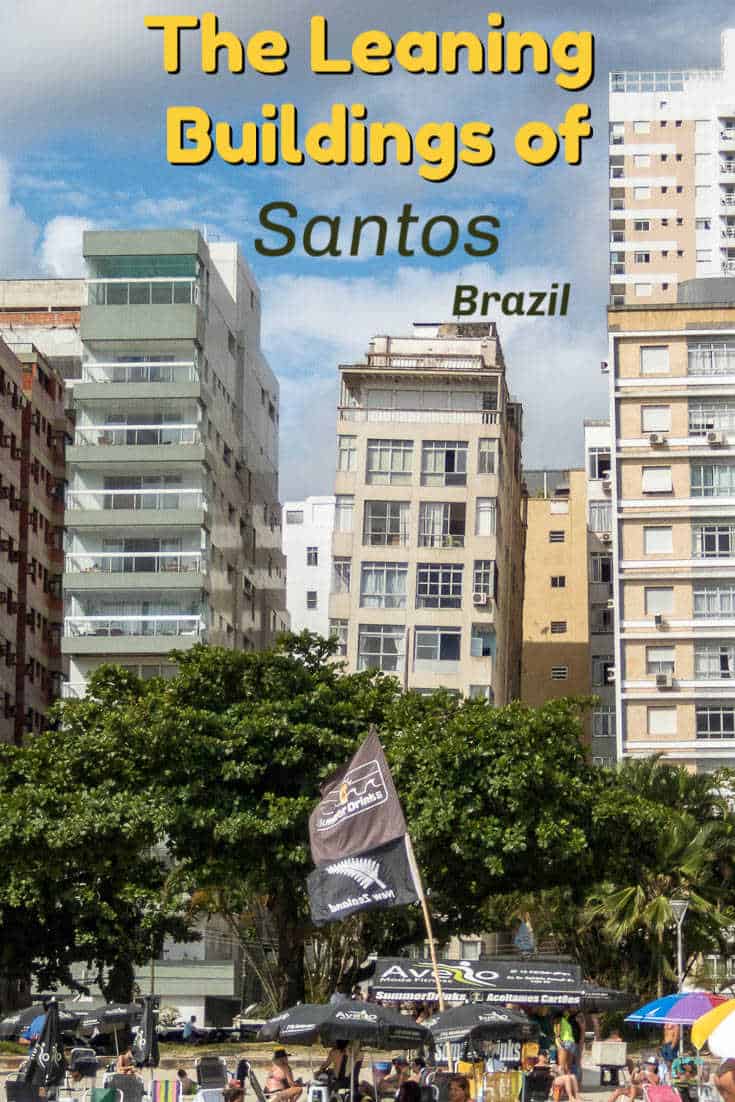 Click here to see our full South American itinerary.
If you cruise into Santos Port Brazil, will you spend your day: drinking Santos coffee, relaxing at one of the Santos beaches, or in São Paulo?