I am not a fan of crowds. So what was I doing at an event that has 2 million people on Copacabana Beach in Rio de Janeiro on New Year's Eve? Fourteen minutes of fireworks across 4 km of a brightly lit up beach is quite an attraction creating one of the world's biggest New Year's celebrations.
People come for the Copacabana New Year's from all around the world, bringing friends and money.
In total, the year we were there the city estimates that the weekend will bring in $541 million BRL (Brazilian reals). Not bad for an event that cost the city of Rio de Janeiro $25 million BRL ($6.76m USD).
Called Revellion in Portuguese, it's a Brazilian party second only to Carnival. Copacabana Beach is one of the best New Year's Eve parties in the world.
It's not just a visual event, we felt it in down to our bones. From the first burst of fireworks to the finale it was 14 minutes of heart-pumping adrenalin making it obvious why Rio's New Year's eve is world-famous (second only to Sydney, Australia).
We watched the fireworks from a boat
Copacabana is one of the most famous beaches in Brazil. However, it isn't all that safe on the best of days. With 2 million people (that's half the population of New Zealand) standing shoulder to shoulder, there is plenty of pickpocketing and other petty crime.
A Copacabana New Year's in Rio de Janeiro may be on your bucket list but there are safer ways to enjoy it. We did it from the sea.
Standing on the deck of a small cruise ship, we could see it all, enjoy champagne, hear the party, and feel the energy pulsing through our bodies as we enjoyed one of the world's best fireworks shows. If you are going to be on the beach, check out the safety tips below.
Here is what it looked like: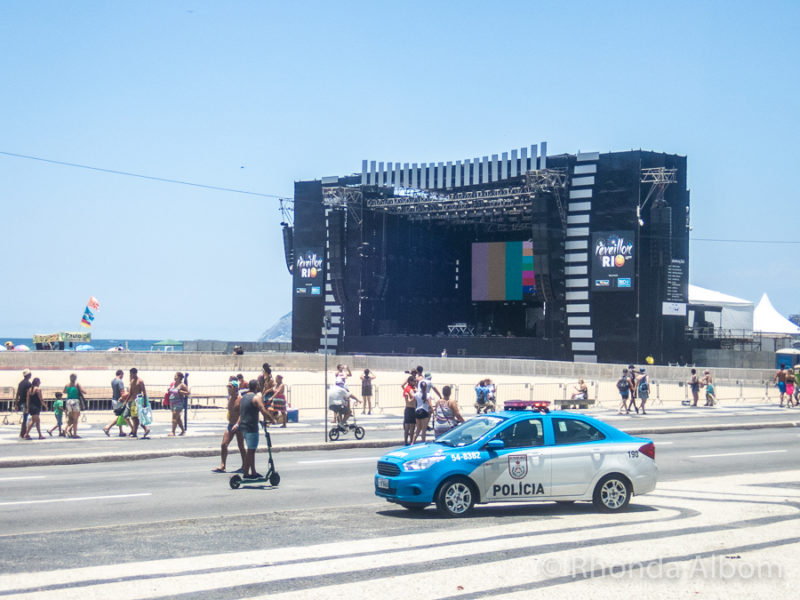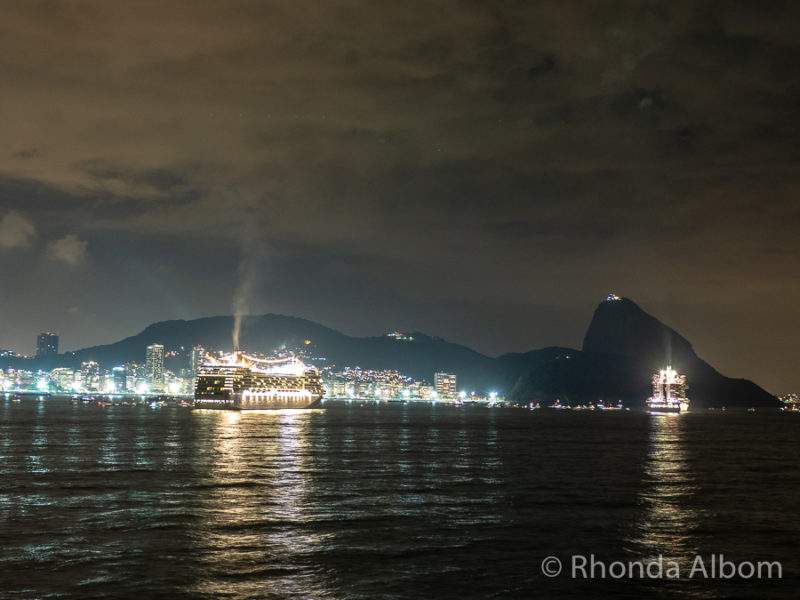 Revellion: Let the fireworks begin
And then the fireworks began. As the show progressed, smoke filled the sky, reflecting colours while at the same time blocking out some of the fireworks. To better understand the massive size of this beach display, notice the boat on the right-side foreground. It is the Costa Fascinosa, a cruise ship holding nearly 4,000 passengers.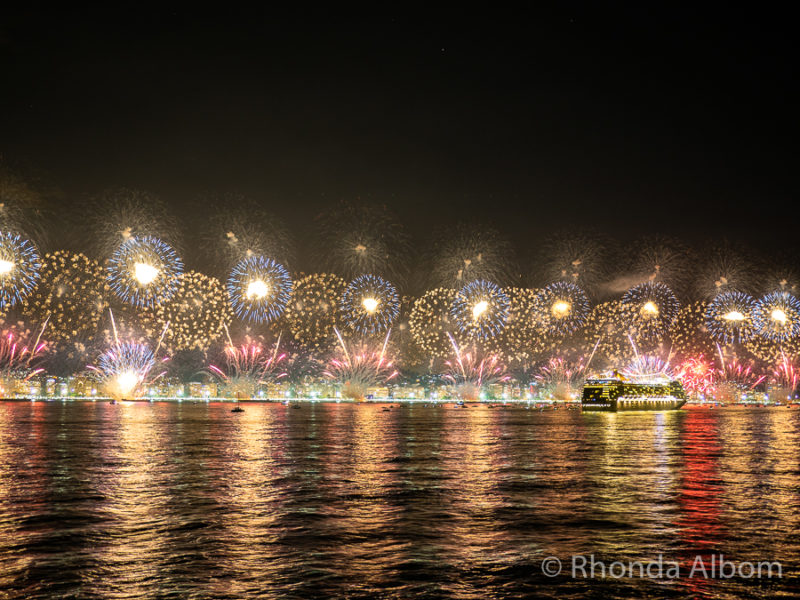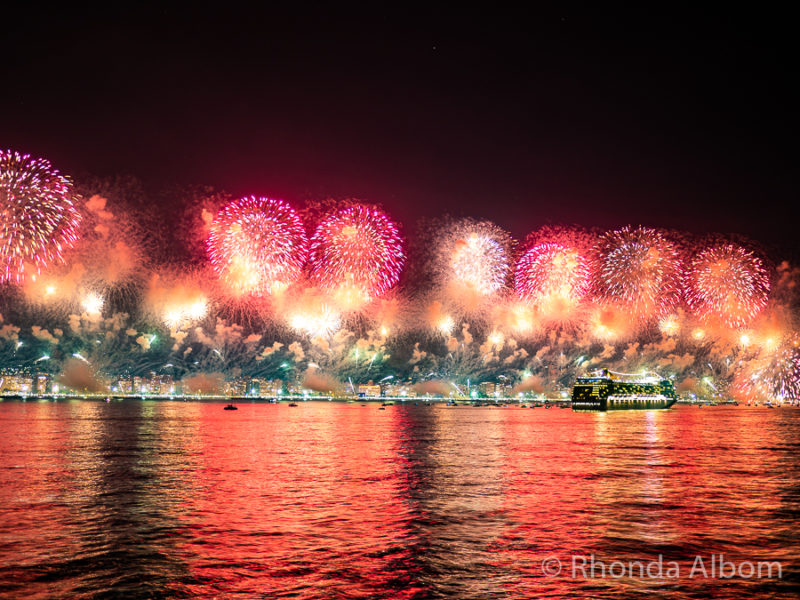 Popular Rio de Janeiro New Year's Eve superstitions to bring good fortune for the coming year
These were told to us during a Rio city tour we had during the afternoon of New Year's Eve.
Wear white. This stems from the African religion. However, if you want to wear colours, wear yellow for money, or red for love. Many people wear these under their white layers. Never wear black.
Release flowers into the sea.
Hop seven waves at midnight.
Eat seven grapes.
Eat lentils.
Wrap seven pomegranate seeds in foil and carry them in your pocket.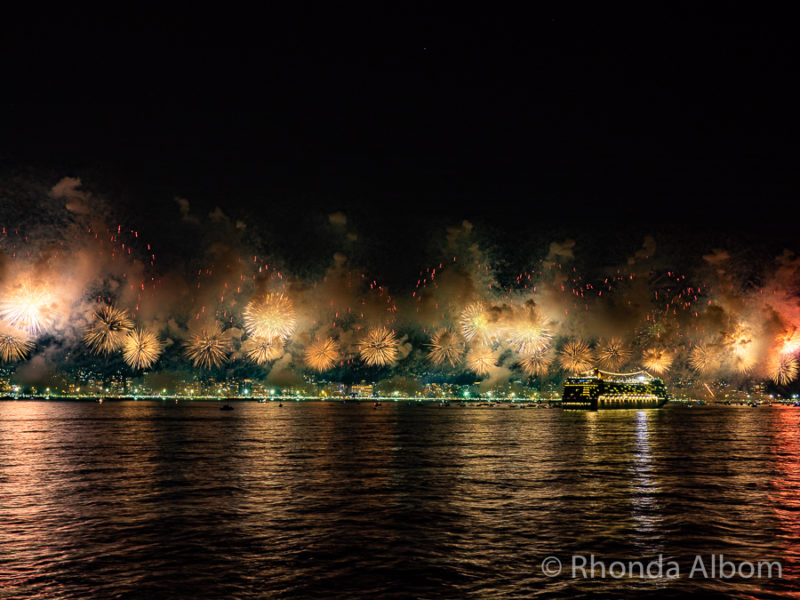 Practical tips for Rio de Janeiro on New Year's Eve
Book early.
If you are planning to go next year, or even thinking about it, now is the time to book a hotel. If you use booking.com and get a rate that is fully cancelable, you can always change your mind. But, with 2 million people heading to Copacabana beach, it's best to have a place to stay.
Probably the best place to stay is the Copacabana Palace Hotel. It's certainly where we would stay if we hadn't been on a cruise ship. Right on the beach, it is absolutely first-class and lovely. An ideal spot for New Year's Eve or any night.
If you are taking a cruise, also book early – although we only booked ours in August, and it sailed with several empty cabins (to our surprise).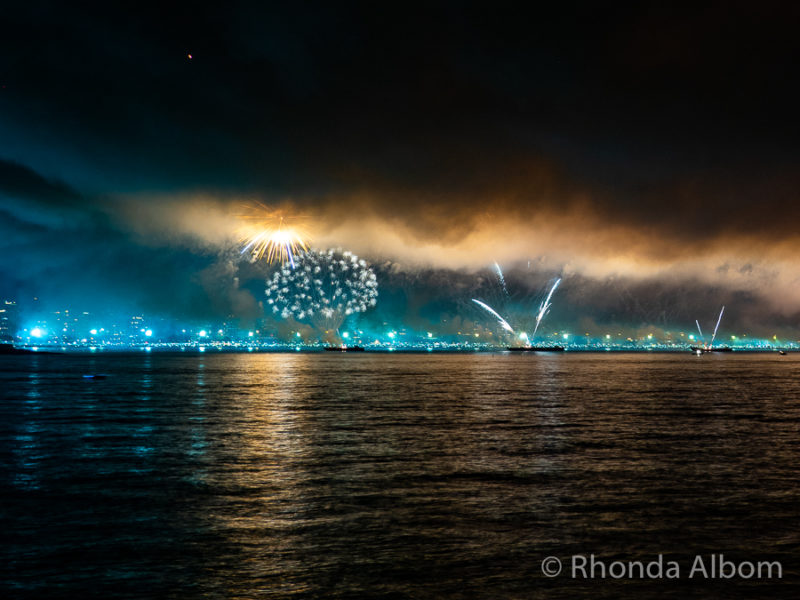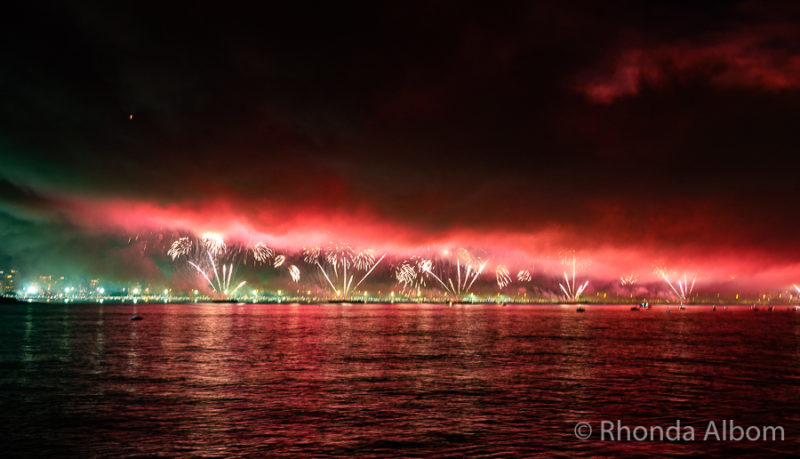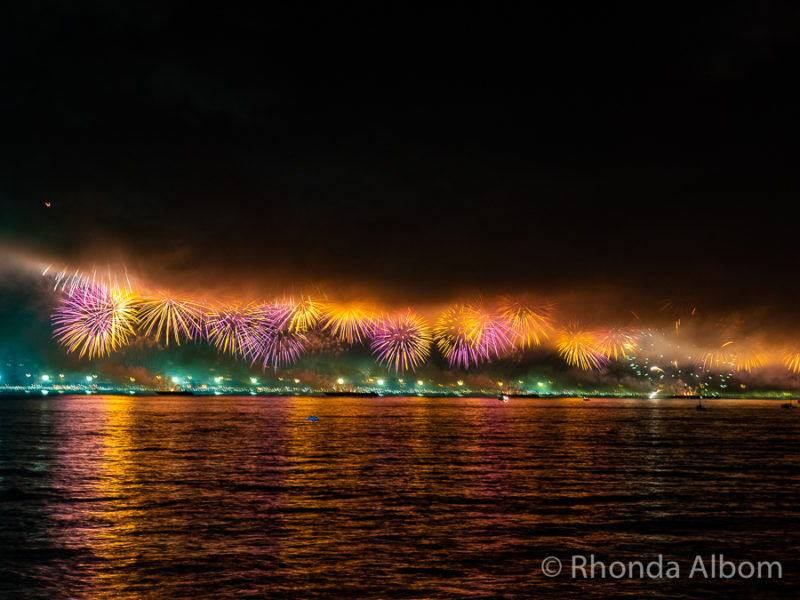 Safety tips for New Year's Eve on Copacabana beach
If you are heading to the beach, go empty-handed and always be aware of your surroundings.
Do not wear jewellery. It is very common for necklaces to be ripped right off of necks, watches pulled off wrists, and I don't even like to think about what happens when they snatch your earrings.
Keep cameras in a backpack or zippered pocket. Take them out only when you are going to take photos.
Hold your backpack in the front, under one arm – if you bring one. Ideally, leave it at home.
Speak Portuguese on the beach if you can.
Do not bring a wallet, but rather the exact amounts of money you plan to spend, ideally, each group in a separate pocket. Perhaps some for food and drink and a different small wad for the taxi (ideally you have booked early enough to be able to walk to Copacabana beach, as taxis and buses will be nearly impossible to get after the fireworks).
As a safety precaution for everyone, the fireworks are shot from barges at sea.
Don't be so paranoid that you cannot have fun, but do be cautious. Check out our general safety tips for travelling in South America.
Rio de Janeiro is a fabulous city to visit. See more on our daytime adventures in Rio or click here for our nine-week South American itinerary.
Save on your trip with these resources
These are our go-to companies when we travel. We believe this list to be the best in each category. You can't go wrong using them on your trip too.
Flights: we use Expedia for the best and cheapest flight options.
Accommodations: we use Booking.com (hotels) or VRBO (self-contained).
Cars (gas or electric): we use RentalCars to search for deals and dealer ratings.
Campervans or Motorhomes: we use Campstar where Albom Adventures readers get a 3% discount
Private guides: we love the private guides at Tours by Locals
Travel Insurance: we start at InsureMyTrip as they are the best option to compare plans and find the right coverage for you.
Check out our travel resources page for more companies that we use when you travel.
Please share
If you enjoyed this article, please share it on social media, including Pinterest:
Have you ever, or will you one day enjoy Rio de Janeiro on New Year's Eve?
Note: This page based on New Year's Eve 2018-2019.