Surrounded by huge and dramatically carved mausoleums, we strolled through the Recoleta Cemetery in wonderment. It's neither the oldest nor the largest cemetery in Argentina, but it certainly is the most famous.
Intriguing rather than depressing, the intricately decorated, mostly art nouveau above-ground tombs draw you into the Buenos Aires' Recoleta Cemetery.
Its vaults hold the remains of presidents, generals, and former first lady Eva Perón (Evita), plus thousands of others. With about 5,000 mausoleums, it is not surprising that there are eerie legends and fascinating stories.

First, let Argentina inspire you …
Do it yourself, or take a Recoleta Cemetery tour?
The best choice we made was to hire a guide, a knowledgeable historian who could show us details we would never have found on our own. It's easy to miss something otherwise.
For Spanish speakers, there is a free guided tour at 11 am (daily Tuesday-Sunday), with a second tour at either 2 pm or 3 pm, depending on the day.
We found a guide at the entrance. After a brief chat, we decided his fee for a private tour seemed reasonable, and his English was good. However, we were lucky that there was an available guide at the time. In retrospect, we might have booked a tour in advance.
After taking a look at the options, we are most impressed by this half-day Recoleta and Retiro tour.
Highlights, legends, and ghost stories from Recoleta Cemetery
A visit to the Recoleta Cemetery is like touring an outdoor art exhibition. It is one of the most beautiful cemeteries in the world, with more than 90 of its mausoleums having been declared a national monuments.
We had seen it from our room, watched the sunrise over it, and finally, we walked through the gate with our guide.
As we walked, the frequent loose tiles crackled under our feet, the sound reminiscent of breaking china. A chill ran down my spine, an eerie feeling as if perhaps the dead are trying to tell us to get out and leave them alone. We didn't listen, we just kept walking.
Here are some of the stories we heard:
Rufina Cambacers: was she buried alive?
The local legend around Rufina Cambacers tells the story of a young woman who collapsed, was declared dead by three doctors, and was then buried. A few days later, the groundskeeper noticed that her coffin had moved and was damaged. When they opened it, they found her body, but now her hands and face were bruised, and there were scratches on the inside of the coffin.
On the mausoleum, her likeness is seen opening the gate to eternity.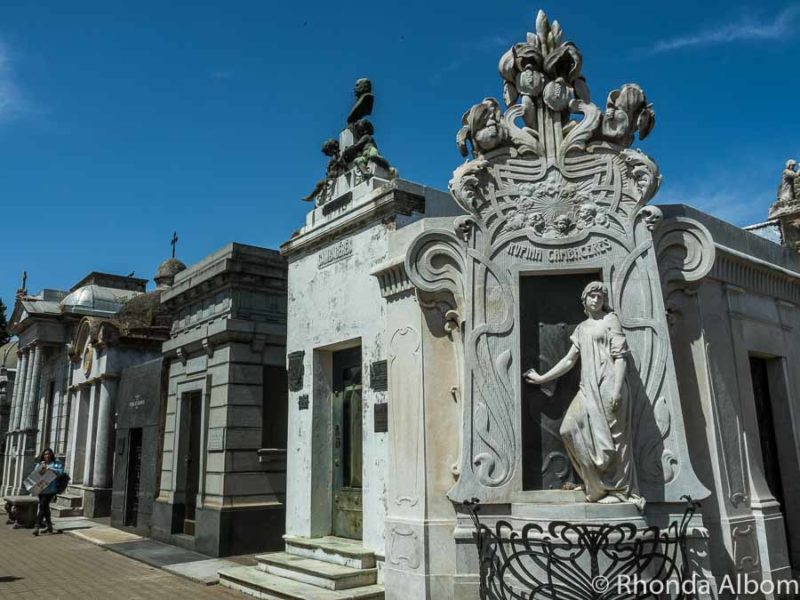 General Alvear's prominent position
One of the first monuments we see as we enter the cemetery is that of General Alvear. It earned this placement when one of General Alvear's sons commissioned the entrance gates to the cemetery and in doing so, made sure his family had a prime position.
The ghost of Luz Maria Garcia Velloso
Luz Maria Garcia Velloso died and was buried at age 15. Legend tells us that on some nights, her ghost went to bars with unsuspecting men. She would borrow their jacket, get it dirty, take it with her, and the men would find the jacket the following day at her tomb in the Recoleta Cemetery.
The final resting place of Eva Perón
Loved by the working class, first lady Eva Perón died of cancer in 1952 at age 33. While her body ultimately ended up in a secure bunker in her family's mausoleum at Recoleta Cemetery, it was missing or hidden for nearly 20 years. You can read the entire story here: The 20-year odyssey of Eva Peron's body. It is certainly not the most ornate, but there is no doubt that Eva Perón's tomb is the most visited in the Recoleta Cemetery.
Why is this the most photographed angel in Buenos Aires Recoleta Cemetery?
The most photographed angel in the Recoleta Cemetery is seated and looks a bit forlorn. He was made famous not because of who he is or protects but rather because he is on the walking path to the tomb of Eva Perón, the most visited of the mausoleums.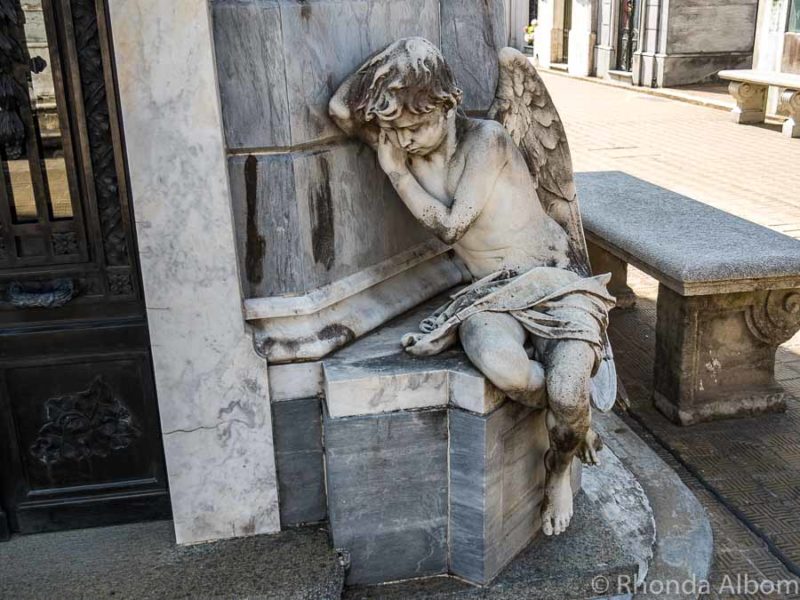 Stone tomb of Thomas Guido
Thomas Guido's mausoleum is made of stones from the Andes mountains and has never leaked during the rain. Notice the green column to the right of Guido's tomb. This is the marker for Admiral Guillermo Brown's mausoleum. He is the Irish-born founder of the Argentina Navy.
Roverano tomb supports immigrants
Roverano, an immigrant himself, owned a successful cafe and represented newly arrived immigrants in Argentina before his death. His family rose to fortune, affording him an elaborate spot in the cemetery.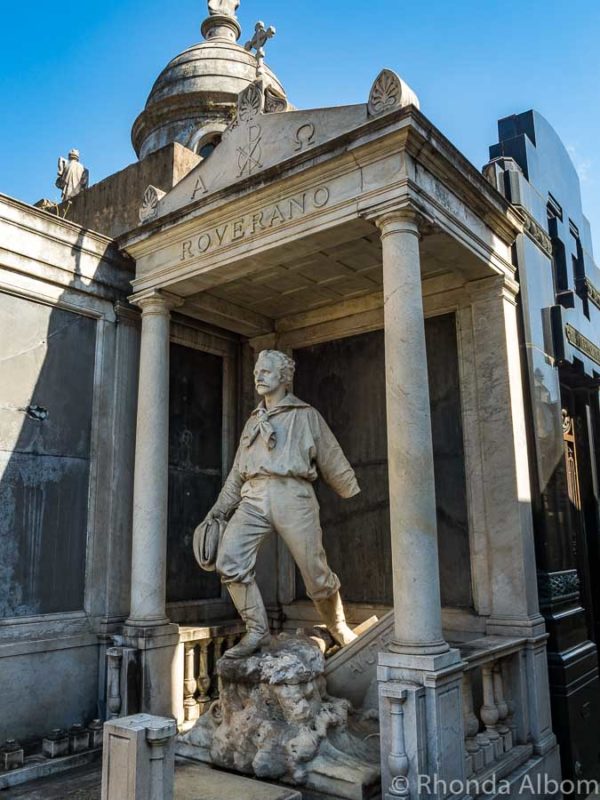 Upkeep of an old cemetery
The Recoleta Cemetery opened in 1822 and is still used. In fact, there was a funeral the week before we visited. Individual families own each mausoleum and continue to bury family members in them. Families upkeep the crypts, and when they don't, they deteriorate. Abandoned tombs cannot be sold until a family member is found. Once sold, the bodies must be moved, just like moving furniture out when you sell a house.
Personally, I find the dilapidated tombs fascinating, albeit a bit creepy. They remind me of the derelict Sheraton we visited on Rarotonga Island.
The majority of mausoleums are well-maintained. As we had our morning coffee on our balcony overlooking the cemetery, we frequently saw workers painting, cleaning, or otherwise tending to the various tombs.
A few of the abandoned mausoleums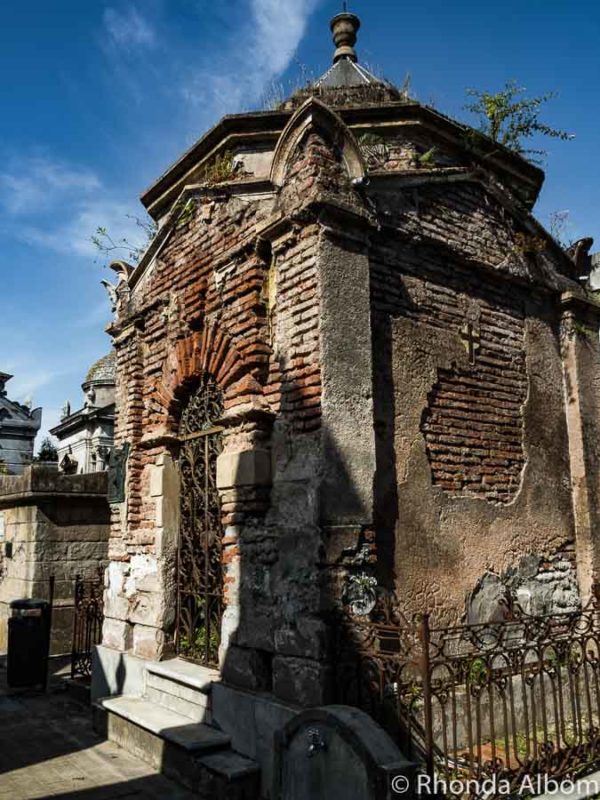 Pro-tip: Watch children carefully around the abandoned tombs, and do not let them enter any of the abandoned mausoleums as there can be up to a 6-metre drop in the dark.
Things to notice
If you know where and when to look, you can find some lovely surprises by looking through the windows of some of the tombs.
Stained glass viewed through a window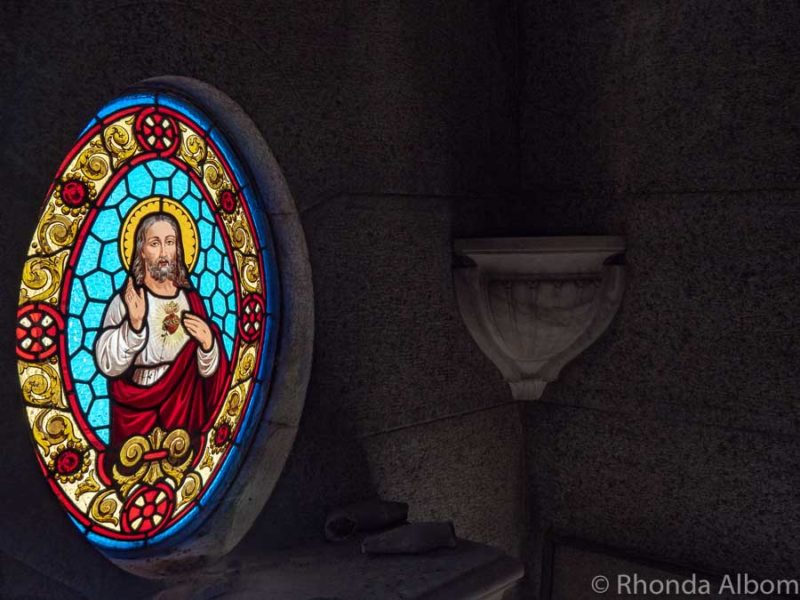 Peering through the cross on the door
There are bodies below your feet
It is not just the mausoleums that are owned by the families. The property underneath them is also family-owned. In fact, the property line can be seen running down the pavement.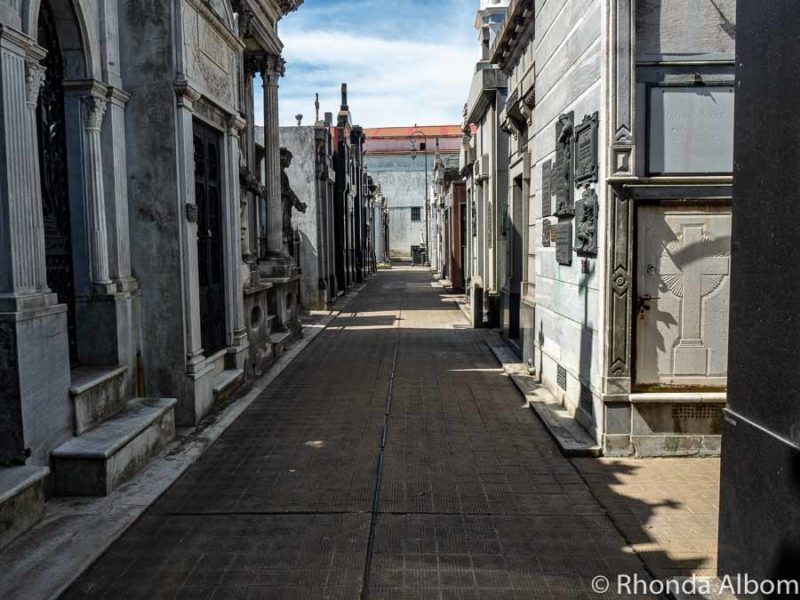 Everything has a meaning
While the religious symbols are usually obvious, everything on the mausoleums has a meaning, from the cherub to the direction a hand is facing. If you want to know more, check out: Stories in Stone: A Field Guide to Cemetery Symbolism and Iconography.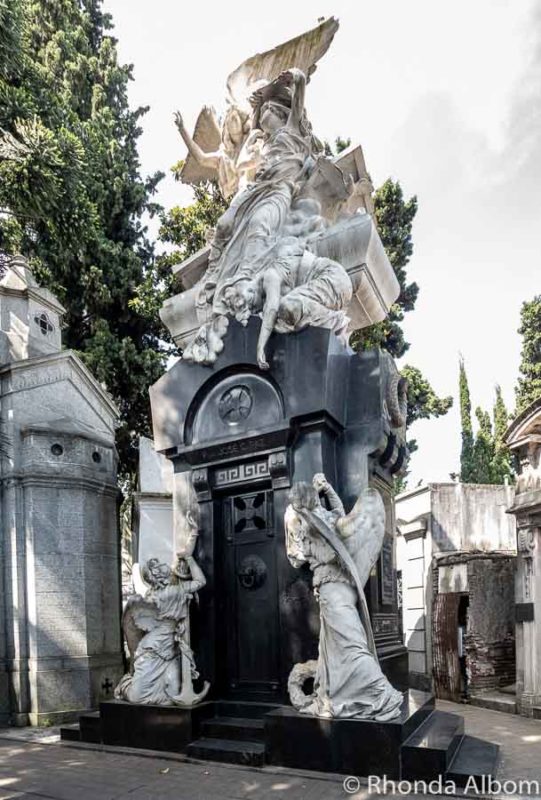 Where to stay: Recoleta hotels, Buenos Aires
We opted to stay at Sileo Hotel overlooking the cemetery. It was a perfect choice.
Sileo is an ideal mix of an Argentinean boutique hotel and classic luxury. The incredible view from our balcony (we had the terrace suite) was just the tip of the iceberg. Our room had a bed so comfortable I hardly wanted to get up in the morning, although the delicious breakfast lured me out.
All this is complemented by ever-changing art displays in the lobby and lower level and an ideal Buenos Aires location in the heart of the Recoleta neighbourhood. Reserve your room or suite at Sileo Hotel
⇒ Or, check other Buenos Aires hotels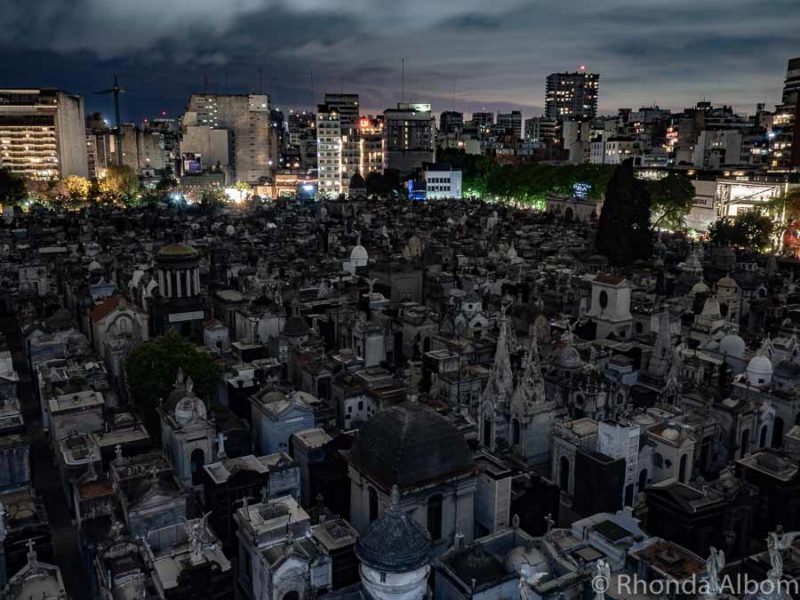 The moon casts an eeriness over the cemetery at night (it is neither open nor lit up overnight). This was our view from Sileo Hotel. Recoleta is a fun neighbourhood and relatively safe to walk around at night.
The streets are filled with restaurants, many with outdoor seating, and the Recoleta Mall is just outside one corner of the cemetery wall. The neighbourhood is also home to a fascinating bookstore, a fine arts museum, and much more.
Practical information and tips on visiting the Recoleta Cemetery
Entry to the cemetery is free.
The cemetery is open daily from 9 am to 5 pm.
Just outside the main entrance is a kiosk that sells maps very inexpensively. If you are going in on your own, stop here first and purchase a Recoleta Cemetery map. Evita's grave is number 26 on the map.
Go in the afternoon as many mausoleums containing stained glass shine their colours later in the day.
Take a tour, either in a group or private, or know you will miss a lot.
Don't just go in to find Evita's grave. As you saw here, there are many interesting and hidden things to see in the cemetery.
There are bathrooms just inside the cemetery entrance.
For more information, visit the cemetery's official page on the government website.
Recoleta Cemetery is just one of many cool things to do in Buenos Aires or the larger South America region.
First time-visitors to Argentina should start here: Argentina Travel Tips: A Guide for First-Time Visitors
Save on your trip with these resources
These are our go-to companies when we travel. We believe this list to be the best in each category. You can't go wrong using them on your trip too.
Flights: we use Expedia for the best and cheapest flight options.
Accommodations: we use Booking.com (hotels), VRBO (self-contained), or Hostelworld (budget).
Cars (gas or electric): we use RentalCars to search for deals and dealer ratings.
Campervans or Motorhomes: we use Campstar where Albom Adventures readers get a 3% discount.
Motorcycles: we have heard good things about BikesBooking.
Private guides: we love the private guides at Tours by Locals.
Travel Insurance: while not required, we always opt for travel insurance and start at InsureMyTrip to compare coverage plans.
Check out our travel resources page for more companies that we use when you travel.
Please Share
If you enjoyed this virtual tour of the Recoleta cemetery, please share it on social media, including Pinterest.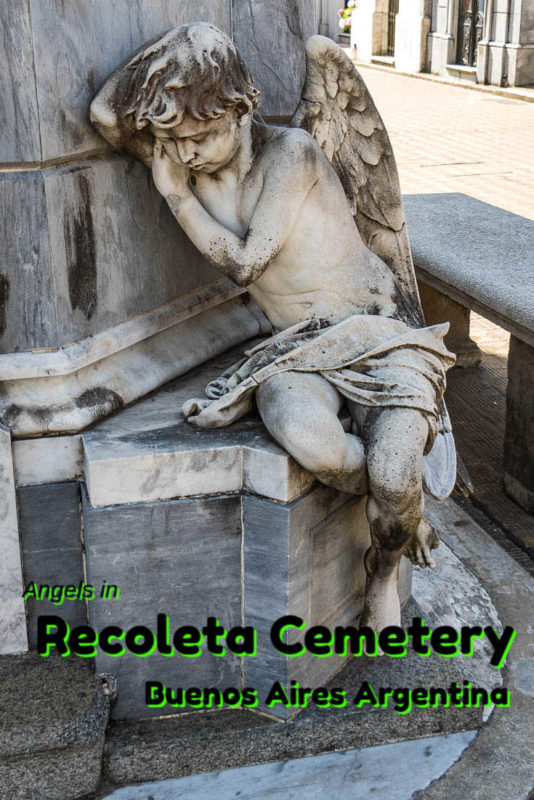 Do you think the Buenos Aires' Recoleta Cemetery is Artistic or Eerie?
Disclaimer: While in Buenos Aires, we worked alongside Travel Buenos Aires, the local tourism board. However, the opinions expressed here are strictly our own.