Córdoba caught me by surprise. Frequently off the tourist track, Cordoba is one of Argentina's oldest cities. It's a university city with an eclectic mix of mostly Jesuit historic sites and modern enthusiasm. We discovered more than enough things to do in Cordoba Argentina, and had to make some tough choices for our limited time.
The former colonial capital, Córdoba was founded by a Spanish conquistador who named it after Cordoba Spain. Today, the Argentinean city has a youthful atmosphere.
The city is home to six universities, including the National University of Córdoba (the oldest university in Argentina and the fourth oldest in the Americas), and not surprisingly, about 10% of the population are students.
If you're wondering what to do in Cordoba Argentina, read on.
Check out more of our travels in Argentina …
Things to do in Cordoba Argentina: Plaza San Martin
Plaza San Martin is the main square in the historic district of Cordoba (Centro Historico) and was once the centre of both religious and civic power. Both the main cathedral and the cabildo envelop the plaza, and both are National Historic Monuments.
Cathedral of Córdoba (Our Lady of the Assumption)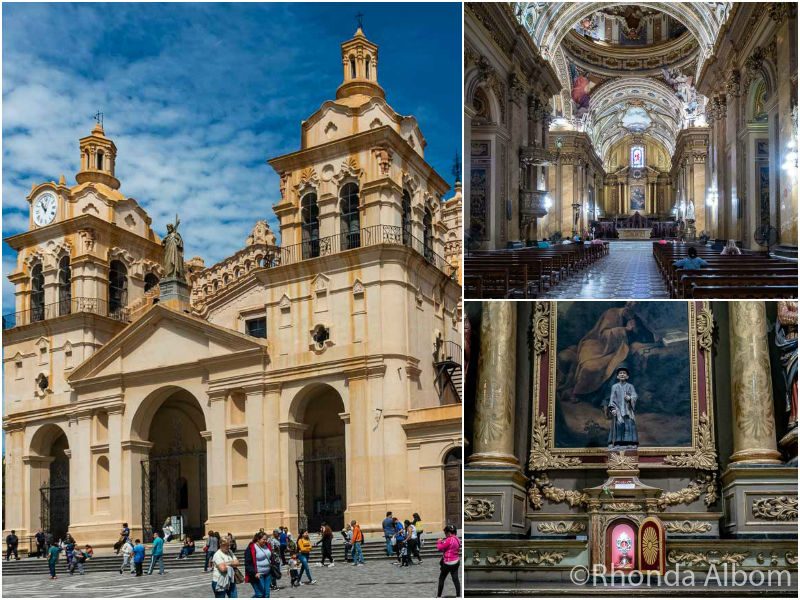 The Cathedral of Cordoba is the seat of the region's Roman Catholic Archdiocese. Many claim it to be the oldest church in Argentina. In reality, it was the first church to begin construction (1582). However, the Society of Jesus church (see below) was actually the first to complete.
We found the interior far more spectacular than the exterior. On a wall to the left stands a tiny statue of Saint Jose Gabriel del Rosario Brochero above a relic of his finger. The "Gaucho priest" is best known for his work with the poor and sick.
Tours are available that take visitors into the crypt, towers, and other areas not open to the general public. We think it's a must-see among the things to do in Cordoba Argentina.
San Martin statue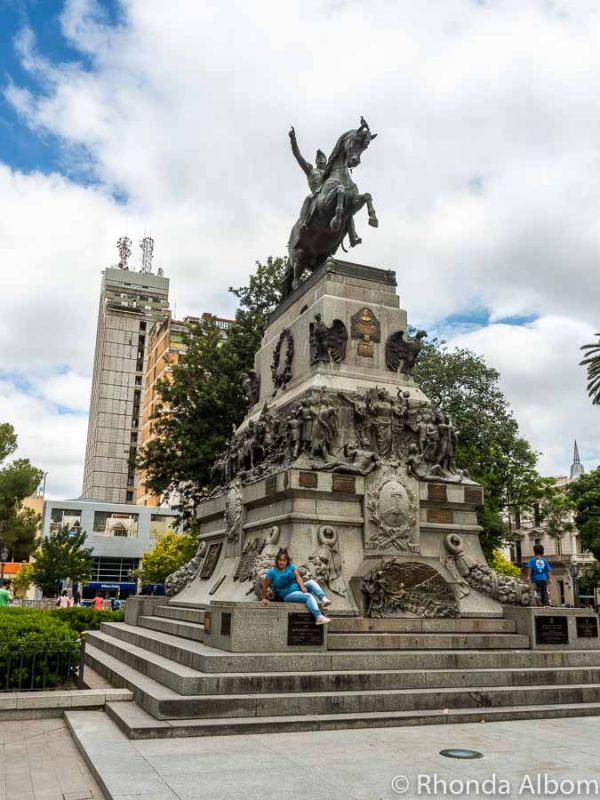 In the centre of the square riding tall and proud upon his horse is a statue of San Martin. He was a general and liberator, the primary leader in the region's successful campaign for independence from the Spanish Empire.
Cabildo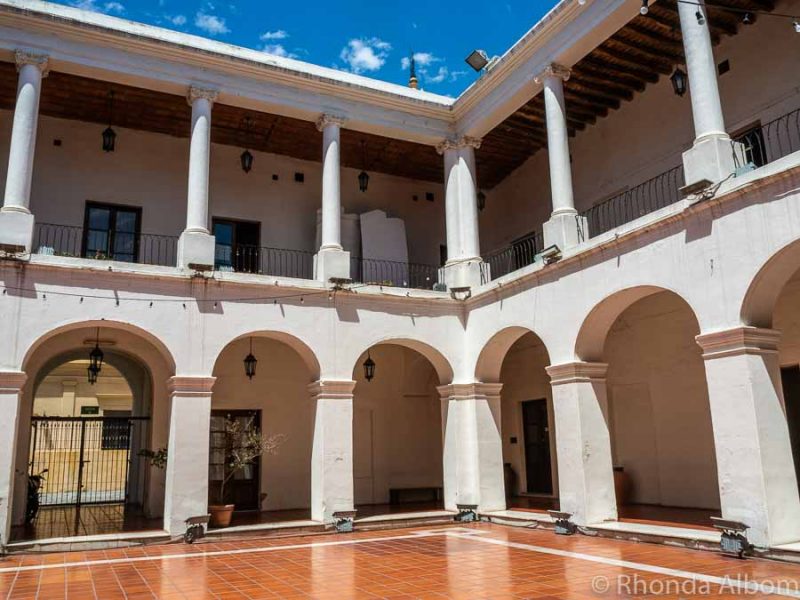 A cabildo is a town hall. Cordoba's cabildo has been used as government offices, a jail, a police station, and it was a detention centre during the dirty war. It has been rebuilt and refurbished many times since its initial construction began in 1588. Today, it houses the City Historical Museum and a tourist information site.
Iglesia de Santa Teresa de Jesús, Convent of San José, and the Museum of Religious Art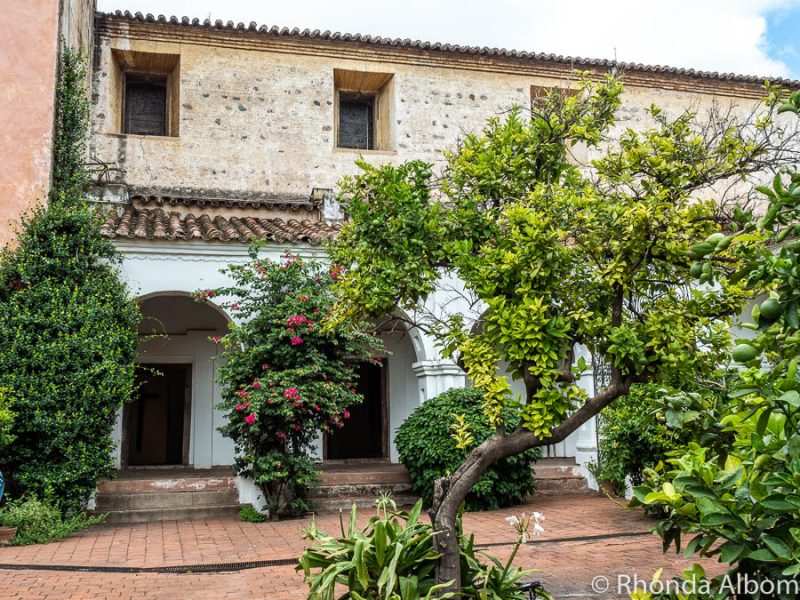 Just across the street from the plaza stands the church of Santa Teresa. Alongside it is the Convent of San José. We took a tour of both, and although it was in Spanish and at barely a conversational level, I understood little.
The entrance to both is now the Museum of Religious Art. A small two-room museum, the artifacts are impressive. The 17th-century paintings are in need of restoration but are kept as is for fear of further damage.
Things to do in Córdoba Argentina: Jesuit block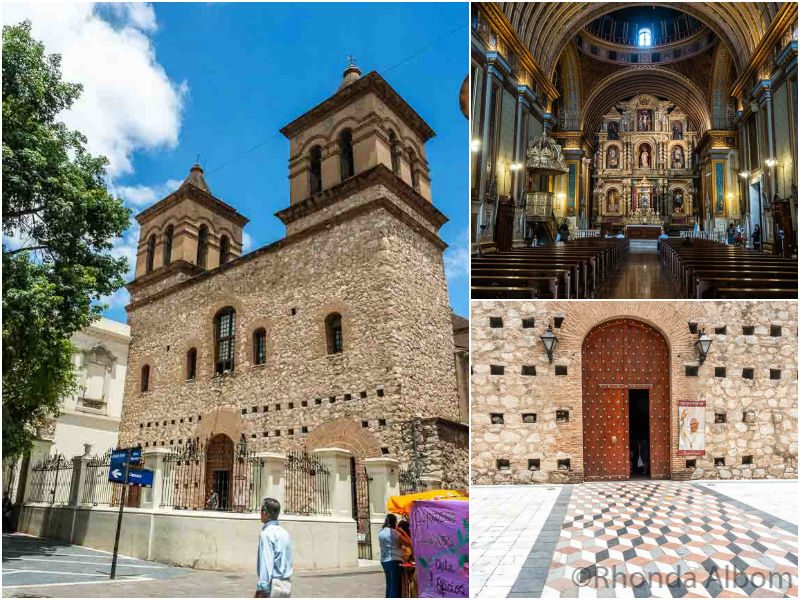 Cordoba is the Jesuit capital of Argentina. The Jesuits first arrived in 1585. They protected the indigenous population from the Portuguese slave trade. At the same time, they taught them both religion and the Spanish language. However, in 1767 the Jesuits were expelled from Spanish South America by the King of Spain.
Today, Cordoba's Jesuit block (Manzana Jesuítica) is a UNESCO World Heritage Site. It includes the Church of the Society of Jesus, the University of Cordoba, a secondary school, and several residences. A visit here is one of the top things to do in Cordoba.
Based on the completion date, it is the oldest church in Cordoba.
Unique things to see in Córdoba
La Mundial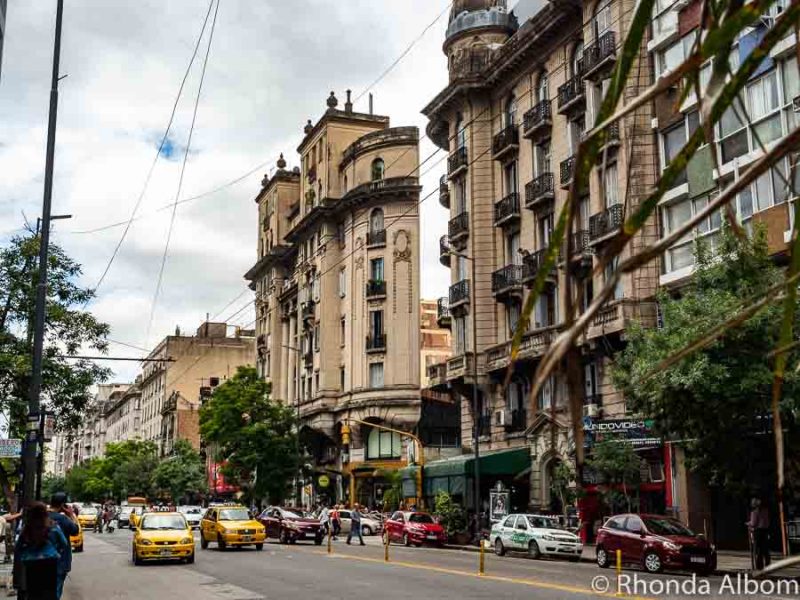 La Mundial is the thinnest building in Latin America. Its history is a family feud story. Two brothers owned a plot of land divided equally, with one section closer to the street. In the 1920s, the city widened the street, thus taking a substantial chunk of the front property.
The brother, who owned the property in the back, refused to sell any portion of his land. As a result, the brother owning the front bit of land built up.
Jesuit crypt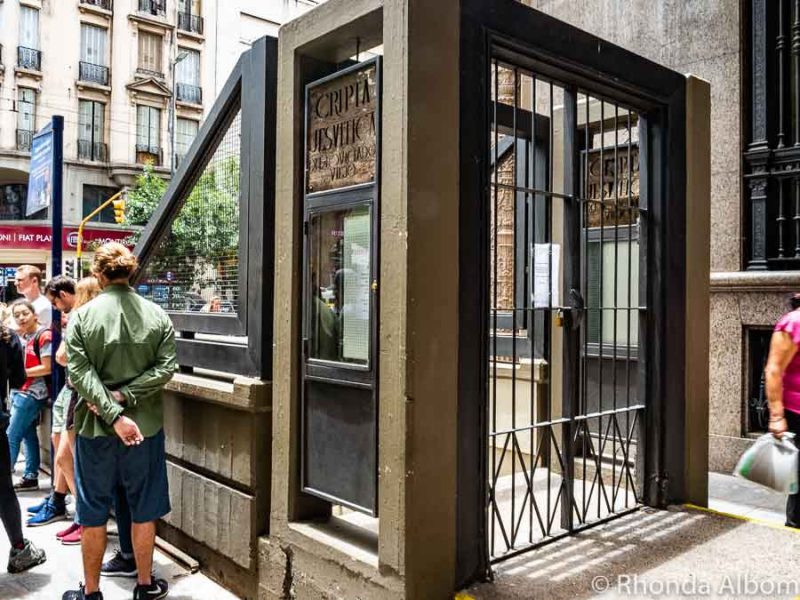 Underneath a section of the city is an abandoned crypt and crematorium built by the Jesuits in the early 18th century. The telephone company accidentally discovered it in 1989 while laying cables. After restoration, it now houses a small museum and artwork. Unfortunately, it was closed due to electrical problems when we walked by the locked gate at street level.
Memory Museum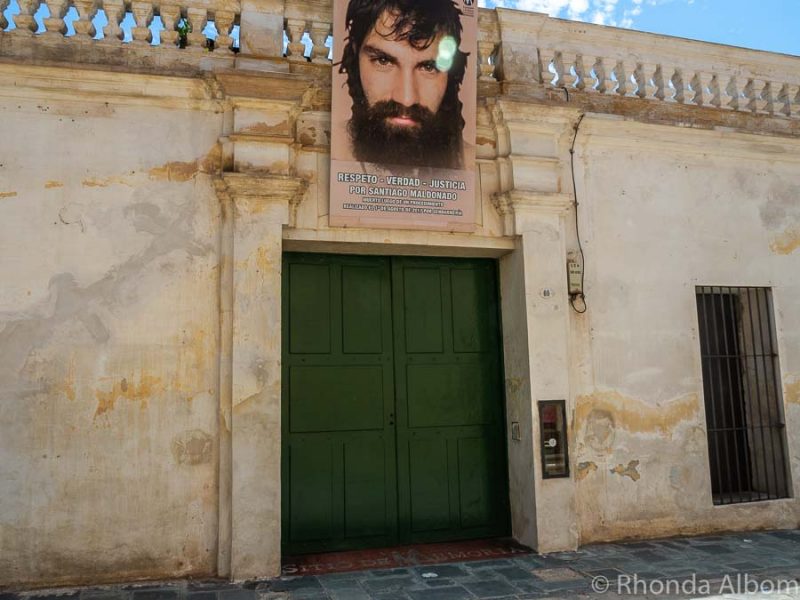 Just beyond the green door was one of the estimated 340 clandestine detention and torture centres utilized by the Department of Intelligence during the dictatorship of 1976-1983, also called the dirty war. It's a solemn place with photos of thousands who "disappeared" during this time. (Photos donated by family members.)
Things to do in Cordoba Argentina: Nueva Córdoba
Like all Argentinean cities, nightlife begins late and continues into the wee hours of the morning. Dancing, drinking, eating . . . this town has it all, especially in the Nueva Córdoba and Güemes neighbourhoods. Unfortunately, we went to sleep by midnight and, as a result, missed the Cordoba nightlife. However, we didn't miss all the fun.
Iglesia Capuchinos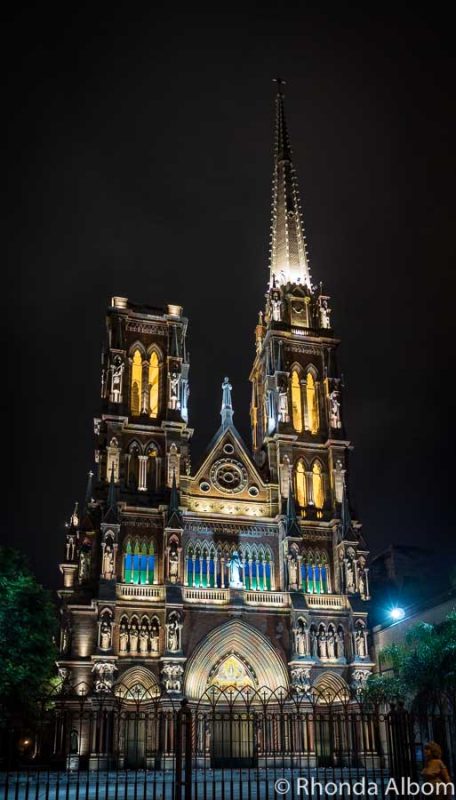 An elaborately finished neo-Gothic cathedral stands in stark contrast to the Jesuit cathedrals in the historic quarter. Iglesia Capuchinos was built in the 1920s and 30s. We got inside and took a tour (don't miss our photos here) that brought us up a narrow spiral flight of stairs into the tower and to the catwalks outside along the rails with the gargoyles.
Paseo del Buen Pastor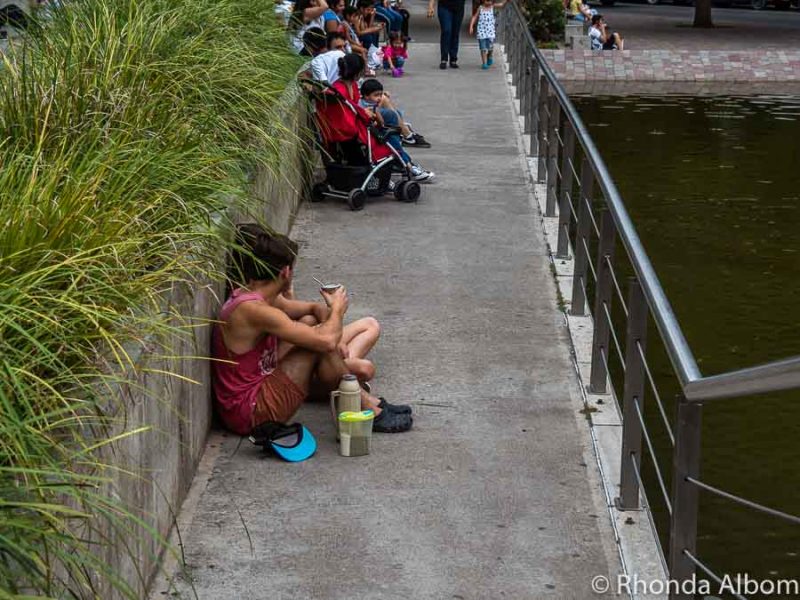 We arrived at Paseo del Buen Pastor seeking a map from the tourist information site located inside this modern cultural and performance centre. In addition, we found restaurants, bars, and a popular outdoor hangout.
Groups gathered here to socialize, share maté (an Argentinean tea-like drink), be entertained by street performers, and often stare at an uninteresting fountain that came to life hourly. Illuminated with coloured lights, dancing water shot up into the sky in a show that lasted about 10 minutes.
Paseo del Buen Pastor was originally constructed in 1901 and has served as a chapel, monastery, and women's prison. Redesigned in 2005, it is now centrally located amongst the city's nightlife. It is one of the places to visit in Cordoba, featuring afternoon and evening entertainment ranging from exhibits (historic, cultural, or art) to concerts.
Things to do in Cordoba Argentina: Güemes
To the west of Nueva Córdoba sits the bohemian neighbourhood of Güemes. The best of Cordoba nightlife continues here. Fun and funky, the neighbourhood is lined with narrow laneways, bars, restaurants, and boutiques featuring an eclectic mix of retro, antique, and modern nicknacks. If you haven't tried one already, this is the part of town to enjoy a fernet and coke, an alcoholic beverage many jokingly refer to as Argentina's national drink.
Flea market and restaurants in Güemes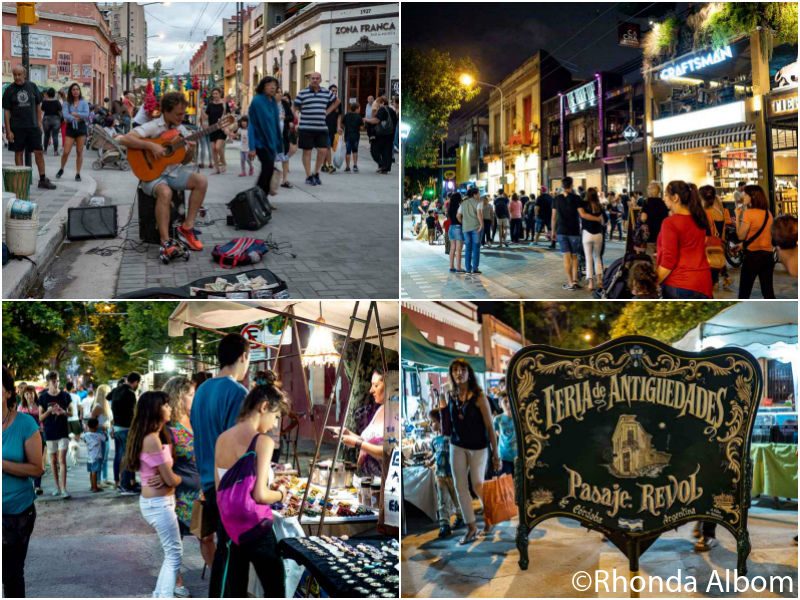 If you are in Cordoba on the weekend, don't miss the huge outdoor flea market at Paseo de las Artes in Güemes. Taking place every Saturday and Sunday from 5 pm to 11 pm, the market features talented street performers, food stalls, artisan creations, and antiques.
We found it to be one of the best things to do in Cordoba Argentina on the weekend. For a moment we even felt like locals, as we ran into a couple we had met earlier in our travels. Of course, as English speakers, we didn't sound like locals.
For dinner, choose from the food stalls or any of the restaurants that line the streets.
Admire the street art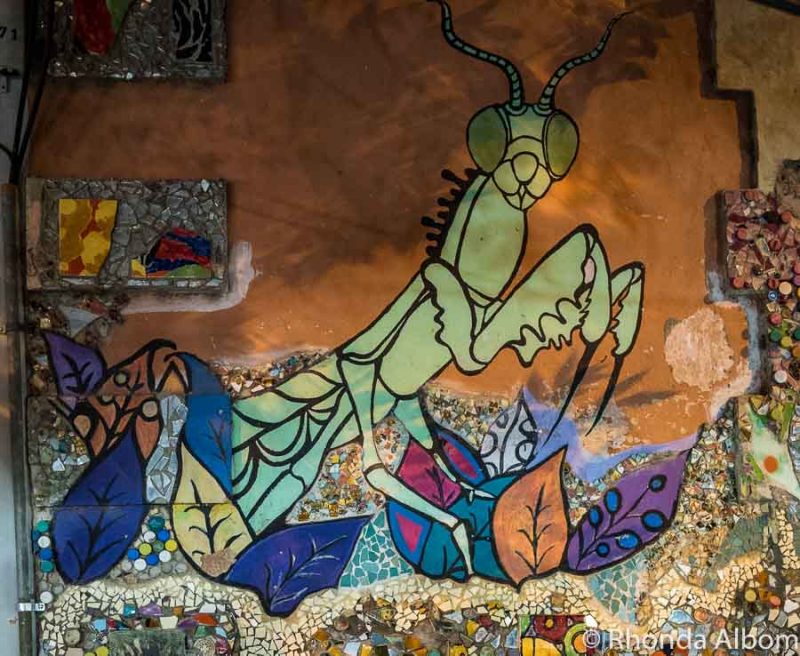 I seek out street art, and while I found it all over the city, my favourite designs were in Güemes.
Laneways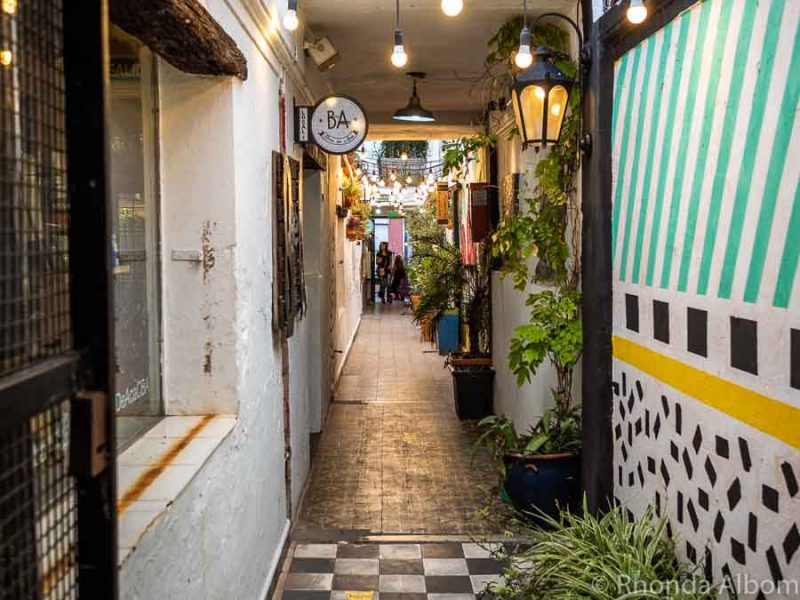 Long, narrow laneways feel like hidden treasures. Lining the main road, these often-covered laneways feature trendy coffee shops, boutique dining, and artisan shops.
Take a tour of Córdoba Argentina
We love taking tours of cities by local guides as the guide gives insight and perspective into the city and it's attractions. Local tour guides also reveal hidden gems such as the best restaurants and times to see various features. This private tour visits several of the places we visited and has options to expand on a number of points of interest. Book this private Cordoba city tour here.
Another option is to pick a local guide that will work with you and make an itinerary that covers your interests while addressing the guide's local knowledge. We often use Tours By Locals to pick such a local guide. Check out these local guides to find one that suits you.
Where to stay in Córdoba
While we loved where we stayed (AT Suites), we offer a second highly recommended (to us) option so you have more choices. Either are a great base to check out all the wonderful things to do in Cordoba Argentina.
AT Suites
We stayed at AT Suites, an excellent recommendation from an Argentinean friend. It has a higher user rating than either of Cordoba's 5-star accommodations and is within walking distance from both San Martin Plaza and Nueva Córdoba. In fact, we never used our car while in Cordoba. Our self-contained apartment was clean and comfortable and had everything we needed, including kitchenware. Breakfast was left for us in the refrigerator. The car parking in a public lot below the building was included in our rate. Reserve your stay at AT Suites here
Caseros 248 Hotel
Also highly rated by users, Caseros 248 Hotel is a four-star accommodation offering a more traditional hotel experience with larger-than-average rooms and comfortable bedding. Rather than do it yourself, a restaurant serves breakfast. With concierge service and a 24-hour front desk, a coffee shop, bar, and free wifi, they seem to have it all. We think this might be the best place to stay in Cordoba. Reserve your stay at Caseros 248 Hotel here
Getting to Córdoba
One can fly into the Cordoba airport, drive, or take a bus from Buenos Aires, Mendoza, Salta, or Rosario. We opted to drive. It was quick, easy, and trouble-free to rent a car in Buenos Aires using RentalCars.com. They arranged everything. We simply showed up, signed the paperwork, and our car was ready to go.
We drove a loop from Buenos Aires to Sante Fe, the city of our daughter's prior host family. Then from Sante Fe, we drove to Cordoba, then Rosario, and finally returned the car in Buenos Aires. The drive time from Cordoba to Buenos Aires is about seven hours.

While in South America, we rented several cars and never had any issues going through RentalCars. However, we were grossly overcharged on the one vehicle we rented independently. Reserve your car here.
Practical information and tips on visiting Córdoba
If you are new to Argentina, you will want to start with this general Argentina travel guide.
All museums in Cordoba are free on Wednesdays. Otherwise, they typically cost only $50 pesos (less than $1.50 USD).
Many museums and other tourist sites are closed in January, as that is when Argentineans take their holidays. Unfortunately for us, that is when we visited.
Like much of Argentina, this town takes a siesta. Nearly everywhere we went (including many churches and museums) closed from 1 pm to 4.30 pm.
While much of the best nightlife takes place in the Güemes neighbourhood, stay to the east of Avenue Marcelo T. De Alvear.
The flea market is in the safer part of Güemes.
The currency of Argentina is the Argentinean pesos.
Spanish is the official language of Argentina. We found few people in Cordoba that spoke English.
Save on your trip with these resources
These are our go-to companies when we travel. We believe this list to be the best in each category. You can't go wrong using them on your trip too.
Flights: we use Expedia for the best and cheapest flight options.
Accommodations: we use Booking.com (hotels), VRBO (self-contained), or Hostelworld (budget).
Cars (gas or electric): we use RentalCars to search for deals and dealer ratings.
Campervans or Motorhomes: we use Campstar where Albom Adventures readers get a 3% discount.
Motorcycles: we have heard good things about BikesBooking.
Private guides: we love the private guides at Tours by Locals.
Travel Insurance: while not required, we always opt for travel insurance and start at InsureMyTrip to compare coverage plans.
Check out our travel resources page for more companies that we use when you travel.
Save for later
If you enjoyed this article, please share it on social media and save it for later on Pinterest.
Click here to follow more of our South American itinerary or to see our South America travel safety tips.
What will you do in Córdoba?