Paraty Brazil is a popular holiday spot with Brazilians, yet they have somehow kept it a secret from the rest of us. This tropical paradise overlooks Ilha Grande Bay on Brazil's Atlantic coast. Paraty put a smile on my face from the first moment I stepped ashore.
The vibrantly painted boats that line the coast create a foreground for the well-maintained colonial houses, which fill the nearby streets.
Still relatively unspoiled by too much tourism, it is quaint and delightful.
We arrived via a small cruise ship that holds only 700 passengers, yet it was one of the biggest that can visit this port. Our ship anchored about three nautical miles from shore and tenders brought us to the end of the Paraty pier. An adventure in its own right, be sure to watch your step as the spacing between many of the planks is larger than one would expect.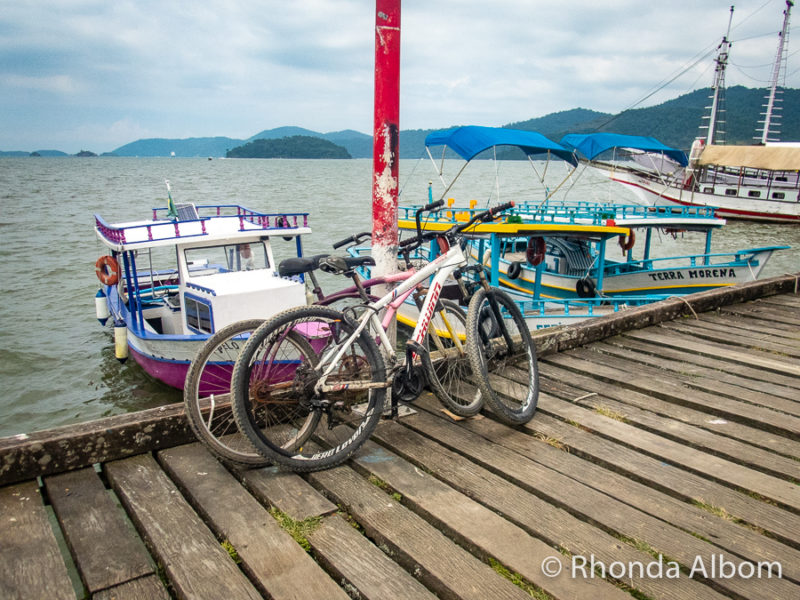 Like stepping back in time, we walked along the cobblestone streets of the old town of Paraty. The colonial buildings were originally built by African Slaves in the 1600s. For centuries, Paraty remained relatively untouched and somewhat isolated. Its focus was on gold, coffee, and sugarcane.
In the 1970s, Brazil built a coastal road connecting Rio de Janeiro to Santos, the port city for Sao Paulo. Suddenly, Brazilians passed through Paraty, thus instantly creating a local's paradise. If you are not arriving via cruise ship, that road is the best way to get here. You can take a bus or rent a car in Rio de Janeiro or São Paulo.
Things to do in Paraty Brazil
Paraty is ideal as a cruise port, as it's easy to see the highlights in a day. However, with a desire for some relaxation or a passion for watersports and one could easily spend a week or more here.
Discover the historical centre of Paraty Brazil
The maze of cobblestone streets adds to the old-world charm of Paraty's historic district, now a UNESCO World Heritage Site. Recognizing Paraty's uniqueness, the Brazilian government incorporated restrictions requiring all buildings in the historic region to retain their colonial look and colours. The requirements include new construction, which also must look colonial.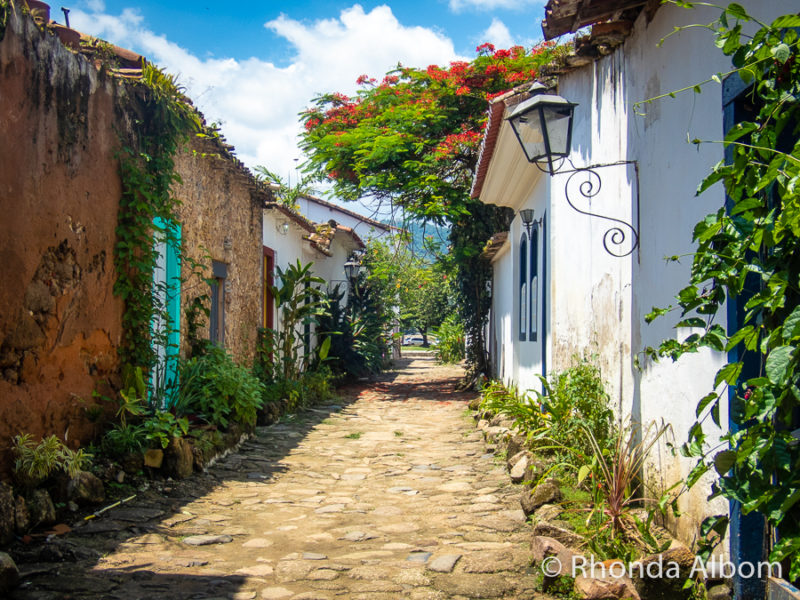 Interestingly, Paraty is built just below sea level. Every full moon the seawater rises, and the streets flood 6-10 inches deep. As the water retreats back to the sea it creates a natural filtration and cleaning of the streets. This was more important back in the days before the town had a sewage system.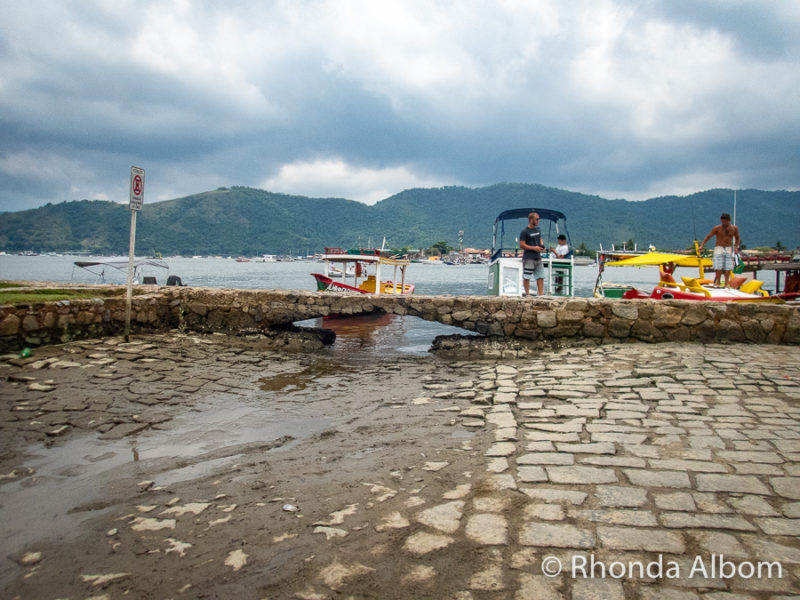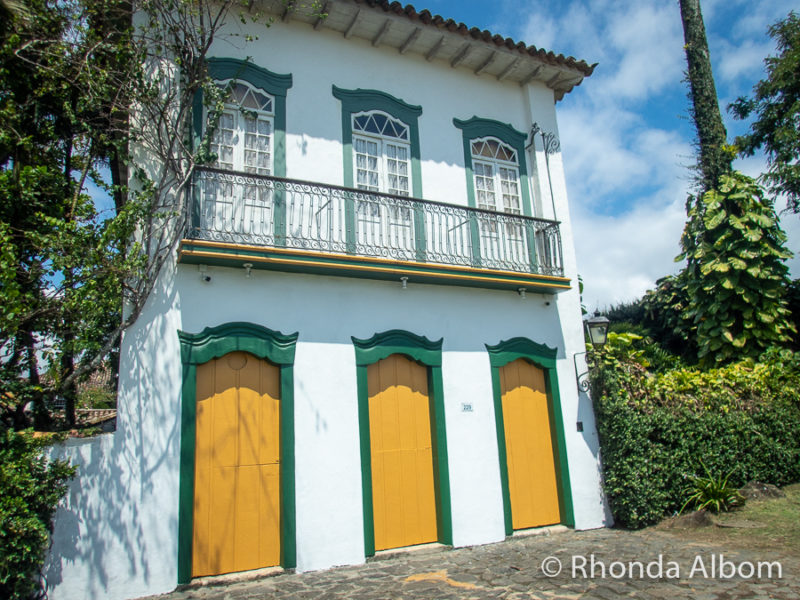 The historic district is an area that you can easily walk through on your own to enjoy the architecture, but taking one of the Paraty tours really brings it all to life. Book your two-hour walking tour of Paraty's historic district here
*Note: there is a free walking tour Paraty. It's not really free, you tip what you think the tour is worth, and we found it excellent.
The historic town centre is pedestrian-only. Tourists can take a horse-drawn carriage ride. We opted to avoid this activity as the horses looked a bit lean. Moreover, we imagine that the cobblestone streets would make the ride rather uncomfortable.
There are plenty of trendy restaurants and shops in the old town.
Churches of Paraty Brazil
There are four churches located in the old town, each built for a different group of people.
Our Lady of the Remedies is a church for the elite (built from 1646 to 1873). It is the largest church in Paraty.
Our Lady of Sorrows church was for women when their men were out to sea (built in the 1800s and rebuilt in 1901). A soldier would always stand in the window, looking out to sea. If he saw any ships without flags (unknown ships), he would run to one of the forts to get help.
The Chapel of Santa Rita was for everyone (built in 1722). It is now the Museum of Sacred Art.
Church of Lady of the Rosary and Saint Benedict is a simpler and more rustic design built by and for the slaves.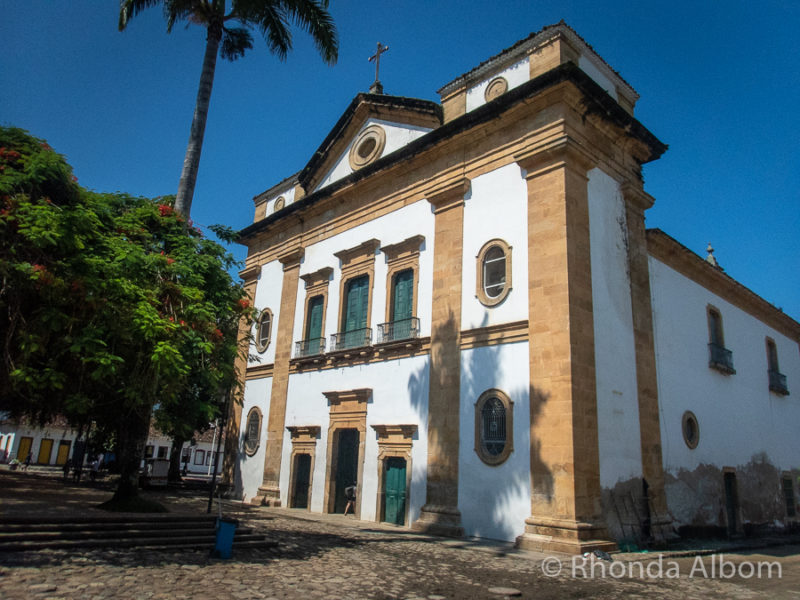 Paraty Beaches (Praias)
Surfing, swimming, or just relaxing, visiting a beach is one of the many things to do in Paraty Brazil. There are two main beaches close to the port, but looking out from the port, we could see many secluded beaches along several of the local islands. I would love to have a kayak or small boat and really take time to explore the area.
Cao Morto – the main beach in town
Barra do Corumbe – a smaller beach in town with great seafood restaurants
Praia de Sao Goncalo – known for calm waters
Praia de Jabaquara – full of wildlife
Cepilho – a surfing beach
Praia Grande – nearby village with a fish market
Meio – a popular swimming beach
Other things to do in Paraty and nearby
Shopping Paraty
Like every town that attracts tourists, there are plenty of artisan shops in the tourist areas of town. Plus, there are market-type stands near the port.
Go out on a boat
There is a fleet of boats at the port, each offering different daily opportunities, ranging from fishing to relaxing, from water sports to sunbathing. Prices are negotiable, and if you don't like what one is offering, simply move on.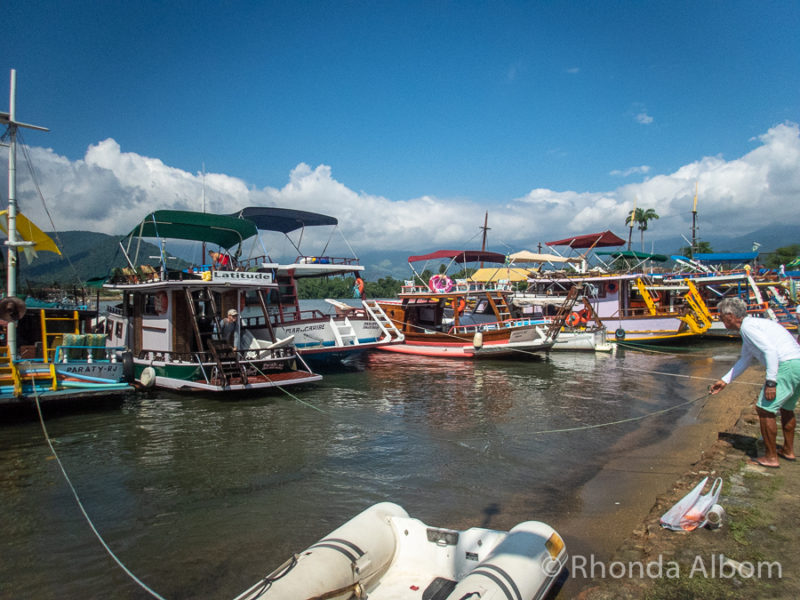 Bocaina National Park
The number one off-the-beaten-path destination, Bocaina National Park, is a treasure. Here you will find dramatic Paraty Waterfalls, hiking, rivers, and streams. We didn't get here, but several people on our ship spent the day in the national park and raved about it. If you don't have your own vehicle, the best way to get here is with a tour like this full-day jungle jeep waterfall and Cachaça Distillery tour.
Jabaquara mangroves
Jabaquara mangroves is probably the best place to kayak in Paraty and another activity we wish we had more time to do. Reserve your kayak tour here.
Saco do Mamangua
Here is a chance to explore the only tropical fjord on the Brazilian coast with a bit of excitement that comes from a fast boat. Stops include swimming and snorkelling at three different beaches. Often seat turtles and dolphins are spotted on this adventure, but no guarantees. Reserve your fast boat expedition to Saco do Mamangua here.
Caminho de Ouro (The Gold Trail)
Caminho de Ouro is the road travelled by slaves (first indigenous, then African) who carried the gold from the mines to the port of Paraty. Now it is a hiking trail and adventure. You can walk the gold trail. Reserve your Walking the Gold Trail tour here
Adventura Park
Less than two kilometres from historic downtown, there is an opportunity to enjoy ziplining, swing bridges, and hiking through a Brazilian rainforest.
Where is Paraty Brazil?
Paraty is in a scenic coastal area of Brazil known as the Costa Verde (translated to the Green Coast). It is between Rio de Janeiro and Santos. Drive time from Rio to Paraty is 3 hours 45 minutes, while it takes four hours to drive from Paraty to Sao Paulo. Or take a shared transport from Rio de Janeiro to Paraty.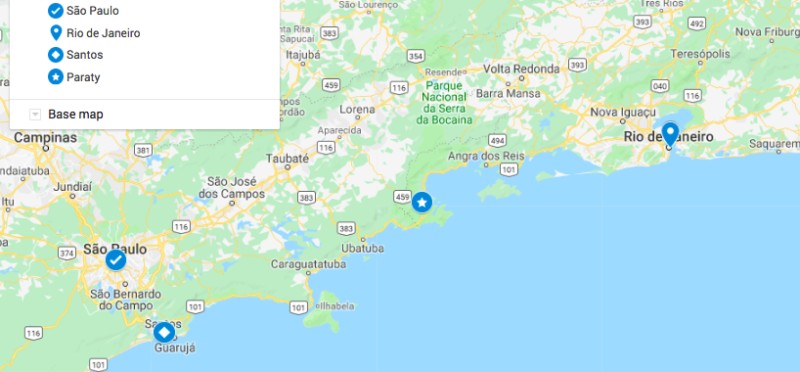 Where to stay in Paraty
A collection of boutique hotels and backpackers, there are Paraty accommodation options for every budget.
Practical information and tips on visiting Paraty Brazil
Locals pronounce the town's name as Par a chē.
The currency is Brazilian Reals, although some shops will take small denomination US dollars. While major credit cards are widely accepted, there is often a discount available if paying in cash.
The best place to get cash is from Banco de Brazil. From a safety perspective, it is best to get it from inside the bank rather than ATMs on the streets. See all our South America safety travel tips here.
Try Cachaça – a locally made alcohol. We have heard it is popular in Paraty with cinnamon or with coconut. However, we have only had it with lime and sugar or with mango (my favourite).
Taxis are not metered. You will want to negotiate a price in advance, and the advice is to write down the price and have the driver sign it.
Take note, the dock and the cobblestone streets are uneven pavement. I think it would be an extremely difficult area to navigate with mobility issues.
It is customary to tip 10% in restaurants. Remember to look first to see if it was added automatically to your bill.
The "Okay sign" made with the loop between your thumb and forefinger is considered an obscene gesture.
Click here to see our South American itinerary.
Save on your trip with these resources
These are our go-to companies when we travel. We believe this list to be the best in each category. You can't go wrong using them on your trip too.
Flights: we use Expedia for the best and cheapest flight options.
Accommodations: we use Booking.com (hotels), VRBO (self-contained), or Hostelworld (budget).
Cars (gas or electric): we use RentalCars to search for deals and dealer ratings.
Campervans or Motorhomes: we use Campstar where Albom Adventures readers get a 3% discount.
Motorcycles: we have heard good things about BikesBooking.
Private guides: we love the private guides at Tours by Locals.
Travel Insurance: while not required, we always opt for travel insurance and start at InsureMyTrip to compare coverage plans.
Check out our travel resources page for more companies that we use when you travel.
Please Share
If you enjoyed this article, please share it on social media, including Pinterest.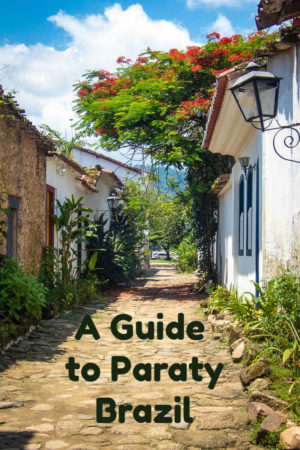 What will you do in Paraty Brazil?