Colonia del Sacramento, or Colonia as the locals call it, is Uruguay's oldest city. Best of all, travelling from Buenos Aires to Colonia del Sacramento is both an easy and interesting day trip. It's a long day, but a good one.
A beachfront town founded by the Portuguese in 1680, it sits across the Río de la Plata from Buenos Aires, Argentina. Colonia's distinctive character is defined by winding cobblestone roads and the colourful architecture of its historic old town.
However, there is more to this city than just the historic district. Situated at the convergence of the Parana and Uruguay rivers on the Río de la Plata estuary, Colonia was frequently invaded, changing between Portuguese and Spanish hands seven times before becoming Uruguay. Colonia makes for an interesting and long day trip from Buenos Aires.
Getting from Buenos Aires to Colonia del Sacramento
If you are planning a day trip from Buenos Aires to Colonia, the ferry is the way to go. While three companies offer similar transit, Colonia Express and Buquebus are more popular than Seacat.
We took Colonia Express from Buenos Aires to Colonia and Buquebus back from Uruguay to Argentina at the end of the day.
Choosing a ferry from Buenos Aires to Colonia del Sacramento
Colonia Express vs Buquebus
In many ways, the two services are very comparable and therefore either is a good choice. While there were a few notable differences, the similarities included:
Either ferry takes about an hour, although the published time is 75 minutes.
Prices and sailing times are comparable between the competitors, with prices increasing based on demand (similar to airlines). Booking early is a good idea. Buquebus sold out on our travel day.
Once onboard, seats are not assigned.
Both ferries we took offer an overpriced snack shop featuring ham sandwiches, beverages, and sweets.
Onboard duty-free shopping is quite popular amongst the locals, who stock up. The shops are open only when the boat is away from the port.
And a few differences we noticed
Colonia Express
Most of the seating is one open space.
Colonia Express terminal is at the southern end of the Rio Dique. Some call the neighbourhood Puerto Medero others say it is La Boca. It was much farther from Recoleta, where we stayed.
Buquebus
The seats themselves are roomier and more comfortable.
The seats along the back wall go quickly, as they have access to an electrical outlet.
It leave from the North Dársena terminal, near Recoleta, where we stayed.
Things to know before you take a Buenos Aires to Colonia ferry
Don't forget to bring your passport.
If you are doing a day trip from Buenos Aires to Colonia, take the early morning ferry to allow yourself time to visit the museums, many of which close early.
Arrive at the ferry terminal about an hour in advance, as you need to clear immigration and customs. It is a quick process once you get to the front of the queue. Right after you are stamped out of Argentina, you move to another queue and are stamped into Uruguay.
You can book online directly at Buquebus or Colonia Express, or if you prefer an English language site that usually saves you money over the direct booking and has the option of a tour, you can reserve your ferry and optional tour here.
Top things to do in Colonia (mostly in the historic quarter)
Old City Wall and gate
Lighthouse and ruins of Saint Francis Convent
Municipal museums
Hit the beach
Watch the sunset
Enjoy a meal in or out of the old city
Exploring Colonia's historic quarter
As we emerged from the ferry and cleared customs, we had one question in the back of our minds; should we have hired a guide? Armed with a teen who is fluent in Spanish, we opted to be on our own.
And to be honest, it was easy.
There is one road leading from the ferry terminal to the walled historic quarter, a UNESCO World Heritage site since 1995. Keeping the sea to our left, we strolled to the old city in under 10 minutes.
Old City Wall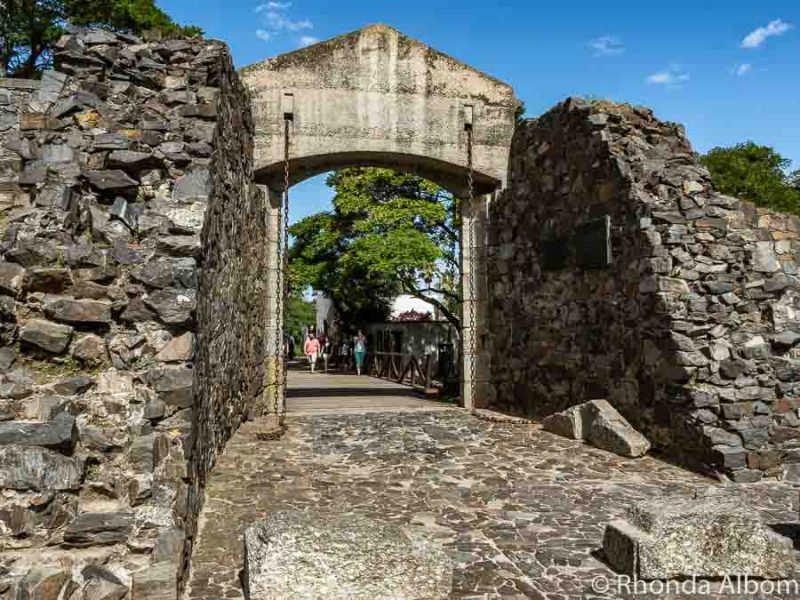 The old city gate and wall are one of the key historic monuments in the city.
The wooden draw bridge and city wall were rebuilt in the 1960s, although passing through into the historic quarter still feels like a time warp.
A row of bronze nails in the wall marks the height of the ruins before renovations began.
Calle de los Suspriros – a 16th-century Portuguese street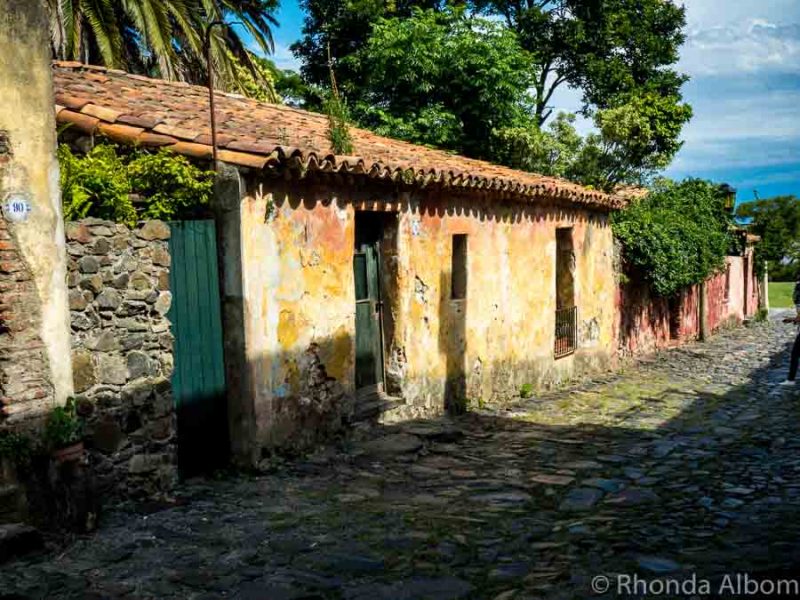 Quaint and colourful, the 16th-century houses stand shoulder to shoulder along the original cobblestone road named Calle de los Suspriros. They represent a mix of Portuguese and Spanish styles.
Lighthouse and ruins of Saint Francis Convent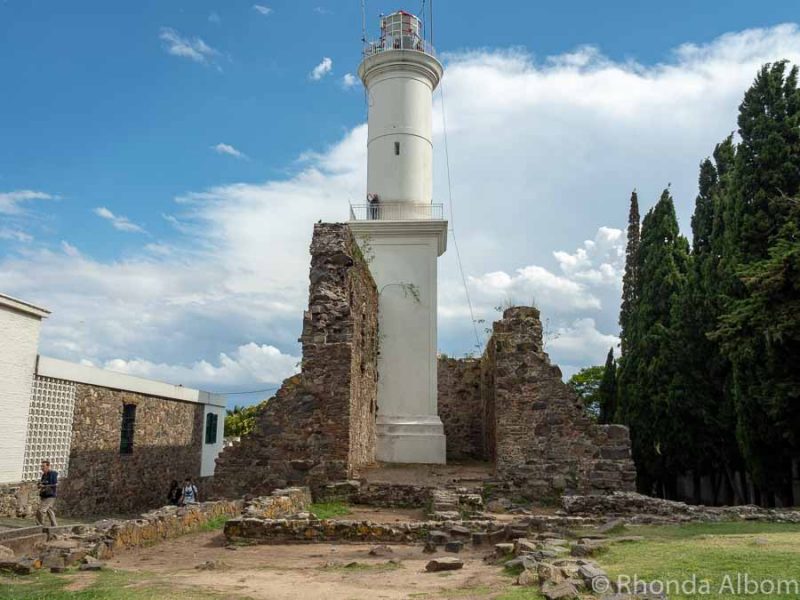 First turned on in 1857, the lighthouse is still operational today.
It was built on the ruins of the Saint Francis Convent, which had been destroyed by fire in 1704.
Lovely views reward visitors who climb the 111 stairs to the top of the lighthouse. It is worth the nominal entrance fee and the effort.
Bastión de San Pedro – swimming, fishing, and sunset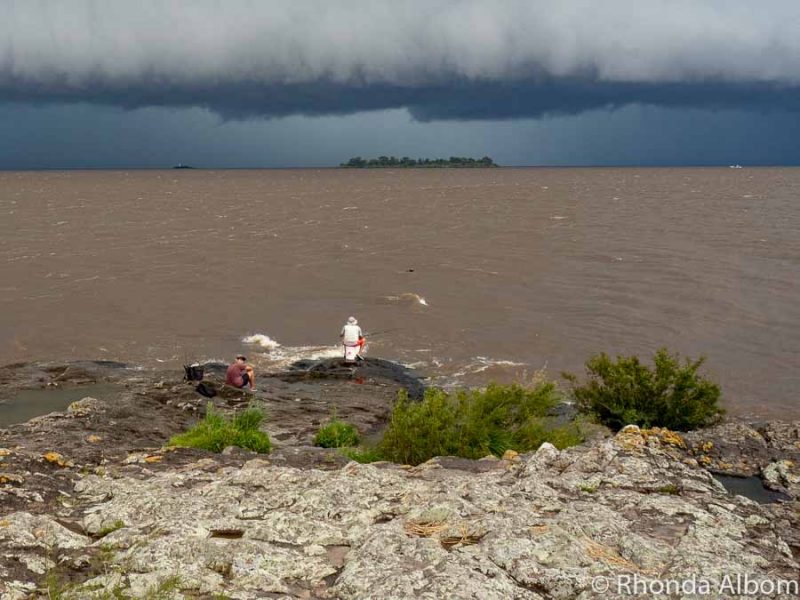 Normally, Bastión de San Pedro is a spot to swim during the day, fish off the nearby rocks, or relax and wait for a stunning sunset.
Not so for us. A storm was brewing, and we could see it coming. As the wind picked up, we knew it was going to be bad, but the locals didn't seem to be phased by it.
That is until the first flash of lightning cracked in the sky. Suddenly, locals bolted off the beach, except for a few determined fishermen. We looked out towards the sea and decided to follow the crowds.
And they were all correct, it wasn't long before the sky opened, and it rained and rained.
Municipal and other museums
If any of the town's eight museums are on your radar, the Municipal Museum should be your first stop. Here you can purchase a daily museum pass for $50 UYU ($1.50 USD or $2.20 NZD) that gets you into most of Colonia's museums, however, they are not all open on the same days.
The included museums are Archivo Histórico Regional, Espacio del Azulejo, Vivienda Portuguesa, Espacio Español, Espacio Dr. Bautista Rebuffo, Espacio Paleontológico "Armando Calcaterra", Espacio Indígena, Espacio Portugués. Roughly translated they ae: Cologne Museum Administration, Regional Historical Archive, tile space, Portuguese Housing, Spanish Space, Dr. Bautista Rebuffo Space, Paleontological Space "Armando Calcaterra", indigenous space, Portuguese Space.
Most of the museums close by 4.30 pm.
And then it rained…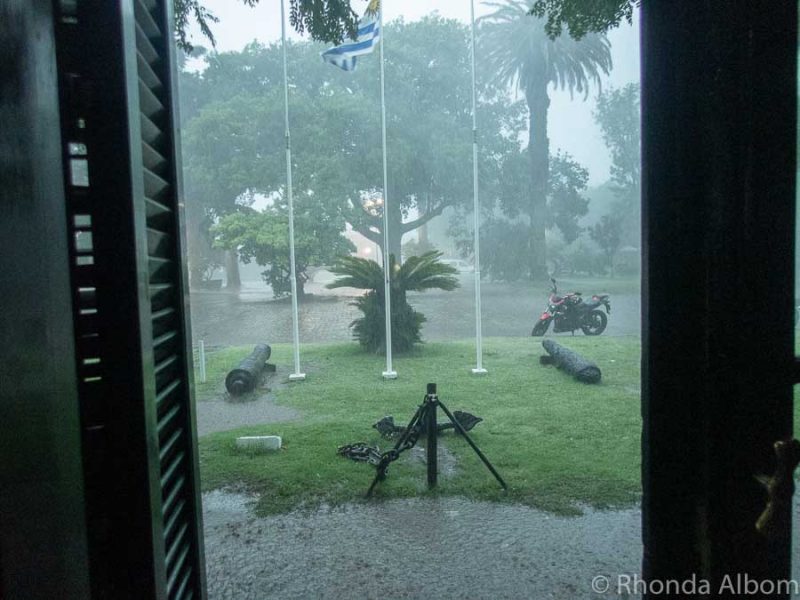 Luckily, when the sky dumped buckets, the Naval Museum took pity on us and allowed us shelter even after they closed.
The winds were so strong that all ferry services were cancelled. We wondered where we would spend the night but didn't stress about it.
And then, as suddenly as it had started, it stopped. No more rain, no more wind, ferry services resumed.
Basilica del Santísimo Sacramento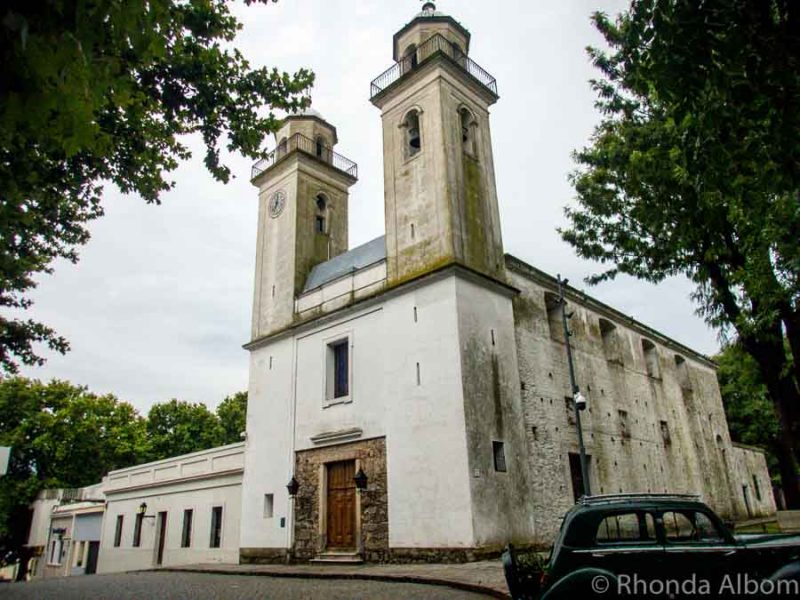 The basilica was built of stone and brick by the Portuguese in 1808 and maintains its original design of a single nave.
Ruins of the old Governor's House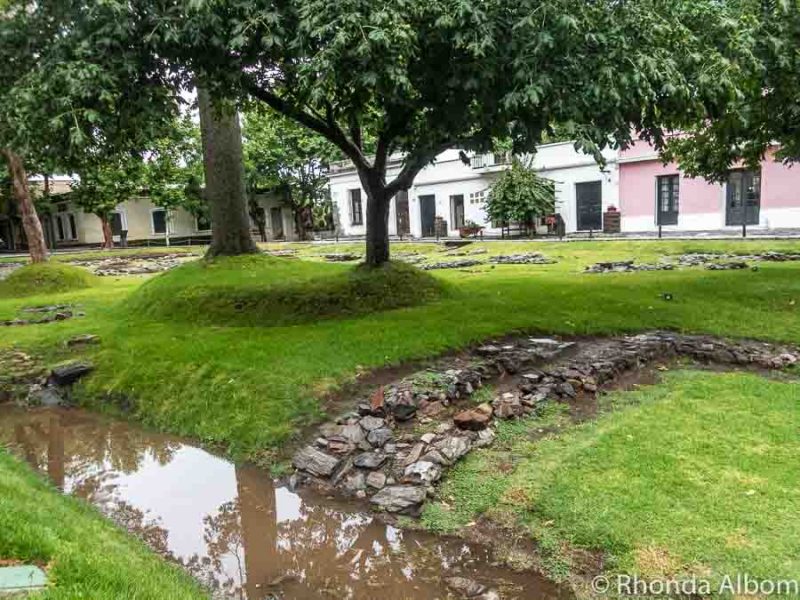 In 1680, Casa de los Gobernadores was the most prestigious house in the city, with a watchtower to keep a lookout for invaders. It was built for Portuguese Captain Manuel Lobo, who founded Colonia and was governor of Rio de Janeiro.
Dinner at Mercosur
Mercosur is where the locals go for a casual dinner. It's a 5-6 block walk from the old town (located at Av. Gral. Flores 252). I couldn't resist the parrilla (slow-cooked meats like asado in Argentina).
It is well outside of the historic district but worth the energy to take the short walk to get there.
More tips to make your Buenos Aires to Colonia del Sacramento easier
Spanish is the official language of Uruguay.
A 10% tip in restaurants is customary.
Currency is the Uruguayan peso, however, everywhere we went in Colonia displayed three prices: Uruguayan pesos, Argentinean pesos, and US dollars. And if you pay with a foreign credit card, you can often get a VAT tax (22%) refund.
PRO TIP: This discount should be automatically applied at restaurants, car rentals, and hotels if paying with a foreign card. See our Uruguay travel guide for more details.
Bring your passport.
If you return to Buenos Aires on Buquebus or Seacat, the taxis at the port charge very high prices. Specifically, they wanted $450 ARS to take us to our nearby hotel. Instead, we followed a large crowd out the door, walked a few blocks, and then hailed a taxi. We paid the metered amount of $101 ARS. However, I would not have felt safe walking just outside of the Colonia Express Argentina terminal in the dark.
The weather is unpredictable, especially in the summer, so bring a rain jacket.
Check out the rest of our South American itinerary or see our South American travel safety tips.
More on the cities in Uruguay we visited
We hit the big three of Uruguay, each as an independent visit.
Montevideo (the capital of Uruguay is a two-hour drive from Colonia del Sacramento)
Punta del Este (a resort town frequently visited by Argentineans).
Colonia del Sacramento (this page).
Save on your trip with these resources
These are our go-to companies when we travel. We believe this list to be the best in each category. You can't go wrong using them on your trip too.
Flights: we use Expedia for the best and cheapest flight options.
Accommodations: we use Booking.com (hotels) or VRBO (self-contained).
Cars (gas or electric): we use RentalCars to search for deals and dealer ratings.
Campervans or Motorhomes: we use Campstar where Albom Adventures readers get a 3% discount
Private guides: we love the private guides at Tours by Locals
Travel Insurance: we start at InsureMyTrip as they are the best option to compare plans and find the right coverage for you.
Check out our travel resources page for more companies that we use when you travel.
Please Share
If you enjoyed this article, please share it on social media, including Pinterest: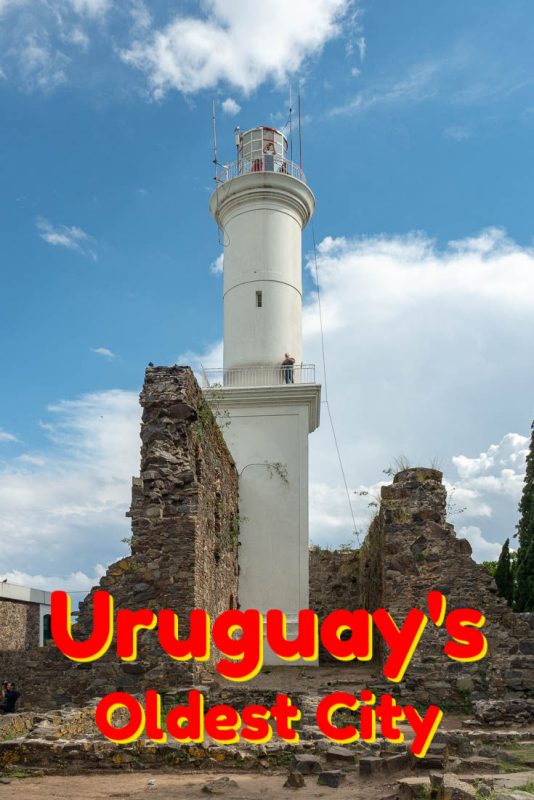 Will you take a day trip from Buenos Aires to Colonia del Sacramento?