From the first moment I stepped onboard the Azamara Pursuit, I was home. A boutique cruise, the ship's understated elegance is unmistakably welcoming, as is the crew.
The Azamara Pursuit caters to fewer than 700 passengers, yet our worry that there might not be enough to do on this smaller ship melted away as we absorbed ourselves into daily life.
Best of all, Azamara's desire to provide immersive shore experiences translates to longer port times than any cruise we had taken in the past.
We love cruising …
Azamara Pursuit
The newest of three ships in the Azamara fleet, we sailed during the inaugural season of the Azamara Pursuit over Christmas and New Year's Eve. Subtle festive signs were interweaved throughout the Azamara cruise ship. We were enticed to try Azamara by a great deal on the cruise.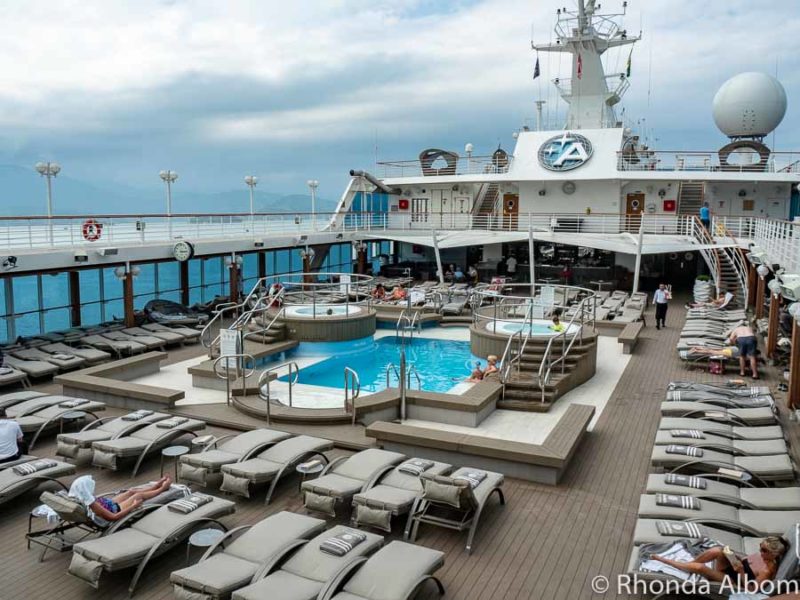 Azamara Shore Excursions
Azamara's strength goes beyond her ability to visit ports that are too small for many larger ships. Their excursion program focuses on individuality and cultural immersion. It starts on-board with destination expert lectures that concentrate on daily life as much as on key sites.
Add to that longer shore time in each port, local guides, and shore excursion groups not to exceed 25 passengers, and the result is an intimate cultural experience in a fascinating community.
AzAmazing Evening
A nearly perfect name for this shore excursion, the AzAmazing evening distinguishes the Azamara group from its competitors. This complimentary evening of culture and fun went way beyond our expectations.
On our Azamara Pursuit cruise, we were taken to a magnificent historic theatre in Montevideo, Uruguay where we were enchanted by a lively carnival-style show from Museo de Carnaval.
After the stage performance, we followed rhythmic drummers outdoors, where our evening continued under the stars while we donned masks (provided) and enjoyed drinks and fireworks.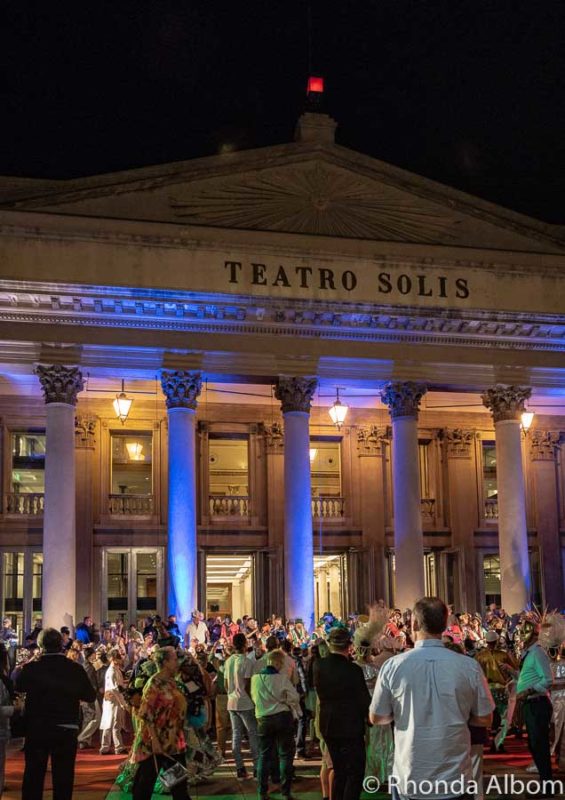 Our South America Ports on the Azamara Pursuit
The addition of the Pursuit to the Azamara fleet allowed expansion to more destinations. While South America was relatively new on the Azamara itinerary, the staff seemed knowledgeable. If you are a frequent cruiser on other lines, be sure to notice how long we were at each port.
1. Buenos Aires, Argentina
Argentina's vibrant capital city.
Our port of embarkation.
2. Montevideo Uruguay
We were captivated by the European charm of Uruguay's capital city, the destination of the AzAmazing event for this cruise.
Port time: Two days, with an overnight stay.
3. Santos, Brazil (coastal city for São Paulo)

4. Paraty, Brazil
5. Buzios, Brazil
An open-air trolley took us to over 20 beaches before we walked the streets of this former fishing village.
Port time: 10 hours.
Discover the best beaches in Buzios here.
6. Rio de Janeiro, Brazil
Standing at the base of Christ the Redeemer, we enjoyed the panorama of the city. The impressive sweeping view was only one of several high points in Rio de Janeiro.
Port time: 2 days and two nights, including New Year's Eve fireworks over Copacabana Beach.
Discover Rio, one of the most intense cities I have visited.
7. Itajai, Brazil (an added port due to bad weather ahead)
The captain added this port to the itinerary due to poor weather ahead at Punta del Este. It's a walkable town with delicious seafood and a nice beach.
Port time: 10 hours.
More coming soon.
8. Punta del Este, Uruguay (rescheduled to one day to avoid the weather)
Its white sand beaches make this town hugely popular amongst Argentinean holidaymakers. We enjoyed a walking tour.
Scheduled for 1.5 days with an overnight, we lost a day due to bad weather. In the end, we had 9 hours in port.
9. Buenos Aires, Argentina
Returning to one of my favourite cities was a thrill.
Port Time: 2 days, with an overnight stay and disembarkation.

Follow more of our South American itinerary or see our South American travel safety tips.
Life Onboard the Azamara Pursuit
Azamara Restaurants
Update: We sailed on the Azamara Pursuit before my food allergy diagnosis. More recently, we sailed on the Azamara Quest, and it was an epic failure with five of fifteen days serving foods to me that contain my common allergies: gluten, lactose or onion.
Like all cruises we have been on, food is a central feature. However, the Azamara's all-inclusive style means wine flows freely at dinner, specialty coffee is always available (at no extra cost), and we could even have frozen drinks out at the pool or spirits in the evening. The impeccable food presentation was matched by a combination of flavours reflecting the theme of the evening's Azamara menu.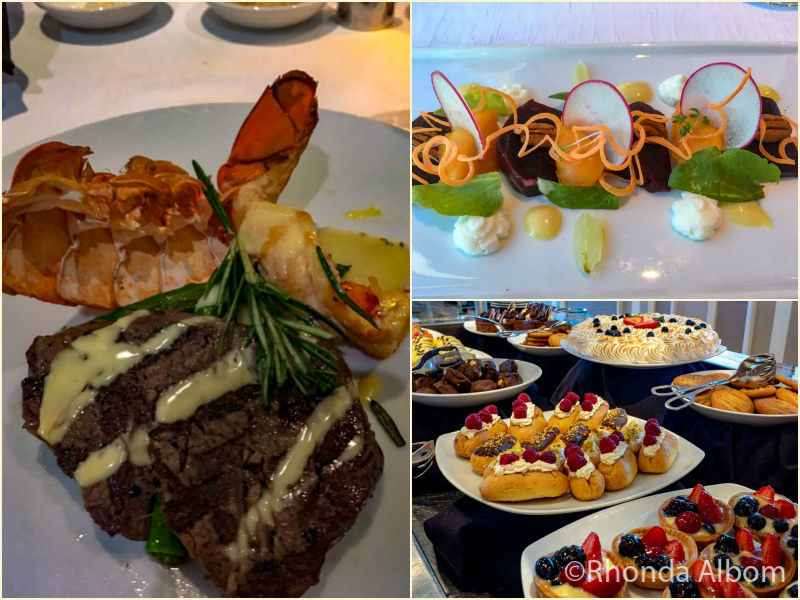 Other dining options include a grill, afternoon tea, specialty restaurants, and a coffee shop where you could find me every sea day afternoon.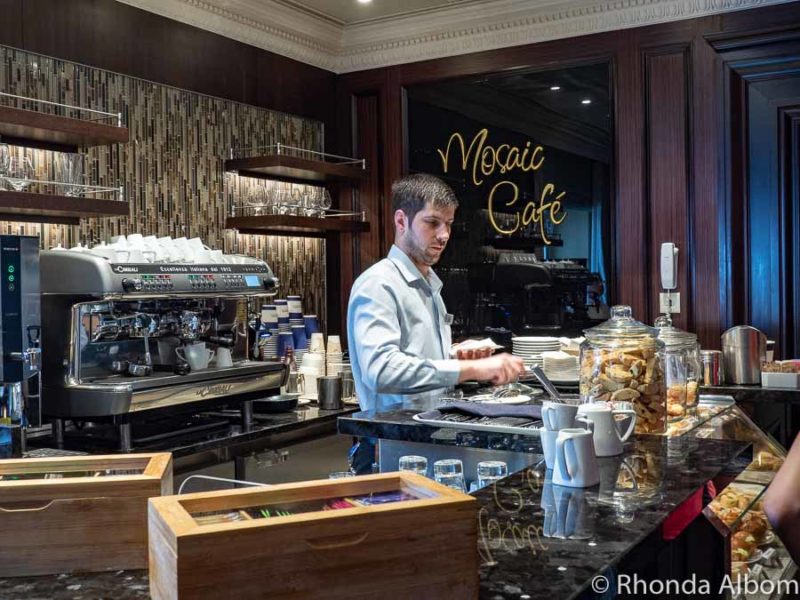 The Chef's Table dinner (extra charge) was an impressive masterpiece. Like the Chef's Table, we enjoyed on a prior Royal Caribbean cruise, it was by far the best meal on the ship. We also enjoyed a meal at each of the speciality restaurants onboard.
Azamara dress code
Cruise clothing, like street styles, ranges from overstated to underdressed. Azamara encourages a "friendly yet sophisticated onboard environment." Therefore, the general daily dress is "resort casual". The only "rule" I saw was no bare feet, tank tops, baseball caps, bathing suits, shorts, or jeans allowed in the dining room or specialty restaurants. However, there is no formal night on an Azamara Club Cruise.
This makes packing light for the cruise even easier. My cruise wardrobe is simple, flexible, and takes up very little space. You can download a free copy of our packing light checklist in the tips box below.
Azamara white night
A signature feature of the Azamara Club Cruises is a white night, with a candlelit poolside dinner. Passengers are normally encouraged to wear white, but on our New Year's Eve cruise, they named it "black and white night."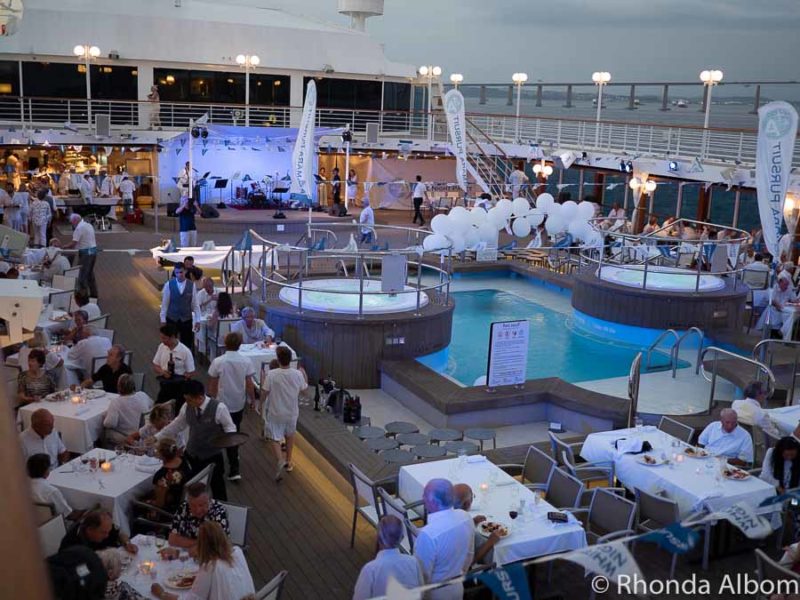 Azamara Pursuit spaces
The pool was a perfect way to cool off on a hot South American summer day or evening. In addition to traditional lounge chairs, there were random, relaxing options not usually seen at shipboard pools.
There are also plenty of quiet spaces onboard. The Living Room and Drawing Room are my two favourites. These and other spaces on the ship are also used for daily trivia games, art and dance lessons, enrichment lectures, exercise classes, social meetups, and weekly religious services. And, late at night, the Living Room converts into a disco.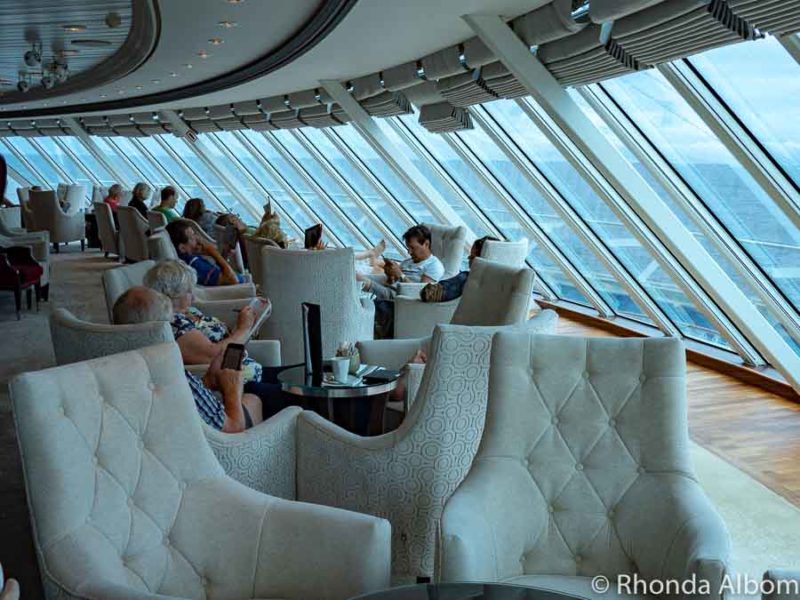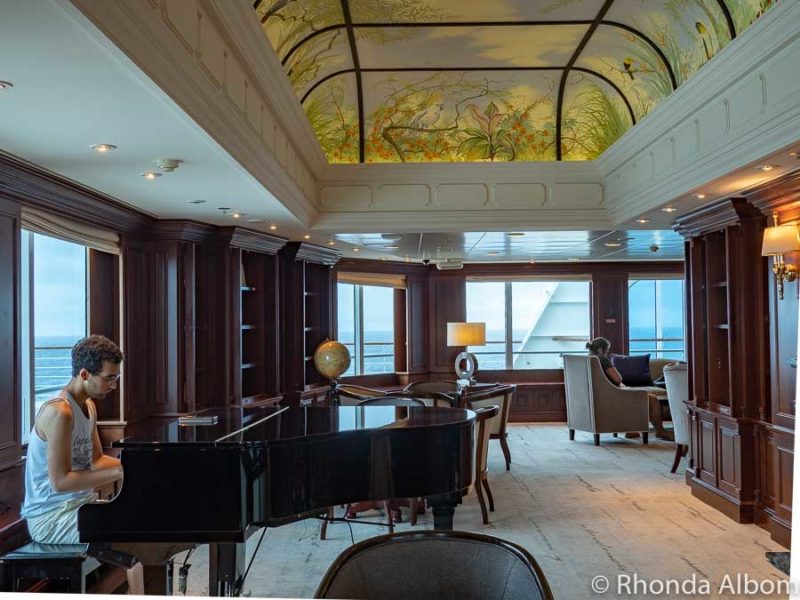 Our cabin on the Azamara Pursuit
The cabins are tastefully decorated in a modern minimalist fashion. While I think our Club Verandah stateroom might be smaller than other ships, it did an excellent job utilizing the space, providing plenty of storage, a decent-sized shower, a usable desk area, and an easy-to-access and relatively private deck with a table and two chairs. Once we turned the couch to face the sea, we felt like we had more space.
More Onboard the Azamara Pursuit
The smaller ship meant we never had to walk far for anything. Like other boutique cruise ships, it offered unique opportunities, yet many of the general tips for cruising still applied.
Nightly entertainment in the cabaret lounge rotated from dedicated Azamara performers to guest entertainers, including a hilarious comedian, beautiful dancers, and a Las Vegas singer.
Our cruise package included Azamara wifi for two devices.
Pro Tip: It works for two devices at a time. So as long as you log out of one, you can log into another using the same password. The downside is that the internet is a bit slower than what we have seen on some of the other ships.
The gym is a quick reminder that this a modern cruise ship featuring the newest of everything.
Massage, facials, hair, and nails are among the standard services offered by the Azamara Spa.
Pro Tip: We found the spa prices to be very high, even for a cruise ship. However, there were near-daily specials. Rather than scheduling in advance, twice I read a daily flyer, rang up, and had a fabulously relaxing treatment for nearly half price.
And if all this isn't enough, there is a chocolate night.
Get Cruise Deals
We often get the best prices when we can travel last minute, or when we purchase through companies like Cruise Critic. Remember, cruise companies don't like to sail with empty cabins.
⇒ Check for last-minute cruise deals on Azamara and other lines
Save on your trip and cruise with these resources
These are our go-to companies when we cruise. We believe this list to be the best in each category. You can't go wrong using them on your trip too.
Check out our travel resources page for more companies that we use when you travel.
Don't miss our best cruise tips.
If you enjoyed our review of the Azamara Pursuit, please share this article on social media including Pinterest:
Where will your boutique cruise on the Azamara Pursuit take you?
Disclaimer: We have a professional relationship with Royal Caribbean International, the parent company to Azamara at the time we sailed. Azamara is currently owned by Sycamore Partners. The opinions expressed here are strictly our own.