Specialty dining options have become a common feature on modern cruise ships, and the Chef's Table on Royal Caribbean's Radiance of the Seas is the best we have tried to date. The days of true "all-inclusive travel" are long gone. While the cost of sailing includes meals, Royal Caribbean, like the other lines we have sailed in the past few years, also offers "speciality" options for a cover charge.
Enjoy Endless Adventure and Explore the World on a Royal Caribbean Cruise! Book Royal Caribbean Cruises Today, Only at CruiseDirect.com!
What you get for the extra fee is an experience. In the case of the Chef's Table, a once in a lifetime exquisite five-course meal paired with appropriate wines. The Chef's Table was a truly unique evening, shared with new friends.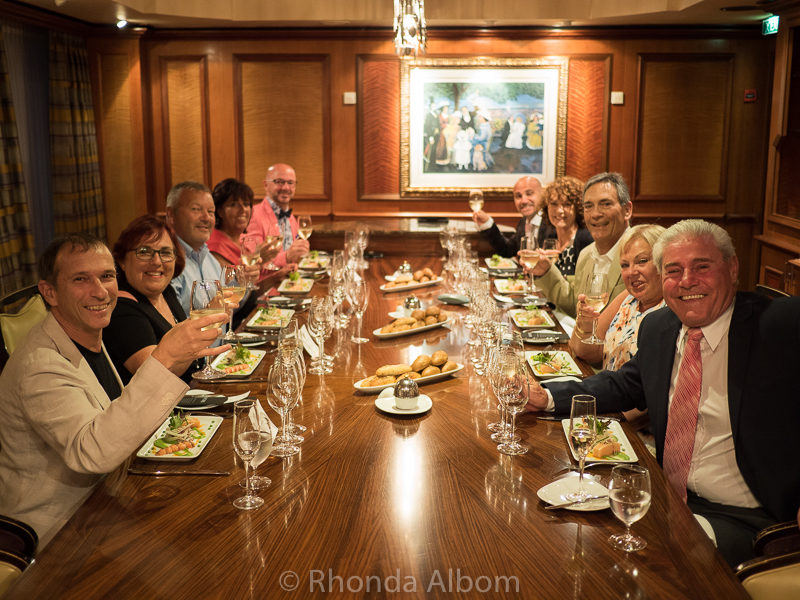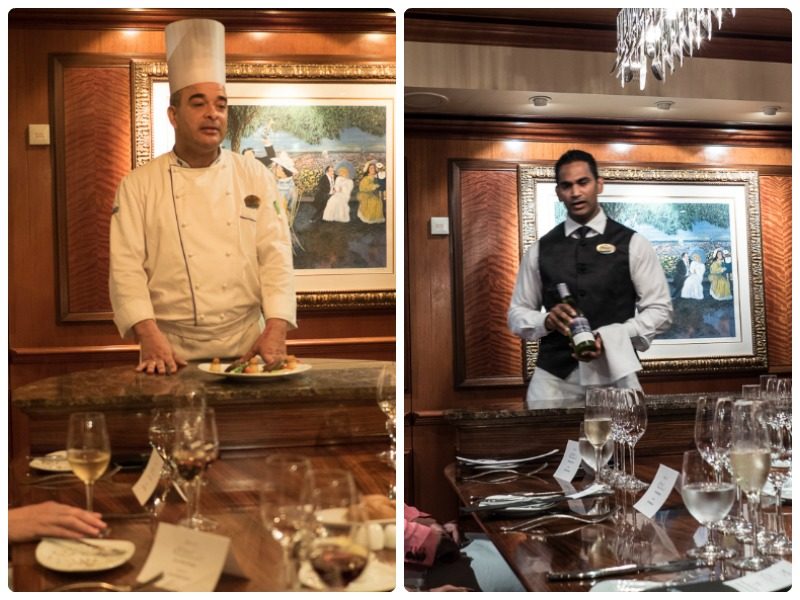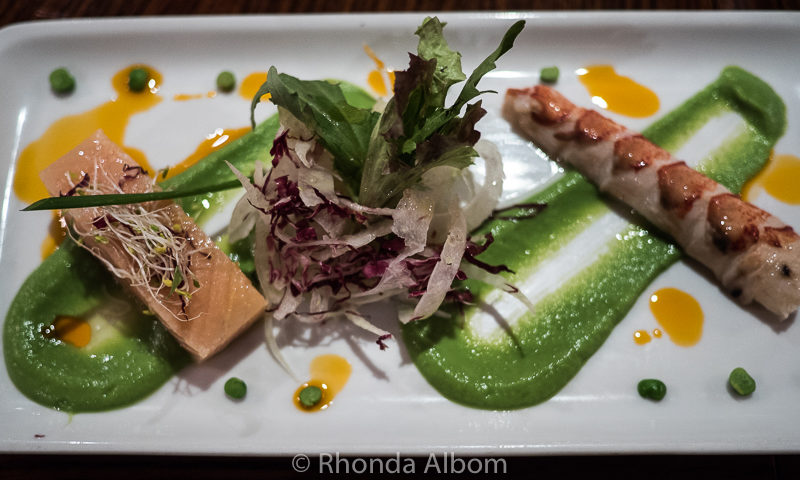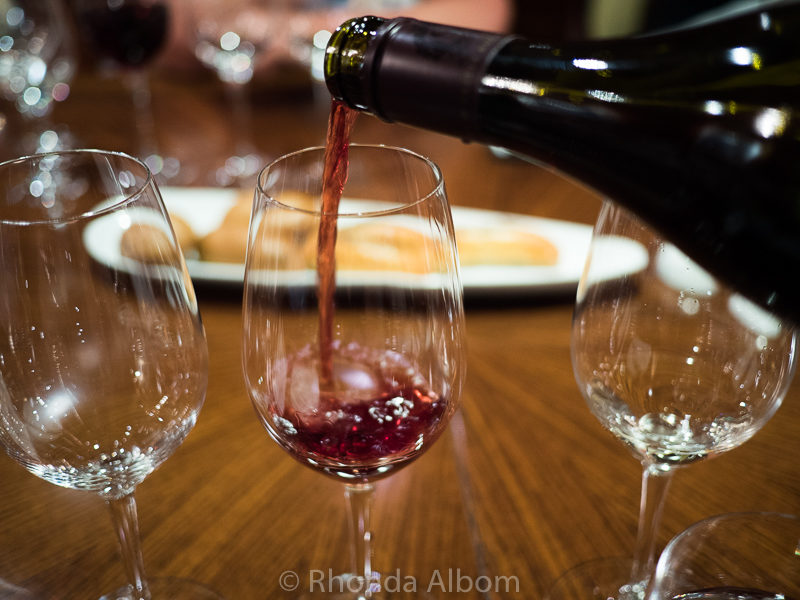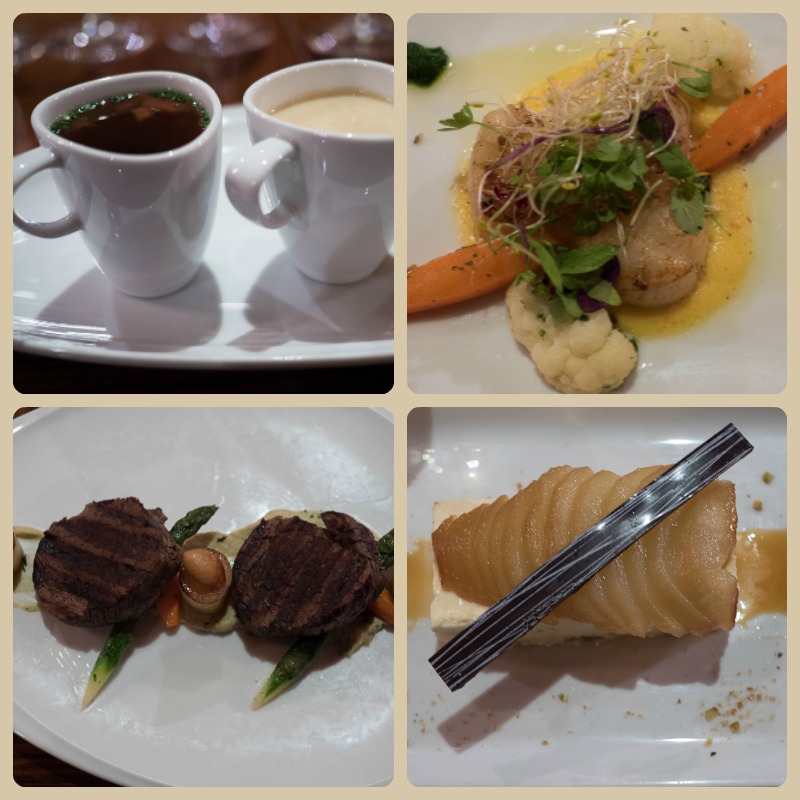 Chef's Table isn't the only speciality restaurant onboard the Radiance of the Seas. There is also an Italian, a Japanese, and two different steakhouses. Each offers a more intimate dining experience than the main dining room with personal attention paid to every detail.
We tried Samba Grill, a Brazilian Steak House offering what I imagine to be similar to asado in Argentina.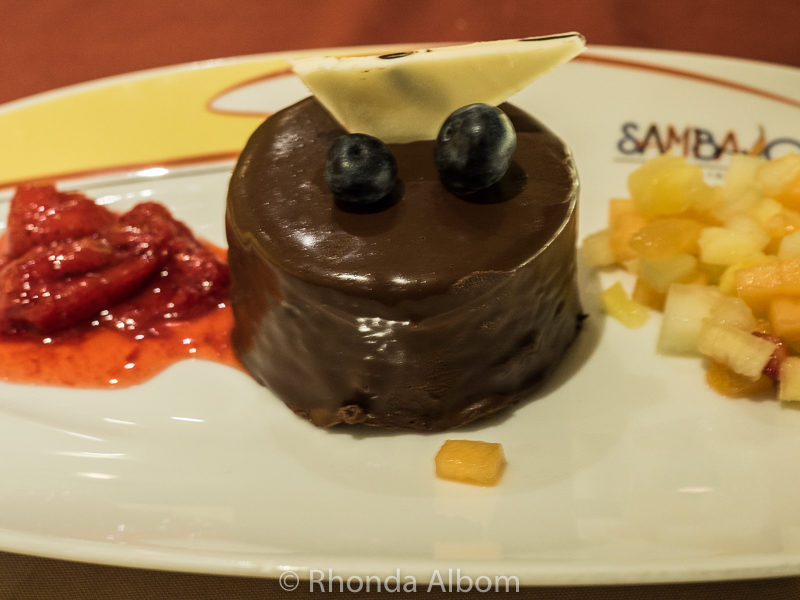 More about dining onboard Royal Caribbean:
⇒ Enjoy Endless Adventure and Explore the World on a Royal Caribbean Cruise! Book Royal Caribbean Cruises Today, Only at CruiseDirect.com!
It is easy to enjoy all your meals onboard without incurring any extra costs. There is the main dining room serving wonderful meals three times per day. The buffet is open much of the day offering meals, snacks, sweets, and beverages. Also included in your cost of cruising is a Boardwalk Hot Dog House, Park Cafe (healthier choices), room service, and snacks at Starbuck's coffee (The coffee is extra).
This ship has filtered coffee in all the dining rooms (a vast improvement over other ships we have been on that serve a coffee syrup).
Royal Caribbean offers dinner options of traditional dining with both an early and late seating at an assigned table, or My Time dining, allowing you to either show up when you are ready for dinner or make a booking ahead of time.
Guests at My Time are frequently seated at large tables of 8-10 passengers, allowing us to meet and talk to a variety of interesting people as we sail. It's a fun feature of Royal Caribbean, but if it's not for you, simply request a table for two.
We asked for the same waiter at every meal, as he was funny, personable, and we had an instant rapport. Even better, he quickly understood my tastes and made recommendations each night that I loved. Before meeting him, I was unsure what I was going to say about the food onboard, as I had already sent back a meal.
Reservations are available and often required for the speciality restaurants. You can even make them on the website before boarding if you have a special day you want to be sure to get.
If you are going to try more than one speciality restaurant and are including Chef's Table, I would recommend doing the others first, as nothing will compare to the Chef's Table. It is a once in a lifetime treat.
While I thoroughly enjoyed both of our speciality meals, I have mixed feelings on the concept of extra-cost dining. I miss the old days of cruising when everything was included. (I can say the same for the airlines.) What surprised me on this ship was the option of lobster or prime rib at dinner in the main dining room for an additional cost. I hope this is as far as the trend will go. Any more additional food charges would negatively impact the experience.
Have you cruised? Did you try Chef's Table or any of the speciality restaurants while onboard? What are your thoughts on offering a premium meal for a fee?
If you enjoyed this article, please share it on social media including Pinterest: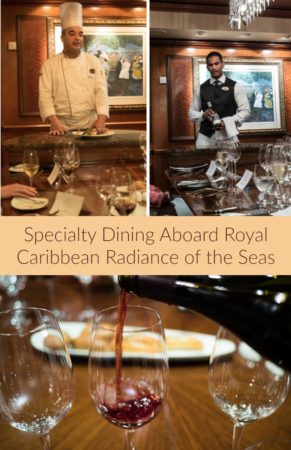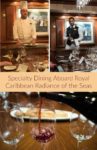 Disclaimer: In addition to VIP treatment onboard the Radiance of the Seas we were provided with many complimentary extras, including dining at Chef's Table. The opinions expressed here are strictly my own.