Brisbane is a popular cruise port, as well as a fun city to visit. Loaded with interesting things to do, trying to see Brisbane in a day can be challenging. We hope we made it easier for you below.
We have been to Brisbane multiple times and spent an extended two-month holiday in a home exchange house on the nearby Sunshine Coast. Being visitors ourselves, we took advantage of every opportunity and got a good look around Brisbane.
Having already visited the animal highlights (Australia Zoo and Lone Pine Koala Sanctuary) and most of the key museums more than one time, we opted for a city tour on our recent cruise circumnavigating Australia. In fact, it gave us a good feel for just how much we can see when attempting to enjoy Brisbane in a day.
Top things to do in Brisbane in a day
With only one day in Brisbane, you don't have time to do it all. But you can get to the highlights with a few choices.
Visit the Australia Zoo or Lone Pine Koala Sanctuary
Enjoy the outdoors at either of Brisbane's botanic gardens
See historical sites and interesting architecture
Overlook the city for fabulous views
Explore one of the many museums
Admire public art
Take a day cruise
Map of options for Brisbane in a day
Click the expand / collapse icon in the upper left corner of the map for the details and interactive options.
The suggested venues in this article are featured on the map either in red (in the city) or purple (requires extra driving to get there).
Have an animal encounter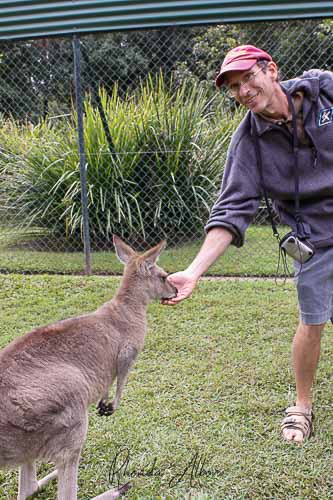 With or without kids, if you are an animal lover, or if you haven't seen some of the fascinating Australian animals, you probably will want to include either the Australia Zoo or Lone Pine Koala Sanctuary on your plan for Brisbane in a day.
We had been to both in the past, the zoo more than once therefore, we didn't choose either on our cruise port visit.
Australia Zoo
Nicknamed the Steve Irwin Zoo, it's one of the most interesting zoos we have visited. Dedicated to conserving wildlife through education and research, the zoo is home to over 1200 animals from around the world. For us, the highlights were some of the interesting Australian animals like wombats, koalas, Tasmanian devils, echidnas, dingoes, and kangaroos.
Located in Caloundra, it's a bit outside of Brisbane, so be sure to allow for transit time. Reserve your Australia Zoo ticket and roundtrip transfer from Brisbane here.
Lone Pine Koala Sanctuary
Founded in 1927, Lone Pine Koala Sanctuary is the world's oldest and largest koala sanctuary of its kind. Here, we got up close with some of the wildlife, including koalas and kangaroos. Plus, we enjoyed a free-flight raptor show and a sheepdog demonstration. It's also a bit outside of town in Fig Tree Pocket but much closer than the zoo.
Note: Both venues offer koala holds (extra fee) and the chance to hand-feed kangaroos.
Enjoy the outdoors at either of Brisbane's botanic gardens
There are two botanic gardens in the city. We went to the City Botanic Garden on our cruise port stop, as we were attempting Brisbane in a day on foot.
See historical sites and interesting architecture
With limited time, you'll want to see the highlights on your one day in Brisbane. Featured in the images:
Brisbane City Hall
City Hall offers free tours daily at 10.30 and 11.30am, plus a Friday to Sunday tour at 1.30pm. In addition, it is home to the free-to-enter Museum of Brisbane, featuring fascinating history and free 15-minute tours up the clock tower. According to our guide, the controversial sculpture above the building's columns depicts, in part, the Europeans forcing native Aboriginal people to leave.
The Old Windmill
This heritage-listed tower mill in Observatory Park was originally built as a grain mill and also used as a prisoner punishment device from the 1800s. Today it is considered the most haunted area in Brisbane. Here, prisoners were forced to wear 9kg leg irons and walk a treadmill for up to 14 hours per day. It was also used as a gallows.
St. Stephen's Cathedral
The oldest cathedral in Queensland offers free tours at 10.30am on weekdays following mass or on Sundays by appointment. Even if you don't tour, take a few minutes to admire the interior.
The Shrine of Remembrance
This is one of many memorials in ANZAC Square.
Overlook the city for fabulous views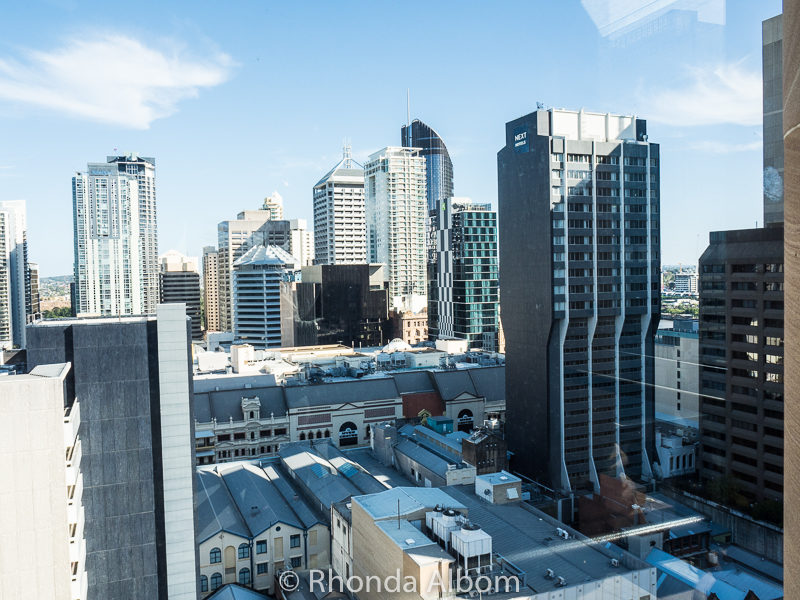 Two spots that offer a completely different perspective of the city are the City Hall clock tower and the lookout on Mount Coot-Tha.
Climb the City Hall clock tower
We took a free tour of the clock tower from the Museum of Brisbane located in the City Hall. It starts out with an operator-controlled ride up in the 1930s elevator to the top, which was about half of the fun, although the views from the top were pretty impressive.
Mount Coot-Tha lookout
A drive (or hike) to the lookout at the top of Mount Coot-Tha will reward you with impressive views of the Brisbane CBD skyline. There are coin-operated binoculars at the top.
Explore one of the many museums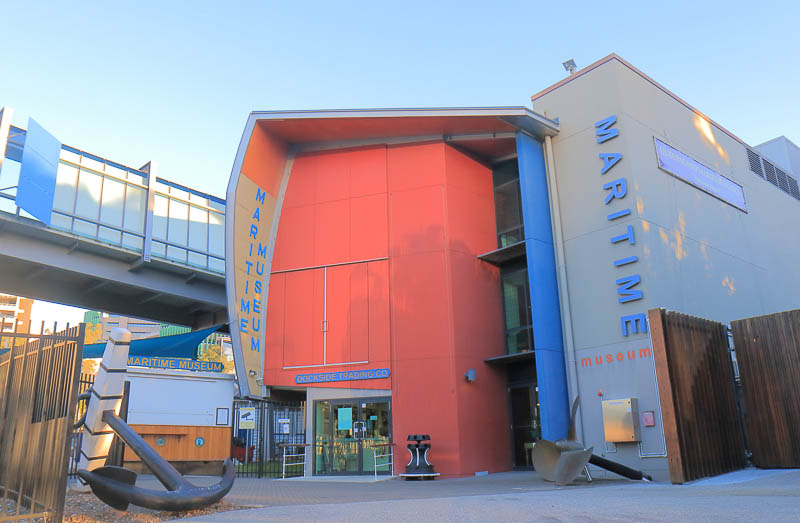 Museum of Brisbane
Located inside Brisbane's City Hall, it is discussed above.
QAGOMA – Queensland Art Gallery and Gallery of Modern Art
These two galleries exhibit historical Australian and international art as well as contemporary and modern art from Australia, Asia and the Pacific. The collection includes more than 19,000 pieces of art, with exhibits changing regularly. In addition, there is a cinema airing rare films and a Children's Art Centre featuring activities and exhibits for 12 and under.
Queensland Maritime Museum
The maritime museum has collections of heritage ships, maritime objects, and displays that show how Queensland has been influenced by activities on the water. Exhibits range from ship models to lighthouses to a dry dock where you can step aboard historic ships (the old ships were the highlight for our girls when they were younger).
Queensland Museum
This natural history, cultural heritage, and science museum has both permanent and changing exhibitions. SparkLab is a special STEM space oriented for 6-13 year-olds to discover and explore science.
Admire public art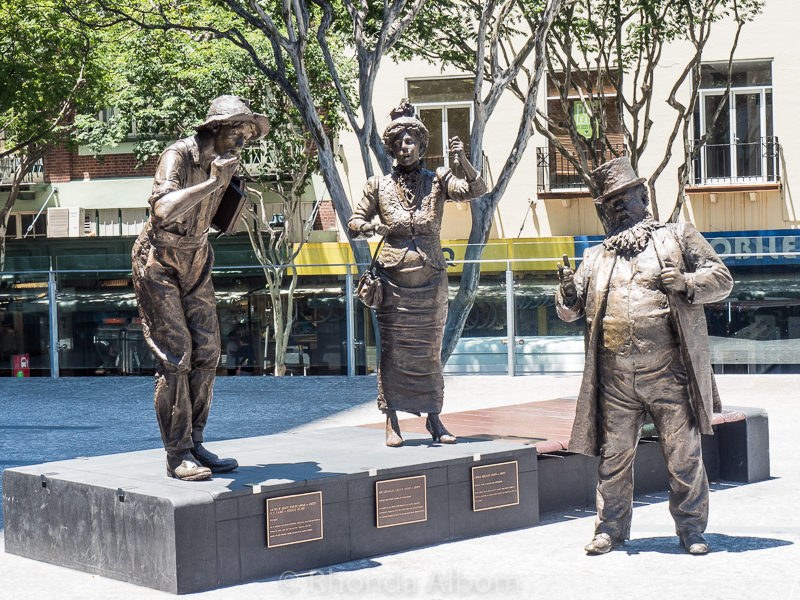 I am a huge public and street art fan, and limiting myself to sharing only two images here was a challenge. The tourism board has a guide on where to find street art in the city. The two above are:
Speaker's Square, the former soapbox location, is now home to statues of Arthur Hoey Davis, Emma Miller, and Sir Charles Lilley.
Two of the four welded metal kangaroos on George Street. (Side note: They are quite close to Merlo, the best coffee we have had so far on these travels.) We also saw similar kangaroo statues in Perth.
Take a day cruise on the Brisbane River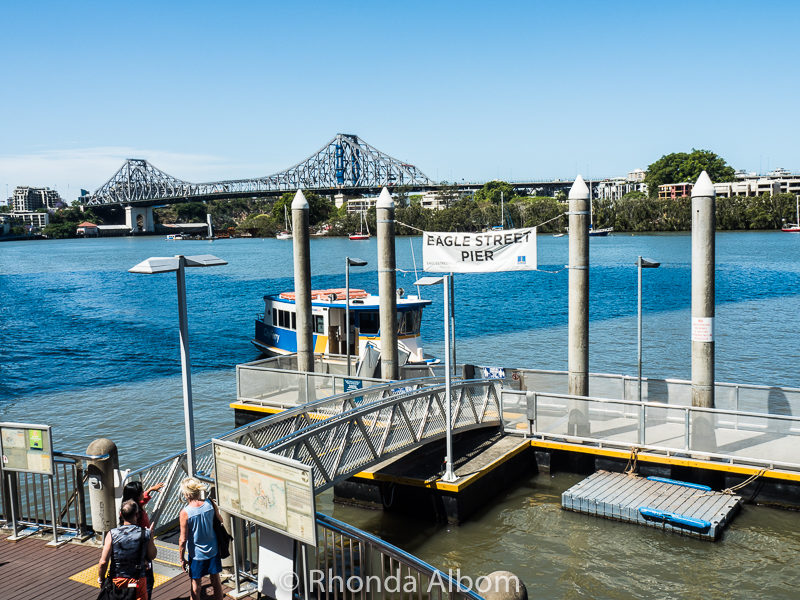 Eagle Street Pier is one of many ferry stops along the river. There is also a beautiful riverwalk path. (The Red ferries are free). The Story Bridge in the background is one of 10 bridges in Brisbane.
A few random Brisbane facts
Brisbane is Australia's coolest city, according to Forbes. I am unsure how any city that holds the world record for going to bed and waking up earliest can call itself "cool." Either way, it is a city with quite a lot to offer.
Smaller cruise ships dock closer to town, but the larger ships, like the Radiance of the Seas (the ship we were on), need to dock at Fisherman Island. It is about a 45-minute drive to the city. Royal Caribbean provided a low-cost shuttle bus option.
The streets in the city centre take their names from royalty. Interestingly, the names of the men run in one direction (NE to SW), and the women run perpendicular.
Brisbane was founded (1823) as a harsh penal colony with gallows in the streets. The worst criminals from Sydney were sent here to try and restore order in Australia.
The first free settlers came to Brisbane in the 1840s.
Brisbane was part of the state of New South Wales until 1859 when it became part of Queensland.
Save on your Australia trip with these resources
These are our go-to companies when we travel. We believe this list to be the best in each category. You can't go wrong using them on your trip too.
Flights: we use Expedia for the best and cheapest flight options.
Accommodations: we use Booking.com (hotels) or VRBO (self-contained).
Cars (gas or electric): we use RentalCars to search for deals and dealer ratings.
Campervans or Motorhomes: we use Campstar where Albom Adventures readers get a 3% discount
Activity discounts: we check Bookme.com for discounts of up to 70% on activities.
Private guides: we love the private guides at Tours by Locals
Travel Insurance: we start at InsureMyTrip as they are the best option to compare plans and find the right coverage for you.
Check out our travel resources page for more companies that we use when you travel.
Save for later
If you enjoyed this article, please share it on social media and save it for later on Pinterest.
How will you see Brisbane in a day?
Photo Credits:
All photos on this page are either shot by our team and watermarked as such or stock images from Depositphotos.