One visit to Perth, and you will instantly wonder why Australia's east coast cities seem to get all the attention. A cosmopolitan city, Perth is nestled along the Indian Ocean, the weather is generally phenomenal, it's easy to keep busy, and there are plenty of free things to do in Perth.
Our first visit to Western Australia was via cruise, starting in Sydney and sailing over the top of Australia to Perth. We immediately found the state of Western Australia to be different from the cities in the east.
There is a fresh, modernness to Perth, intermixed with culture, history and natural beauty. Overall, it is an artistic city, and everywhere we looked caught our attention.
Western Australia is home to half of Australia's plant species, and most are endemic to the region.
After disembarking our cruise ship, we opted to stay several days before we flew home. We have since visited again, each time falling more in love with the region.
Perth and much of the area from Geraldton to Esperance is on the Australian coast. It is also Nyoongar land that includes many aboriginal tribes.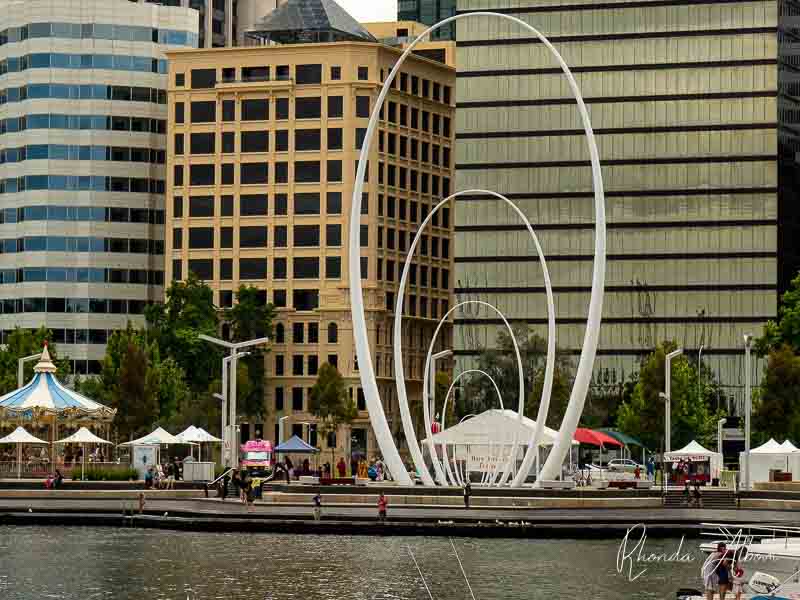 Top 7 free things to do in Perth (with more below)
Explore Kings Park

Search for interesting street art
Hear the music of the Bell Tower
Queue up for a photo of the Blue Boat House
Stroll along Elizabeth Quay
Relax (or play) at the beach
Take a free walking tour of the city
Interactive map of free things to do in Perth
Click the expand / collapse icon in the upper left corner of the map for the details and interactive options.
The suggested free things to do in Perth are on the map in red, while the day trips are purple.
Explore Kings Park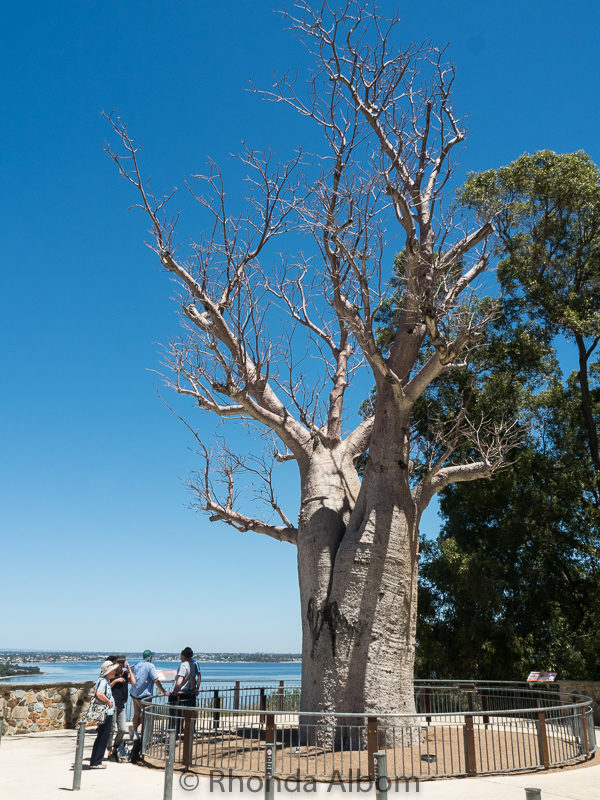 Covering over 4 square kilometres, Kings Park is one of the world's largest inner-city parks. It is home to both the Western Australia Botanic Gardens and several war memorials. A peaceful escape from the city's hustle, it's also a photographer's dream.
Stopping in the visitor's centre first, we picked up self-guided walking maps through the park, including the Boodja Gnarning Walk that explores some of the traditional Nyoongar ways of living off the land. We learned things like the red gum oozing from the Marri Tree (nicknamed "medicine" tree) contains a tannin with antiseptic qualities.
A free guided walk led by volunteer guides was our other option, but the times didn't work for us. Check here for seasonal times.
The photos highlight:
Estimated to be 700 years old, this is the oldest boab tree in Australia. It is said to have originally come from Africa.
A closer look at some of the native flowers.
A water garden in the Botanic Gardens.
Looking over the Court of Contemplation with the Cenotaph in the background.
The glass bridge overlooks the park.
Search for interesting public and street art
Perth is now Australia's number two street art city, following behind world-renowned Melbourne street art. It seems everywhere you look, there is either public art on display or street art on the walls.
This city is well known for its huge murals. One of the best examples is the 27-story-high mural by Matt Adnate on Hay Streets, as it is one of the world's tallest.
It appropriately sits on the exterior of the art series hotel named after him. In fact, we stayed at the Adnate on our last visit, and everything about it was lovely. Reserve your room at the Adnate here.
I love Perth's street and public art so much that I featured it in a separate article. Read it here: Street Art in Perth: Huge Murals and Sculptures in Australia.
Hear the Bell Tower
What looks like a modern glass tower in Barrak Square is actually one of the largest musical instruments in the world. Eighteen bells hang inside Perth's Swan Bell Tower, the largest of which is the ANZAC bell at 6,500kg. The oldest, dating back to before the 14th century, were made for St Martin-in-the-Fields church in London and are believed to be the only set of royal bells outside of the UK.
Bell ringers play the bells on Thursday and Sunday from midday to 1pm. This can be enjoyed from anywhere nearby.
However, if you want to get into the tower and have a chance to ring the bells, you will need to pay the entrance fee. Reserve your Skip-the-Line: Perth Bell Tower Experience Ticket here
Queue up for a photo of the Blue Boat House
Commonly referred to as the Blue Boat House, this charming structure at the end of a pier in Matilda Bay in Crawley is actually named the Crawley Edge Boatshed.
Being that I never really got that into Instagram, I didn't quite understand the need to stand in an hour-long queue for my turn to get a selfie directly in front of the boatshed. In fact, so many photos were taken that in late 2021, a mysterious sign appeared suggesting visitors photograph other Perth landmarks.
Stroll around Elizabeth Quay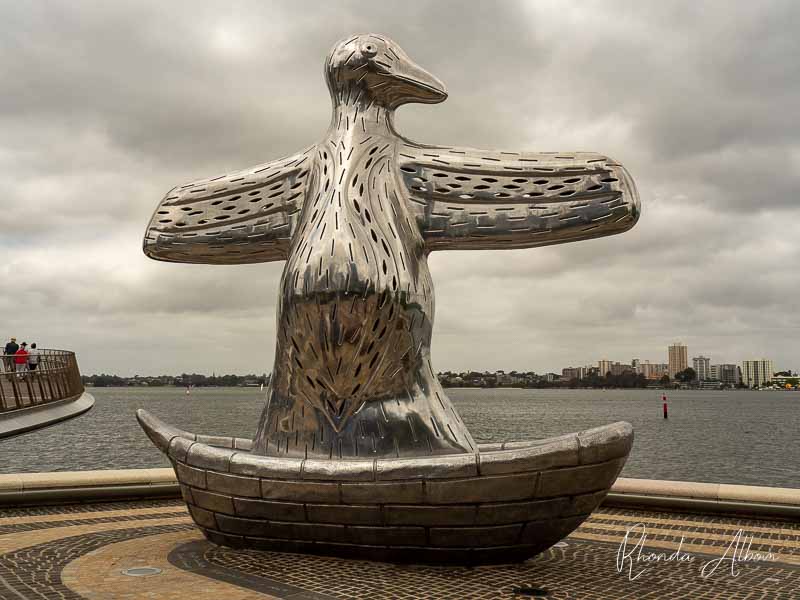 Connecting the city with the Swan River, the redevelopment of Elizabeth Quay created another space to hang out, to dine, and to enjoy the city. Filled with fascinating artworks representing significant cultural events and Western Australia heritage, there is a seemingly endless number of free things to see here.
Plus, the Elizabeth Quay area is beautiful in its own right and hosts several delicious restaurants and impressive hotels.
Relax (or play) at the beach
Warm, sunny, and right on the Indian Ocean, there are plenty of beaches to choose from in Perth. With white sand and crystal clear turquoise waters, you may regret not allocating more beach time in your Perth visit.
Western Australia is well known for its spectacular sunsets, so even if you aren't planning on a swim, head to one of the Indian Ocean beaches before dusk and enjoy. Or better still, have dinner with a view of the sunset.
Some of the best beaches include:
Cottesloe Beach is shortened to just "Cott" by the locals. Photoed above, you can quickly see why it's our favourite and probably the city's most famous beach. Gentle surf makes it family-friendly, as well as being great for snorkelling, stand-up paddle boarding, or swimming.
Lancelin Beach is a fabulous surfing beach, also super popular with kite surfers. Lancelin is considered a north coast beach area of Perth.
Scarborough Beach is perfect for surfing, swimming, or just relaxing on the white sand. With a new playground and skateboard bowl, it's also popular with families.
City Beach is the closest surf beach to the city.
Leighton Beach, although located in Fremantle, it's often found on any list of Perth's best beaches.

Take a free walking tour of the city
We took a free Introduction to Perth walking tour sponsored by the city. An excellent way to discover the city highlights and history, admire some of the architecture in the CBD, and learn how to use the free public transit. Our guide also pointed out great coffee spots, nightlife, and answered questions from the group.
Some of our highlights are photoed just above and include:
St. George Anglican Cathedral is known as the "rush church" as the original structure was built in only three weeks to be ready for Christmas in 1829.
Perth's Town Hall is the only town hall in Australia built by convicts.
The London Court runs between Hay Street Mall and St. Georges Terrace.
Brass Monkey is a hotel from the gold rush era.
St Mary's is the cathedral church of the Archdiocese of Perth.
If you can time it right, a walking tour is a perfect way to start off exploring the free things to do in Perth.
Today, the closest to the tour we took is called an Orientation Tour at 10:15am on Tuesday, Thursday, and Saturday. The city also offers free-themed tours at 10:15am: Icons of Influence (Mon), The Big Boom (Tues), Convicts & Colonials (Wed), Town Hall (Thurs), and Art City (Fri). Find more details on these tours here.
More free things to do in Perth
If the above isn't enough, here are a few more free things to do in Perth.
Visit the free-to-enter Art Gallery of Western Australia.
Enjoy a free movie in Northbridge Piazza on the city's first permanent LED screen.
Window shop at one of the 150 vendors at the Fremantle markets.
Enjoy a coastal walk. There are plenty to choose from, our favourite takes just under an hour: Leighton Beach to Cottesloe Beach.
Hang out in Matilda Bay or Blackwall Reach just before dusk, and hopefully spot some playful dolphins.
Head to Bold Park and enjoy a bush walk on the Zamia walking trail.
End the day with a stunning sunset over the Indian Ocean.
Fun things to do in Perth: day trips
While most of these are among the free things to do in Perth (there is an entry fee at the Pinnacles), you do have to get there, and that often costs.
Discover nearby Fremantle, another area close by with loads of free things to do. Monikered "Freo" by the locals, it's a relaxed place for a visit and easy to get to via commuter train. Although I have to admit, it was much more fun to take a Swan River lunch cruise to Fremantle.
Take the ferry out to Rottnest Island and get a selfie with a quokka. They are so cute and seemingly friendly (Australia has many interesting animals). But there is much more to the island, and it's worth allocating at least a full day to explore. Read more about Rottnest Island here.
Gnomesville is a 200km drive south of the city. It's a geographically small area but large enough that you will be surrounded by over 10,000 gnomes. And while you are in the Ferguson Valley, you might want to check out some of the wineries.
The Pinnacles is a surreal landscape in the Nambung National Park with thousands of limestone pillars sitting on a bed of golden sand. The pillars, formed by erosion, are up to 3.5 metres in height.
Northam: This was our first stop inland on the Public Silo Trail.
Margaret River: If you have more than just a day, you might want to take a longer road trip and spend some time in the Margaret River region or go a bit further and take Perth to Albany road trip.
Tips for visiting Perth
Many of the city buses are within the free transit zone. Not only are they free, but they seem to run frequently and on time.
The train is also an easy and affordable way to get around.
Although not one of the "free things to do in Perth", the hop-on-hop-off bus is a great way to learn about the culture and history while travelling around the city on a double-decker, open-top bus. Simply hop off at the stops that interest you and hop back on the next bus to continue your circuit. Reserve your hop-on-hop-off bus tour here.
If you are a late dinner eater like we are, be warned, this town goes to sleep fairly early.
Save on your Australia trip with these resources
These are our go-to companies when we travel. We believe this list to be the best in each category. You can't go wrong using them on your trip too.
Flights: we use Expedia for the best and cheapest flight options.
Accommodations: we use Booking.com (hotels), VRBO (self-contained), or Hostelworld (budget).
Cars (gas or electric): we use RentalCars to search for deals and dealer ratings.
Campervans or Motorhomes: we use Campstar where Albom Adventures readers get a 3% discount
Motorcycles: we have heard good things about BikesBooking.
Activity discounts: we check Bookme.com for discounts of up to 70% on activities.
Private guides: we love the private guides at Tours by Locals.
Travel Insurance: while not required, we always opt for travel insurance and start at InsureMyTrip to compare coverage plans.
Check out our travel resources page for more companies that we use when you travel.
Save for later
If you enjoyed this article, please share it on social media and save it for later on Pinterest.
Photo Credits:
All photos on this page are either shot by our team and watermarked as such or stock images from Depositphotos.