From pristine beaches to lush forests and charming towns, our Perth to Albany road trip along the coastal road was an exciting adventure. Our drive along the coastline was nothing short of spectacular. The Indian Ocean sparkled on one side, while the rugged terrain of Western Australia stretched on the other.
Each twist and turn in the road revealed new breathtaking views, squelching the rumour that driving any distance in Australia is just long and boring.
Our Perth to Albany road trip was dotted with charming towns and cozy villages, each offering a unique slice of Western Australia life. Quaint cafes, local eateries, and friendly faces greeted us at every stop. We indulged in delicious regional cuisine and interacted with locals, learning fascinating stories about the history and culture of the area.
Jeff and I loved the natural beauty that surrounded us everywhere. The diverse landscapes changed from golden sand dunes to lush forests and towering cliffs. The southwest region of Western Australia truly captivated our hearts with its abundant biodiversity and striking vistas.
Key stops on our Perth to Albany road trip
Lake Clifton
Ferguson Valley
Bunbury
Busselton
Sugarloaf rocks
Naturaliste Lighthouse
Canal Rocks
Margaret River
Caves (Mammoth, Jewel, and Lake Caves)
Augusta
Gloucester Tree
Denmark
Our Perth to Albany road trip coastal route
Use the expand / collapse icon in the upper left corner of the map to see the details.
Completing a loop that started in Perth and headed through the Wheatbelt along the public silo trail to Albany, we followed the coastal portion of a Perth to Albany road trip in reverse order. However, we present it below from Perth to Albany.
In total, we spent about 9 hours of driving time to get Perth to Albany, but we broke it into chunks and added a lot of off-the-beaten-track discovery. We like to enjoy the journey.
Car hire (rental)
Unless you have a vehicle, you will need to hire a car. Worldwide, we always rent from RentalCars. They offer a comprehensive list of multinational and local rental car agents, ratings on specific car types, and agency ratings. Importantly, they often have lower prices than going direct.
Whether you rent from them or not, it's still the perfect place to begin your search. Click here to compare options and check availability at RentalCars.com
Starting city: Perth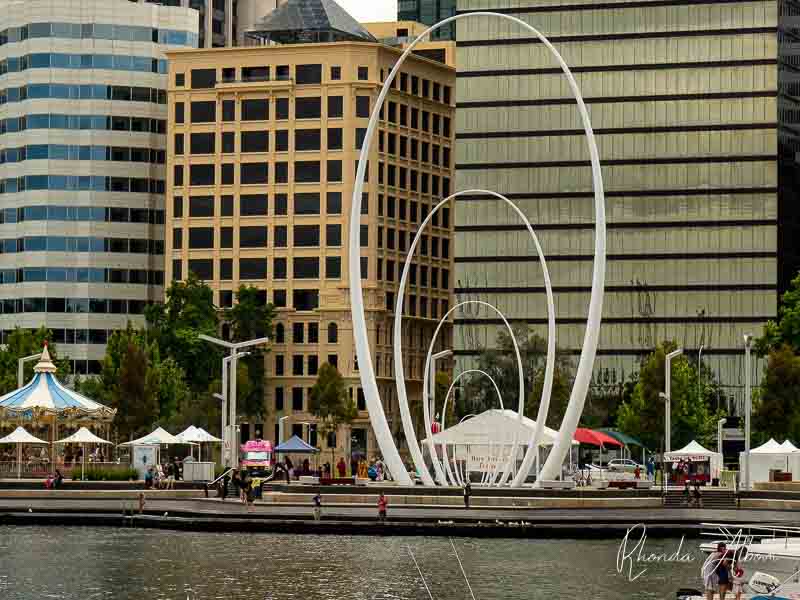 Perth is a fun city that we have visited multiple times. There is plenty to see and do here, and we always like to spend at least a few days before heading out anywhere.
Suggested activities: We have detailed all our favourite things to do in Perth here, but the three that top our list are a visit to Kings Park, a day trip to Rottnest Island, or a day trip to Fremantle.
Perth to Albany road trip: west coast
With the Indian Ocean on one side, and the desire to see it all, we spent two days slowly driving the west coast between Perth and Busselton.
Lake Clifton thrombolites
Staring in wonder, I examined the thrombolites before reading the signage. Once I understood that thrombolites added oxygen to the planet, allowing for life millions of years ago, I realized this is one of the most fascinating places I have been, and there have been many.
Today, thrombolites can only be found in a few freshwater lakes in Western Australia. Lake Clifton is one of them. These are not rocks but rather ancient life.
Ferguson Valley: gnomes or wine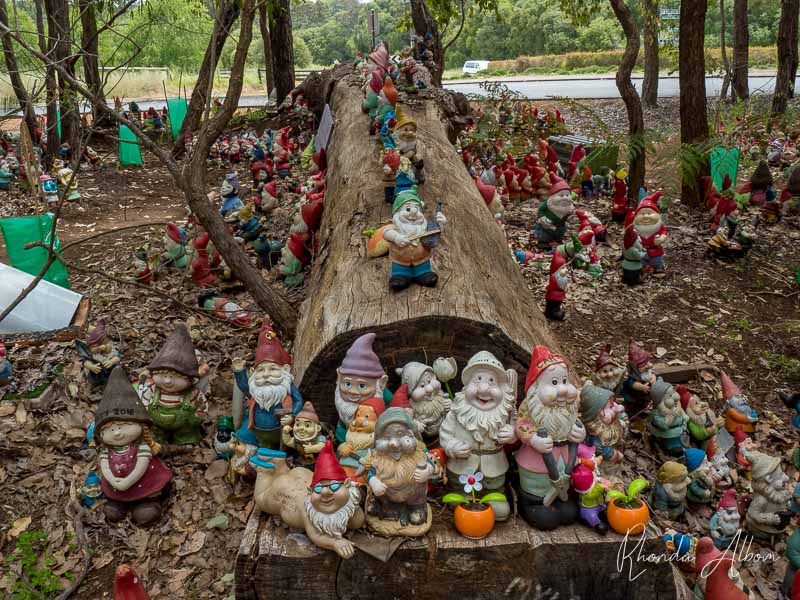 Often a day trip from Perth, I think most people come to the Ferguson Valley for wine tasting. If this is you, we recommend this tour.
We, however, were enchanted by the idea of Gnomesville.
Imagine a village of gnomes. Big gnomes, little gnomes, sexy gnomes, creepy gnomes, and even nude sunbathing gnomes have been added to this expanded corner. In fact, over 10,000 of the little creatures have been added. I was so drawn into this place I wrote an entire article on Gnomesville.
Bunbury: Dolphins, views, coffee
We embraced the charm of Bunbury, a coastal town with beautiful beaches, lovely viewpoints, great coffee, the Dolphin Discovery Centre, and a friendly atmosphere.
The Dolphin Discovery Centre itself is an education facility that bases its programs on wild dolphins in their natural habitat. The building itself is filled with interactive exhibits, and there are no captive dolphins here. The magic happens with the tours out on the water. Reserve your Dolphin Discovery entrance here or reserve a dolphin eco cruise here.
Also, in Bunbury are two viewing platform options, the higher one involving many stairs (and it was a very hot day) or the slightly lower one that was a drive up. I'll admit, we opted for the driving road.
A personal recommendation brought us to "Capaccino Road" (Victoria Street) and a delightful cafe, Beneese, with great coffee and even some GF/DF delicious raw treats.
Perth to Albany road trip: Margaret River region
While there is a town called Margaret River, it's the region that most people refer to when they talk about a Margaret River getaway. It runs from Busselton to Augusta and has red markers on our map above.
Busselton Jetty
Home to the longest timber-piled jetty in the southern hemisphere, it's a must-see on any Perth to Albany road trip. Extending out just over 1.8 km, construction on the Busselton Jetty began in 1865.
You can get out to the end either on foot or, during the daytime, there is a tram. The last 150 metres of the jetty is available only when the underwater observatory is open.
Two other key things to do in Busselton are to take a whale watching cruise or enjoy a unique high ropes forest adventure that lets you skateboard or ride a BMX bike in the trees. (This is the only place in Australia where you can do this. Reserve your high ropes adventure here.
Cape Naturaliste: whale watching, beaches and views
Whale watching near Eagle Bay Beach
From September to November, whales can often be spotted here, and we were lucky enough to see two humpback whale breaches plus two additional mums and calves. Whale monitoring volunteers sit on the bench next to a small wooden toilet block. If driving as an Albany to Perth road trip, it's just beyond Eagle Bay, along Eagle Bay-Meelup Road.
Meelup Beach
After whale watching, the shimmering white sand and turquoise water made it impossible to resist the temptation of a quick swim.
Sugarloaf Rocks
Just a few km off the main road, we were rewarded with an incredible coastline and the massive Sugarloaf rock (although not comparable to Sugarloaf mountain in Rio de Janeiro).
Naturaliste Lighthouse
The only way up the lighthouse is with a guided tour (Reserve your guided tour here). I was simply too tired for this by the time we arrived and just enjoyed the old lighthouse built in 1904, which is still using its original lens.
Yallingup: Canal Rocks and chocolate
Canal Rocks
Here we had a choice right from arrival. We could either follow the boardwalk or start climbing directly over the rocks. The boardwalk is the suggested way to go, and at the other end, we would be treated to spectacular views of the clear turquoise and green waters and the option to walk out onto the rocks but not to see the canal. Per a local's suggestion, we walked over the rocks directly in front of the car park and got views of the canal.
Gabriel's Chocolate
Award-winning handmade chocolates with tons of accolades to their name. Gabriel, as we were told, is intimately involved in all aspects of production and personally gives tours for larger groups (30 or more). It's worth a stop, if just for the free samples, as it took only one taste for me to understand why it is popular.
Cowaramup: It's all about cows
A town initially named for the Cowara bird, it is now all about cows. Having a daughter who is obsessed with cows, we had to stay here. This gave us ample opportunity to walk around in search of the 42 artificial cows situated randomly throughout the town.
Reminding me a bit of Bulls in New Zealand; it's a town that doesn't miss an opportunity to poke some fun at its namesake. Even the medical centre was called "Mootown Medical".
Margaret River (the town)
While it's a charming vacation town featuring a main street lined with restaurants, hotels, and gift shops, it is the entire region that most people refer to when talking about how much they love Margaret River. We didn't spend long in the town with the same name.
Explore a cave
There are four main caves to visit in the Margaret River region (marked in black on the map). We explored Mammoth Cave, visited Lake Cave and never made it to either Jewel or Ngilgi Cave.
Jewel Cave
Jewel is best known for being the biggest show cave in Western Australia. After talking to several locals, we eliminated it as some smaller passages require visitors to stoop over to pass through. While this is not a problem, Mammoth Cave sounded equally as interesting and easier. Reserve your fully guided tour of Jewel Cave here.
Mammoth Cave
Stunning examples of everything I enjoy seeing in caves, and all in wide open, mammoth size spaces. The paths are well-marked, and the number of stairs is limited. Rather than a guided tour, Mammoth has audio tours allowing visitors to go at their own pace. We spent about an hour in the cave.
Lake Cave
Even if you are not planning on entering Lake Cave, it is worth a stop for the viewing platform. You can look over the cliff edge at the cavern and through any of the three glass circles on the viewing platform into the cave. Unfortunately, without a tour, you cannot see the lake at the bottom. Reserve your fully guided tour of Lake Cave here.
Ngilgi Cave
An ancient cavern filled with crystallized rock formations. Reserve your Ngilgi Cave Semi-Guided Tour here.
Augusta: where the seas meet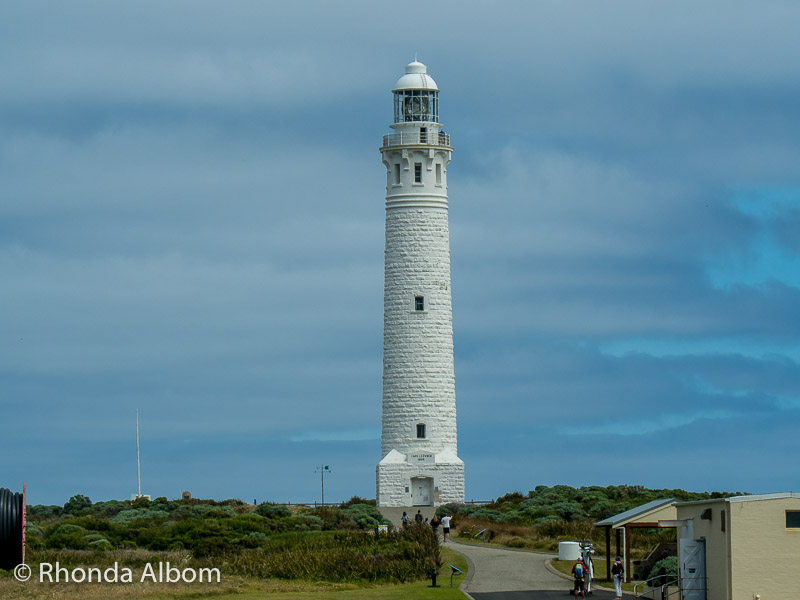 The southern end of the Margaret River region, Augusta is where the meeting of seas takes place, bonding the Southern Ocean to the Indian Ocean. Surrounded by stunning scenery, it's one of our favourite stops, and one which we almost skipped.
Here we also found Thousand Suns, a most delightful cafe serving breakfast and lunch. But the top three things to do are:
Cape Leeuwin Lighthouse
It is here we can most clearly see the meeting of seas. Going up in the lighthouse is only done by tour, and there is also a nominal fee just to get onto the grounds to see the lighthouse and the light keepers house. Reserve your Cape Leeuwin Lighthouse tour here.
Waterwheel
This old waterwheel is now covered in natural minerals and no longer working. However, we found it worth a stop to see.
Hamelin Bay Beach
Here we found sparkling white sand, crystal clear turquoise waters teeming with marine life, and coastal walks, making Hamilin Bay Beach a must-see for us. It's also famous for the abundance of sting rays in the waters.
Perth to Albany road trip: south coast
Like the other portions of our drive, the southern coast, along the Southern Ocean, did not disappoint.
Beedelup Falls
This small waterfall is on a beautiful, short walking track and was a great opportunity to stretch our legs. Be warned, there are lots of steps and a swing bridge on the path.
If you are feeling energetic, there are up to 5km of walking trails here.
Pemberton: Gloucester Tree and provincial museum
As we ascended the tree's metal spikes and wooden steps, our hearts raced with excitement. Climbing the Gloucester Tree is an adrenaline-pumping activity that rewarded Jeff with breathtaking views. Me, I wasn't brave enough to get to the top.
According to Jeff, the effort is well worth it, and the reward from the lookout at 53 metres above the ground was sweeping views of the forest canopy stretched out before him.
While here, we also took a walk through the interesting Pemberton Pioneer Museum in the Visitor's Centre.
Denmark: Tree tops, Green Pools, and Elephant Rocks
Tree Top Walk
The Valley of the Giants Tree Top Walk in Denmark was an exhilarating adventure. The 600-meter-long suspended walkway offered uninterrupted views of the treetops and wilderness, reaching 40 meters above ground level. We followed the Ancient Empire walk through 400-year-old tingle trees with openings to walk through.
Despite seeing huge trees before, they never cease to remind us that we are tiny specs on the planet. We experienced similar emotions as we walked through the giant redwoods of California or the night walk above the trees in Rotorua, New Zealand.
Green Pools and Elephant Rocks
While the striking contrast of emerald pools against the granite rocks and the mesmerizing turquoise hues of the Southern Ocean dominates most people's memories from here, for me, it was the highly venomous Brown Snake we encountered and share photos of here.
Ending city: Albany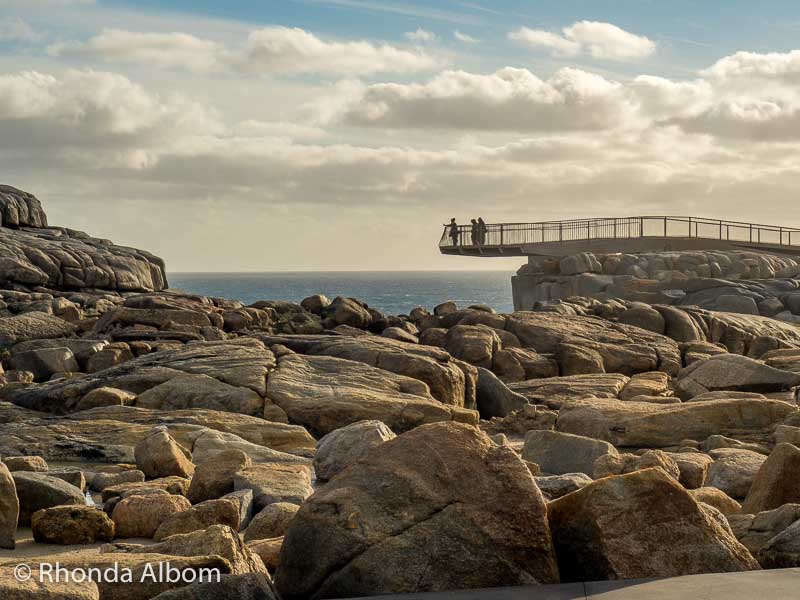 We based ourselves in Albany for a bit between the two halves of the driving loop, from Perth to Albany road trip through the public silo trail and then from Albany to Perth back along the coast. It's a delightful place filled with ANZAC history and some stunning scenery and nature.
Suggested activities: We have detailed all our favourite things to do in Albany here, but the three that top our list are The Gap and Natural Bridge inside Torndirrup National Park, The National ANZAC Centre (a must-see for Australians and New Zealanders), and the historic Albany Whaling Station.
Save on your Australia trip with these resources
These are our go-to companies when we travel. We believe this list to be the best in each category. You can't go wrong using them on your trip too.
Flights: we use Expedia for the best and cheapest flight options.
Accommodations: we use Booking.com (hotels) or VRBO (self-contained).
Cars (gas or electric): we use RentalCars to search for deals and dealer ratings.
Campervans or Motorhomes: we use Campstar where Albom Adventures readers get a 3% discount
Activity discounts: we check Bookme.com for discounts of up to 70% on activities.
Private guides: we love the private guides at Tours by Locals
Travel Insurance: we start at InsureMyTrip as they are the best option to compare plans and find the right coverage for you.
Check out our travel resources page for more companies that we use when you travel.
Save for later
If you enjoyed this article, please share it on social media and save it for later on Pinterest.
Where will you stop on your Perth to Albany road trip?
Photo Credits
Photos on this page are either shot by our team and watermarked as such, in the public domain, or some stock photos were supplied by DepositPhotos.