Not your typical tourist attraction, the ruins of the never completed $80 million Sheraton Rarotonga Resort is a series of derelict hotel buildings on the largest of the Cook Islands.
While there are plenty of beaches to visit, hiking, watersports, and other things to do on the island, we found ourselves strangely drawn to this abandoned hotel on Rarotonga.
Today, the ruins tell a tale of politics, organized crime, and a curse.
Note: Based on world conditions, we advise checking official channels including cancellation policies prior to booking. Also, with often reduced capacity, booking ahead becomes more important.
Sheraton Rarotonga's cursed derelict buildings
One look at the dilapidated buildings and we knew we found what was labelled on our map as "Sheraton Hotel Derelict". The sign on the gate said, "private entry, day tours only, see the blue house."
Cautiously, we entered the property, scanning each of the desolate buildings before we noticed a blue shack behind us and across the street. While Jeff headed there to pay, I began taking photos. First of the goats, as they were right in front of me, then of the first of the vacant hotel rooms.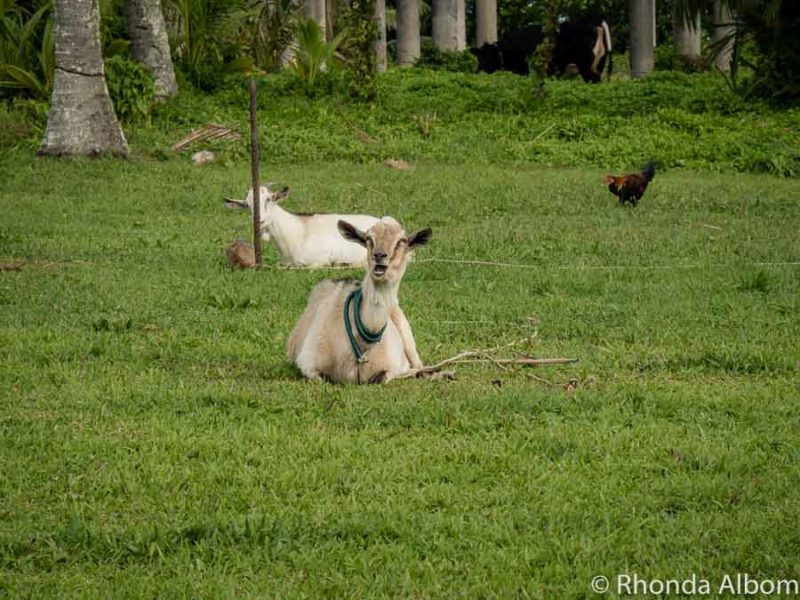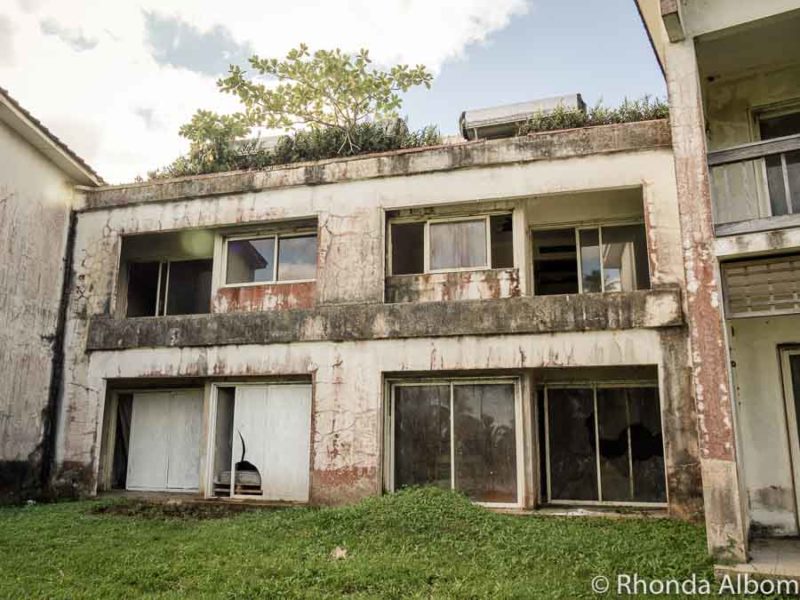 "Hey!" I barely heard the shout over the engine of the motorbike as it pulled up alongside me. A short, hefty man jumped off the bike and I quickly explained that my husband had gone to the blue house across the street.
Without acknowledging the shack, he requested $5 each. In exchange, he shared a story fueled with organized crime, politicians, tribal land, and a curse, all resulting in 40 years of deterioration of a once $80 million property that never opened.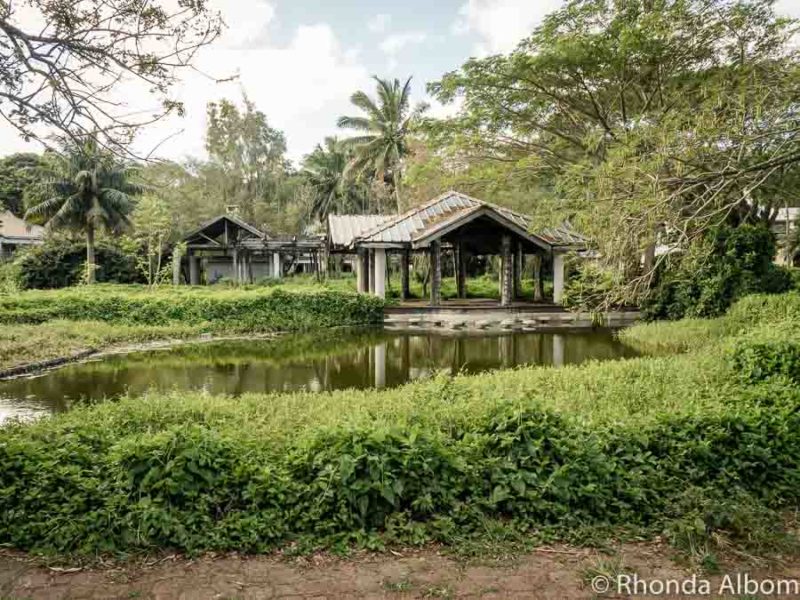 From the best of my recollection, I will share the tale here.
It was the mid-80s when Italian contractors were hired to build the $80 million Sheraton Rarotonga Hotel. Rather than using local labour, they brought in 360 Italian workers. As one can well imagine, this did not please the local people, especially the Takitumu tribe, the keepers of the land.
The Italians soon built a 250-room hotel and were ready to develop the land. Their plan was to re-route the waterfront road around the complex, thus allowing for a man-made lagoon filled from the sea where the original road sat.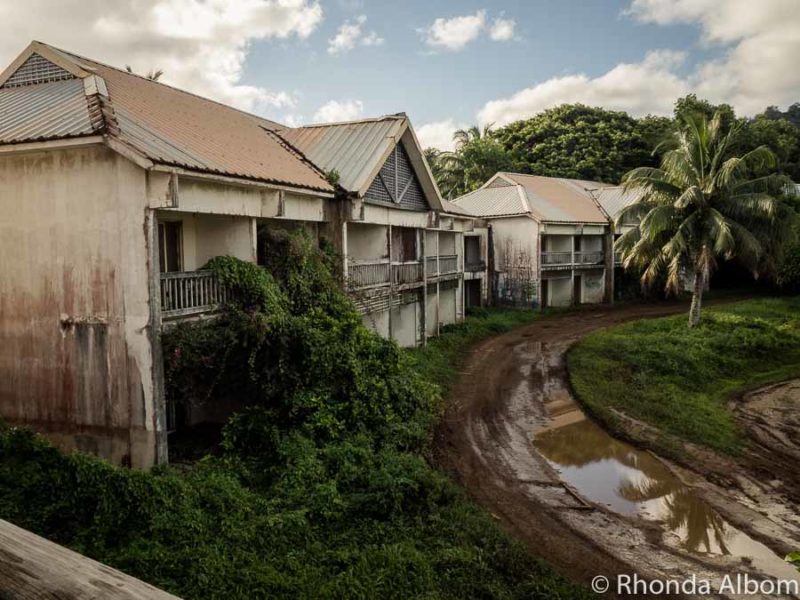 The required government consent had to come from New Zealand, as the Cook Islands were their protectorate. At that time, Winston Peters was the Minister of Foreign Affairs. Rather than granting permission, he threw them all out of the country. Our guide dramatically added that Peters discovered that they were, in fact, mafia. The abandoned hotel soon became a collection of derelict buildings.
Many years later, Hilton came in and tried to finish the job, but it was too late as the land had been cursed by a local from the Takitumu tribe. Hilton needed supplies from Australia. They gave $7 million to a representative who travelled to Australia to get the materials, but they never returned. (An interesting twist, in one version of the story, we were told it was that tribal chief who absconded with the funds, but this could not be verified.)

As a result, Hilton lasted only six months.
More images of the derelict Sheraton Rarotonga
Now it sits, and visitors can walk through the grounds, and even into the chambers. As we walked through the vacant rooms, we imagined this would be the ideal setting for a horror movie, or a scary sleepover, or an overnight initiation challenge.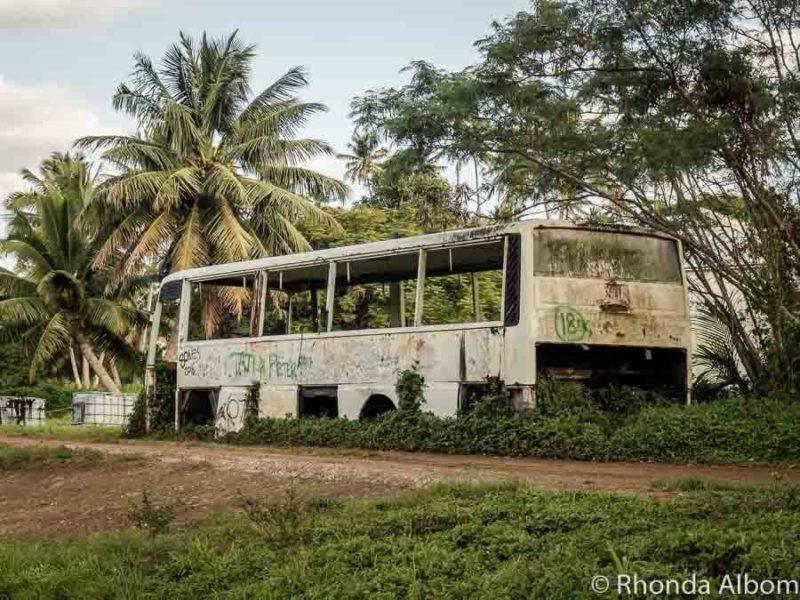 In some ways, the abandoned Sheraton Hotel Rarotonga is fascinating; in others, it's just creepy.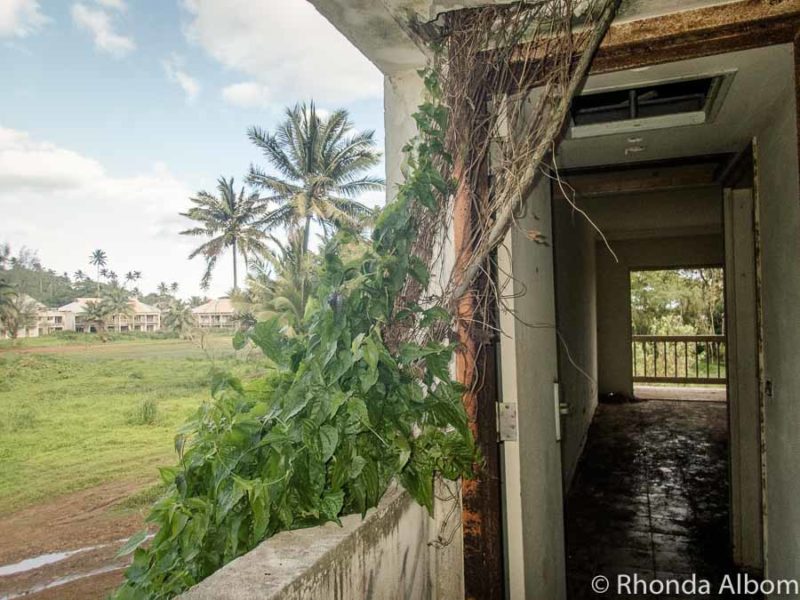 A few of the rooms had personal belongings, suggesting squatters. Honestly, I don't think I could sleep in this scary hotel. Could you?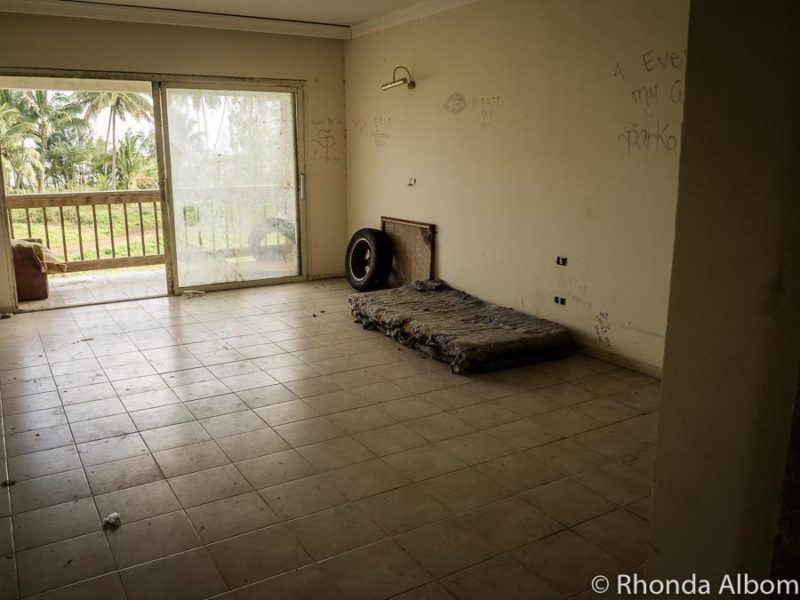 Practical information on visiting the Sheraton Rarotonga ruins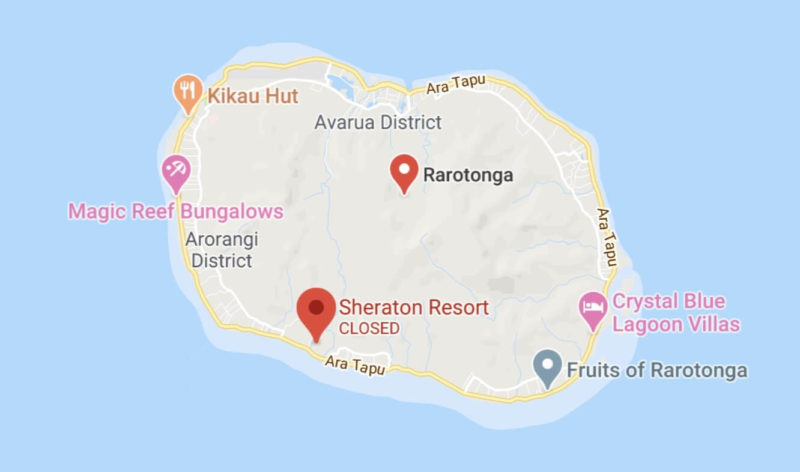 Bring cash to pay for your entry.
Take a "tour", if offered. The story is even more interesting when told by a native.
Wear shoes and watch your step. Broken glass is everywhere.
Don't lean on balustrades, as many are missing.
Be respectful of the belongings of a few people who seem to be living in the ruins.
More about the derelict buildings of the Sheraton Rarotonga
Want to know more? Here is what's going on at the abandoned Sheraton resort:
Rarotonga accommodations that won't scare you
We earn from qualifying purchases through partnerships or affiliate programs.
To date, there is still no Sheraton or Hilton on Rarotonga. However, there are plenty of great Rarotonga accommodation options. Check out the Rarotonga accommodation options and prices at Booking.com.
Other Rarotonga Activities
Rarotonga is a tropical paradise in the Cook Islands, a group of South Pacific Islands that are about halfway between New Zealand and Hawaii. Watersports, hiking, adventure, or relaxation, Rarotonga has it all. The snorkelling around the island is fantastic. Plus, there are plenty of other fun things to see and do in Rarotonga.
Best deals and discounts for your travel planning needs
We earn from qualifying purchases through partnerships or affiliate programs.
Flights: When it comes to flights, we always start with Expedia.

Hotels: We use Booking.com to compare and book accommodations. Don't miss Booking.com's Getaway 2022 Deals that save 15% or more on selected accommodations. (T&Cs apply)

Other accommodations: If you prefer B&B or self-contained type lodging, check out VRBO.

Vehicle hire: RentalCars is like a rental car search engine with no hidden costs, that lets us find the best deals on car rentals worldwide.

Private Tours: We are big fans of ToursByLocals, and use them for nearly all cities where we want a private guide.

Packing Tips: Get a free copy of our packing light checklist when you sign up for our mailing list. (We pack light, yet have everything we need.)
Find more money-saving resources and T&Cs on some of the above, check our Travel Resources page.
If you enjoyed this story, please share it on Pinterest:
Would you stop and take time to explore the derelict buildings of this cursed hotel?
Disclaimer: We worked with the Cook Islands Tourism Corporation. They provided complimentary entrances, tours, and sample items to assist in the writing of this review. The opinions expressed here are strictly our own.