Rarotonga snorkelling is like swimming in a crystal clear tepid aquarium. Large and small, the colourful tropical fish glide in and out of coral beds, and sometimes appear to pose for our compact underwater camera. Rarotonga is the largest of the Cook Islands. It's a tropical paradise surrounded by a reef that creates protected Rarotonga beaches offering fabulous snorkelling options.
All underwater images on this page were shot on the Olympus Tough TG-5 and edited using Adobe Lightroom.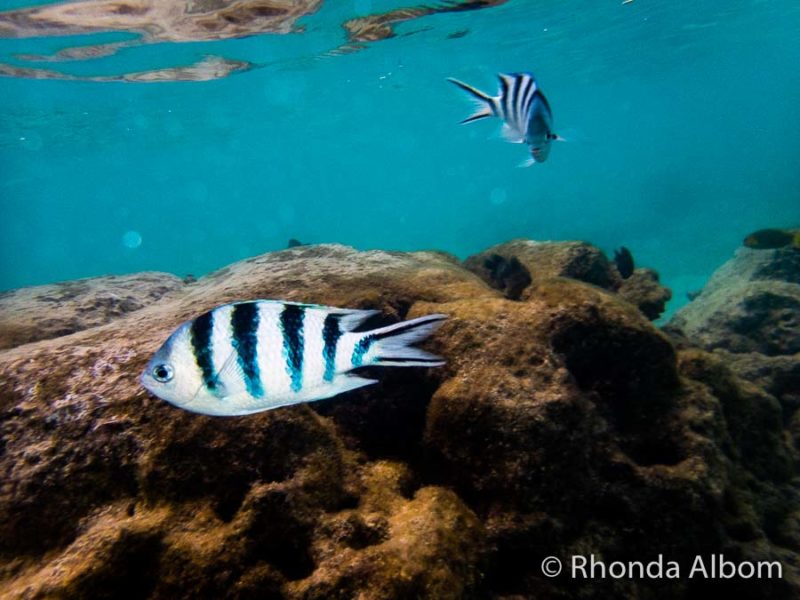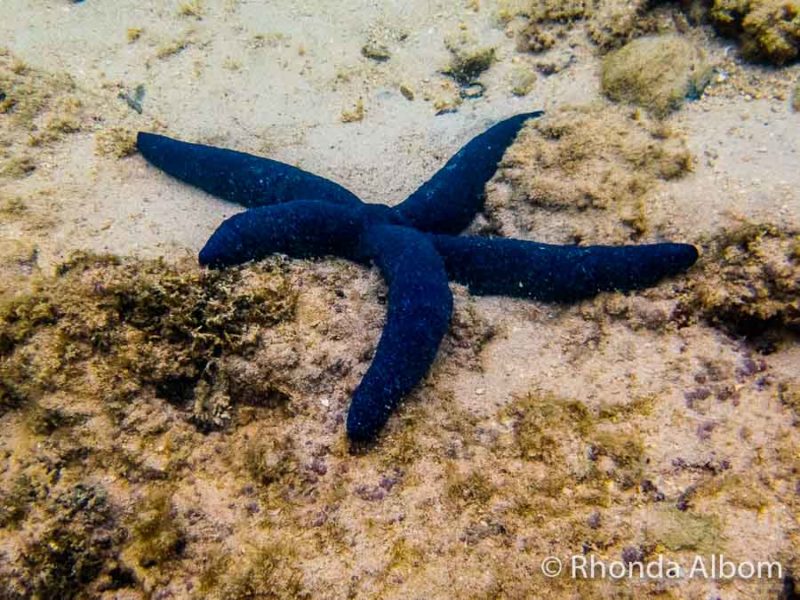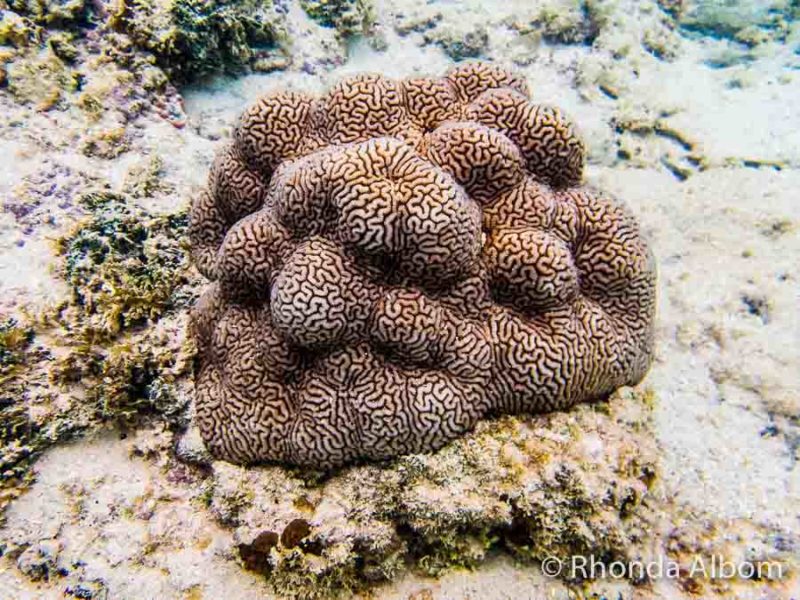 Snorkelling Tours
We chose to snorkel on our own, but there are several guided Rarotonga snorkelling options:
Best Snorkelling Rarotonga
One of the great things about being on a small island (32 kilometres around) with a huge volcanic hill in the centre, is that if the Rarotonga weather isn't ideal where you are, you can easily go to the other side. The mountainous interior blocks the wind. As we visited during a windy week, we found ourselves heading to the "other side" often. Here are what we were told are the best places to snorkel in Rarotonga:
• Titikaveka Beach
The public Titikaveka Beach is across the road from Fruits of Rarotonga offering easy walk-in access and nearby coral reefs. Over the coral, the colourful tropical fish are everywhere. Whether it's your first time snorkelling, or you have been doing it forever, Titikaveka beach will impress you. Parking is easy, or take the bus.
This was the first time we tried our new Olympus Tough TG-5 in the ocean, and as you can see it was a success. The ease of use, the richness of colours captured, and the RAW image output option let us create photographs that one would expect only from a huge and clunky underwater camera. However, the TG-5 is compact with an underwater preset so even Jeff comfortably took a few shots.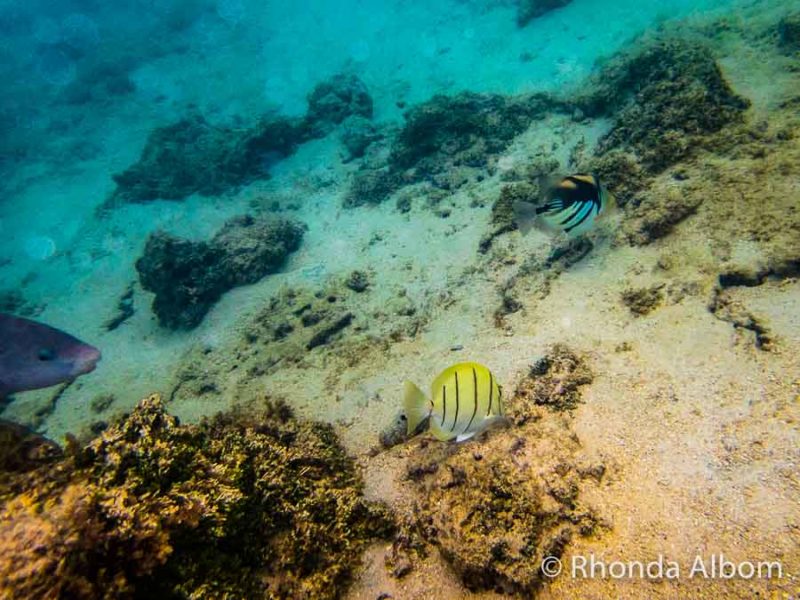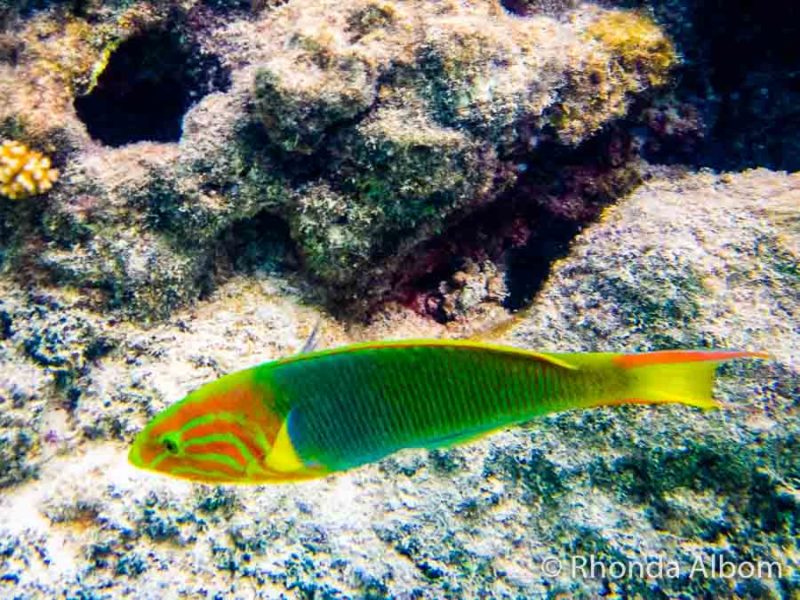 • Muri Lagoon
A safe, protected (by four offshore islets) swimming area with easy entry from white sandy beaches. Muri Beach Rarotonga (including Muri Lagoon) is another great spot for snorkelling. Unfortunately, the wind was strong and coming from the wrong direction the week we visited, so we never had a chance to snorkel here.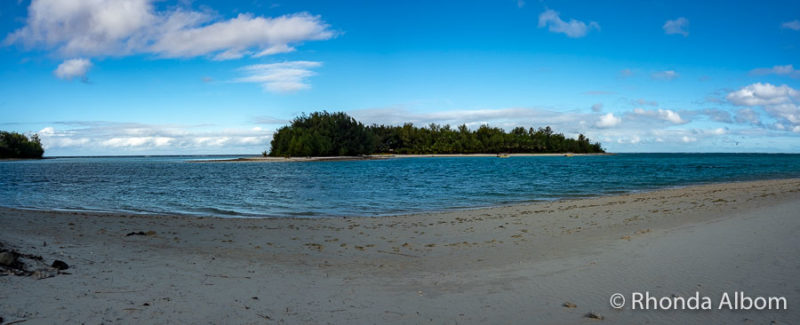 • Black Rock Rarotonga
The huge black rocks form a windbreak, creating a perfect place for us to snorkel. Our fish shots were similar to the ones above, but using the underwater closeup setting I was able to get this shot on the Olympus Tough TG-5.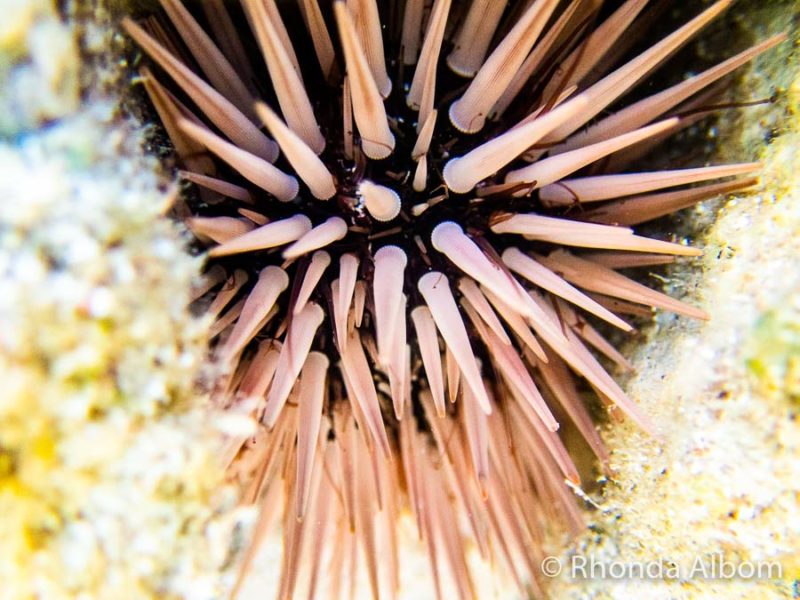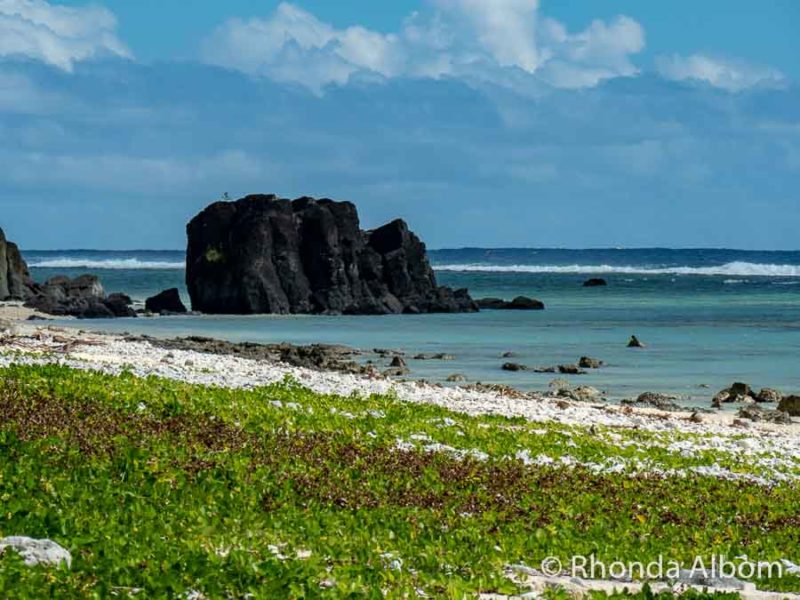 • Public beach near the Rarotongan Beach Resort and Spa
There is a fabulous snorkelling beach just west (beyond when circling clockwise) the Rarotongan Resort Beach Resort and Spa.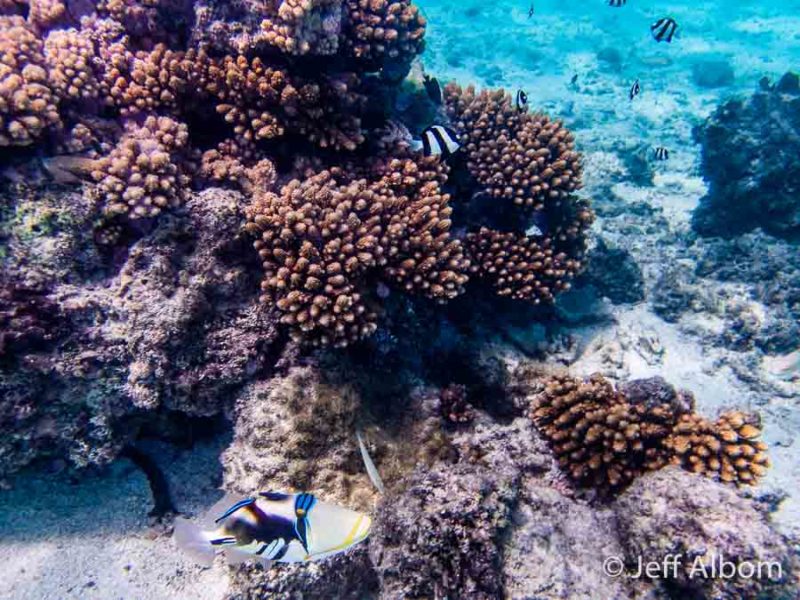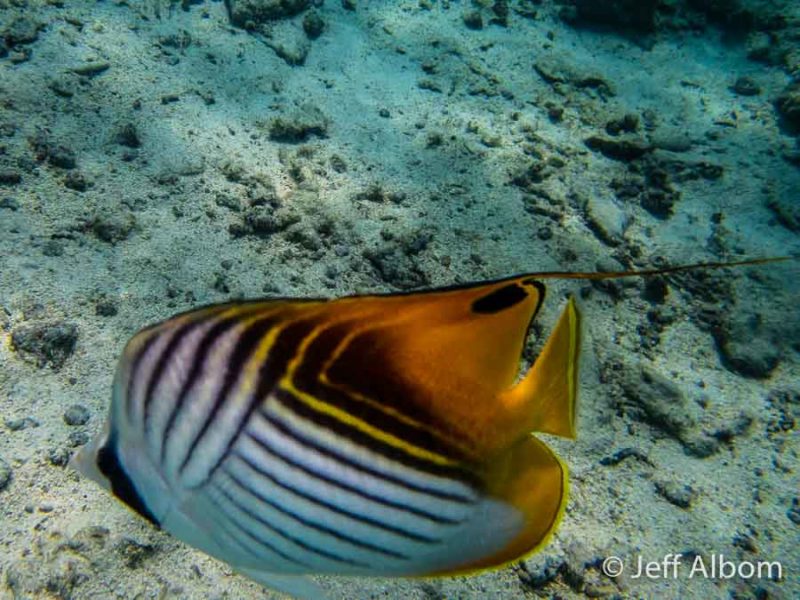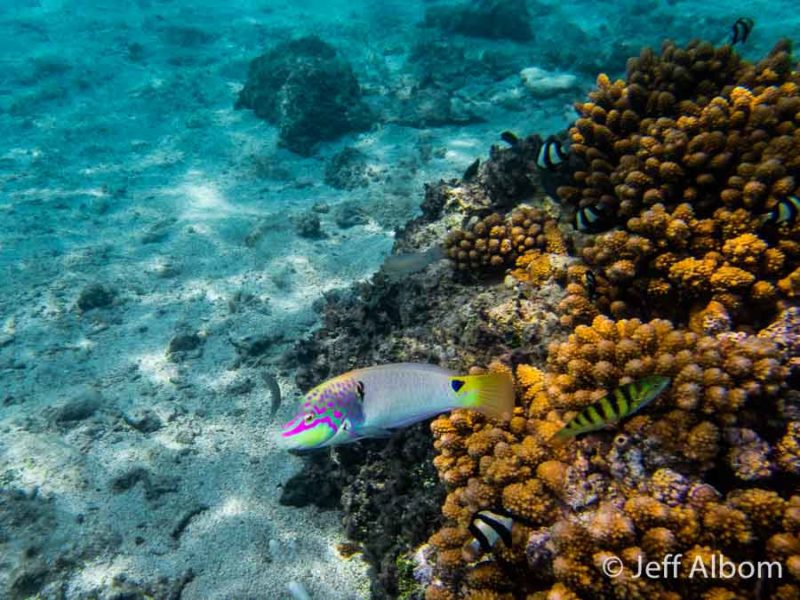 Read next: 26 Things to Do in Rarotonga
My New Olympus Tough TG-5 Camera
All photos on this page were shot with our new Olympus Tough TG-5, a compact point and shoot designed for adventure. Olympus made it waterproof, shockproof, crushproof, freezeproof, and dustproof. It's a tough little camera perfect for any sports and it shoots in high-resolution RAW stills or HD 4k video. The RAW output allows me to edit, where needed to recapture the colours that sometimes lost from underwater surface shooting. We have only had ours for about a month now, but have been really pleased with the results both underwater and on land. (I still shoot most landscapes and large scale telephoto shots on my Olympus OM-D E-M5 mirrorless camera. However, I love my TG-5 for scenery, people shots, everyday photos, underwater, and street photography).
Where to Stay in Rarotonga for Great Snorkelling
The Rarotongan Beach Resort
There is easy beach access, wonderful snorkelling, and white sandy beaches at this family-friendly resort that also offers the Sanctuary, an adults-only option. As we were not staying here, we snorkelled on the nearby public beach. After we snorkelled, we headed to the Rarotongan for lunch and to feed the fish off the pier.
⇒ Check availability at the Rarotongan Beach Resort
Honestly, this is an island aimed at tourism. Rarotonga accommodations are as varied as in a major city anywhere in the world. They range from secluded to popular, from hostel to luxury, and from family-friendly to adults only. There is something for everyone.
⇒ Find the best Rarotonga accommodation prices at booking.com
Practical Information for Snorkelling Rarotonga
Check with your resort before packing for your trip. Many resort packages include a mask, fins, snorkel and beach towels with your room.
Remember to use sunscreen, even on a cloudy day. The water reflects the sun, so it's easy to get sunburned while snorkelling.
Go to the water's edge before you put on your flippers. It's easier and you look less like a duck waddling across the beach.
If your mask is fogging up, take it off, spit into it, rub the saliva around, and give it a quick rinse in the sea. (I know it sounds gross, but it works).
Don't touch the coral or the fish.
Most of the coastal waters are protected. Do not take anything from them (in most areas, it would be illegal to take anything).
Bring a camera. As you probably already guessed, I recommend the Olympus Tough TG-5.
The busses (clockwise and anti-clockwise) stop at most of the major beaches.
Please Share on Social Media
If you enjoyed these images, please share on social media including Pinterest:

Will you bring a camera if you go snorkelling Rarotonga?
Disclaimer: We worked with the Cook Islands Tourism Corporation. We were provided with complimentary entrances, tours and sample items to assist in the writing of this review. The opinions expressed here are strictly our own.