Aruba conjures up images of white-sand beaches, crystal-clear azure water, and hours of seemingly endless sunlight. We had been sailing for three days and could hardly wait to arrive at the Aruba cruise port. We had plenty of time to plan, and we're comfortable with our Aruba itinerary options.
This southern Caribbean destination did not disappoint; although there are so many things to do in Aruba, we could have easily spent a week. With only five hours scheduled (from 7 am to noon) at the Aruba cruise port, we knew we needed to make every minute count.
Planning an Aruba itinerary that starts at the Aruba cruise port
The Aruba cruise port is in Oranjestad, the capital city of the island. Therefore there is plenty to do and see right there. We opted for adventure first, city exploration later, and saved Oranjestad for the end.
Skipping any of the paid shore excursions offered by the cruise line, we opted to do it on our own.
We were well aware that an Aruba cruise port adventure is not enough time to do it all. So, before you even get off the ship, prioritize the primary things to do in Aruba:
Relaxation
Water sports
Enjoy the history and culture
Shopping
No one can make these decisions for you. Just know that the Aruba cruise port visit will bring you to a piece of paradise. Enjoy whatever you choose.
Why we love to cruise …
Aruba cruise port excursion options: relaxation
Home to one of the world's best beaches, for us, the decision was obvious. Our first stop would be the beach. As our day started rather early, we opted for a bit of extra breakfast and some coffee at a beachfront coffee shop.
Best beaches near the Aruba cruise port
For us, the choice was obvious. Palm Beach is not too far, accessible by taxi or public bus, and a destination that frequently appears on lists of the world's best beaches.
Palm Beach
The contrast of the stark white sand against the water and sky was highlighted by splashes of greenery. The beach was calling to us, but it was not even 8 am, and the coffee was shouting louder.
We chose The Bread Basket as a local recommended it for the best coffee in town.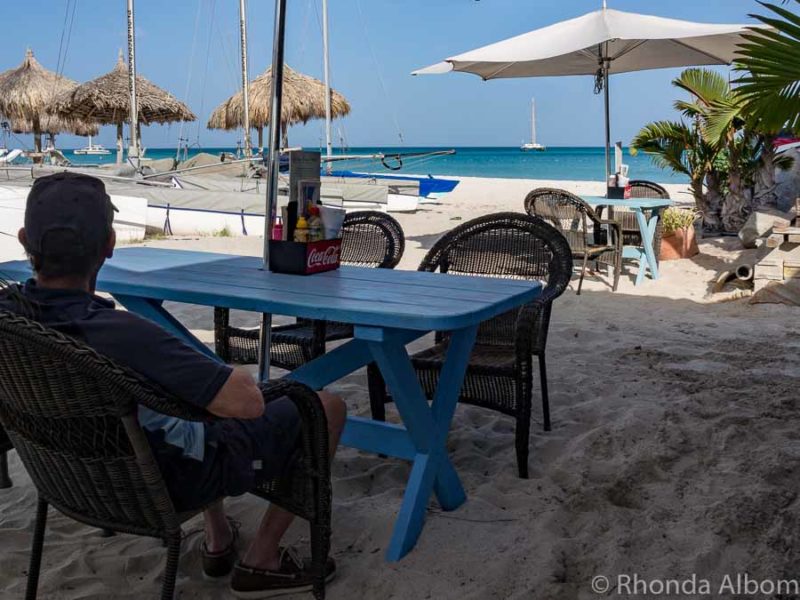 While there are other Aruba beaches near the cruise port, Palm Beach is consistently named as the best one around. And it didn't disappoint.
Aruba cruise port excursion options: water sports
Aruba is a water sports paradise. Scuba, snorkelling, boating, kayaking, paddle boarding, catamaran sailing, swimming, bodyboarding, and more. If you can do it in the water, it is being done in Aruba. And Palm Beach offered so many choices.
Called a jet flyer; this is the one that captured my attention. However, I was happy just to watch.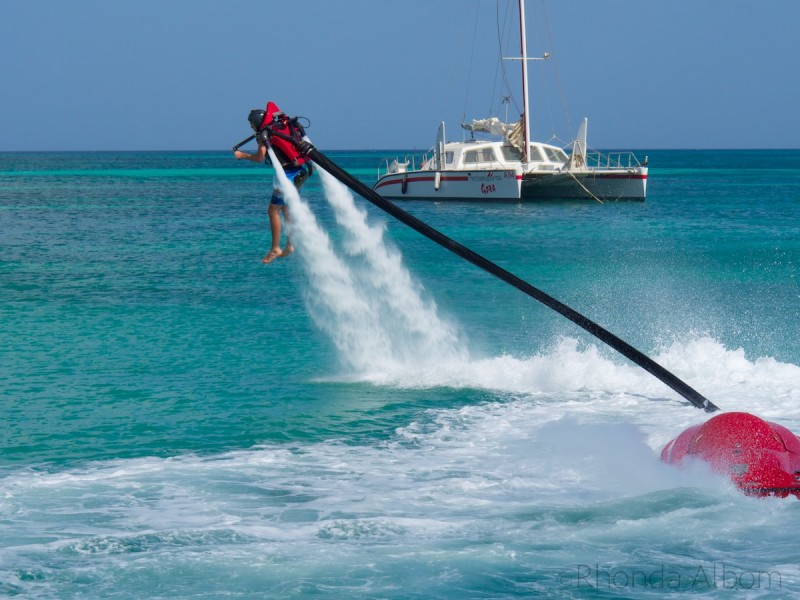 Watersport, adventure, and other shore excursion options to pre-book
We tend to hire independent tours rather than go with the ship's excursion. Often independent tours to have fewer participants, therefore a more personal experience. We also find that they cost less and often give us more.
The downside is that you need to carefully read the cancellation policy as weather can change a ship's itinerary, even at the last minute.
Here are four that look really appealing and are well-liked by those who filled out reviews.
Aruba cruise port excursion options: history and culture
Even tropical paradise has a history. We enjoyed walking around and discovering some of the colourful colonial architecture and landmarks.
Did you know that Aruba is home to the Caribbean's first streetcar line (designed in San Francisco)?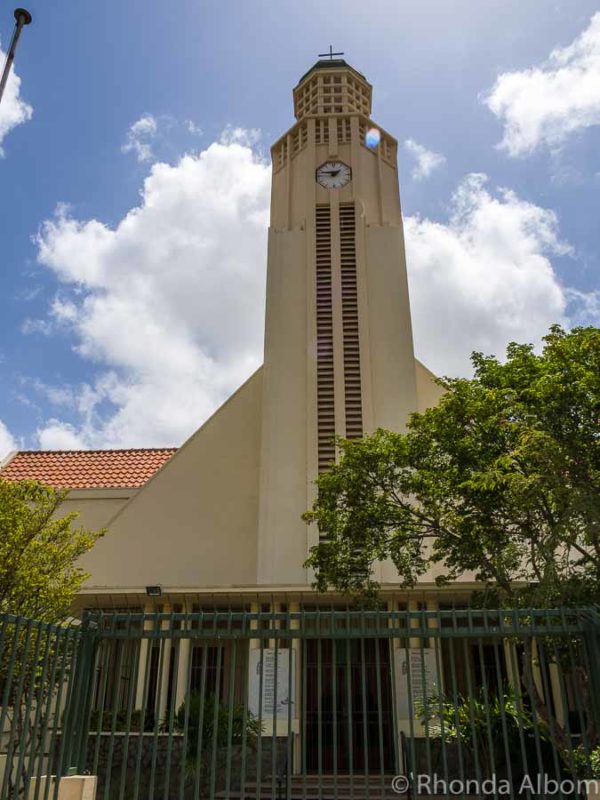 Aruba cruise port excursion options: shopping
I am not a fan of shopping. I travel super light, and my number one souvenir is photos.
However, this does not preclude me from window shopping or enjoying the colourful colonial buildings lining the shopping area of Oranjestad.
I also learn so much about a culture through its handicrafts, which is why I love going to markets.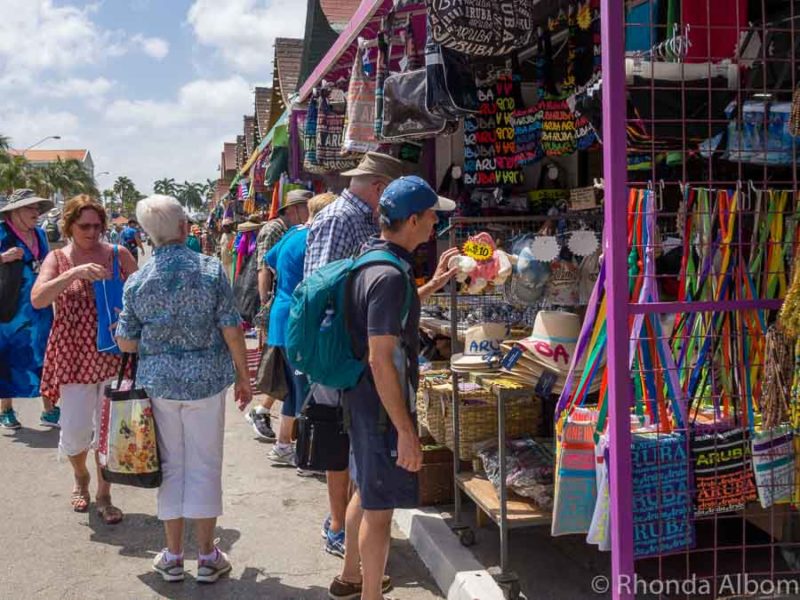 Know before you cruise to Aruba
Aruba is one of the Netherlands Antilles, the southernmost islands in the Caribbean.
The island of Aruba is only 19.6 miles long and 6 miles across at its widest point.
The average year-round temperature is 28C (82F).
There are two official languages, Papiamento and Dutch. However, according to our taxi driver, most people speak four languages, adding English and Spanish to the mix.
Both the Aruban Florin and the US Dollar are considered official currencies.
You can take either a taxi or city bus to go from town to the best beaches (along the West Coast). When we visited, taxis charged about $14 for the trip to Palm Beach, while the bus is $2.60 per person. Bus number L10 or L10B will get you there, but if you want to continue to the California Lighthouse, you will need to be on the L10.
If you are thinking about cruising, check out these Caribbean cruise deals at Cruise Critic.
We can't resist a bit of tourist fun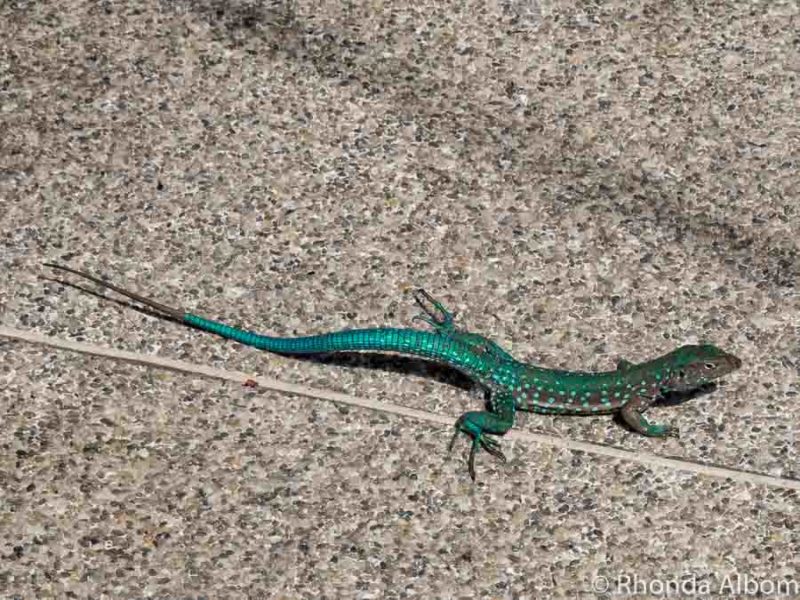 No wonder the Caribbean is amongst the world's best cruise destinations.
Save on your trip and cruise with these resources
These are our go-to companies when we cruise. We believe this list to be the best in each category. You can't go wrong using them on your trip too.
Check out our travel resources page for more companies that we use when you travel.
Don't miss our best cruise tips.
Please share:
If you enjoyed these Aruba highlights, please share this article on social media, including Pinterest.
Have you been to the Aruba cruise port? Which Aruba itinerary options are best for you?