A desert flood. The rainstorm was like nothing we had seen before.
As we were returning from the Grand Canyon of Oman to Muscat, we could see the ominous clouds up ahead and our guide, Khalfan, received a phone call from his sister in a village about 30 minutes away via car.  She called to warn him of the desert rainstorm with ice-rain (hail) in such huge chunks it was damaging cars. There was a risk of a desert flood.
However, we were in the desert. We could either continue or go back, but we couldn't stay where we were. There was nothing here. Khalfan chose to continue, our girls secretly hoping to see the ice rain. We missed the ice, but not the storm, nor the ensuing desert flood.
The water began to run down the mountains and filled the wadis (remember as you look at these, this is the desert of the middle east).
Desert Rainstorm Fills the Wadis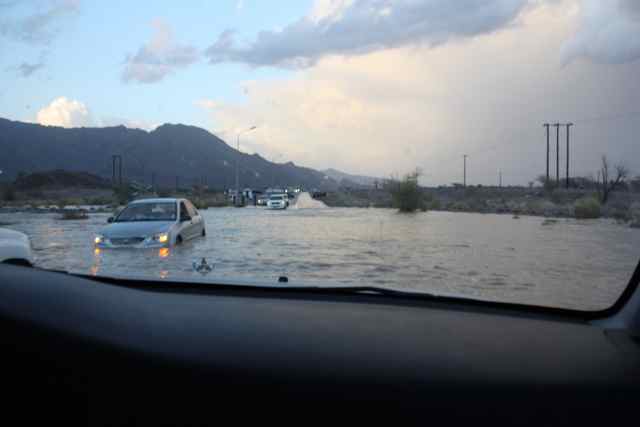 This was the first big rain of the year. It was quite early, unusual for this time of year.  The people driving stopped to take photos, many choosing to swim in the wadis.  Families came out to enjoy the desert flood waters.  Khalfan said when the wadis fill like this it is like a wedding to the mountain people – a reason for gathering with family and celebration.
Looking at the floods, I found it difficult to believe his words, "In a few hours it will all be dry again."
Our rains continued quite a bit longer, and sadly according to the news reports, six people drowned.  Bridges had washed away, and there was much damage from the rain and winds.  Here is where we were meant to cross the next day, but the bridge is now missing: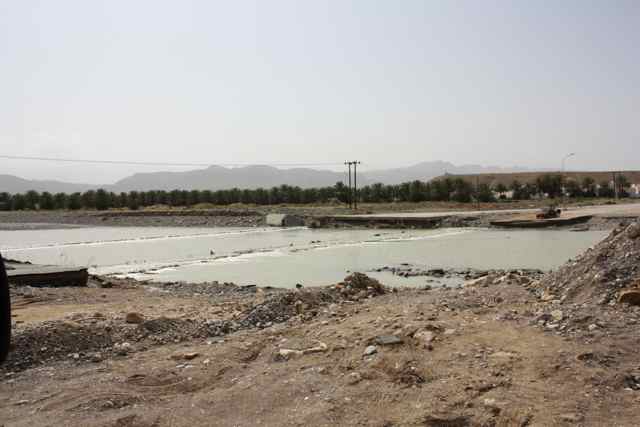 And there were other spots which hadn't dried out yet: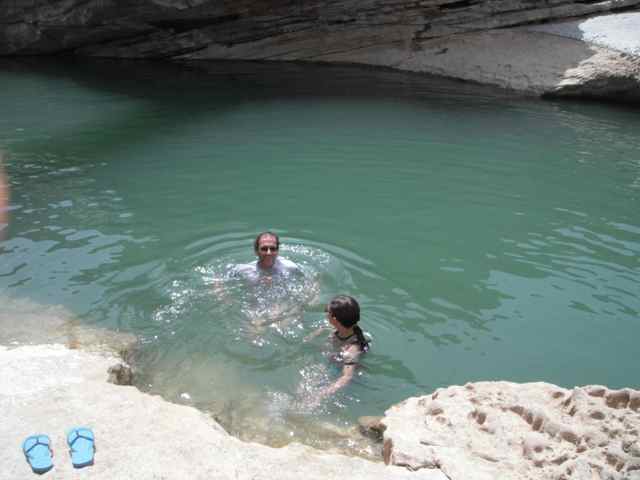 All photos on this page © Rhonda Albom 2012. All rights reserved.
Have you been to Oman? Have you seen a desert flood before today?
If you enjoyed this post, please pin it: