It's not that difficult to see the highlights of Casablanca in one day. We set out to discover the secrets of this coastal Moroccan city that is probably best known because of a movie that shares its name. Unlike the other cities in Morocco we visited, there are not a ton of cool things to do in Casablanca. But even with the limited time, we needed to make choices.
It was our last day of a nearly one-year trip around the world. To be completely honest, Casablanca wasn't on the original itinerary.
We originally planned a week in Morocco. Once we arrived, we were captivated by culture, intrigued by the maze of streets in the old cities, impressed by the craftsmanship and handwork that detailed every structure, and welcomed by the people.
By the time we came to Casablanca, we had been in Morocco for over a month. While cautious, we had really embraced our time here. However, when we were offered the option to fly home out of Casablanca, images of romance danced through my head. We grabbed the opportunity.
As a result, we had to see Casablanca in one day. The highlights were amazing.
But, just for a moment, we let our guard down. We learned a lesson that I will share at the bottom of this page. First, let's explore the city of Casablanca.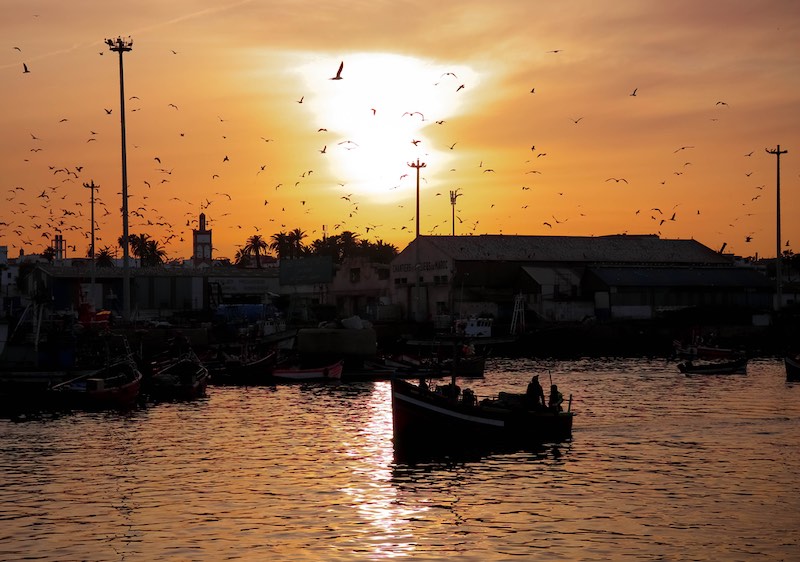 What to see with only one day in Casablanca
Hassan II Mosque
Mohammed V Square (aka pigeon square)
Casablanca Cathedral (Church of the Sacred Heart)
Morocco Mall
Old Medina
Rick's Cafe
More on each of the things to do in Casablanca in a day
Hassan II Mosque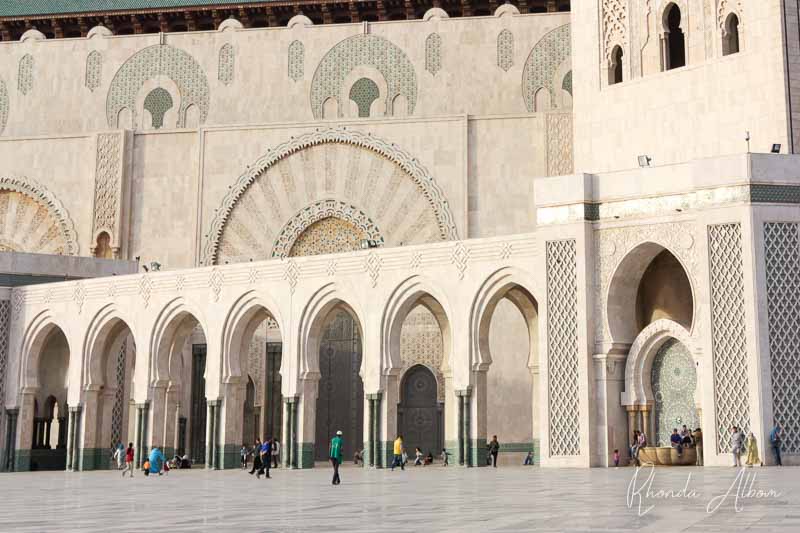 A visit to Hassan II Mosque makes the entire stop in Casablanca worthwhile. It is often considered to be one of the world's most beautiful religious buildings.
It is the largest mosque in Morocco and the third largest mosque in the world (after the Grand Mosque of Mecca and the Prophet's Mosque in Medina).
Hassan II Mosque stands on a promontory looking out to the Atlantic Ocean. The intricate decor is everywhere, and there is a massive glass floor overlooking the ocean. There is room for 25,000 worshippers indoors and space for an additional 80,000 worshippers on the grounds.
Standing tall at 210 metres (688 ft), the minaret is the second tallest in the world. It has an 18-mile laser beam pointing towards Mecca.
The best way to see the mosque is with a guided tour. We love the look of this one which includes the prayer and ablution rooms, the koranic school, the library, the museum, and even hotel pick up. Reserve your tour here.
Mohammed V Square (aka pigeon square)
Named after a former King of Morocco, Mohammed V Square was on our Casablanca in one day list. It's not history that brought us here. It's the birds.
Monikered "Pigeon Square," there are pigeons everywhere. Apparently, they never go away. The fountain was off when we visited, and to no surprise, its nickname is the pigeon fountain.
The square represents the administrative centre of Casablanca. The key post-WWI buildings include the Consulate of France, the courthouse, the prefecture, the central post office, and the bank of Morocco.
In 2020, the Grand Theatre of Casablanca was added, and the pigeon fountain was repositioned.
Casablanca Cathedral (Church of the Sacred Heart)
While the cathedral is no longer in used as a Catholic church, it's a lovely building deserving of a photo stop. The other main Catholic church is Notre Dame. We didn't see that one.
Shopping at the Morocco Mall or the old medina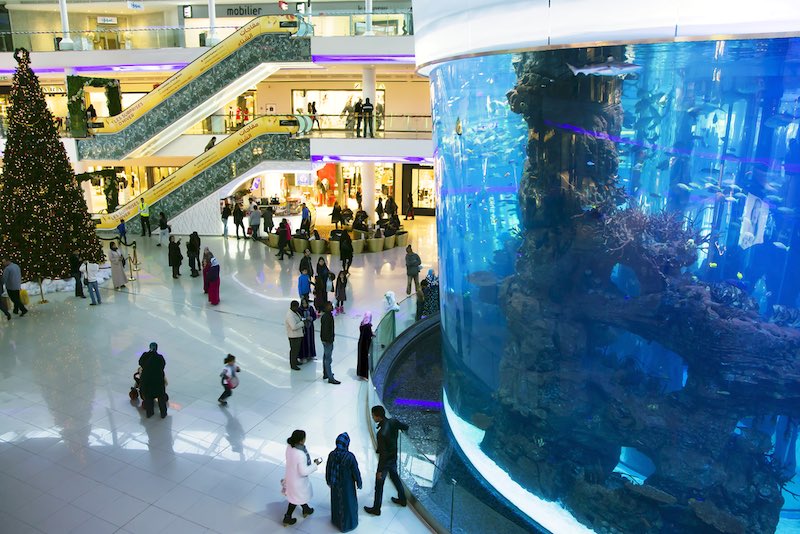 Rather than surrounding ourselves with crowds and dealing with haggling at the old medina, we opted for the upscale Morocco Mall. The contrast between the two options is massive.
For the most part, we stayed in the old sections of the prior Moroccan cities we had visited. And with limited exposure to the modern sections of Morocco, the mall seemed surreal.
Once inside, we could have been in just about any modern city around the world. Although, this is the largest shopping mall in Africa.
The three levels featured many familiar shops. To my surprise, much of the signage was in English rather than either of the official languages (Arabic or Berber) or the unofficial French language.
Even if you are not shopping, the mall is worth a visit. Don't miss the massive outdoor fountain or the 1,000,000-litre cylindrical aquarium that holds over 40 different species of fish.
Rick's Cafe
If you are a "Casablanca" movie fan, good news, there is a Ricks cafe, and it will remind you of Rick Blaine's bar in the 1942 film with Humprey Bogart and Ingrid Bergmann. That's mostly because it was built long after the movie as a replica; it even has a piano and an air of romance.
We didn't take time to go here, as we have heard you usually need to book in advance. It's quite a popular spot.
Tours: a great way to see Casablanca in one day
We did Casablanca on our own, therefore, missed quite a bit of the history and nuances. In retrospect, we would have either hired a private guide or taken this 4-hour city discovery tour with a local.
4-Hour city discovery tour with a local
This walking tour starts at the Hassan II mosque. Then strolls through both the old and new medina, past Rick's Cafe, and to the palace of Mahkama du Pacha (a grand Moorish-style building). You will also sample freshly made bread and traditional Maghribi pastries with either Moroccan coffee or mint tea. Reserve your spot on this city discovery tour.
Customise a private tour with Tours by Locals
When our time is limited, when we want more detail on an area, when our needs don't slot into a group tour, or when we are not completely comfortable doing it on our own, we hire a private guide from Tours by Locals. While most of them offer a suggested itinerary, nearly all have been open to customization. We do this before we book the tour. To date, we have been 100% happy with our choices. Here's the list of local guides in Casablanca.
When we were taken for a ride …
What shocked us most about Casablanca was the filth when we got off the main road. That and the bad behaviour of the two cab drivers we encountered.
Similar to our experiences in two other Moroccan cities (Meknes and Fes), the Petite Taxis take only three people. We need two cars. The girls and I went in one, Jeff in the other.
Our hotel arranged for the cabs and negotiated the price. Our mistake was to agree to pay the meter without putting a cap on it. We also agreed to pay an extra 15 dirhams to stop at the Mosque, a fee that seemed quite reasonable.
From the mosque, the mall was a few kilometres along the corniche, the coastal road, so we weren't too concerned.
However, we knew something was up when the two taxis suddenly drove parallel and, through open car windows, the two drivers spoke to each other in Arabic.
Then there was a feeling in the pit of my stomach as our taxi turned off the main road. I immediately turned my head and breathed a sigh of relief when I saw Jeff's taxi had also turned.
After a few minutes, the modern buildings that had surrounded us gave way to this: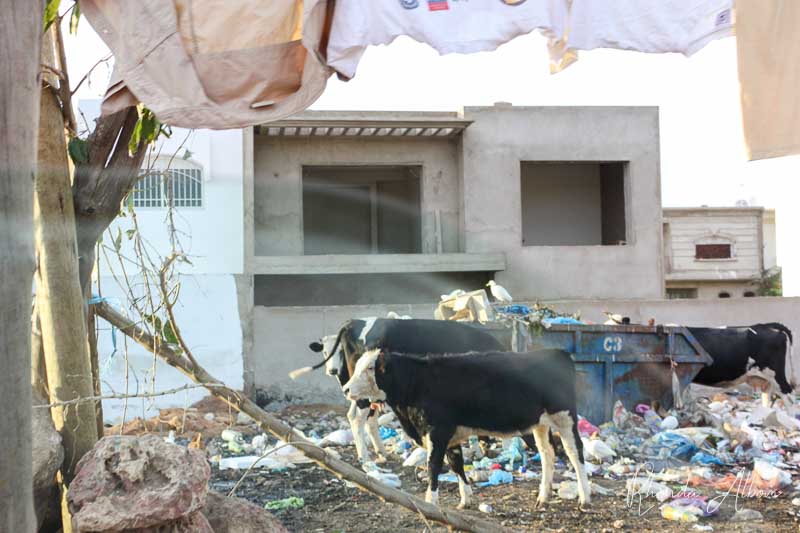 The rubbish was everywhere … we were not getting out of the car!
There was rubbish everywhere, and the poor cows seemed to live amongst it.
The driver insisted we were still headed to the mall. In the end, we were. But that meter was a lot higher than it should have been by the time we finally arrived.
It read 50dh, and begrudgingly, I handed it to him. Rather than accepting it, our driver said no, I want 120 Dirhams. I don't think so.
Just then, Jeff sticks his head in to say his meter says the same, 50dh. His driver also wants 120dh.
We have been in Morocco long enough to be really tired of the unofficial "tourist tax" added to things. Jeff and the drivers had a rather animated 'discussion' that was starting to feel scary.
I noticed a policeman and went to get some help. As I hoped, the policeman told us we only had to pay the meter price.
Then we walked away and the driver angrily shouted after us, "Don't call a green taxi again." As if.
Save on your trip with these resources
These are our go-to companies when we travel. We believe this list to be the best in each category. You can't go wrong using them on your trip too.
Flights: we use Expedia for the best and cheapest flight options.
Accommodations: we use Booking.com (hotels) or VRBO (self-contained).
Cars (gas or electric): we use RentalCars to search for deals and dealer ratings.
Campervans or Motorhomes: we use Campstar where Albom Adventures readers get a 3% discount
Private guides: we love the private guides at Tours by Locals
Travel Insurance: we start at InsureMyTrip as they are the best option to compare plans and find the right coverage for you.
Check out our travel resources page for more companies that we use when you travel.
Save for later
If you enjoyed this article, please share it on social media and save it for later on Pinterest.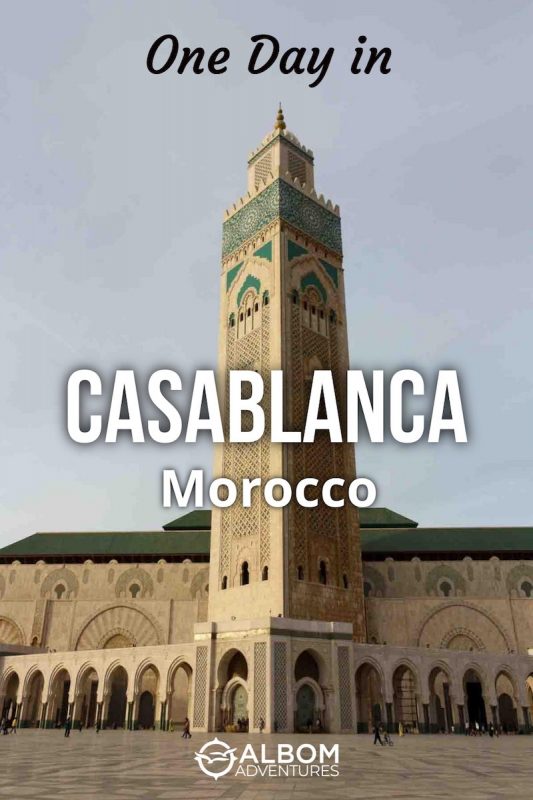 What will you do in Casablanca for a day?
Photo Credits
Photos on this page are either shot by our team and watermarked as such, in the public domain, or some stock photos were supplied by DepositPhotos.