An Atlantic coastal destination in Morocco, Essaouira is off the main tourist track, yet it was one of our highlights. Just 200 km to the west of Marrakesh, it's well worth a visit. Already known in some circles, musicians and watersport enthusiasts flock to Essaouira. However, there are plenty of other things to do in Essaouira.
While we are neither musicians nor athletes, we did fit the other Essaouira stereotype. We came to Essaouira for a day and stayed for a week. I could have easily stayed longer, our limitation was only in how long we had our rental car.
Essaouira is a place to relax, enjoy a slower pace, sip mint tea, watch spectacular sunsets, try new watersports, or uncover something new in the old medina. A foodie paradise, we also had several of our most enjoyable Moroccan meals in Essaouira.
The annual Gnaoua World Music Festival kicks off summer with a style of music rooted in traditional North African culture and best defined as a fusion of jazz, soul, rock, pop and contemporary world music. The windy beach attracts water sports enthusiasts, and throughout summer, numerous windsurfing and surfing competitions take place.
Essaouira, in North Africa, is a mix of exotic aromas, cobblestone streets, and some of the friendliest people we have met anywhere.
Things to do in Essaouira
While there are plenty of things to do in Essaouira, we have divided it all into three categories:
Experience an Essaouira beach

Explore the Essaouira medina
Enjoy an Essaouira sunset
Essaouira beach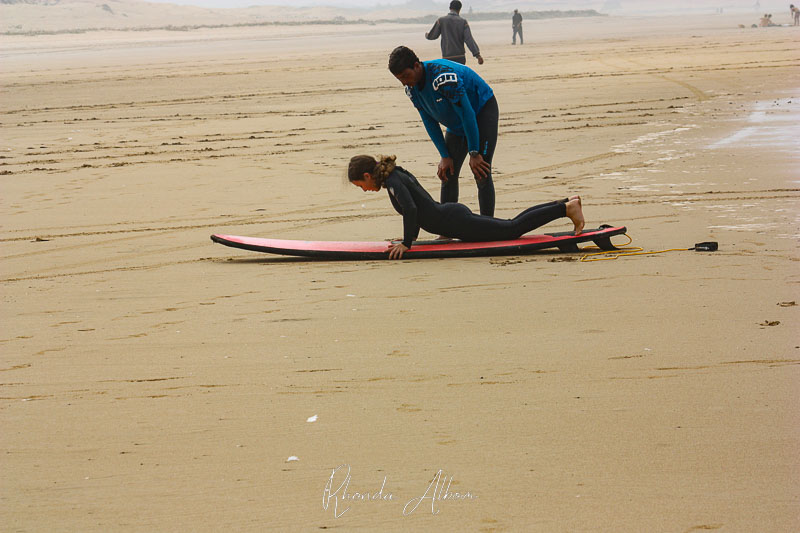 Camels stand on the sun-soaked sands of Essaouira beach. Their handlers compete for my attention with crashing waves as a horse gracefully gallops through the Essaouira surf. We came for windsurfing lessons on this stretch of Morocco's Atlantic coast, most famous for being windy.
So windy, in fact, Essaouira beach is not a place for sunbathing as fine sand blows everywhere.
Windsurfing, kitesurfing, and surfing are all available as lessons or as board hire from several spots along Essaouira beach. Our girls had planned for windsurfing lessons, but we didn't book ahead, and there were none available (and the winds were probably too high for them anyway). So they switched to surfing, which it turns out they love. Reserve your 2-hour surf lesson here.
If you don't want to get into the water or just need a break, there are plenty of beachside cafes. We enjoyed a Moroccan mint tea from one and lunches at two others.
For those seeking land adventures, you can choose from a horse trek, camel ride, or quad bike tour along the beach.
Getting to the beach from the medina is easy. We either walked or drove (plenty of free street parking near the beach when we were there).
Essaouira medina
By the time we got to Essaouira, we had already explored two of the largest and busiest medinas in Morocco (Fes and Marrakech). Similar to the others, the Essaouira medina is a traditional Moroccan fortified walled city comprised of narrow and maze-like streets.
In contrast, we found the Essaouira medina to be less stressful to explore. While still busy, we found it easier to navigate, the people to be friendlier, and it felt like fewer people aggressively vying for our tourist dollars.
While no cars or mopeds are allowed in the old medina, there are at least two large parking lots outside the gates. We learned quickly that the price they offer is negotiable.
The Essaouira medina is a UNESCO World Heritage Site. Originally known as Mogador, it was built in the late 1700s.
A few specific highlights:
Colourful spices are a common sight in Moroccan markets. Each spice label states its use rather than the spice name in the particular display photoed. The signs are in French, a commonly spoken language, although the official languages of the country are Arabic and Berber.
Sarah bought a pair of purple babouches (pointy Moroccan slippers).
Eat or just have a cup of tea at Cafe Des Arts. Find it on the main road of the medina, up two flights of stairs. We had a great meal and lively music. It is a small place.
Check out the fish market, as the selection of fresh fish was extensive.
Essaouira sunsets
Worldwide, west coast beaches offer spectacular sunsets, but there is something almost cathartic about watching the last bit of daylit dipping below the horizon in Essaouira.
We made a daily effort to find ourselves along the coastal wall of the Essaouira medina at sunset, which was at about 7pm when we visited in October. In return, we were rewarded with enchanting yet different sunsets nightly.
Four of the five sunsets we watched are photoed just above.
More things to do in Essaouira
Head to the Skala port (docks) and see the fishing boats.
Walk along the Skala port ramparts and see the cannons. You might recognize them from Game of Thrones.
Music festival: If you time it right (early summer), attend the annual Gnaoua World Music Festival.
Check out the Mellah (Jewish Quarter), visit the synagogue, or explore one of the two Jewish cemeteries. We got inside the old synagogue in Marrakesh.
Enjoy a hammam (you can choose from the tourist spa type or a traditional hammam like we did in Fes).
Drive out of town and see the goats in trees and learn how to make argan oil.
Where to stay in Essaouira
Like most places, there are plenty of options, and in Morocco, we prefer upscale and traditional. We choose riads in the old medina whenever possible, over traditional western hotels.
In Essaouira, we spent our first night in an acceptable place located outside the medina and opted to find alternative accommodations for the rest of our stay. While this may appear as a negative, it actually worked out great. Being off-season, there were plenty of options, and we had the unique opportunity to get inside and have a look at multiple properties.
After looking at several rooms in various riads, we were delighted when we walked into Ryad Watier. Our room, the Lakhdar Family Suite, had two bedrooms, including a loft. It was perfect for a family with two teens. And attention was paid to every detail of the Moorish decor, our host was like a helpful friend, and the food (daily breakfast and one dinner) was creative and delicious. Reserve your room at Ryad Watier
Or, if Ryad Watier is not available or out of the budget, check out some of these options that include both ryads and self-contained units.
Getting to Essaouira
We rented a car in Marrakesh and began a fascinating Moroccan road trip with our first stop in Essaouira. From here, we headed inland to the Sahara.
The easy drive from Marrakech to Essaouira is less than 3 hours on a well-paved road. It's one of several ways to travel, the others being a private guide, group tour, or bus.
Rent a car
While we did a handshake deal to rent our car, I don't recommend it. We were lucky and had no problems, but there was so much potential for things to go wrong. In retrospect, we would have rented our car through Rentalcars. We have used them worldwide without any problems, and find that we always get either a lower rate or the same rate as going directly to the suppliers, but have access to excellent English-speaking customer service. Check options or rent a car with Rentalcars.com here.
Private guide
If you don't want to drive yourself but still want the total flexibility of a private vehicle, a guide is your best option. While we used a guide in other parts of Morocco (Chefchaouen), we had our own vehicle in Essaouira. We have used a variety of Tours by Locals guides worldwide, and so far, they have all been great. We believe part of the reason is that we communicate via email with our guide before hiring. Based on reviews and options for a single day or multiple days, we recommend Khalid for Essaouira. Reserve your private tour with Khalid here or choose a different guide.
Bus
The bus from Marrakech is the most economical way to travel and seemed a popular option, especially amongst backpackers.
Group tours
There are plenty of group tours, check them out here:
Save on your trip with these resources
These are our go-to companies when we travel. We believe this list to be the best in each category. You can't go wrong using them on your trip too.
Flights: we use Expedia for the best and cheapest flight options.
Accommodations: we use Booking.com (hotels), VRBO (self-contained), or Hostelworld (budget).
Cars (gas or electric): we use RentalCars to search for deals and dealer ratings.
Campervans or Motorhomes: we use Campstar where Albom Adventures readers get a 3% discount.
Motorcycles: we have heard good things about BikesBooking.
Private guides: we love the private guides at Tours by Locals.
Travel Insurance: while not required, we always opt for travel insurance and start at InsureMyTrip to compare coverage plans.
Check out our travel resources page for more companies that we use when you travel.
Save for later
If you enjoyed this article, please share it on social media and save it for later on Pinterest.
What are your favourite things to do in Essaouira?