Jewish life still exists in Morocco, with an estimated 2,000 Jews currently living in the country. Marrakech has at least two synagogues open to visitors. While its most active temple is in the modern part of town, it was the older Lazama Synagogue in Marrakech that attracted us.
Today, Morocco has the largest Jewish population in the Arab world. If you know where to look, you can find signs of both past and present Jewish life.
Hidden down an alleyway in the Mellah (Jewish Quarter), Lazama Synagogue in
Marrakech is located in a surprisingly bright and beautiful courtyard.
A security guard protects the alley's entrance so subtly that most people walk by without ever knowing it is there. At the end of the same street sits the Jewish cemetery.
Inside Lazama Synagogue in Marrakech
Once located, the caretaker let us into the locked synagogue. This is similar to our experience getting into the synagogue in the Jewish Quarter in Fes Morocco.
Built during the early 1900s, it is not the first synogogue on this site. In fact, those escaping the Spanish Inquisition built the original synagogue here in 1492.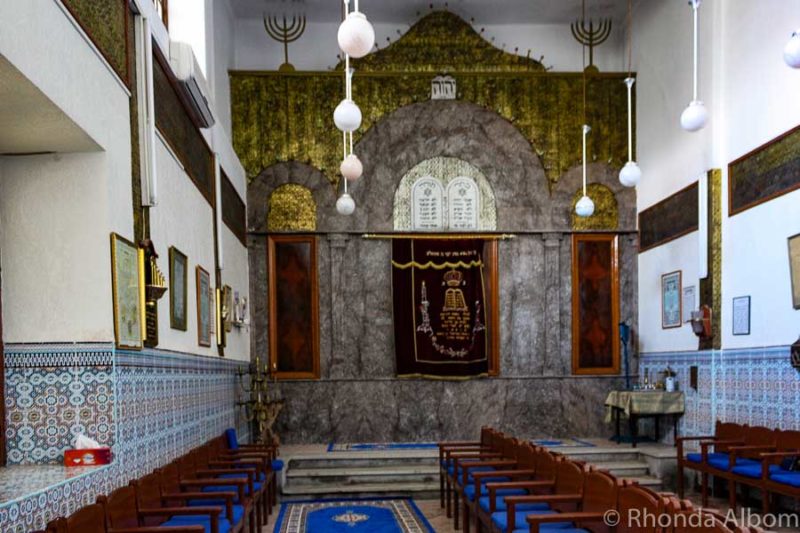 A well-tended courtyard surrounds the Lazama Synagogue. Around the outer edges are curtains offering privacy to the members who live there. Beautiful hand-laid tiles covered many of the walls, often between the curtains.
Colour and patterns reflect the Jewish atmosphere, as do the Hebrew letters along the upper edge of the walls. While mostly blues and white are used in this courtyard, we found much of Marrakech to be vivid and colourful.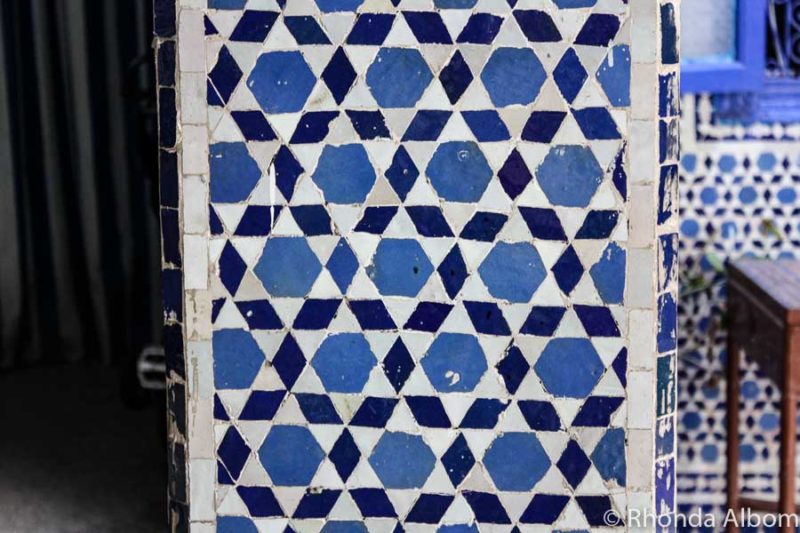 Mezuzah at the door
A mezuzah hangs on the doorframe at the entrance to Lazama Synagogue. A mezuzah is a piece of parchment, often in a decorative case. It is inscribed with specified Hebrew verses from the Torah.
Typically, a mezuzah is hung at the door of a Jewish home. In addition, some wear a mezuzah charm around their neck for protection.
⇒ Get your own door frame mezuzah
A sukkah in Marrakech
We visited during the Jewish holiday of Sukkot. As a result, there was a sukkah in the courtyard. Judaism 101 as a great article that explains Sukkot.
"The Mellah of Marrakesh captures the vibrancy of Jewish society in Marrakesh in the tumultuous last decades prior to colonial rule and in the first decades of life in the colonial era. Although focused on the Jewish community, it offers a compelling portrait of the political, social, and economic issues confronting all of Morocco and sets a new standard for urban social history." ―Dale F. Eickelman
Morocco's largest Jewish cemetery is in Marrakech
Back on the road, we could see the entrance to Miara Jewish cemetery at the end of the street. Its unassuming gate gave no hint of the fact that this is the largest Jewish cemetery in Morocco.
Although first established about 600 years ago, it is an active cemetery, still in use today.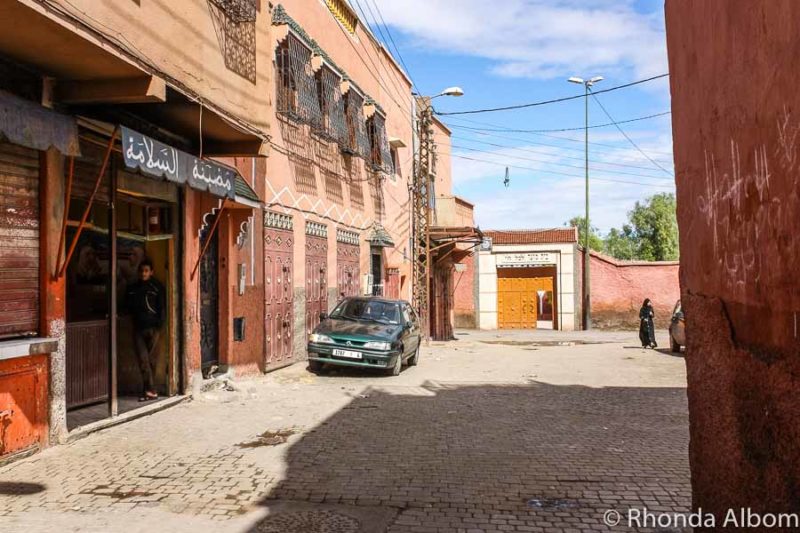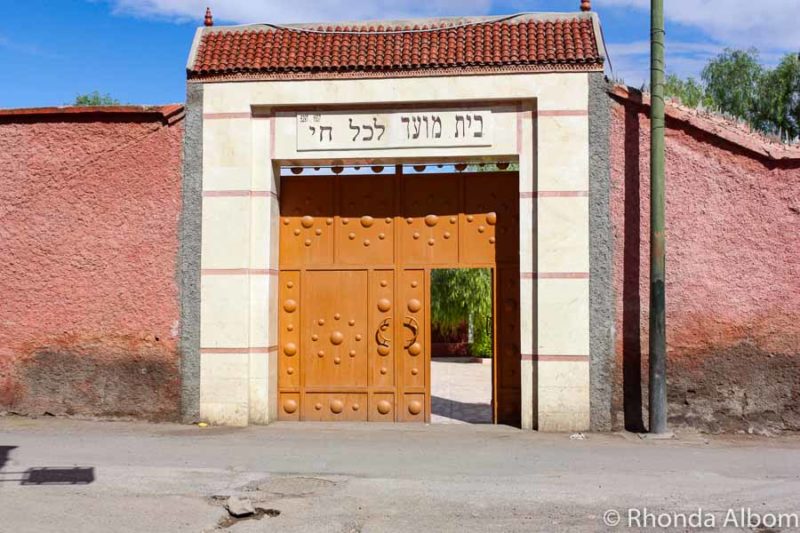 The caretaker stopped us at the gate, which surprised us as we had read that anyone could enter. After a brief conversation, he allowed us access, where we found well-preserved markings. Each gravesite contains bodies buried three deep to preserve space.
While the Jewish population in Morocco is now small, this was not always the case. In fact, as recently as the 1940's, there were 240,000 Jews co-existing in Morocco. Historically, many families originally arrived as refugees, fleeing from the Spanish Inquisition.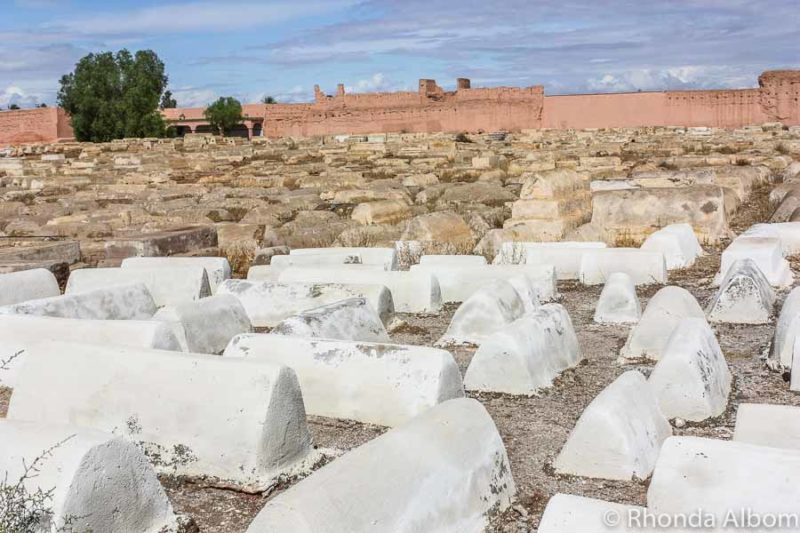 There are several mausoleums in the cemetery. The one just below holds the graves of two important rabbis.
Stones on gravesites
For Jews, it is a tradition to leave stones at a gravesite. You can see them on both of the images below. While many theories exist as to why this is done, there is no clear answer. All are either based on respect or superstition. We also saw this custom at the Jewish cemetery in Prague, Czech Republic.
Tips for visiting the Mellah, Miari Cemetery or Lazama Synagogue in Marrakech
The Mellah (Jewish Quarter) is just outside the old medina.
For opening hours, see the Lazama Synagogue Marrakech temple site.
If you struggle to find Lazama Synagogue in Marrakech (and you will), for a small tip, you can usually ask a local child to bring you right to the somewhat hidden and unlabelled entrance.
There are other small synagogues located in the Marrakech Mellah, but they are not open to the public.
The Cemetery is open daily.
Men wear a kippah (provided) inside the cemetery.
Tradition dictates washing hands when leaving the cemetery.
Before leaving the cemetery, leave a small donation (10-20 dhs) for the caretaker.
Take a tour that includes Lazama Synagogue and other Jewish sites in the City
Marrakech is a fun city to explore, yet many visitors prefer to discover it with a guide. It's a city well-known for friendly people. Unfortunately, like anywhere, there are some who take advantage of visitors' unfamiliarity with local customs and lifestyle. This is when tours can be helpful.
There are many tour options. Of the tours we have explored that have good reviews, only the Marrakech Discovery Tour with Lunch specifically mentions Lazama Synagogue.
This full-day, small group (maximum of 6 people) tour is perfect for first-time visitors to Marrakech. It starts and ends at your hotel and includes entrance fees. You will see the largest mosque in Marrakech, the Lazama Synagogue, Bahia Palace, gardens, statues, and Jemaa el Fnaa (the main square in Marrakech). Reserve your Marrakech Discovery tour with lunch here.
Tours of Marrakech that visit the Mellah
We found several well-rated tours that visit the Jewish Quarter. However, none of them specifically mention Lazama or any other synagogue in Marrakech.
Marrakech: Private half-day walking tour: This four-hour walking tour includes Bahia Palace, Saadian Tombs, Ben Youssef Madrasa, Koutoubia Mosque, Jewish Quarter, and the world-famous Jemaa el-Fnaa Square. Reserve your walking tour here.
Marrakech: Private full-day city tour: A seven-hour tour that includes Bahia Palace, Saadian Tombs, Ben Youssef Madrasa, Jewish Quarter, Koutoubia Mosque, Jemaa el-Fnaa Square, Majorelle Garden and Berber Museum. Reserve your city tour here.
Save on your trip with these resources
These are our go-to companies when we travel. We believe this list to be the best in each category. You can't go wrong using them on your trip too.
Flights: we use Expedia for the best and cheapest flight options.
Accommodations: we use Booking.com (hotels) or VRBO (self-contained).
Cars (gas or electric): we use RentalCars to search for deals and dealer ratings.
Campervans or Motorhomes: we use Campstar where Albom Adventures readers get a 3% discount
Private guides: we love the private guides at Tours by Locals
Travel Insurance: we start at InsureMyTrip as they are the best option to compare plans and find the right coverage for you.
Check out our travel resources page for more companies that we use when you travel.
Please share
If you enjoyed this article on the Marrakech synagogue and Jewish cemetery, please pin it on Pinterest: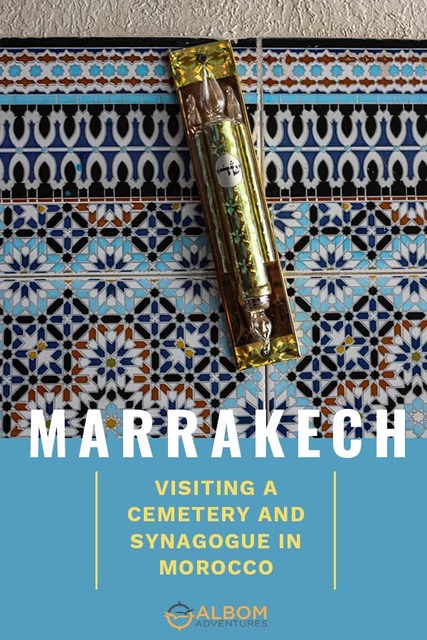 Read Next: Morocco Road Trip: Marrakech to the Sahara Desert
Will you visit Miara Cemetery or Lazama Synagogue in Marrakech?