Surrounded by history, it was as if every building in the Prague Jewish Quarter had a story to tell. Once Europe's largest Jewish ghetto, today it contains some of the only surviving Jewish buildings of WWII and is home to the world's largest collection of Judaica.
It's a must-see for any visitors to the Czech Republic.
The old Jewish quarter in Prague has a fascinating, yet somewhat bizarre history.
Note: Based on world conditions, we advise checking official channels including cancellation policies prior to booking. Also, with often reduced capacity, booking ahead becomes more important.
Brief history of the Prague Jewish quarter
Jews arrived as early as the tenth century, but in the 13th century, a new law prevented Jews from living alongside Christians. As a result, a walled ghetto was built.
For hundreds of years, there were peaceful times, interrupted by destructive periods. In 1850, the ghetto changed its name to Josefov as it officially became part of Prague. The name was in honour of Holy Roman Emperor Joseph II.
Fast-forwarding to WWII the Munich Agreement left Czechoslovakia as a protectorate of Nazi Germany.
At the time there was an existing Prague Jewish Museum. With the unimaginable intention of creating a museum of a soon-to-be-extinct race, the Nazis expanded the existing museum, using the city to store all of the stolen Jewish artefacts from the Holocaust.
The collection of Jewish treasures seen today is surrounded by the memory of sorrow and loss. The artefacts are housed in several locations throughout the Prague Jewish Quarter, and no photos were allowed in most of the indoor areas.
Jewish Museum
The Jewish Museum in Prague is the world's largest collection of Judaica, featuring over 40,000 objects and 100,000 books housed throughout five synagogues and the building seen above in the Prague Jewish Quarter. A treasure trove of history and archives, they are also active in current humanitarian events. See some of their latest projects here.
Entry to the Jewish Museum includes the option of four or five of the synagogues, the old Jewish cemetery, and the ceremonial hall. Entry to the Old-New Synagogue is included in only one of the options. See below for more details.
Synagogues in the Prague Jewish Quarter
The five synagogues that are part of the Jewish Museum each have their own history. They include:
Pinkas Synagogue (built 1535)
The second oldest Jewish temple still standing in Prague is now a powerful Holocaust memorial listing the names of all 77,297 Bohemian and Moravian Jews killed during the Holocaust on its walls. Upstairs is an equally emotive display of drawings by children who were locked away in the Terezín ghetto before deportation.
Maisel Synagogue (built 1592, rebuilt after fire in 1689)
This one has been rebuilt after a fire in 1689 and renovated in neo-gothic style in the late 1800s. Today it houses a large, museum-like collection of Jewish history, including books, documents, and religious objects.
Spanish Synagogue (built 1868)
With its elaborate and stunning Moorish interior design (similar to Alhambra in Spain), many consider it among Europe's most beautiful synagogues. See photo at top of page.
Klausen Synagogue (built 1694)
The largest of the six synagogues, it houses a collection of Hebrew texts and an interesting exhibit on Jewish traditions.
Old – New Synagogue (built 1270)
The oldest synagogue in Europe, it's one of Prague's first Gothic buildings and the only synagogue that is still active in the Prague Jewish Quarter. Originally called the Great Synagogue, and nicknamed the 'new synagogue', as newer temples were built it became the old 'new synagogue'. According to legend, the fabled Golem's body is lying in wait in the attic.
Old Jewish cemetery
Surrounded by several of the five synagogues, the Old Jewish Cemetery was active from the early 1400s until 1786, with the oldest marker dated 1439. Thus, making it one of the world's oldest Jewish cemeteries.
The largest Jewish cemetery in Europe, it is considered one of the most important Jewish cemeteries in the world. In addition, National Geographic Travel magazine has ranked it amongst the world's top 10 cemeteries to visit.
Today, visiting the overcrowded cemetery is somewhat surreal. Contained within a finite amount of space, once filled, a solution was needed.
As a custom, Jews don't move or unearth bodies. Therefore, new graves were stacked on existing graves, up to 10 deep in spots, and additional dirt was added. Only the grave markers moved to the surface.
The Old Jewish Cemetery has about 12,000 visible tombstones, but up to 100,000 burials below the surface. Overgrown in spots, maintenance of this overcrowded cemetery is quite difficult.
One of the most famous people buried here, Rabbi Loew of the Golem legend (Rabbi Jehuda Leva ben Becalel), died in 1609. As a sign of respect, tradition suggests leaving a small stone on the grave marker (see my daughter doing this in the photo above).
Tip for photographers: You must pay a small fee to take photos in the cemetery. You can do this at the entrance.
More in the Prague Jewish Quarter
The three other key sites include the Franz Kafka monument, the town hall, and the ceremonial hall.
Franz Kafka monument
Commemorating Prague's most famous writer, this statue of Franz Kafka sitting on the shoulders of a headless figure sits outside of the Spanish Synagogue. Inspiration for the statue came from Description of a Struggle, one of Kafka's short stories.
Town Hall
Seen today only from the outside, note that there are two clocks – one with Hebrew numerals, the other Roman numerals.
Ceremonial Hall
Standing at an edge of the cemetery, this neo-Romanesque building once housed the Prague Jewish community's burial society. Here, the traditional washing of the dead took place. Today, paintings depict the process.
How to see the Prague Jewish Quarter
Before exploring the Prague Jewish Quarter, you should decide whether you want to enter the synagogues and sites, and secondly, whether you want to explore on your own or with a guide.
We opted for a full tour with entrances. Our passionate guide brought history to life for us, answered all our questions, and pointed out small details we might have otherwise missed.
Three top-rated options:
Old town and Jewish Quarter guided walking tour
This 1.5-hour option is the perfect tour for those who would like an understanding of Prague, but have limited time. The tour explores the key locations in the Prague Jewish Quarter on foot. Note: entries not included. Then you will head to the old town and see a few more key sites including the famous astronomical clock. Reserve your old town and Jewish quarter guided walking tour here.
Prague Jewish Quarter admission ticket with introduction
An option for people who like to understand history, learn what to look for, but enjoy doing it themselves. The least expensive of the three options begins with a 20-minute introduction to Josefov and then leaves you with a skip-the-line ticket for the synagogues. Note there are two options, the difference being that circuit 1 also includes an entrance to the New-Old Synagogue. Reserve your admission ticket with introduction here.
Prague Jewish Quarter walking tour with admission tickets
This 2.5-hour tour of the Jewish Quarter is the ideal option for travellers who want to immerse themselves in history from the inside. Your guided walking tour will cover history, answer questions, enter one of four Synagogues (Maisel, Pinkas, Spanish, and Klausen synagogues) and leave you with entrance tickets to the other three. You will also explore the Old Jewish Cemetery with your guide. Reserve your walking tour with admission tickets here.
Jerusalem Synagogue (outside of the Prague Jewish Quarter)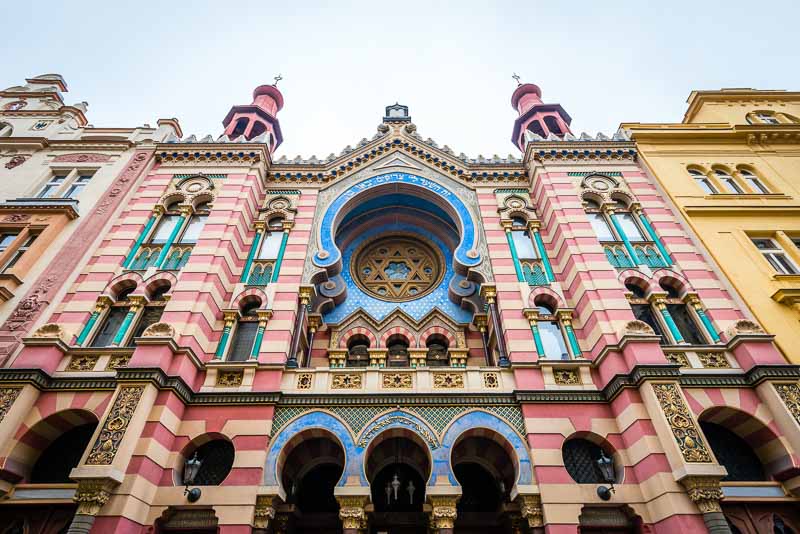 Jerusalem Synagogue, also called Jubilee Synagogue, is the city's largest synagogue, yet it is outside the Prague Jewish quarter and not part of the Jewish Museum. It's located on narrow Jerusalem Street, almost hidden until you approach its magnificence.
It is one of the many places used by the Nazis to store stolen Jewish artifacts during WWII.
This synagogue and the Jewish Quarter are among the best things to see in Prague.
Best deals and discounts for your travel planning needs
We earn from qualifying purchases through partnerships or affiliate programs.
Flights: When it comes to flights, we always start with Expedia.

Hotels: We use Booking.com to compare and book accommodations. Don't miss Booking.com's Getaway 2022 Deals that save 15% or more on selected accommodations. (T&Cs apply)

Other accommodations: If you prefer B&B or self-contained type lodging, check out VRBO.

Vehicle hire: RentalCars is like a rental car search engine with no hidden costs, that lets us find the best deals on car rentals worldwide.

Private Tours: We are big fans of ToursByLocals, and use them for nearly all cities where we want a private guide.

Packing Tips: Get a free copy of our packing light checklist when you sign up for our mailing list. (We pack light, yet have everything we need.)
Find more money-saving resources and T&Cs on some of the above, check our Travel Resources page.
Save for later
If you enjoyed this article, please share it on social media and save it for later on Pinterest.
What will you see in Prague Jewish quarter?
Photo Credits:
All photos on this page are either shot by our team and watermarked as such or stock images from Depositphotos.