Albom Adventures stands on the side of peace. We visited Russia years ago and have opted to keep this page of Moscow highlights as a historical reference rather than as a planning tool.
Moscow is one of those cities that I had always wanted to visit. I had great fantasies about intrigue and drama, Russian dancing and puppets, food and friendship.
Honestly, I am not sure what I was really expecting, but Moscow did not disappoint. At the time of our travels, Moscow was one of the most expensive cities in the world to visit, and we want to see as much as possible with just 4 days in Moscow.
In retrospect, this was not a good plan. The difficulty and cost of obtaining our visas and then getting to Russia warranted both a much longer stay and a visit to other parts of the country. To be honest, I can't imagine ever doing it again.
Moscow highlights
Kremlin
St Basil's Cathedral
Red Square
Arbat Street
Novodevichy Convent
Moscow metro stations
Bolshoi Theatre
Inside the Kremlin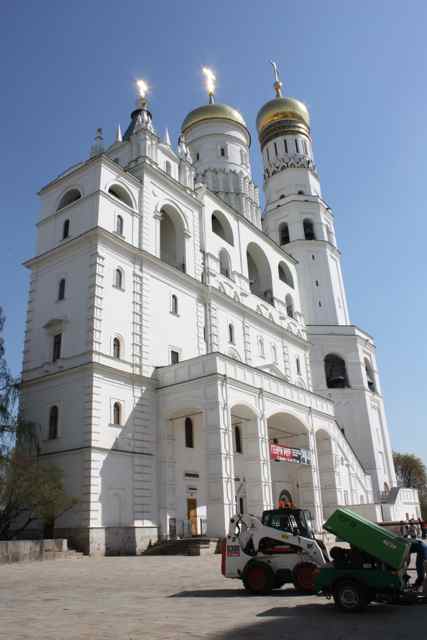 Home to the President of the Russian Federation, the Kremlin always seemed a bit of a mystery, a secret and forbidden destination. In reality, it was easy to get a tour of the Kremlin.
The historic fortified complex feels even bigger once inside than it does from the street. It is located in the heart of Moscow, overlooking the Moskva River (to the south), Saint Basil's Cathedral and the rest of Red Square (to the east) and Alexander Garden (to the west).
Aside from the president, the Kremlin is home to four palaces, four cathedrals, several towers, and additional buildings. We also saw the Tsar cannon (the world's largest cannon) and the world's largest bell. The cannon was never fired, and the bell never rung as it cracked at some point during the 3 years to fully cast it.
St Basil's Cathedral
St. Basil's Cathedral is possibly the most famous symbol of Moscow and is considered an irreplaceable national monument by the Soviets. And as beautiful as it is during the day, Moscow at night is even more impressive.
Built by Ivan the Terrible, the official name of this Orthodox structure is the Cathedral of Vasily the Blessed.
Red Square
Historic Red Square, the very heart of the city, is the largest square in Russia and a must-see among the Moscow highlights. It covers almost 800,000 square feet.
On the north end, we see the State Historical Museum, a commonly featured landmark of Red Square. On the southern end is St. Basil's Cathedral.
Throughout history, the square has always been a marketplace as well as a political platform, at times used for parades, demonstrations, executions, and speeches. In fact, it is here that the May Day Parade (that we accidentally joined and were not permitted to leave) ended as participants acknowledged the officials who waved from a platform.
Two other significant landmarks in Red Square are the mausoleum of Vladimir Lenin and GUM, the largest department store in Russia.
Arbat Street
Arbat Street, or "The Arbat," as locals call it, is a kilometre-long pedestrian-only road lined with cafes and restaurants, artists, street performers, a few random museums, and several over-priced souvenir shops. However, most vendors seemed open to negotiation.
The Arbat refers to "old" Arbat Street, one of the oldest surviving streets in Moscow. (First recorded mentions of Arbat Street date back to 1493.) There is a "new" Arbat Street nearby. It's home to many of Moscow's rich and features some of Moscow's most expensive restaurants and nightclubs.
Today, old Arbat Street is a perfect spot for people-watching.
Getting here is easy on the metro. Either the Smolenskaya (both blue lines) or Arbatskaya (both blue lines, from Dark Blue line, take the west exit) station will get you to Arbat Street.
Novodevichy Convent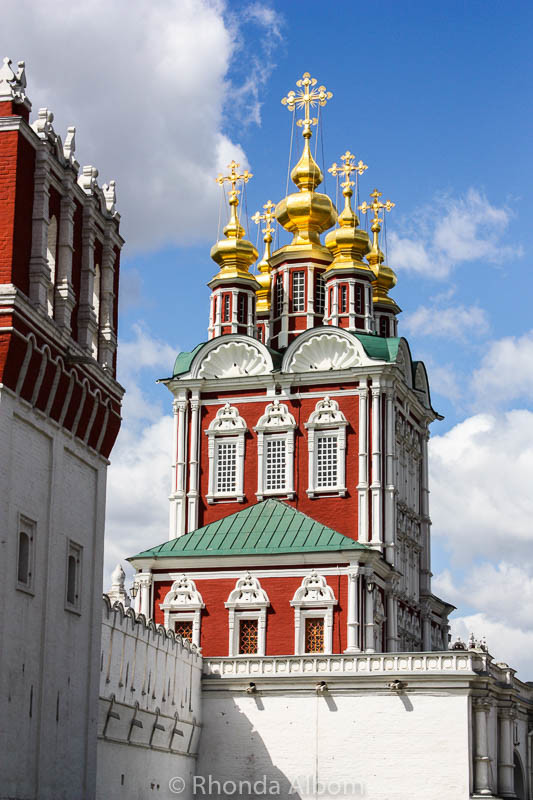 Novodevichy Convent and Cemetery is one of the more interesting places we visited in Moscow. Historically, it has close ties to the Kremlin.
Built during the 16th and 17th centuries, it is interwoven in Russia's political, cultural, and religious history. Novodevichy is Russia's only convent that served as both an ancient nunnery and a fortress. Today, it is a working religious institution and tourist destination.
Its new cemetery is considered one of the most prestigious in the city.
It was the women who came here to "take the veil" that fascinated us the most. From the 16th-18th centuries, women from the tsarist dynasty, as well as other wealthy and nobility families, were sent here to "retire" and for their protection, many against their will.
Novodevichy features eight cathedrals and six residential or service buildings. The Novodevichy ensemble is a UNESCO world heritage site since 2004.
Moscow metro
More than just an efficient way to get around the city, the Moscow Metro is a destination in itself. Many of the stations were built in the Soviet era. Each is unique, yet all are clean, loaded with artwork, and filled with history.
Moscow Metro tours seem quite popular, but we opted to do it ourselves and made it a game, allowing each of our girls to take us around to a series of stations.
It is more complicated than other subway systems we have used. Many of the stops are transfer points between two or sometimes three stations, with long tunnels and stairs/escalators between the stations and, as one would expect, all of the writing is in Cyrillic.
Despite plenty of police around, when we tried to ask for help, they looked straight through us as if we didn't exist. We quickly gave up asking and figured it out on our own.
More Moscow highlights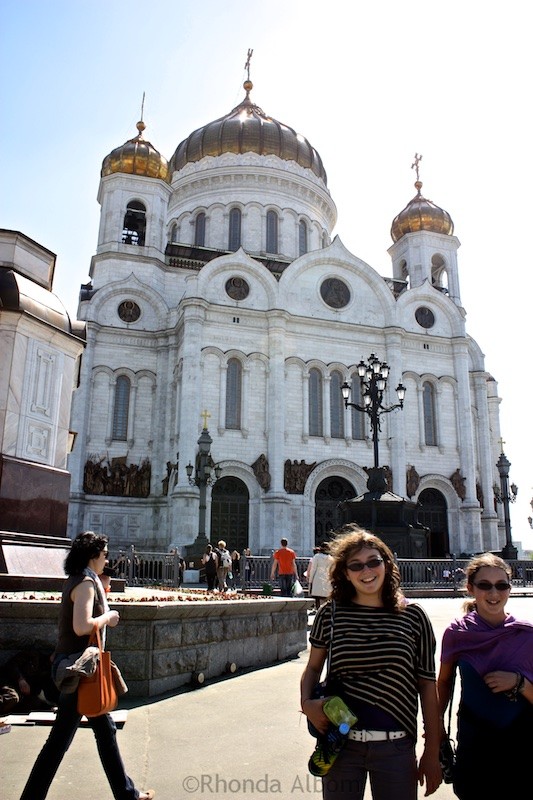 Still more Moscow highlights:
Christ the Savior Cathedral is the tallest Orthodox church in the world.
Kitay-Gorod is an old city area full of breathtaking churches.
The Bolshoi Theatre, Moscow's largest theatre, is home to the ballet. We considered getting tickets until we saw the cost.
Kazan Cathedral houses the most important Orthodox icon in the world.
Manezhnaya Square and Moscow Hotel were made famous from the Stolichnaya Vodka label.
Peter the Great statue is considered the most controversial monument in Moscow. When originally cast, it had the head of Christopher Columbus. The plan was to sell it to America, but the USA didn't want to purchase it, so Russia changed the head.
Changing of the Guard takes place dailyt at the eternal flame of the tomb of the unknown soldier.
The Seven Sisters are a group of seven skyscrapers in Moscow designed in the Stalinist style. According to our guide, they are complete cities built under one roof.
Gorky Park, which we passed by on a river cruise, is a recreation area from the Soviet era.
Moscow Travel Tips
Before heading out for the day, have a good look at the map and ask for help in your hotel. Don't count on anyone helping you on the streets or in the metro station.
Stand on the right and walk on the left on the escalators. Note that locals have limited patience for those who get it wrong. (I learned quickly from my mistake).
Most importantly – learn the Cyrillic word for entrance, exit and transfer (if using the metro). If you get on an exit escalator when you meant to transfer, you will pay again to get back into the system.
Dress respectfully if you are planning to enter any of the Orthodox churches. Women should cover their heads and shoulders, while men should wear long pants.
Save on your trip with these resources
These are our go-to companies when we travel. We believe this list to be the best in each category. You can't go wrong using them on your trip too.
Flights: we use Expedia for the best and cheapest flight options.
Accommodations: we use Booking.com (hotels), VRBO (self-contained), or Hostelworld (budget).
Cars (gas or electric): we use RentalCars to search for deals and dealer ratings.
Campervans or Motorhomes: we use Campstar where Albom Adventures readers get a 3% discount.
Motorcycles: we have heard good things about BikesBooking.
Private guides: we love the private guides at Tours by Locals.
Travel Insurance: while not required, we always opt for travel insurance and start at InsureMyTrip to compare coverage plans.
Check out our travel resources page for more companies that we use when you travel.
What will be your Moscow highlights?