This was no ordinary Moscow May Day Parade, and how we ended up marching in it is a bit surreal.
May Day or Labour day in Russia is on May 1. It's a day of celebration for workers and unions. The annual May Day Parade marches from around the corner of our hotel to Red Square. And this year both President Dmitri A. Medvedev and Prime Minister Vladimir V. Putin have joined the march. The last time leaders joined was 1996.
We should have been more observant. As we left our hotel we headed to our daily coffee shop around the corner. However today there were security gates that we had to pass through. We assumed it was left over from the display of Russian tanks and missiles that rolled down the street yesterday. I think anywhere else we would have questioned it, but in Russia, we passed through the scanner.
On the other side, we found hundreds of brightly dressed people, celebrating in the streets as they staged for the parade start. The coffee shop had a line out the door, and we decided today might be the day to try the overpriced breakfast in our hotel.
The problem, we were not allowed to leave. Apparently, we had entered the parade route along with tens of thousands of other people. Only they wanted to be here.
Naturally, we made the best of it, unsure of what we would find. We marched alongside the unionist, even waving at those up on the stage when we reached Red Square. The concierge called it a demonstration, a day for the people. For those who work in the factories, those who go to school, those who work anywhere. A day of celebration. The parade was colourful and festive.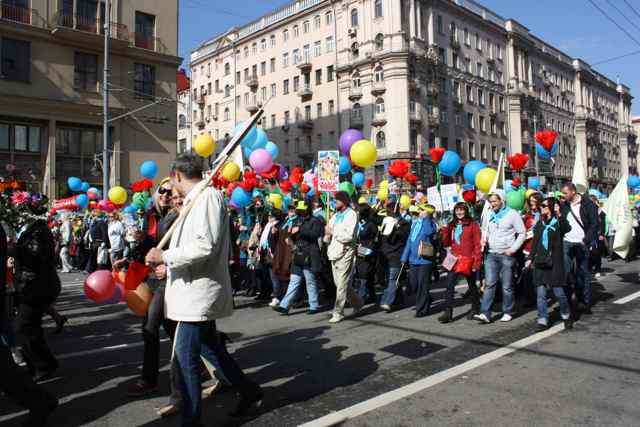 Security was high in Moscow. Honestly, it was greater than any security I have ever seen. We had no problems.
The parade started, and we walked along just to the left with the other people who looked like spectators. Still unsure if we belonged there, but following along. After several blocks, the barricade became two layers with about 10 metres between the two sets of barricades and only Russian military personnel in the middle.
Clearly, we were on the wrong side, but we were not about to do anything about it at this point, so we marched along, we passed a metro station, then another, then we reached the grand stand, where a row of "important people" stood and waved at the crowd. (I asked who they were and "important people" is what I was told).
All photos on this page © Rhonda Albom 2012. All rights reserved.
Note: Based on world conditions, we advise checking official channels including cancellation policies prior to booking. Also, with often reduced capacity, booking ahead becomes more important.
Did your town have a Labor Day Parade? Scary or cool that we got to march in the May Day Parade in Moscow?