Albom Adventures stands on the side of peace. We visited Russia years ago and have opted to keep this page of our experience marching in the May Day Parade as a historical anecdote rather than as a planning tool.
This was no ordinary Moscow May Day Parade, and how we ended up marching in it is a bit surreal.
May Day or Labour day in Russia is on May 1. It's a day of celebration for workers and unions.
The annual May Day Parade marches from around the corner of our hotel to Red Square. And this year, both President Dmitri A. Medvedev and Prime Minister Vladimir Putin joined the march. Prior to today, the last time leaders joined was in 1996.
How we got in the May Day Parade
In retrospect, we should have been more observant or perhaps just more mindful. And perhaps we should have remembered the advice to stay clear of public gatherings in Russia.
As we left our hotel, we headed to our daily coffee shop around the corner. However, before we could turn the corner, we were required to pass through a newly erect set of security gates.
We foolishly assumed it was left over from the display of Russian tanks and missiles that rolled down the street yesterday. (I say foolishly, as we had walked down the same street last night without passing through the gates.
I think anywhere else we would have questioned it, but in Russia, we simply passed through the scanner.
On the other side, we found hundreds of brightly dressed people celebrating in the streets as they staged for the parade start. The coffee shop had a line out the door, but fortunately, there were stalls lining the area of the road we were on, and we purchased pastries for breakfast.
Stuck in the activity …
Apparently, we had entered the parade route along with tens of thousands of other people. Only they wanted to be here.
The problem was instantly apparent. Today's new gates appeared to be one-way. We watched other people asking guards to let them out in Russian, but they were directed onward. If our first four days in Russia had taught us anything, we would fare worse if we requested in English.
And in reality, a few were let out, very few. We didn't want to cause trouble.
The May Day Parade
Naturally, we made the best of it, unsure of what we would find. We marched alongside the unionist, even waving at those up on the stage when we reached Red Square.
The concierge called it a demonstration, a day for the people. For those who work in the factories, those who go to school, and those who work anywhere. It's a day of celebration. The parade was colourful and festive.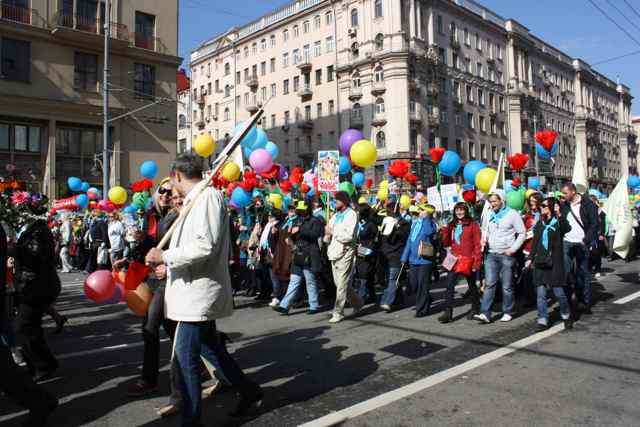 Security was high in Moscow. Honestly, it was greater than any security I have ever seen. We had no problems.
The parade started, and we walked along just to the left with the other people who looked like spectators. Still unsure if we belonged there, but following along, too intimidated to ask a guard if we could leave. After several blocks, the barricade became two layers, with about 10 metres between the two sets of barricades and only Russian military personnel patrolling in the middle.
Clearly, we were on the wrong side, but we were not about to do anything about it at this point, so we marched along, we passed a metro station, then another, then we reached the grandstand, where a row of "important people" stood and waved at the crowd. (I asked who they were and "important people" is what I was told).
Save on your trip with these resources
These are our go-to companies when we travel. We believe this list to be the best in each category. You can't go wrong using them on your trip too.
Flights: we use Expedia for the best and cheapest flight options.
Accommodations: we use Booking.com (hotels) or VRBO (self-contained).
Cars (gas or electric): we use RentalCars to search for deals and dealer ratings.
Campervans or Motorhomes: we use Campstar where Albom Adventures readers get a 3% discount
Private guides: we love the private guides at Tours by Locals
Travel Insurance: we start at InsureMyTrip as they are the best option to compare plans and find the right coverage for you.
Check out our travel resources page for more companies that we use when you travel.
Scary or cool that we got to march in the May Day Parade in Moscow?