Albom Adventures stands on the side of peace. We visited Russia years ago. We opted to keep this page documenting our experience seeing the Russian tanks as a historical reference.
Watching huge Russian tanks, missiles, and other weapons of mass destruction driving down the street is an overwhelming sight. The emotions ran high, ranging from curiosity and fascination to realisation and fear.
Let's be clear, this is not a daily event in Moscow, nor is it one we sought out. It turns out we witnessed an annual rehearsal for an upcoming May 9 parade. The rehearsal takes place on the last night in April, just after the streets are blocked off for the next day's May Day parade.
Our seeing it was quite random. It was just around the corner from our hotel's entrance. It headed down the street we walk along to get to dinner. We knew about the upcoming parade, so the barricades didn't phase us. But I have to admit, I was a bit rattled when we heard the rumbling just before the exhibition started.
To be honest, the entire experience was quite surreal. Not only to see these massive weapons on the security-lined street but also to be the only ones who seemed to stop to take notice.
The military parade rehearsal of Russian tanks
This one is just best seen in photos.
The "parade" started out small with a Russian transport.
Followed by a tank.
The next big rolling gun is a Russian Howitzer. As it passed, I could feel my skin crawl. And yet, it was to get bigger and scarier.
The ground shook as the Buk-M mobile anti-air missile launcher went past, which is my best excuse for the slightly blurry photo.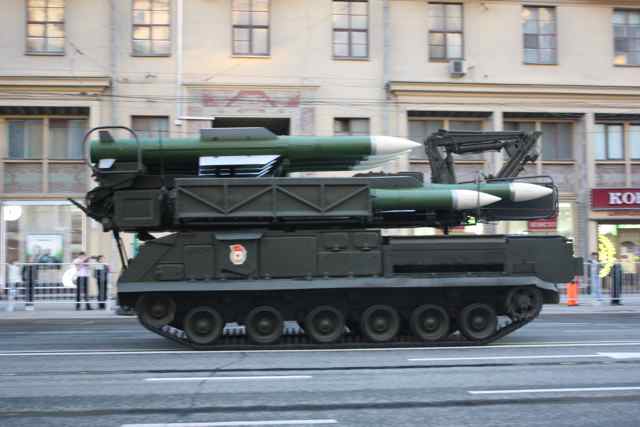 Since no one spoke English, we can't be sure, but Jeff believes the next to be S-300 missile systems. Let's just say, whatever they are, I don't ever want to see them fly!
Next, an ICBM, a Russian Army Topol Intercontinental ballistic missile. This is one scary weapon that will hopefully never be used.
The ICBM is typically a nuclear weapon (although we assume not armed in the parade). It has a range of at least 3,400 miles. At the time of writing this, only five countries have ICBMs: China, France, India, Russia, and the USA.
The Russian guard in the foreground was one of many. Feeling quite intimidated by the Russian tanks, I opted to take the photo while he looked away.
Final thoughts …
Moscow is an interesting city. Bright and colourful in architecture and design. Clean. But overall, cold and unfriendly. These Russian tanks were a reminder of that atmosphere.
In some ways, we are lucky to have had such a unique experience. Not only did we get to march in Moscow's May Day Parade, but we also saw this parade rehearsal. In other ways, it makes us feel sad that these weapons even exist.
Save for later
If you found our travel anecdote interesting, please share it on social media and save it for later on Pinterest.