Seeing the huge Russian tanks, missiles and other weapons of mass destruction driving down the street that is right next to our Moscow hotel was quite an overwhelming site. The emotions ran high, ranging from fascination to realisation and fear.
In some ways we are so lucky! Not only did we get to march in Moscow's May Day Parade, we also saw a parade for the Russian Military. Let's be clear, this is not a daily event in Moscow. It was the annual rehearsal for an upcoming May 9 parade. The Russians do it on the last night in April as the streets are already blocked off for the next day's May Day parade.
It was quite surreal to see this massive weapons going down the security lined street with almost no one else stopping to take notice.
Moscow is an interesting city.

Big thanks to hubby who helped to identify them all, as to me they were just Russian tanks:
The "parade" started out small with this Russian transport:
Followed by this tank:
This big rolling gun in a Russian Howitzer. OMG, this is just starting to get freaky. Keep scrolling, it gets bigger.
The ground shook as the Buk-M mobile anti-air missile launcher went past which is my best excuse for the slightly blurry photo: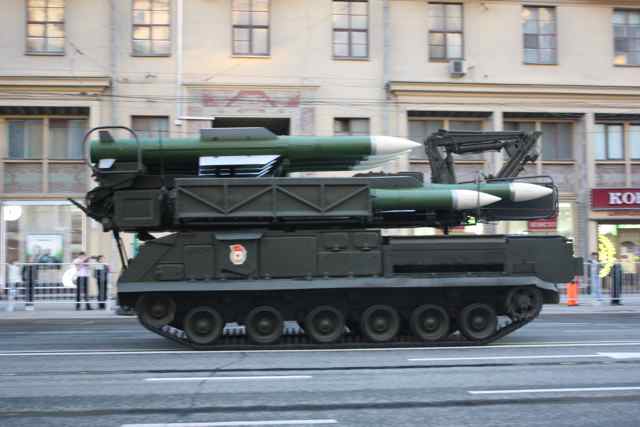 Since no one spoke English, we can't be sure, but hubby thinks these might be S-300 missile systems. Let's just say, what ever they are, I don't ever want to see them fly!
Holy cow! Hubby believes this is an ICBM, a Russian Army Topol Intercontinental ballistic missile. This is one scary weapon, that will hopefully never be used. A bit of trivia, the ICBM has a range of at least 3,400 miles and only five countries have ICBM: China, India, Israel, Russia, and the USA.
The Russian guard in the foreground was one of many. I was pretty sure it was ok to take photos, but I generally shot them quickly when he was looking away.
We carried the Lonely Planet Moscow City Guide. In it, there is no mention of this parade nor a description of the weapons. I relied on rocket scientist hubby's knowledge.
Note: Based on world conditions, we advise checking official channels including cancellation policies prior to booking. Also, with often reduced capacity, booking ahead becomes more important.
Have you seen the Russian tanks or any of the "big guns" out there in our scary world, or only in the movies?
If you enjoyed this post, please pin:
All photos on this page © Rhonda Albom 2012