Prague, the capital city of the Czech Republic is a mix of old-world charm, intricate architecture and innovation. It's a city I wish we had more time to explore, as there are so many traditional and fun things to do in Prague.
From the first moment, I liked Prague. It is easy to explore and it's an affordable city (as long as you don't drive in the pedestrian areas – more on this below).
Note: Based on world conditions, we advise checking official channels including cancellation policies prior to booking. Also, with often reduced capacity, booking ahead becomes more important.
Fun Things to Do in Prague
Watch the animation on the world's oldest working astronomical clock
Cross the Charles Bridge
Walk along the world's narrowest pedestrian road
Learn why Prague has such an extensive Jewish quarter
Visit the Prague National Museum
Visit the Prague National Museum
Marvel at one of the world's most beautiful churches: St. James the Greater (and wonder about the severed hand hanging on a chain)
Spend time at the Prague Castle
Take a tour of Prague
Eat food from a street vendor
Enjoy lunch at an outdoor cafe
Treat your feet
First, let us inspire you …
Watch the animation on the world's oldest working astronomical clock
At the stroke of nearly every hour crowds stand in wonderment in Prague's Old Town Square. They are looking up at the third-oldest astronomical clock in the world, and the oldest one still in operation. Specifically, during the hour (between 9 am and 11 pm) the attraction is the procession of the 12 apostles near the top of the clock. It is one of the top things to see in Prague.
The installation of the Prague astronomical clock was in 1410. The lower dial has one day for each day of the year.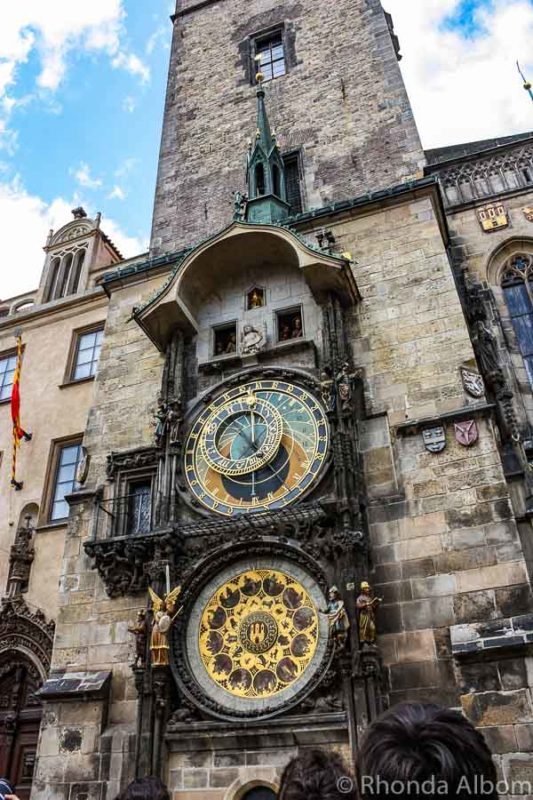 Cross the Charles Bridge
The historic Charles Bridge is one of Prague's top attractions. Filled with statues and offering beautiful views, it crosses the Vltava river.
Bridge construction began in 1357. It was a long process, with many delays. It wasn't until the beginning of the 15th century that it was finally completed.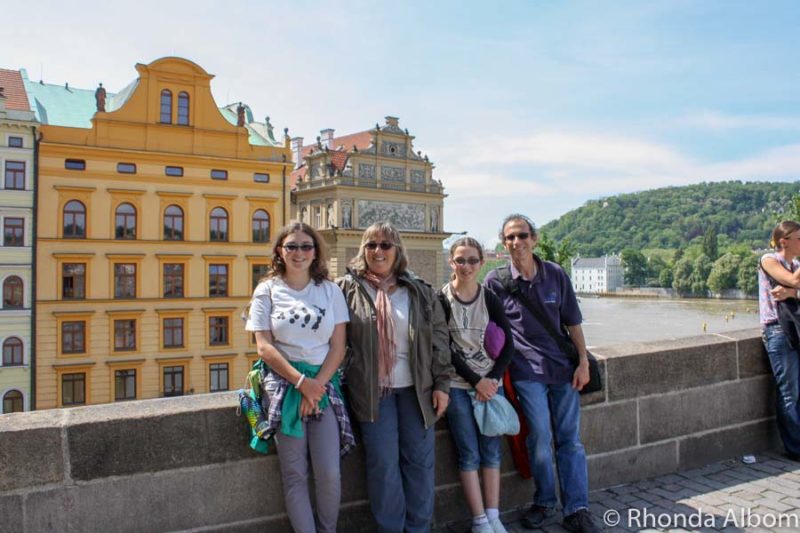 Wait for your turn on the world's narrowest pedestrian road
Whether or not this is actually the world's narrowest pedestrian street is up for debate. However, it is so narrow that it requires a pedestrian traffic light as two people cannot pass.
We couldn't resist giving it a try, as we found it to be one of the more unusual things to do in Prague
Take a look at our shot of Sarah walking up the street. The traffic control lights on this narrow pedestrian staircase show red, as I cannot go down until she completes her walk. Look on the wall, the red sign with the arrow points to the button one pushes to get a green light.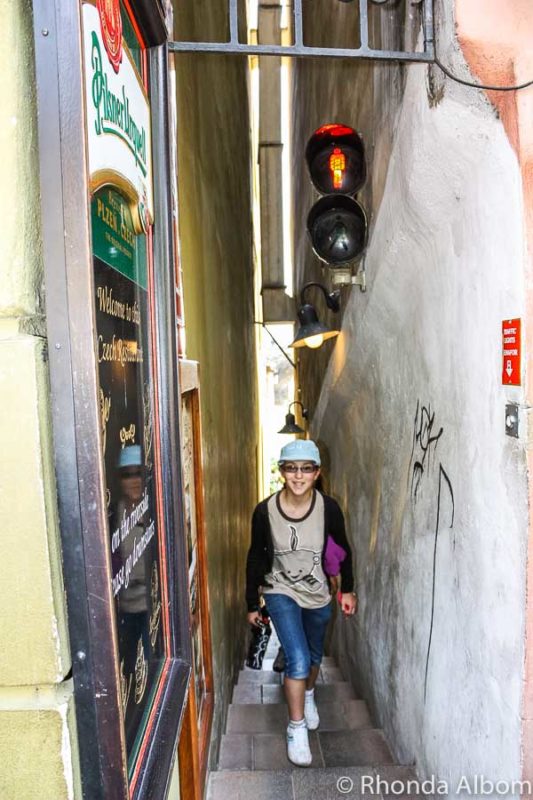 Learn why Prague has such an extensive Jewish quarter
Prague's Jewish Quarter is one of the oldest in Europe, and the museums are filled with artifacts that no longer exist in other towns. For us, the highlight of the Jewish quarter was the old Jewish cemetery.
With so much history, we opted for a tour of the Jewish Quarter. It was a good choice. We also got lucky as no one else showed up for our group tour, so it became private.
The tour we went on doesn't exist any longer. However, if you are interested in the Jewish history of Prague, we believe this small-group tour led by a professional guide will have you visit many of the temples and sites (admissions included) in the Jewish quarter. Check the excellent reviews or book the Premium Prague Jewish Quarter Tour.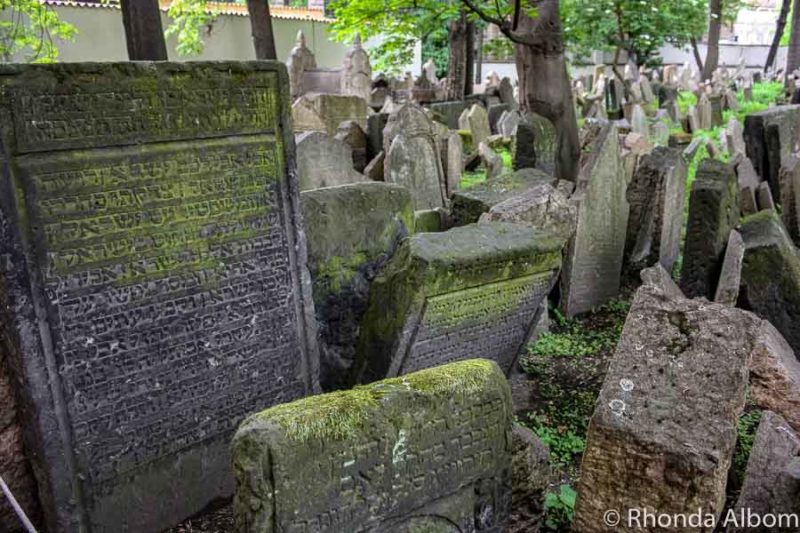 Visit the Prague National Museum
The National Museum is one of the best museums in Prague. Here we learned a bit of interesting Prague history and discovered a vast number of important things that were invented or researched by Czech scientists.
Some of the more interesting items were the first classification of blood types by Jan Jánský, the boat screw propeller by Josef Ressel and František Burián who gave birth to the field of plastic surgery. Not to mention the work by Karel Raška in eradicating smallpox.
Enjoy the architecture on Wenceslas Square
Standing in front of the National Museum, we had a lovely view of Wenceslas Square.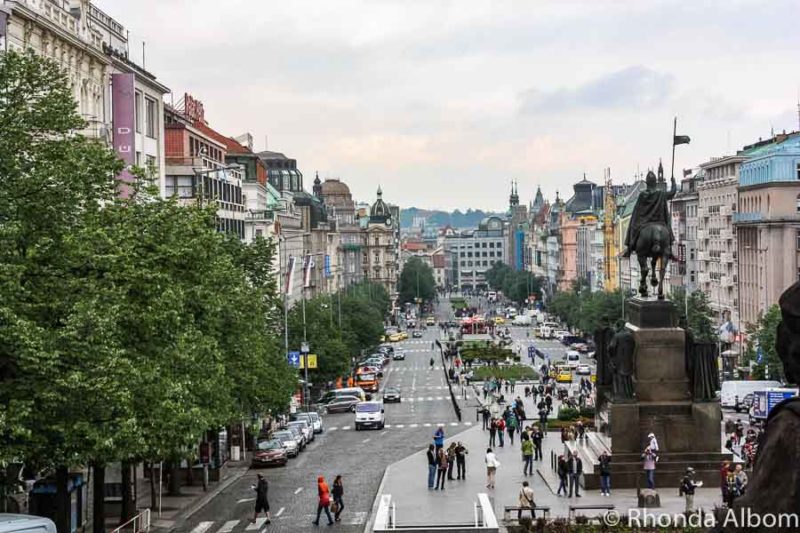 Marvel at one of the world's most beautiful churches: St. James the Greater
The church of St James the Greater, also called the St James Cathedral is considered by many to be one of the most beautiful Catholic churches in the world.
Don't miss the severed hand
Near the entrance to the St. James Cathedral hangs a severed hand from the 14th century.
The legend tells of a thief who got caught around the wrist by the Madonna as the thief tried to steal jewels from the high altar. The thief was stuck. Cutting off his arm was the only way to free him. The monks hung the severed hand as a warning for other thieves.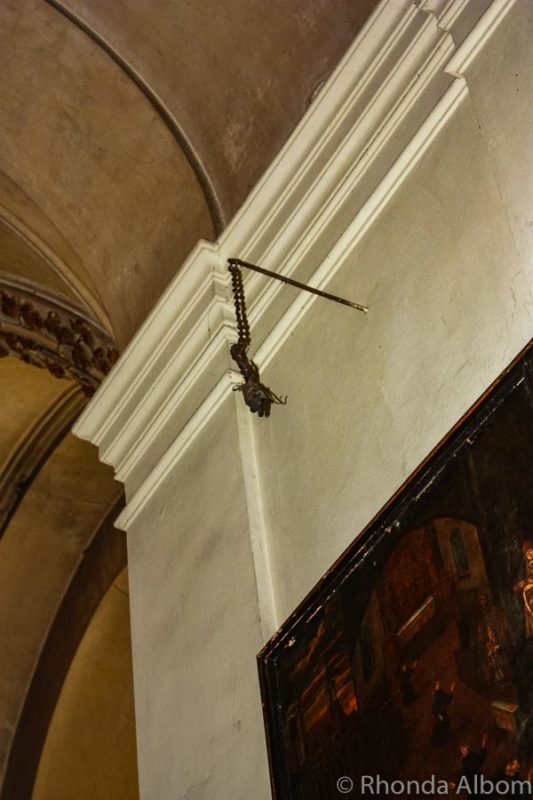 Spend time at the Prague Castle
We opted for a guided tour of Prague Castle and it brought history to life. We couldn't enter through the main gates as they are used for dignitaries only. Tourists enter from the side.
Aside from the castle itself, there is a large gothic church on the grounds, as well as a fascinating weapons room, and a frightening torture chamber.
The Prague Castle should be a must-see on any list. It's one of the most fun things to do in Prague with kids, or just as adults.
Take a tour of Prague
Prague's history and culture is extensive and you can see and learn about it by taking a tour. These tours are led by locals whose experience can give you understanding and insight into the city.
Eat from a street vendor
We are generally brave eaters and try to eat what locals eat. This particular street vendor always seemed to be busy with customers. We took the hint and enjoyed the sausages.
Enjoy lunch at an outdoor cafe
Prague has so many adorable restaurants. We were glad our Lonely Planet guidebook made a recommendation.
Treat Your Feet
Believe it or not, this is the first time saw garra rufa fish. Apparently, they eat dead human skin, and Melissa gave it a try. Twenty-five minutes later she had incredibly soft feet.
Pro tip: Respect the Police
As a general rule, we always respect the police. However, in Prague, we learned very quickly that some police officers will not only take cash payouts, but they will also ask for them. Our story:
We have rented an apartment on Wenceslas Square. Having just driven into the Czech Republic from Germany we have no koruna, the local currency. Our GPS sent us down a one-way street that ends on Wenceslas Square's main road. A simple right turn will land us in front of our short-term rental. However, the street was closed to traffic, yet turning was the only option.

Paraphrasing the officer, "Are you aware that this morning we decided to make Wenceslas Square a pedestrian-only road just for today and only until 6 pm." He continues, "The fine for driving on a pedestrian road is 2,000 Koruna" (equal at the time $120NZD or $100USD), but if you pay us 200 koruna in cash right now, that will cover it."

When hubby confessed to only having Euros, the officer pointed out the ATM.
Practical Travel Tips for When You Visit Prague
Prague has an easy-to-use public transit system that runs on an honour system of sorts. You must have a validated ticket in your possession when you ride. Police checks are not uncommon, the fines are fairly steep.
Eat the street food – don't think about how long the sausages may have been hanging there before it was yours, just enjoy it.
Be sure to visit the astronomical clock right on the hour. Getting there early for a great viewing spot isn't too important, as it is high up on the wall in sight of everyone.
Stay on Wenceslas Square. We stayed in an apartment, but there are plenty of great hotel options.
When you are leaving St. James Cathedral, be sure to look up and to the left and notice the severed hand hanging over the door.
Pay the fine and don't let it wreck your day. Actually, if you are headed to the Czech Republic, Mexico, Morocco, Chicago or Fiji you may as well just add "bribe" as a budget item.
Best deals and discounts for your travel planning needs
We earn from qualifying purchases through partnerships or affiliate programs.
Flights: When it comes to flights, we always start with Expedia.

Hotels: We use Booking.com to compare and book accommodations. Don't miss Booking.com's Getaway 2022 Deals that save 15% or more on selected accommodations. (T&Cs apply)

Other accommodations: If you prefer B&B or self-contained type lodging, check out VRBO.

Vehicle hire: RentalCars is like a rental car search engine with no hidden costs, that lets us find the best deals on car rentals worldwide.

Private Tours: We are big fans of ToursByLocals, and use them for nearly all cities where we want a private guide.

Packing Tips: Get a free copy of our packing light checklist when you sign up for our mailing list. (We pack light, yet have everything we need.)
Find more money-saving resources and T&Cs on some of the above, check our Travel Resources page.
Save for your visit to Prague
If you enjoyed this article, please share it on Pinterest and other social media.
Which of these fun things to do in Prague will you do first?