Visiting Santiago de Compostela on Saint James Day eve was not our plan. In fact, embarrassing as it is, our goal was simply to explore one of the top sites in Galicia. We wanted to admire the Romanesque-style cathedral, try some of the famous seafood, and walk the cobblestone roads.
We didn't pay attention to the date. And while the history of Saint James in Santiago de Compostela is part of any visit, our adventure was far greater than we had expected.
As it turns out, Saint James Day (a.k.a. El Dia de Santiago or the Feast Day of St. James) is July 25. Although it's a public holiday throughout Spain, the "big" event takes place in Santiago de Compostela on July 24, the eve of the holiday.
And, as luck would have it, July 24 is the day we randomly took a short road trip to Santiago de Compostela from our home exchange house in La Coruña Spain, about an hour away.
First, a brief history of Saint James in Santiago de Compostela
Saint James the Great (Saint Santiago) was one of the 12 apostles of Jesus Christ and part of his innermost circle. He was the first of the apostles to be martyred and the only one recorded in the New Testament.
After his execution in 44AD, his remains were taken from Jerusalem to Northern Spain by his disciples. Through a series of legendary events, they ended up lost to the world.
However, on July 25th, 812, a shepherd named Pelagio had a vision. In it, a bright light guided him to the remains. As a result, it became known as Compostela, meaning "Field of Light."
Today, the cathedral, built where the remains were found, is the final resting place of Saint James.
Camino de Santiago Pilgrimage Trail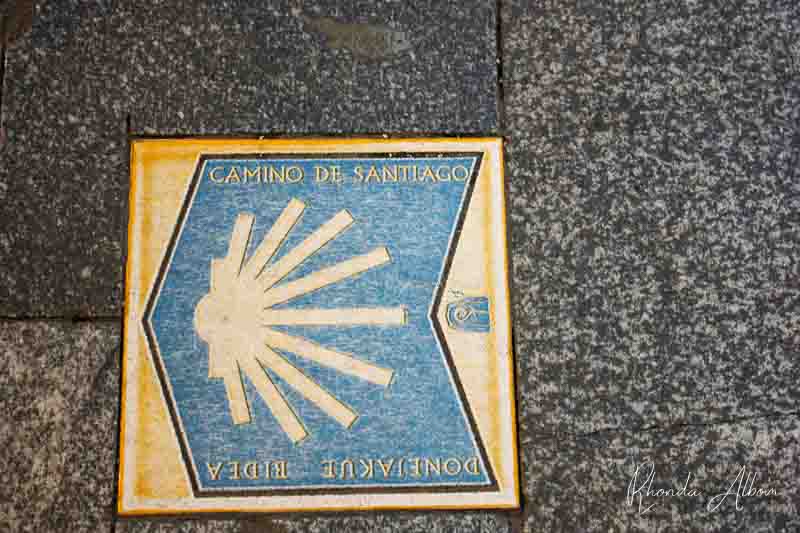 Saint James is the patron saint of both pilgrims and of Spain, so it is no surprise that he is the namesake of this sacred trail.
Pope Alexander VI, in the late 15th century, declared Santiago de Compostela to be among the world's three most important Christian pilgrimage destinations along with Rome and Jerusalem.
The Way of St James is a pilgrimage trail dating back to the middle ages. While it initially started from one's home, today, there are nine popular starting points and routes, all leading to the Cathedral of Santiago de Compostela. Pilgrims walk the route to reduce the punishment for their sins.
On average, the route covers about 500 miles (800 km) and takes about 30 days to walk. Many pilgrims plan their route to culminate in Santiago de Compostela for the Saint James Day celebrations.
Therefore, the massive number of pilgrims wandering or resting when we arrived was not surprising.
Cathedral de Santiago de Compostela
Hovering over Plaza de Obradoiro, the cathedral is nothing short of spectacular, inside and out. In fact, the entire old town area of Santiago de Compostela is a UNESCO World Heritage Site.
The Romanesque-style cathedral was built in the 11th century after the original cathedral was destroyed in the late 10th century. Today, it is the home of the Roman Catholic Archdiocese of Santiago de Compostela.
It seemed that all roads in the old town led to the cathedral. As a result, it's easy to find even without a map.
To our surprise, parking was also easy. There is a massive underground parking facility below the main square. It didn't fill up for the event until later in the afternoon.
Inside the Cathedral de Santiago de Compostela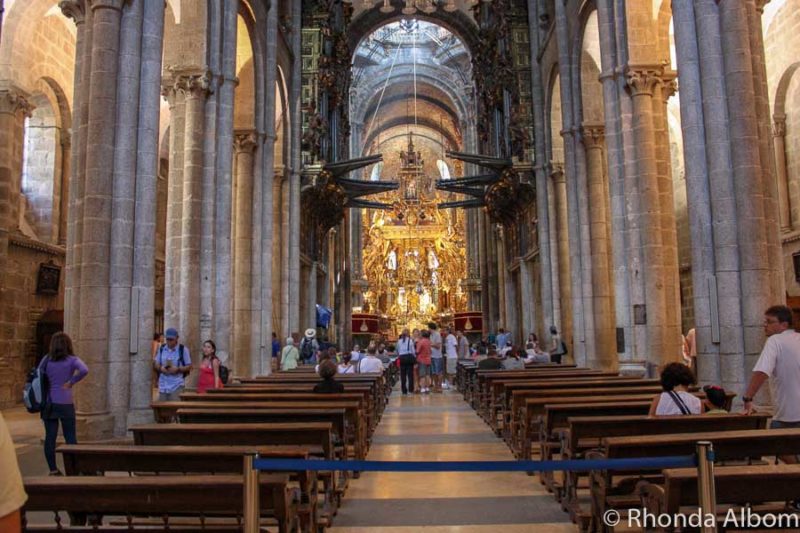 A 50-minute audio tour captivated us as it guided us through the cathedral from the eyes of a pilgrim. They are available in multiple languages, including English.
In the crypt, we saw the tomb of Saint James. Directly above it in the ambulatory, pilgrims and anyone else who feels compelled can hug a statue of St. James.
However, the highlight of our visit was watching the swinging of the Botafumeiro. It is difficult to tell its size in the photo, but it measures 1.5 metres and weighs 53 kg. It is only operated a few times per year, so we feel incredibly grateful to have seen it.
Our visit to Santiago de Compostela on Saint James Day eve
Our home exchange host left us a list of both interesting local things to do in La Coruna as well as several additional must-see destinations in the Galicia region. Santiago de Compostela topped this list.
Enjoying our surroundings and the restful times, we didn't leave the town for the initial ten days of our two-week home exchange. With limited time remaining, we grabbed our Lonely Planet Spain guidebook and got into the car.
We were about halfway into our year around the world, and we had a new habit that, until now, had proven to be quite successful. This was to create our plan in the car as we drove.
One of our teens began reading aloud from the backseat about things to do and the history of Saint James in Santiago de Compostela. When she first read about the massive festival that takes place annually on July 24, we listened with interest.
It was paragraphs later when it occurred to me that today was July 24. As we were nearly in Santiago de Compostela by the time we realized, we opted to stay despite our general aversion to large crowds.
Arriving in Santiago de Compostela and heading to the cathedral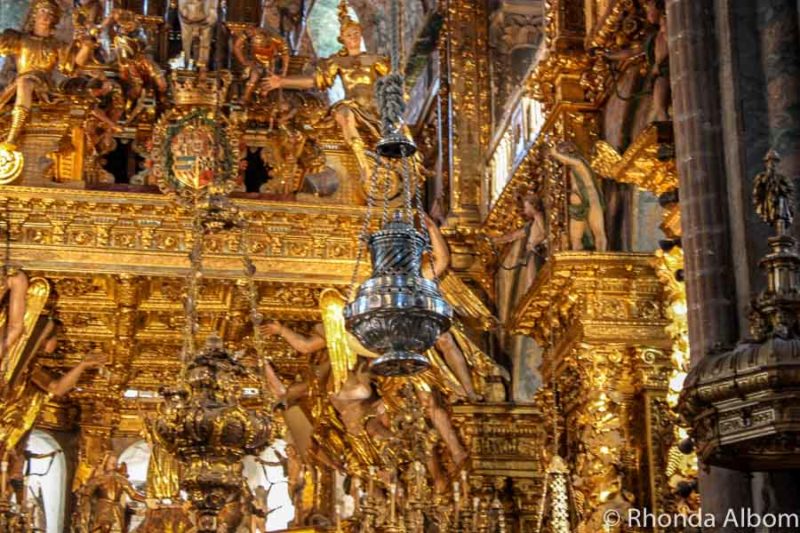 There was a contagious excitement in the air, even before we fully understood the magnitude of the event.
Several shops offered us "tarta de Santiago" (Galician almond cake) as we passed. Eating this cake is a pilgrim tradition dating back to the 16-century.
We entered the cathedral just before mass was beginning and found seats in the crowded nave. Unfortunately, it was in both Latin and Spanish, and while I am conversational in the latter, I couldn't follow it all.
However, we did get to see the swinging of the botafumeiro, and the mass was in part conducted by the Archbishop himself.
After the mass, we joined long queues of people, mostly pilgrims, waiting to enter the crypt to see the tomb and hug the statue of Saint James in Santiago de Compostela.
The evening and nighttime festivities
The courtyard had been almost empty at 2.30pm when we arrived, and at 4.30pm we noticed the police arrived to put up barricades to help with the impending crowd control. We were told they would close the square once it was full.
This got us to take a closer look at Plaza de Obradoiro. By design, it's a closed-in space with only four exits at the corners.
Looking straight at the cathedral, Jeff noticed the pyrotechnics set up and ready to go up into the air and over the crowd.
By 8pm, the crowds were swarming in, the temperature was starting to drop, and I noticed the large numbers of police, paramedics and ambulances at all corners and scattered in groups though out the crowd.
I asked one why there we so many paramedics. He explained something about precaution with a big crowd and so many fireworks. I remained a bit lost trying to understand his Spanish with a Galician accent.
The danger potential seemed high based on the huge numbers of paramedics and police. This coupled with our lack of preparedness for a nighttime event, weighed heavily in our decision as to what to do next. We didn't have jackets, blankets to sit upon or picnic dinner – all things we noticed everyone else had.
We opted to leave before the big event.
Here's what we missed …
As we are not pilgrims, we did not walk to Santiago, nor did we follow the trail of St. James to arrive. However, we visited several key sites on the Camino de Santiago pilgrimage route as we road tripped through northern Spain, including Lugo and Zaragoza in Spain and Lourdes and Saint Bertrand de Comminges in France.
Tips for visiting Santiago de Compostela on Saint James Day or eve
St James Day is July 25. If you are planning to visit for St. James Day festivities, remember the fireworks are on the eve of July 24.
Stop at the information site and get a free map when you arrive.
Many of the restaurants offer pilgrims a very affordable menu-of-the-day meals for lunch. Meals for non-pilgrims are available at a higher price. We had lunch at Restaurante Tarará. It was fantastic and quite reasonably priced.
If you can plan far enough in advance, we recommend spending the night so you don't have to drive home at 2 am. While there are lots of options, the five-star Parador, right on Plaza de Obradoiro, seems the perfect place to stay. Reserve your room at the Parador Reis Catolicos here.
Do not try to go into the Parador to use the toilets if you are not staying there. Trust me on this one.
Save on your trip with these resources
These are our go-to companies when we travel. We believe this list to be the best in each category. You can't go wrong using them on your trip too.
Flights: we use Expedia for the best and cheapest flight options.
Accommodations: we use Booking.com (hotels), VRBO (self-contained), or Hostelworld (budget).
Cars (gas or electric): we use RentalCars to search for deals and dealer ratings.
Campervans or Motorhomes: we use Campstar where Albom Adventures readers get a 3% discount.
Motorcycles: we have heard good things about BikesBooking.
Private guides: we love the private guides at Tours by Locals.
Travel Insurance: while not required, we always opt for travel insurance and start at InsureMyTrip to compare coverage plans.
Check out our travel resources page for more companies that we use when you travel.
Will you visit Santiago de Compostela on St. James Day?