It's St. James Day, El Dia de Santiago, the most important of holidays here in Spain (so we were told).
We headed to Santiago de Compostela, considered to be the world's third most important Christian pilgrimage destination and less than an hour from where we are via car. (The first two are Vatican City and Jerusalem).
When you arrive in the old town, all roads lead to the cathedral.
We are not pilgrims, so we did not walk to Santiago, nor did we follow the trail of St. James to arrive.  Both in and outside of the cathedral are a massive number of pilgrims wandering or resting.
Inside, the cathedral is nothing less than spectacular.
We chose the audio tour, which was brilliant as it was presented through the eyes of one of the pilgrims.  The tomb of St. James is in the crypt and the statue of St. James which is hugged by all of the pilgrims is on a level above it. Neither allowed photos.  However, we were allowed to photo the Botafumeiro which is only out on special occasions.
A quick bit of history: Although buried in 44AD, the remains of St. James had been lost and discovered in the same spot on July 25th, 812 through a vision presented to a hermit named Pelagio. The spot where the tomb was revealed to be was filled with a bright light. Because of this, it has since been known as Compostela, which means "Field of Light."
Therefore, it is not surprising that Santiago de Compostela holds the largest of the world's celebrations today, which all started around midnight last night.
Now time for a confession, it was random.  We didn't plan to be here on the eve of St. James Day.  We didn't even know until we were reading about our destination from the Lonely Planet Spain as we drove there.  We were unprepared for a night time event.  We had no jackets, no blankets to sit upon and no picnic basket of dinner.
By 8pm, the crowds were getting massive. We were told the police will close off the square once it is full.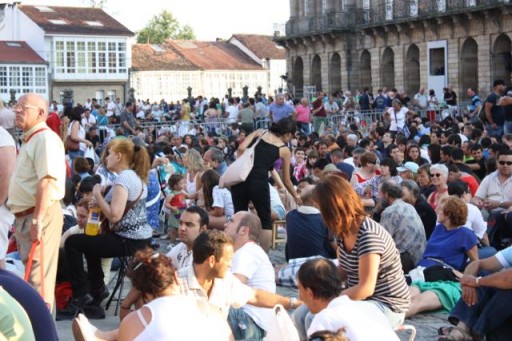 By design, the square is relatively closed in with only four exits at the corners.  In addition, the police put up barricades everywhere to help with crowd control and direction.  And this event was well policed.

When you look straight on at the cathedral, you can see all of the pyrotechnics set up and ready to go up into the air and over the crowd. Then you look around, there were paramedics and ambulances at all corners and scattered in groups of not less than 5 though out the crowd.  I asked one why so many and he said something about precaution with a big crowd and so many fireworks.
What do you think, would it worry you?  Would you stay?
All photos on this page © Rhonda Albom 2012
Santiago de Compostela Travel Tips:
If you are planning to come for St. James Day (July 25) remember the fireworks are on the eve of July 24. I would recommend spending the night (and book early), so you don't have to drive somewhere at 2am.
Stop in the information site and get a map. That way if you need to use the toilets, you won't make the same mistake as I did by walking into the Parador and looking for one and getting told off in Spanish and thrown out.
Get the audio guide in the Cathedral.  It gives you a 50 minute tour in your own language and was really interesting.  The Cathedral is shaped like a cross. You can rent the audio guide from a small booth on one side of the cross near an entrance.
Many of the restaurants offer very affordable menu of the day meals for lunch.  Some are for pilgrims only, with a similar option for twice the money for the rest of us, so read the menu carefully.
We had lunch at Restaurante Tarará.  It was fantastic and quite reasonably priced.
Related Links:
Have you been to Santiago de Compostela? Would you plan to visit on St. James Day or some other time?
Seven ridiculously simple tips that WILL improve your photos
Whether you shoot with a phone or a DSLR, let me share my secrets.
Subscribe to Albom Adventure's Travel Tips newsletter and download our free ebook: Take Better Travel Photos By Rhonda Albom