St. James Day, El Dia de Santiago in Spanish, is one of the most important Spanish holidays. Celebrated throughout the country, the "big" event takes place in Santiago de Compostela on the eve of St. James Day – June 24. This is the day we opted to take the short road trip to Santiago de Compostela from our home exchange house in La Coruña Spain, about an hour away. Both are in the Galicia region.
Note: Based on world conditions, we advise checking official channels including cancellation policies prior to booking. Also, with often reduced capacity, booking ahead becomes more important.
Cathedral de Santiago de Compostela
The cathedral is the centre of town, the centre of life, and the focal point on St. James Day. Home to the Roman Catholic Archdiocese of Santiago de Compostela, it is located in Old Town Santiago de Compostela, a UNESCO World Heritage Site. The cathedral is the final resting place for Saint James the Great (Saint Santiago in Spanish), an apostle of Jesus Christ.
The Romanesque style cathedral was built in the 11th-century after the original cathedral was destroyed in the late 10th-century by Muslims.
All roads in the Old Town Santiago lead to the cathedral, so even without a map, it was easy to find. To our surprise parking was also easy as there is a large underground parking facility below the main square, and it didn't fill up for the event until later in the afternoon.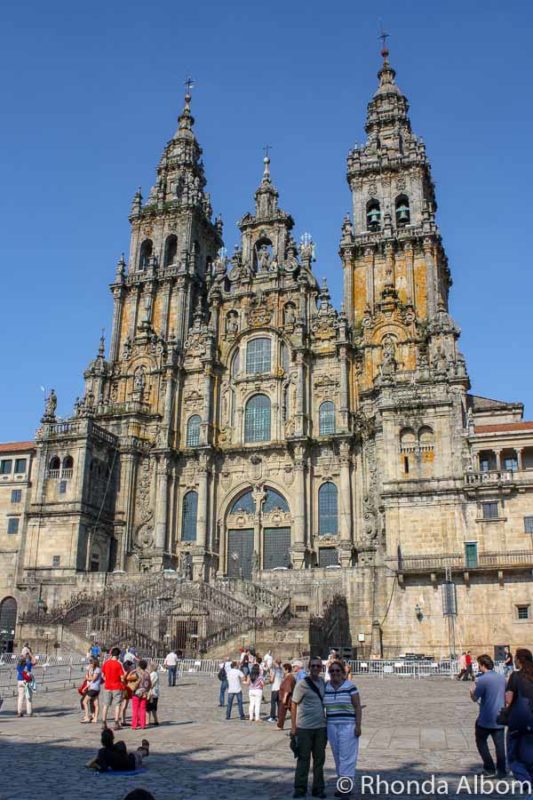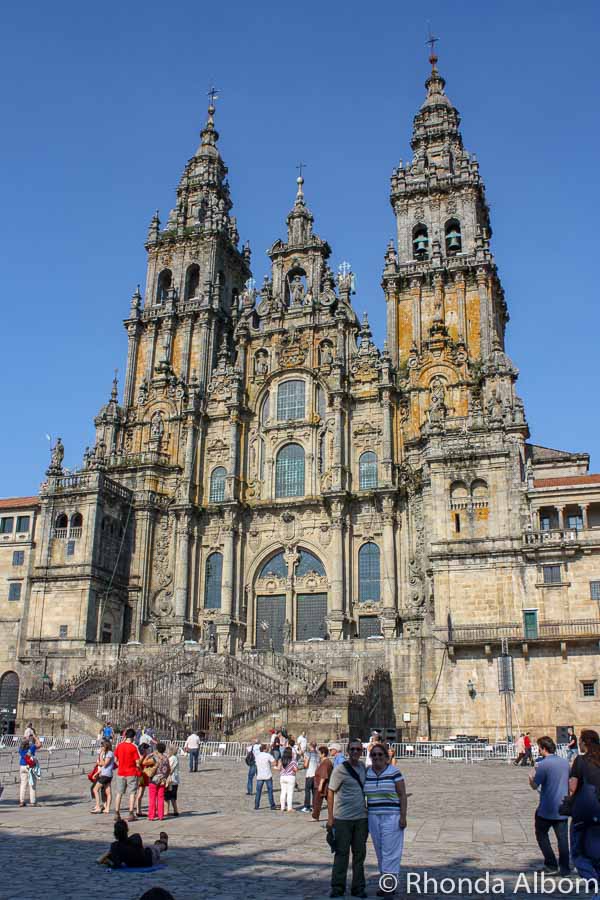 Camino de Santiago Pilgrimage Trail
Santiago de Compostela is considered to be the world's third most important Christian pilgrimage destination. (The first two are Vatican City and Jerusalem).
We are not pilgrims, therefore we did not walk to Santiago, nor did we follow the trail of St. James to arrive. However, we visited several key sites on the Camino de Santiago pilgrimage route including Lugo and Saragossa in Spain and Lourdes and Saint Bertrand de Comminges in France.
Both in and outside of the cathedral are a massive number of pilgrims wandering or resting.
Inside the Cathedral de Santiago de Compostela
The cathedral is nothing less than spectacular, inside and out.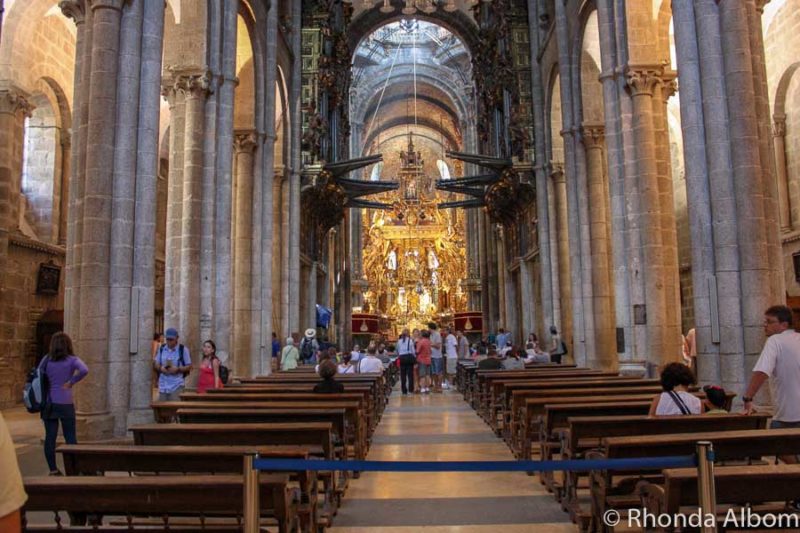 Audio tours are the best way to explore the cathedral, and available in multiple languages. We liked it as it guided through through a pilgrim's eyes.
In the crypt, we saw the tomb of St. James. Above it, pilgrims and anyone else who feels compelled can hug a statue of St. James. Neither allowed photos. One of the truly special things we saw was the swinging of the Botafumeiro. It is taken out and used only a few days each year for important ceremonial events like Christmas and Saint James Day.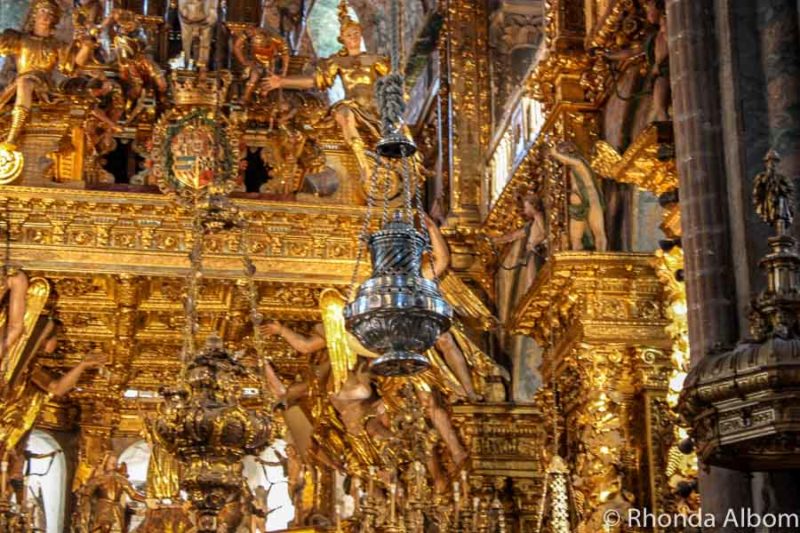 Quick History of St James Day
A quick bit of history: Although buried in 44AD, the remains of St James had been lost and discovered in the same spot on July 25th, 812 through a vision presented to a hermit named Pelagio. The spot where the tomb was revealed to be was filled with a bright light. Because of this, it has since been known as Compostela, which means "Field of Light."
Therefore, it is not surprising that Santiago de Compostela holds the largest of the world's celebrations today, which all started around midnight last night.
Our Visit to Santiago de Compostela
Now time for a confession, it was random. We didn't plan to be here on the eve of St. James Day. We didn't even know until we were reading about our destination from the Lonely Planet Spain as we drove there. We were unprepared for a nighttime event, as we had no jackets, blankets to sit upon nor picnic basket of dinner.
By design, the square is relatively closed in with only four exits at the corners. In addition, the police put up barricades everywhere to help with crowd control and direction. And this event was well policed.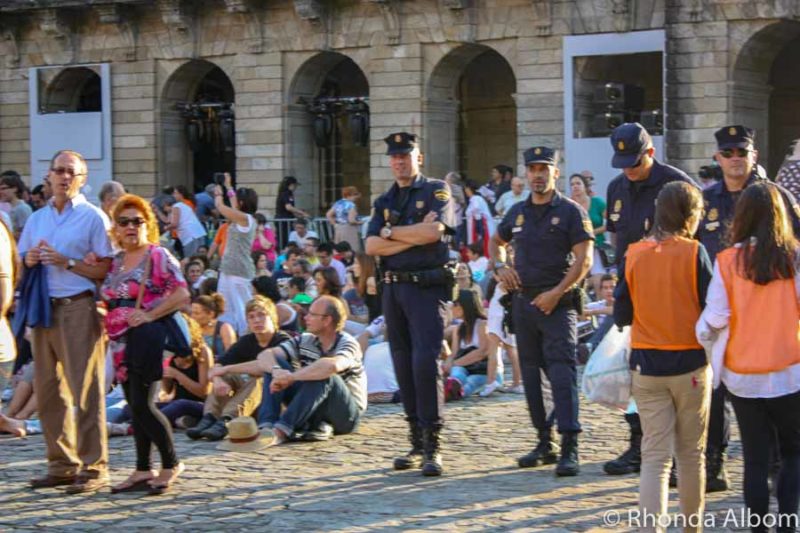 When you look straight on at the cathedral, you can see all of the pyrotechnics set up and ready to go up into the air and over the crowd. Then you look around, there were paramedics and ambulances at all corners and scattered in groups of not less than 5 though out the crowd. I asked one why so many and he said something about precaution with a big crowd and so many fireworks.
Take a Tour that includes Santiago de Compostela
Tips for Visiting Santiago de Compostela on St. James Day
St James Day (El Dia de Santiago in Spanish) is July 25.
If you are planning to visit for St. James Day festivities, remember the fireworks are on the eve of July 24. I would recommend spending the night (and book early), so you don't have to drive somewhere at 2 am.
Stop at the information site and get a free map.
Do not try to go into the Parador to use the toilets. Trust me on this one.
Get the audio guide in the Cathedral. It gives you a 50-minute tour in your own language and was really interesting. You can rent the audio guide from a small booth near one of the side entrance.
Many of the restaurants advertise very affordable menu-of-the-day meals for lunch for pilgrims only on a sign in front of the restaurant. Meals for non-pilgrims are available at a higher price.
We had lunch at Restaurante Tarará. It was fantastic and quite reasonably priced.
Have you been to Santiago de Compostela? Would you plan to visit on St. James Day or some other time?